12 INTERVIEWS OF XMAS: Foo Fighters' Dave Grohl – On Biden, Bowie & Medicine At Midnight
As part of our 12 Interviews of Xmas series, we're looking back at some of our unmissable interviews of 2021. Medicine At Midnight, Joe and Jill Biden, Foo Fighters' 25th birthday, David Bowie and Stevie Nicks were all up for discussion as Dave Grohl spent some quality Zoom time with a frequently jealous Stuart Clark back in January...
"I don't want to ride off into the sunset playing some funeral dirge. I was like, 'Fuck that; let's make an album that will shake a fucking festival. Let's make an album that will shake a fucking stadium. I need a big fucking chorus (claps) and I need a big fucking groove (claps) and people are gonna go fucking bananas!"
Not only is Dave Grohl the nicest, sweariest man in rock, but he's also one of its best self-publicists.
His talking up of the Foo Fighters' tenth album in 25 years is no mere braggadocio, though, with Medicine At Midnight the sound of a band seriously letting rip in the studio prior to Covid, hence all the talk of whipping crowds (remember them?) into a frenzy.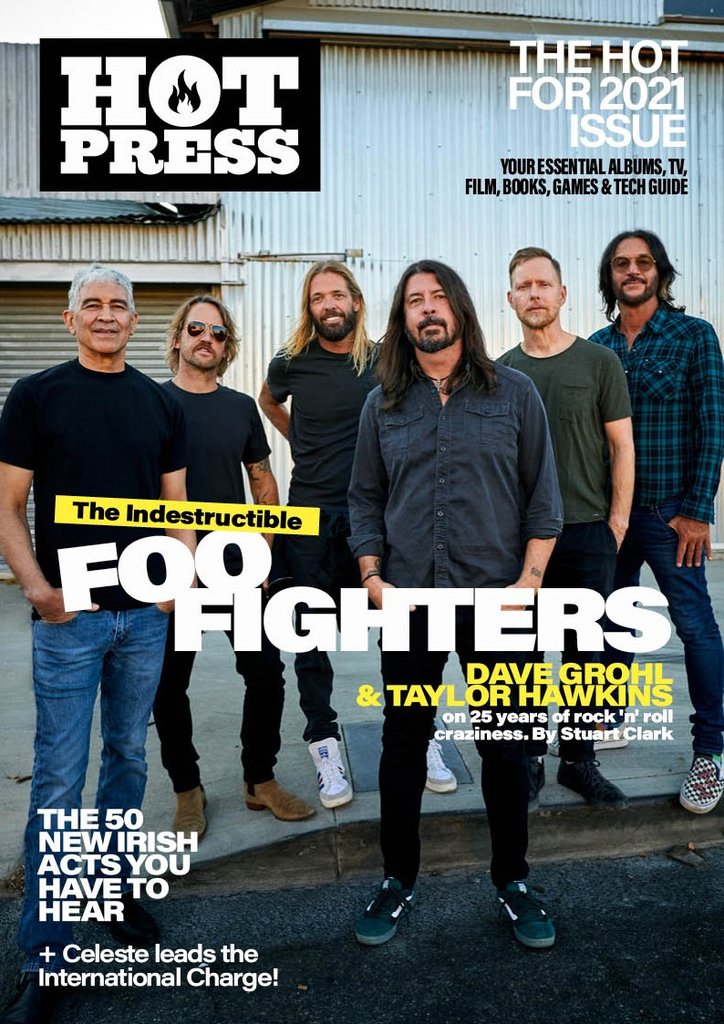 While there are no shortage of thrashy, metally and punky moments to keep the Foos faithful happy, it's when Messrs. – and frequently messers – Grohl, Mendel, Smear, Hawkins, Shiflett and Jaffee cast off the musical shackles that the real magic happens.
Advertisement
When a number of years ago their leader said, "I love being in a rock band, but I don't know if I necessarily wanna be in an alternative rock band from the 1990s for the rest of my life", one suspects it was this genre-bending nine-tracker that he had in mind.
"It was our 25th anniversary," Dave resumes. "We had a tour booked to circle the planet in celebration. I knew this record had to be something special. I looked back on all the music we've made and thought, 'Okay, we've covered a lot of ground since 1995. We've made fast, noisy, heavy, dissonant punk and hard rock songs. We've also made gentle, beautiful, orchestrated acoustic music and these four-minute blasts of bubblegum. But the one thing we've never done is explore groove-oriented songs.' Whether it was Motown, Sly & The Family Stone, David Bowie or the Rolling Stones, it's a type of music we all grew up listening to. We love bands that have feel and groove and make people dance. Not that we wanted to make a disco or a fucking EDM record, but after 25 years let's start the fucking party now!"
Fears that Foo fans mightn't appreciate them getting their funk on were allayed by Medicine At Midnight's first single, 'Shame Shame', shooting to the top of the US Rock streaming chart.
"The way I'm re-imagining the album now is you're fucking stuck in your living-room with a bottle of whiskey, by yourself, dancing like a fool," Grohl grins. "If that's what it has to be, fine. The first song we recorded – and the first song on the album – is 'Making A Fire'. When we'd finished that I realised, 'Okay, we're doing something we've never done before, so let's keep going in that direction.' By the time we got to 'Shame Shame', which was three or four songs into the sessions, we 100% knew it was working. It was really important to me that we didn't just make another 'My Hero-Best Of You-Learn To Fly-Everlong' record."
Asked which track is likely to result in the most eyebrow raising, Dave immediately nominates 'Cloudspotter'.
"That is entirely rooted in '70s, '80s disco," he says gleefully. "I was a radical fucking punk rock kid, but there's something about the simplicity of disco rhythm I've always loved. You gotta poke a couple of holes in the box so your influences don't suffocate. Whether it's, y'know, the Dazz Band or fucking ZZ Top you've got to let them breathe. We've kept a lot of those influences at fucking bay for decades – but no more! At this point, the most important thing is that when you hit 'play' on something you've been working on for twelve hours, everybody smiles. That to me is the sign of real accomplishment, and there were a lot of smiles in the room making Medicine At Midnight."
Advertisement
Another wonderful surprise is the title-track, which wouldn't sound out of place on Bowie's Let's Dance. For once, the similarities are entirely un-coincidental with the American David eager to pay musical tribute to his hero of heroes.
"When David Bowie walked in the room – and you always felt his presence no matter how far away he was – there was a sense of feeling blessed," Grohl reflects. "He never made you feel intimated, but you knew he was not just culturally, but also historically relevant. It's like the first time I saw Bob Dylan perform. I felt like I was seeing something as important as an Abraham Lincoln or a John F. Kennedy speech."
Their friendship stemmed from the Davids guesting together on Ulysses, the 1995 solo album Reeves Gabrels made after Tin Machine handed in their badge. What was Bowie like to work with in the studio?
"I realised he was a sort of vessel summoning something other-worldly in a way that I've never seen another musician do. I watched him sit cross-legged on the studio floor, spreading postcards and photographs around the carpet so he could use them as a sort of visual reference. It was so fucking inspiring. I'll never forget it. I can see it perfectly in my mind right now as I'm talking."
Given his close relationship with Barack Obama – Dave went to the White House in 2012 to interview the then president for his Sonic Highways rock 'n' roll travelogue – it was no surprise when he was one of the first A-Listers to nail his colours to the Biden mast. How did he celebrate Sleepy Joe getting the 270 Electoral College votes needed to send Donald J. packing?
"There was a Japanese company that wanted to make a Foo Fighters sake," he laughs again. "They'd sent me three bottles to taste and decide which I one prefer. They'd been sitting on the corner of my bar until I finally thought, 'Tonight is the night we have a sake tasting.' I was so elated at Joe Biden being elected that I drunk all three bottles of sake, and next day had the worst fucking hangover of my life."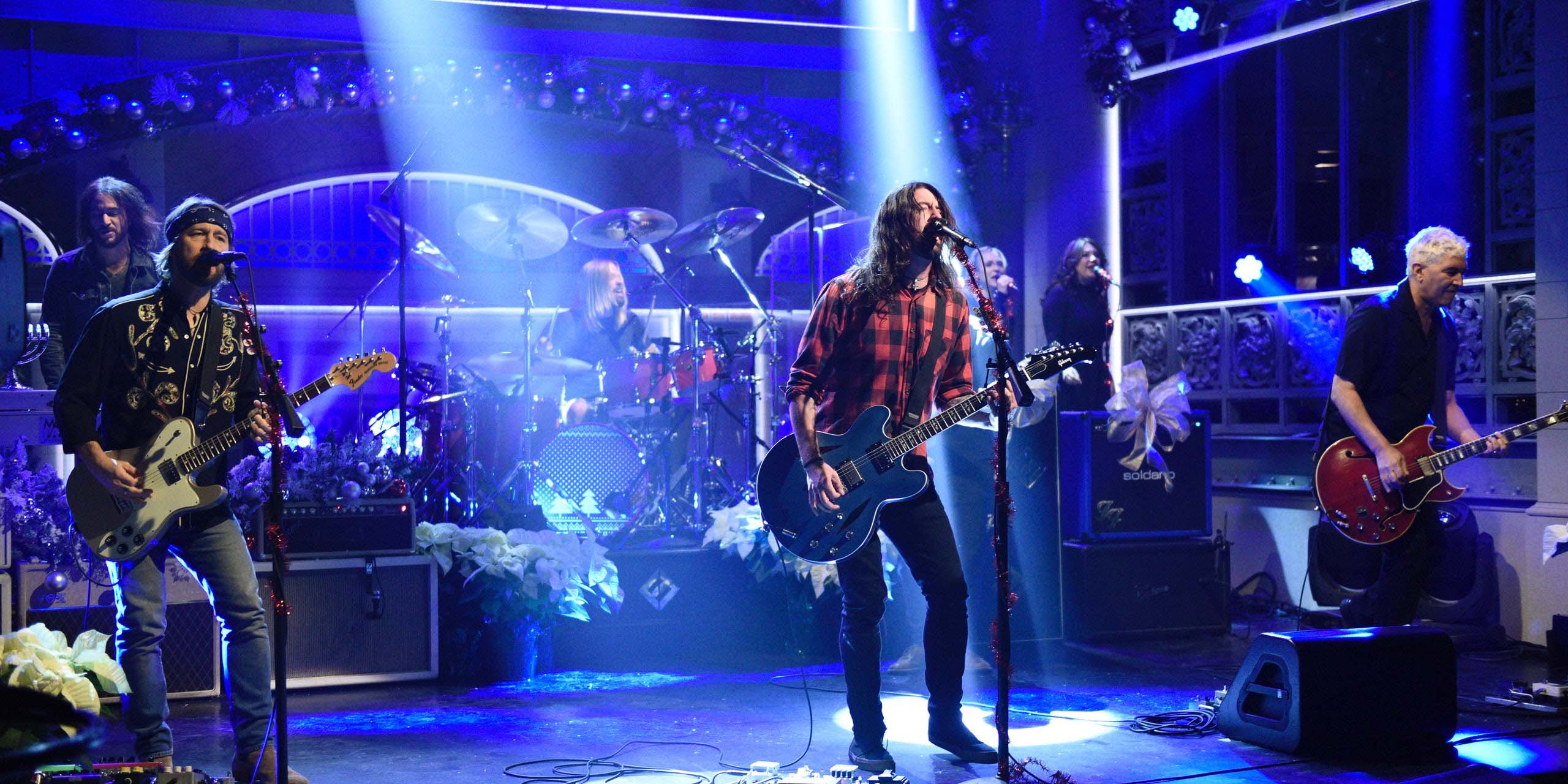 Advertisement
Dave was still knocking back the Solpadeine when he got a call from the people at Saturday Night Live asking if the Foos would like to be on the show.
"Yeah, that was the Tuesday when I was dying," he winces. "Usually with SNL it takes months of preparation and calls between your publicist and the network and the show. This time, we packed our bags and jumped on a plane and got there as quickly as we could. I woke up that Saturday, had a coffee, watched the news – the election still wasn't officially won – and then went back to sleep for a while. I awoke to 35 text messages and people cheering on the New York streets because it had just been called. So that night, pumped up on adrenaline, we went on the show and played our new song, 'Shame Shame', and 'Times Like These', which was (SNL creator and producer) Lorne Michaels' request. There was pin drop silence in the room between the verses and the choruses; you could feel it in the air. When I was singing those lyrics they'd never meant more."
The Foos also Zoomed into BBC Radio 1's Live Lounge in April for the Children In Need/Comic Relief re-working of 'Times Like These' that features the likes of Chris Martin, Dua Lipa, Ellie Goulding, Rita Ora, Biffy Clyro, Sam Fender and YUNGBLUD.
"That was very humbling," Dave says. "You know, I wrote it on some hotel stationary in the Bahamas. It was a strange time when the Foo Fighters were experiencing our seven-year itch. We were starting to think maybe it was time to call it a day. I looked back at everything we'd accomplished and went, 'Okay, well, look, if it's over today, then it's over. But if there's a reason for us continuing I'll have a new love for it.' There was and I did. I still do."
There was more Zoomery before Christmas when Dave shared a #BidenForPresident split-screen with his mum, Ginny, and Dr. Jill Biden, two teachers who had plenty to say about the Trump administration's willful neglect of the profession.
"At a time when a lot of people are going through true hardship, loss and pain, I feel so fortunate to have been able to stay connected to my family," he notes. "My mother lives right down the street so I've been making her dinner every fucking night. The way I look at it is that every day you manage to get to the end of is a day closer to things coming back to life."
Advertisement
Dave Grohl's born again funkiness extends to him covering Drake's 'Hotline Bling' as part of last December's Hanukkah Sessions celebration of Jewish musicians.
"I had the idea ages ago and wanted to do it with the Foo Fighters, but because of scheduling and logistics it sort of fell away," he explains. "Anyway, about a week-and-a-half before it did happen, I mentioned it to my producer friend Greg Kurstin – he's actually Jewish, I'm not – and he goes, 'Let's do it!' We blasted out eight songs one after another in a little over two days; it was real fucking quick. Most people know that Bob Dylan and the Beastie Boys are Jewish – we did 'Rainy Day Woman' and 'Sabotage' – but very few know that Drake is as well. I don't think a lot of people know he's fucking Canadian! Elastica's 'Connection' is in there too as are The Knack's 'Frustrated', Peaches' 'Fuck The Pain Away', Mountain's 'Mississippi Queen' and Velvet Underground's 'Rock And Roll'. Greg actually has this book called Jews Who Rock. There are the obvious ones like Dylan, Leonard Cohen and Neil Diamond but did you know for example that Joey Ramone was Jewish? So that's the project."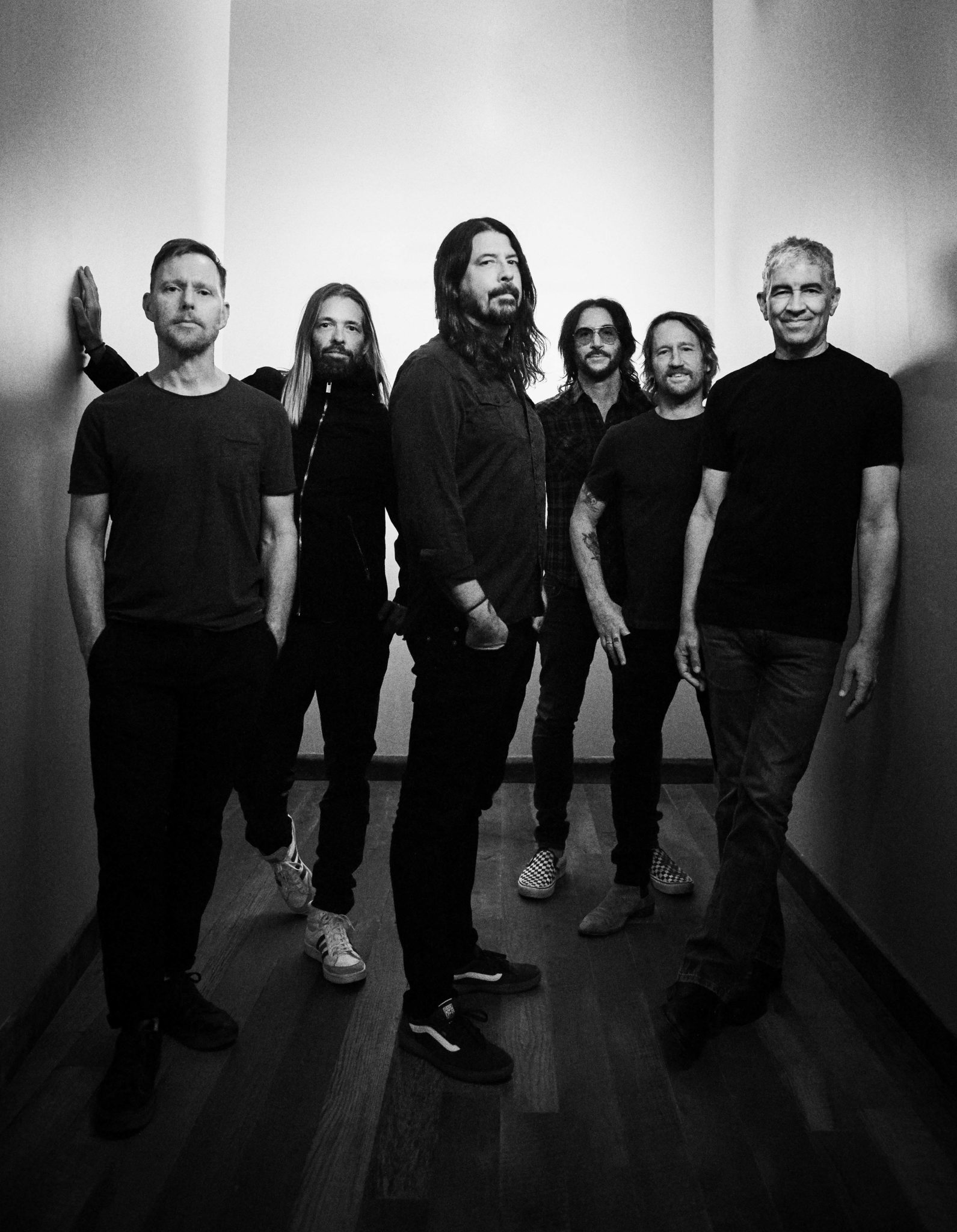 Talking as we were earlier of John F. Kennedy, Dave also got to guest last year on 'Show Them The Way', the song Stevie Nicks wrote after dreaming that JFK, Martin Luthur King Jr., John Lewis and Bobby Kennedy were all in the audience for a benefit gig she was playing in the Hamptons. Yep, there was definitely something in her Horlicks.
"She was in the Sound City movie I directed and we did a little tour together," Dave says not knowing how insanely jealous he's making me feel. There's worse to come…
"Let me tell you, Stevie Nicks gives the best hugs you've ever had in your fucking life; like you sink into her heart. And she smells great…"
Enough already!
Advertisement
"Greg, who produced that song as well, texted me and said, 'Would you like to put drums on a Stevie Nicks song I just worked on?' I'd never engineered, recorded and sent a drum track by myself but I learned how to do it from my home studio specifically for that project. I threw it together and crossed my fingers hoping it was good enough. When I heard that song and watched that video, it was a really emotional experience. So, yeah, Stevie Nicks might be a witch but she's also a fucking angel. I love her!"
Not for the first time today, you get the overwhelming sense of Dave Grohl the fan as opposed to Dave Grohl the career musician who Forbes reckon to be worth upwards of $300 million.
"Whether it's recording with Bowie or jamming with Prince or having dinner with Paul McCartney, I have these huge full circle moments when I pinch myself," he concludes. "Another incredible experience I'd never take for granted is being on the new Ringo Starr record. I've been listening to the bell on his ride cymbals since I was fucking four-years old. You realise that the one-dimensional image or sound you've grown up with is actually a three-dimensional human being who's living and breathing every day like you are. It's inspiring!"
• Foo Fighters' Medicine At Midnight is out now.
Read more of the 12 Interviews of Xmas here.
RELATED