By: Lucy O'Toole
Over 50 exciting acts have been announced for the Caribbean-inspired arena at this year's Electric Picnic.
Trenchtown, the beloved oasis in the woods at Electric Picnic, is back this August with an impressive line-up boasting over 50 reggae, ska, dancehall, jungle, afrobeat and hip hop acts across multiple stages.
The multi award-winning Dynamite MC tops the bill with Dublin/Hong Kong/London-based producer Bazza Ranks. Dynamite, who has earned a cult following with his mix of hip hop, jungle, and drum & bass, kicked off his career in the early 90s on pirate radio station Krush FM. His live band Reprazent won the Mercury Music Prize in 1997 for their debut album, New Forms, followed by a MOBO and a Q Award.
His latest collaboration with Bazza Ranks (Dirty Dubsters/Irish Moss Records) sees the pair fusing reggae and jungle - demonstrated on their lead single, 'Don't Let it Pass'. The duo will bring their live show to Trenchtown's Kingston 12 stage.
Sim Simma Soundsystem, meanwhile, will be joined by MC Breezy live in Trenchtown for a late night carnival-theme show, featuring dancers from Go Dance Ireland and some special surprise guests. Starting life as Dublin's favourite dancehall flavoured club night 'Sim Simma' have just kept growing, and are now a label with a host of rostered artists. They released their debut five track EP Pass the Aux Cord, featuring Irish artists God Knows (Rusangano Family) and Denise Chaila, earlier this year.
Having toured and recorded with legendary reggae artists Bob Marley, Dennis Brown and Johnny Clarke, among many others, Natty Wailer has called Ireland his home for the last decade. In his solo work, the Jamaican singer-songwriter has used his reggae music as a tool to share the importance of history and culture, as well as to promote peace, love and unity.
Also performing across the weekend is RTE 2FM's DJ Wax; broadcaster, producer and DJ Stevie G with Hot Sauce Dance Crew;  Ireland's Reggae ambassador Cian Finn; Dublin-based afrobeat band Yankari; Keltic Posse; Kenyan vocalist Lavosti; Irish ska band The Skatuesques; Irish hip hop artist Outsider YP of the Word Up Collective and many more.
Advertisement
By day, festival-goers can chill out at the beach in the woods, take part in one of the dance or drum workshops, or dine on traditional Jerk chicken.
Take a look at the line-up below: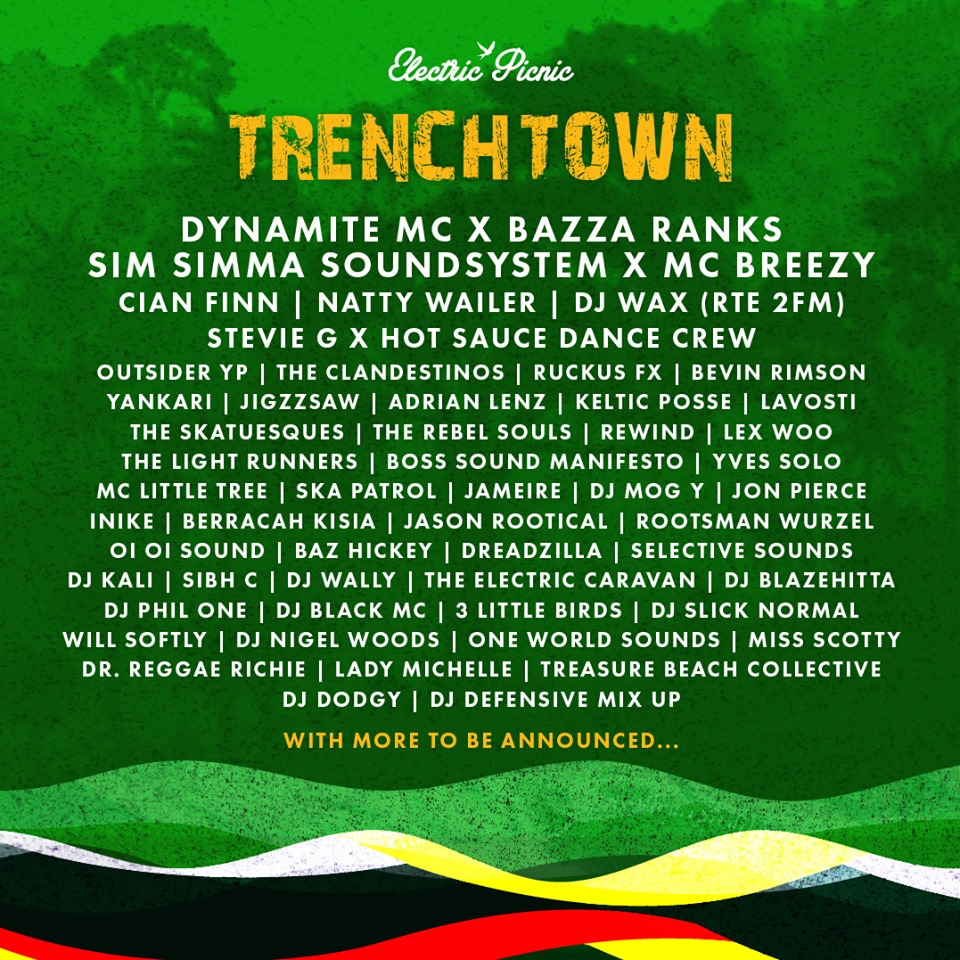 Electric Picnic takes place from August 30 to September 1 at Stradbally Hall, Co. Laois. Headliners include Hozier, The 1975, The Strokes, Florence + The Machine and Billie Eilish.