The Saw Doctors: "We used to have a couple of pints when we were starting off, and very soon afterwards, we felt that we enjoyed it more completely sober"
As The Saw Doctors gear up to make their Electric Picnic debut, guitarist Leo Moran talks to Jess Murray about stadium rock, pre-show rituals and Christy Dignam. 
Tuam's best-loved sons have had a very, very busy summer. Starting with a lauded Glastonbury set in June, July brought three sold-out headline shows: the Castlefield Bowl in Manchester, followed by two Galway Arts Festival concerts. It's safe to say, The Saw Doctors are back and better than ever.
"It was a brilliant occasion, a great privilege to get to play there", guitarist Leo Moran says of their Glastonbury show. "We were on the acoustic stage, which was a really classy venue, and it had a brilliant bill as well."
Although the band played a blinder, their Glastonbury trip was a very quick one.
"In previous years we would have been on a tour bus, and parked up and had a day or two of it," says Moran. "But this time around, we were just in and out! We had a great gig, though. so that's the main thing."
The Saw Doctors gave people one of the best experiences of the day at the Acoustic Stage in Glastonbury today ❤️💚 @sawdoctors @glastonbury #Glastonbury #glastonbury2023 #Glasto pic.twitter.com/7aECwgzQul

— Hot Press (@hotpress) June 23, 2023
Advertisement
With crowds of over 200,000 Glastonbury is a whole other level in terms of size.
"It's like going down to Cork City, and everyone is living in a tent or a campervan as far as the eye can see," laughs Leo. "So unless you're completely organised, and you're going to release yourself from the mothership and stay the weekend, you're in and out. But it's worth seeing once in your life."
Having toured extensively for the last 30-plus years, do The Saw Doctors treat festivals differently to headlining shows?
"It's about half the length of our regular set, so it's like playing for five or ten minutes – well, that's what it feels like," chuckles Leo. "But it's great fun. It's more upbeat, the pace is faster. It's about showing your wares in the shop window for people who don't know you."
With hits like 'N17' and 'I Useta Love Her', there's very few people in Ireland who don't know The Saw Doctors' songs inside out. Many of the Electric Picnic audience will know their music from their parents, or even their grandparents, as Leo jokes. So what is it about their music that continues to resonate with a younger audiences?
"The songs are simple and people relate to them," says Moran. "They seem to mean something to people. A singsong is a wonderful experience that brings you beyond the realms of normal emotion in everyday life. We have that going for us. The songs are simple, you can sing along, dance and have a bit of escapism. It's all very traditional really. There's nothing modern about it, it's very old. It's a ceremony we're performing! It's like a big singsong."
Advertisement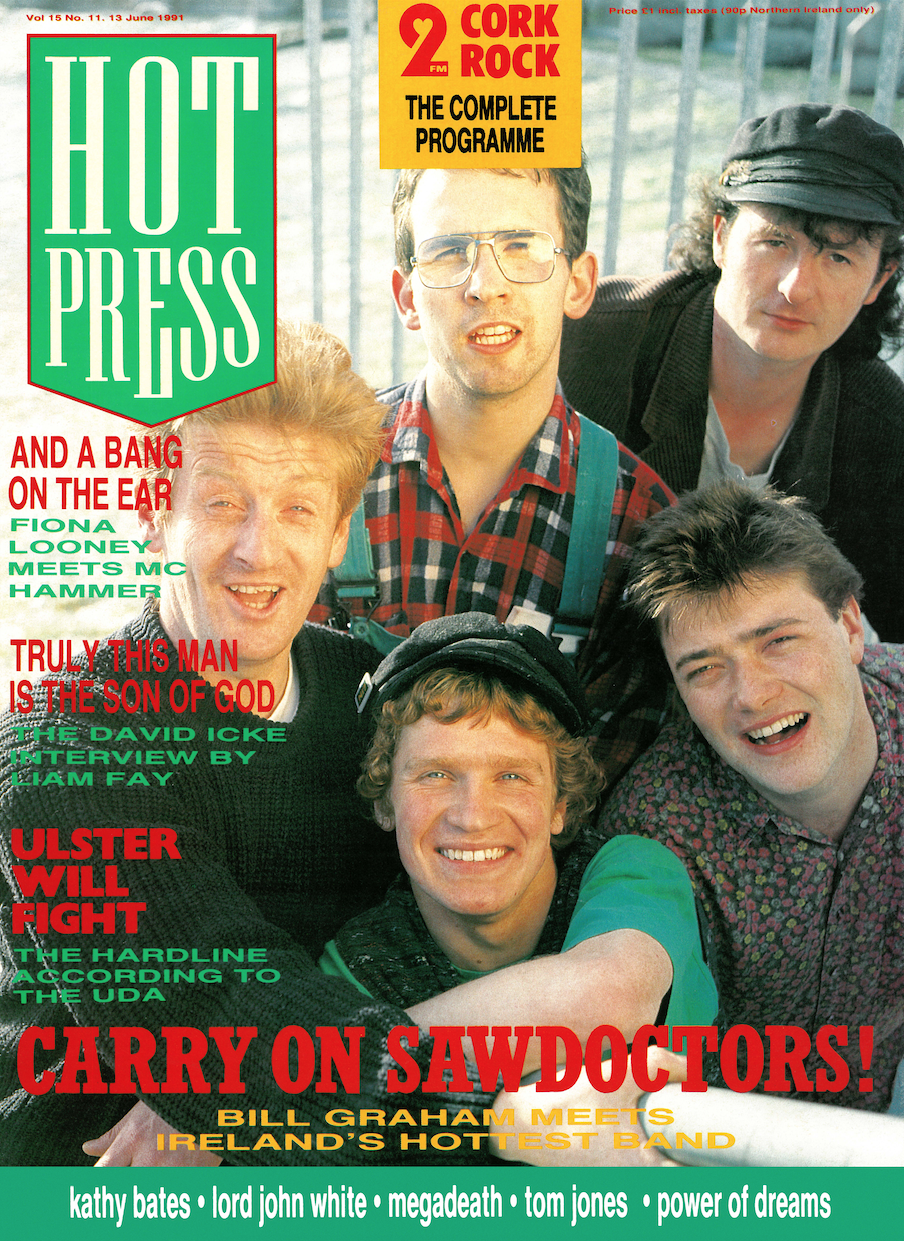 It's clear that The Saw Doctors get as much enjoyment out of their shows as their fans.
"I think that's a huge part of it," says Leo. "Especially for the audience, because that enjoyment is infectious."
It's also clear as day that Leo and Davy Carton still genuinely love being in a band together and remain close friends.
"We've an awful lot in common," acknowledges the guitarist. "We love a lot of the same music, we've a similar sense of humour, we're from the same town… but then we have our differences. He probably prefers soccer, whereas I prefer Gaelic football! He likes Italy, I like Brazil, you know, it keeps it interesting."
So after years on the road playing hundreds of shows in North America and Europe, do Davy and Leo have any pre-show rituals?
"We usually have a sing-song to get the voices warmed up," says Moran. "A can or two of Red Bull and a singsong! I'm not a fan of Red Bull, but it is great for your concentration in those situations (laughs). Drink didn't work for us at all. We used to have a couple of pints years ago when we were starting off, and very soon afterwards, we felt that we enjoyed it more completely sober. We'd reward ourselves with a drink afterwards. But it's different for everyone… Some trad musicians drink 20 pints and play perfectly, so everyone has their own way. You need the concentration level above everything."
Advertisement
Founded in 1986, The Saw Doctors were contemporaries of other great Irish acts like Hothouse Flowers, The Stunning and Aslan. Moran remembers Aslan and the late Christy Dignam fondly.
"We shared bills with the lads over the years, we got on great with them. They're lovely gentlemen. We had great fun," he says. "We went to Dubai with them one time and played a mini Irish festival. We were on the same plane on the way over and we were buying the same drink in the duty free on the way in and having the craic, we had a great weekend.
"We played London in 2017 and Aslan played the day afterwards. We were on our night off, so we went down to their gig and we had a great night. I had a great chat with Christy and we had a session. Someone took out a guitar and we were singing til the early hours of the morning with the lads. It was lovely."
Looking ahead to their Electric Picnic appearance, Leo tells us who he thinks is the ultimate live performer.
"I went to John Fogerty a couple of months ago and he is a master craftsman," he enthuses. "That's the standard of show that you would aspire to. I love Springsteen as well, but I just think those gigs are gone too big. I think stadium rock is a failed entertainment experiment. No matter how much technology you bring into the situation, the physics of sound doesn't travel 200 yards in a sufficient way. You're getting a very rough mix. You're hearing the drums and the vocals and a bit of this and a bit of that every now and again.
"People like Sprinsgteen who have to play stadiums would love to play Electric Picnic, or venues like the Olympia, where a band's music can really thrive. Where the music can vibrate and resonate and you can hear all the details of the mix. In some ways, the acts that have to play these huge stadiums all their lives are kind of victims of their own success – in an artistic way, I think."
Advertisement
Leo is one of the lucky ones who got to see Springsteen on Broadway back in 2018.
"Just his presence in that size of a room is a huge thing," he notes. "Could you imagine having the band there as well? That's what they came from – smaller venues are where they cut their teeth. That's where they became great, playing in suitable venues where music thrives."
With more festival appearances ahead and a night at the Eventim Apollo in London this November, The Saw Doctors aren't taking their renaissance for granted. They've put the hard yards in to make their live shows the best they can be.
"We had a couple of new songs last year, but they're not making the cut for the matchday 26", says Leo. "We have another few songs in the melting pot, but we concentrated very much on getting the band playing really well and getting the songs we have as tight as possible. Our only ambition coming back was that people wouldn't come to a show and think, 'They were fairly good, but the last time I saw them they were better.' So we went hammer and tongs to make sure that wouldn't happen and I think we've achieved that!"
• The Saw Doctors play Electric Picnic on Sunday September 3 – followed by headline shows at 3Olympia Theatre, Dublin (October 14, 27 and 28), and Waterfront Hall, Belfast (November 3). See their full list of upcoming gigs here.
Read the full, extensive Electric Picnic special feature in the current issue of Hot Press:
Advertisement