The Blizzards: "There's no point in trying to keep up with an industry that doesn't know what it is"
As they return with their hard-hitting fourth album, Sometimes We See More In The Dark, Bressie and Louize Carroll discuss getting back to basics, the damaging legacy of the Catholic Church in Ireland – and how Kurt Cobain, Tom Waits and Vicky Phelan have all informed The Blizzards' most fearlessly vulnerable project yet.
As Bressie aptly notes, "you learn more about yourself in difficult times than you do when it's all Care Bears and unicorns doing cartwheels up meadows."
Although The Blizzards' frontman is well aware that it's a tough pill to swallow when you're still in the middle of that grim place, Sometimes We See More In The Dark – the title of the Irish band's fourth album – is a message that continues to guide Bressie (aka award-winning podcast host Niall Breslin), Louize Carroll, Justin Ryan and Dec Murphy.
"All of us would share the belief that the most profoundly transformational things we've experienced in our own lives have come from the darkest of times," Louize elaborates. "But it's almost impossible to see that at the time."
In the 15 years since they first established themselves as serious forces in Irish music with the release of their debut album, A Public Display Of Affection, The Blizzards have found themselves falling in and out of love with the music industry on more than one occasion. That's why they've decided to follow their own hearts on their new album, and reconnect with their roots through a raw, garage band-inspired direction.
"Nowadays everything is so visible and promotable," Louize reflects. "Social media and marketing works by being able to sell your wares in a way that appeals to the largest amount of people. So it's very difficult in that context and environment to reel it back, and think, 'What do I want?'
Advertisement
"I'm a big believer in being in alignment with what feels good for you. When you're not making music from that place, I don't think it's worth it. To dilute it down for someone else's ears is like cutting off the top of something, when all the roots are down underneath."
When it comes to navigating the current music industry, Bressie reckons "you have to make a choice."
"Radio in Ireland is in a really strange place at the moment," he argues. "It's because they're competing with Spotify. But it's hard to even get your head around it. So I said to the lads: 'We need to stop trying to get our heads around it – because every time you figure it out it changes! So we need to do what we want to do.'
"We're all huge pop fans, and we'll always naturally write those pop hooks. But there's no point in trying to keep up with an industry that doesn't know what it is, and literally moves by the day. You'll just get frustrated. I've been in this industry for 15 or 16 years. I've seen a lot. And I love it – but it's really confusing."
Sometimes We See More In The Dark also happens to be the first time bass player Louize has been involved in the creation of a Blizzards album from start to finish – bringing a creative energy to the process that her partner Bressie found "crucial."
"Louize was originally brought in to sing on the third record [2019's The Last Great Algorithm]," Bressie tells me. "And then, our bass player had to leave. I was like, 'Jesus, do you know any bass players?' She literally went away and learned the songs, and a month later, came back. So I was like, 'Okay – you're our bass player, so!'"
Their heavier new sound on the album is a nod to the band members' shared backgrounds in a more guitar-oriented scene – with Bressie and Dec originally cutting their teeth in metal bands. The Blizzards re-embrace that energy from the get-go, on hard-hitting opening track 'War Time General'.
Advertisement
"That's quite an important one for me, lyrically," Bressie reveals. "People feel that they have to just take the shit, and let people piss all over their integrity, and what they stand for.
"Fuck that," he continues. "Stand up for yourself. Don't take that shit. The irony with me is that I'm a mindfulness teacher – and everyone thinks I'm this Zen guy who never loses his cool. But my favourite saying is: 'Sometimes, the most mindful thing you can do is tell someone to fuck off.'"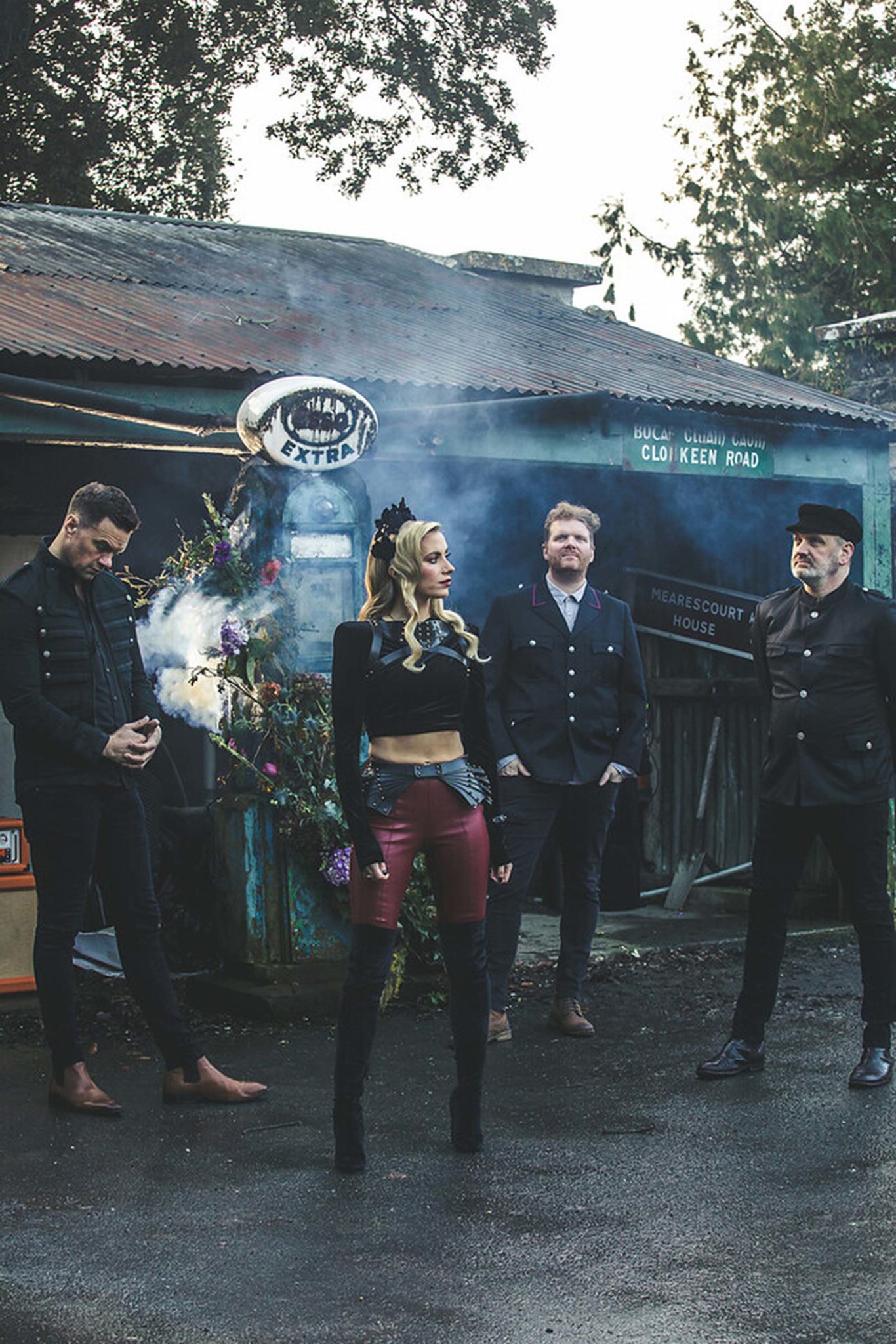 Across the album, it's clear Bressie has taken a remarkably autobiographical approach to his songwriting.
"That was something we all noticed with him," Louize nods. "Compared to The Last Great Algorithm, it's completely different – in a good way. And that's because he tapped into his own truth on every single one of the songs. He made better connections to his own experiences. I think he felt the courage to actually go in there and speak quite vulnerably, in a way that he probably hadn't before – which has contributed to the power of the album."
One of the highlights, 'Something Grips You, Something Holds You', which features the voice of Irish writer Michael Harding, delves into a particularly significant memory from Bressie's teenage years.
"That song is as personal as it gets for me," he confirms. "It's about the day Kurt Cobain died – and the Christian Brother punching the desk, calling him a coward, and screaming in my face. I just remember going, 'This is my hero. How are you talking about him like this?' I didn't even know what had happened. I was 14 years of age and I was in the midst of my own shit. That whole song is what I should have heard that day – what I needed to hear, as somebody who was upset and confused."
Advertisement
The album's last song, 'Closing Time', which takes its name from Tom Waits' iconic 1973 album, charts similarly personal territory.
"Closing Time ultimately saved my life," Bressie remarks. "I had really severe insomnia for about a year. I got very sick with it, and fell into a deep addiction with sleeping pills. They didn't work. The only thing that actually worked was when I put on Closing Time by Tom Waits. I'd close my eyes, and pretend I was in a bar in New York, and this guy was playing the piano. That's what got me to sleep. I really believe that music has such a therapeutic capacity."
His friend, CervicalCheck campaigner Vicky Phelan, also provided inspiration.
"'Play God' grew out of a conversation with Vicky Phelan," says Bressie. "It's about the fragility of life, and how we need to learn to live with what's in front of us – rather than constantly wait for life to happen."
Bressie and Louize's relationship, meanwhile, informed the album's lead single, 'Friction Burns'."It's about how, even though we both wanted to be together, we kept stopping," he explains. "We kept pulling ourselves back – thinking, 'If we do go for this, and it doesn't work, everything will fall apart. Is it worth that risk?'"
Elsewhere on the album, The Blizzards touch on the culture of shame in Ireland, which has largely been shaped by the Catholic Church.
Advertisement
"If you have faith, and it gives you comfort, that's absolutely amazing," Bressie begins. "I will never question or stand in the way of that. It's the institution of the Church that did the damage in this country. I went to a very physically abusive school. It was a horrible place. I remember thinking to myself, 'That's the one thing Ireland has done for too long – carried this shame that isn't ours to carry.' Look at how we treated women and children – and also how men learned to become emotionally stunted, because that was a good way to survive it. We need to stop pretending now. We need to stop protecting what was an immensely abusive institution.
"And even now, we're seeing the conversations around the National Maternity Hospital. We shouldn't be in this position. They have no moral right to stand over anything in this country. I know a lot of them are good people – but they knew this stuff was happening. It was the abuse of power at the highest level."
As Sometimes We See More In The Dark showcases, music can serve as a powerfully cathartic medium. Both Louize, who's a consultant psychologist, and Bressie, who hosts mindfulness podcasts Where Is My Mind? and Wake Up / Wind Down, are eager to see how music therapy progresses over the next few years.
"Sometimes, music and creativity can tap into us in ways that we haven't even found language for yet," says Louize. "You can be listening to a song and suddenly it just gets you – and then you're in floods of tears and you have no idea why. That's one of the most powerful things about music – a sequence or a combination of chords resonates so much with your body, that it's resulted in tears. I don't know if we fully understand it yet. Future research into that is going to be quite powerful."
Louize is also uniquely qualified to recognise what kind of an impact that lockdown – and the re-entry period – has had on musicians.
"What we're starting to see now is what happens after a trauma," she notes. "Our lives were changed, for two years. So I'm seeing that people are lagging now. When you're getting back to normal, the nervous system starts to relax – but it also starts to collapse, because it's been so activated for so long."
Advertisement
While Bressie admits that he's "still a bit nervous" about returning to full tilt gigging, he's also driven by an inherent need to play live music again.
"Playing live is an irreplaceable feeling for me," he reflects. "It's the same feeling I had to try and replace when I gave up sports. I'm that kind of person – I need an outlet. Not having it was difficult, and I missed it a lot. I missed the madness of gigging, and sitting in fields at four in the morning, loading gear out.
"Everybody's in the industry for a different reason," he continues. "But that's the reason we're in it. We're not naive enough to think we're going to go off and tour the world. We're doing it because we need to do it. We've all got fairly tough jobs and intense jobs – and this is something that isn't that. It's so important for all of us."
• Sometimes We See More In The Dark is out now. The Blizzards play The Academy, Dublin on May 14.
Advertisement