STUART CLARK looks forward to the vinyl lovers' Christmas with some help from Otherkin and Run The Jewels, plus the pick of this year's Record Store Day goodies and a guide to the wondrous independents stocking them.
As resurrections go it's pretty damn spectacular! Having registered a 27% year on year sales increase, vinyl is now back to the level of popularity it enjoyed in 1991 when Nirvana piledrived their way to the top of the Irish album chart with Nevermind. It's the same story on the other side of the Atlantic with 13.8 million pieces of shiny black (and occasionally coloured) plastic being snapped up by music lovers who still want the real physical deal. In danger a decade ago of going the same way as the dodo, wooly mammoths and Renua, vinyl is now in such high demand that former DJ Hugh Scully and musician Darragh Molloy have ended a 30-year Irish pressing plant drought by opening Dublin Vinyl, a state-of-the-art facility in Glasnevin, which by the end of 2018 will be able to produce up to 200,000 superior quality records a month. From the extra racking space in Tower Records and Aldi stocking record players to Golden Discs having a floor dedicated to vinyl in their Cork superstore and the emergence of a new wave of specialist shops like Blackwax in Dublin and Arklow's Beat That Records, the myth that Irish music lovers are nowadays content to do all their listening online has been well and truly shattered. Along with such back catalogue giants as David Bowie, George Michael, Pink Floyd and Led Zeppelin, 2018 also saw contemporary artists like Ed Sheeran, Foo Fighters, Rag 'N' Bone Man, P!nk, the brothers Gallagher and Kasabian making a dent in the Top 30 Vinyl Sales chart. Among those keeping the home turntables revolving are Otherkin, Wyvern Lingo, The Hot Sprockets, Le Galaxie and Fangclub, thoroughly modern outfits all who insisted on there being 12" versions of their respective latest opuses, because, hey, that's what proper bands do! "Having OK pressed on vinyl was a huge moment for us as a band," enthuses Otherkin's Conor Wynne. "Getting that test pressing back was the first time it really felt like the album was complete. It was important for not only us, but also everyone who'd been supporting us until this point. After hearing the test pressing we all felt the album sounded massive on this particular nformat, so we asked the good folk at Rubyworks to put a 'Play Loud' sticker on it, because in truth that's the best listening experience you can have with an album.
Advertisement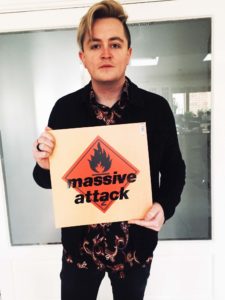 "It's incredibly easy to find new music in the current digital age," he continues, "but we know as music lovers that having that vinyl in your hand is a different ball game. I grew up discovering some of my favourite bands through my parents' record collection. It's really satisfying reading the liner notes and looking at the artwork. It was amazing seeing people post our vinyl once it came out, and having that same feeling of discovery that we've had with so many records." It was also with a sense of righteousness that Born Optimistic, the label run by his pal Donal Scannell, last year made Mic Christopher's sumptuous Skylarkin' available on vinyl 15-years after its original CD-only release. "If Mic Christopher was still around and you told him that Skylarkin' was one of the top Irish vinyl releases of 2017 I'm not sure how he'd react," Donal reflects. "It'd be much cooler, of course, if he was still with us and Skylarkin' was only the first of many amazing solo albums he released. Alas, Skylarkin' is all we have, this perfect album that lives on beyond that amazing man. "I started a label because of Dublin Vinyl opening their new pressing plant. It made it all so real I couldn't not put records out. Mic was the only place to start. My dearly departed mate and his wonderful family kickstarted Born Optimistic in a way I could never have dreamed of." Asked about its current place in the musical scheme of things, Scannell continues: "Vinyl has moved from being a discovery platform as it was for me growing up. It was how I heard new music. Crazy as it seems, I and millions of others would pay about €20 to hear music we didn't know. We did it week after week. Travelling the world, grabbing records we'd heard about and would only get a chance to hear on rubbish headphones in a noisy shop. Vinyl now comes after discovery. Long long after! Purchasing something on vinyl is what you do when you're a mad fan. It cements your fandom." Next from Born Optimistic are a live album from Cathy Davey, which will be out on Record Store Day - see Music News for full details - and the May 11 re-release in conjunction with Universal of Here's One We Made Earlier, the long-deleted and much-loved 1992 debut from The Pale. Along with the artistry, vinyl has also emerged as an important revenue stream for artists who are increasingly cutting out the middleman and selling direct to fans at gigs. With 1,000 fully-packaged 12" discs costing from €2,790 and vinyl considered a premium product that routinely sells for upwards of €20 per album, you don't need to be an Economics graduate to spot the potential for making a few bob, which will likely as not go towards under-writing the loss-making aspects of being a gigging musician. With Saturday April 21's Record Store Day hurtling towards us, let us hear from one of this year's ambassadors, Run The Jewels' El-P. "I grew up going to independent record stores and when I became part of the music scene independent record stores were huge for me," he proffers. "As an artist, I want to be part of that culture because those stores are a cornerstone of the community. That's what we appreciate about record stores; you're not just a place to press a button and get a song." Putting their vinyl where their mouth is, the chaps have prepped The Stay Gold Collectors Jewel Box, a thing of 12" beauty that's adorned with Marvel-branded art and comes with its own RTJ slipmat for Technics SL-1200 (have you seen the new reboot!) cueing purposes. As with puppies and Christmas, vinyl is not just for Record Store Day, so make sure you keep your needle in the groove all year round!