In addition to Ellis-Bextor, the duo will also be supported by electronic band Orchestral Manoeuvres in the Dark and synth-pop trio Heaven 17.
Soft Cell announced that UK singer-songwriter Sophie Ellis-Bextor will join them as a special guest for their open-air concert at St Anne's Park on Saturday, 3rd June 2023. It will not only be Soft Cell's first live performance in Dublin, but also the duo's first ever performance in Ireland.
Already announced on the bill are the electronic band Orchestral Manoeuvres in the Dark and the trio Heaven 17. Both fit perfectly in the style of the '80s synth-pop band.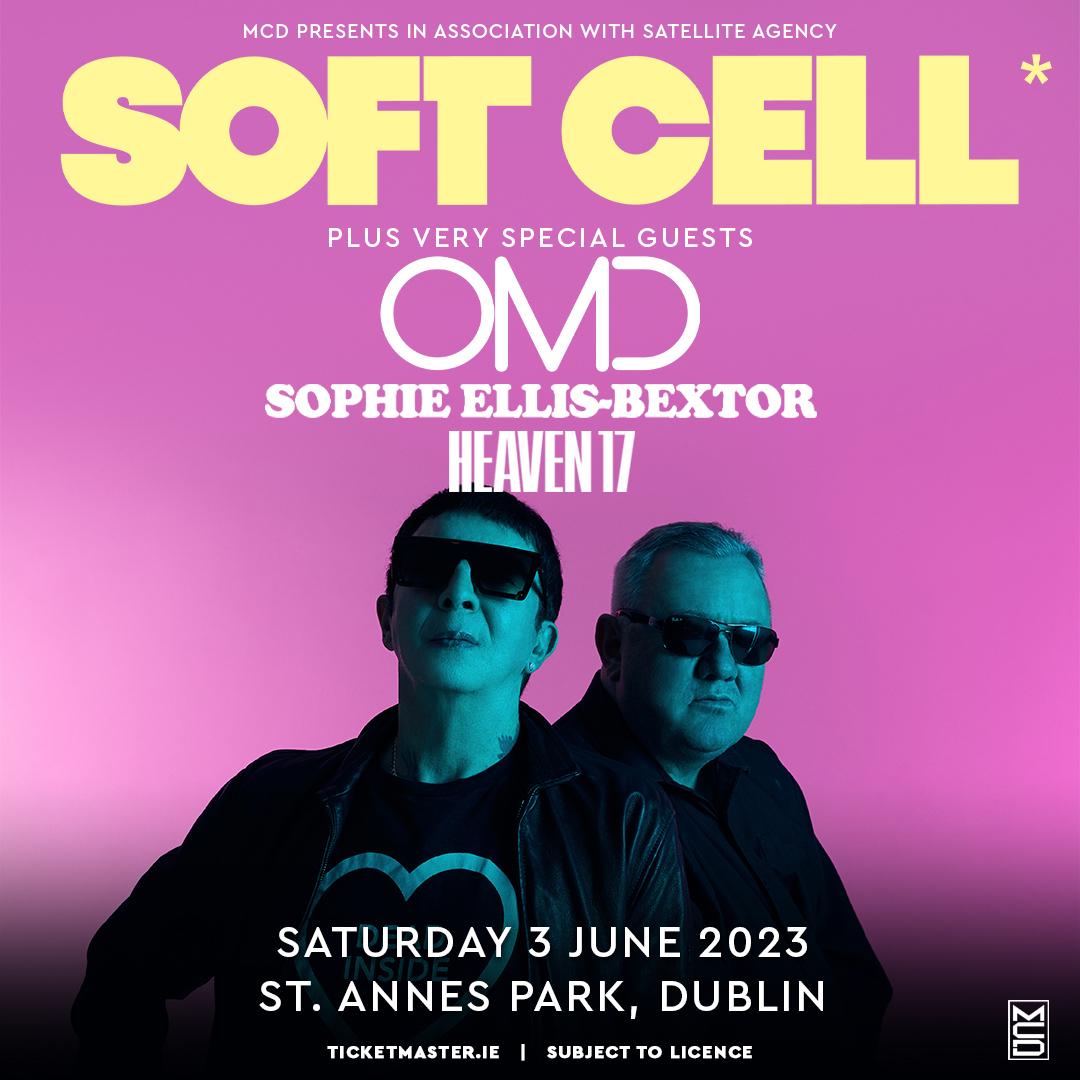 The artists Marc Almond and Dave Ball, known as Soft Cell, released four Top 20 albums in the UK between 1981 and 1984. These albums include hits such as 'Torch', 'Say Hello, Wave Goodbye' and their cover version of Gloria Jones' 'Tainted Love', which became their era-defining No. 1 hit.
Since then, 'Tainted Love' has been covered by various artists, including hard rocker Marilyn Manson.
Advertisement
After a series of sold-out performances, the band released their top 10 album *Happiness Not Included in 2022. The album includes hit single 'Purple Zone' featuring the Pet Shop Boys. With a UK and North America Tour, the duo recently celebrated the 40th anniversary of their debut album Non-Stop Erotic Cabaret .
Sophie Ellis-Bextor shot to fame as a vocalist on Spiller's huge number one single 'Groovejet' and her worldwide smash hit 'Murder on the Dancefloor'.
In 2001, Ellis-Bextor made her solo debut with the album Read My Lips. The album has since sold over 2 million copies worldwide. During the lockdown, she performed in online videos called 'Sophie's Kitchen Disco' with her five sons, which have been viewed by over 40 million people worldwide.
The band Orchestral Manoeuvres In The Dark (OMD) were formed by Andy McCluskey and Paul Humphreys in the late '70s.
Standing out with their unique electronic sound, they achieved hits throughout the '80s, including 'Souvenir', 'Joan of Arc', 'If You Leave Me', and the anti-war anthem 'Enola Gay'.
Advertisement
The synth-pop duo Heaven 17 was formed in Sheffield in 1980 after a split from The Human League. To date, they have achieved chart success with hits such as '(We Don't Need This) Fascist Groove Thang',  'Play To Win', and 'Temptation'. Heaven 17 are considered one of the most forward-looking artists of the decade.
Tickets for Soft Cell's Dublin gig can be purchased here.
Try your luck to win some tickets in Hot Press' competition.