Record Store Day: Dingle Record Shop praise the event but want fairer prices for music fans
To celebrate Record Store Day 2021, Hot Press is chatting to some of the country's favourite record shops, in anticipation of the big day.
Located at the edge of Europe, Dingle Record Shop is described by owner Mazz O'Flaherty as "the smallest independent record shop in Ireland... And then I put into brackets 'the world'."
Mazz's sense of humour and fun is the first thing that strikes you when talking to her. Despite having a vision impairment, she has run a successful music shop for over twenty years, with the likes of Paul Simon and Bono making the pilgrimage to the west coast of Ireland to see the shop.
Brian Lee, who helps run the shop with Mazz, says that although he loves Record Store Day, he feels the event has become increasingly pricey for everyday music fans.
"Is it good for independent record shops? Absolutely," he adds. "Do I want to continue? 100%, Absolutely. It's one of the best things that's ever happened to the business, but they need to have a rethink about it.
"If I got in 100 albums for a tenner, I'm gonna sell those 100 albums. But if I'm getting in 100 albums and a lot of them are 25 or 30 euro, I'm not gonna sell them all.
Advertisement
"It was started out to help people like us, an independent small record shop, but now it's price restrictive."
This sense of wanting fairness for music fans isn't a surprise after learning more about the shop and its history. Dingle Record Shop has featured many local artists playing in-store, as well as Mazz herself being an artist in her own right.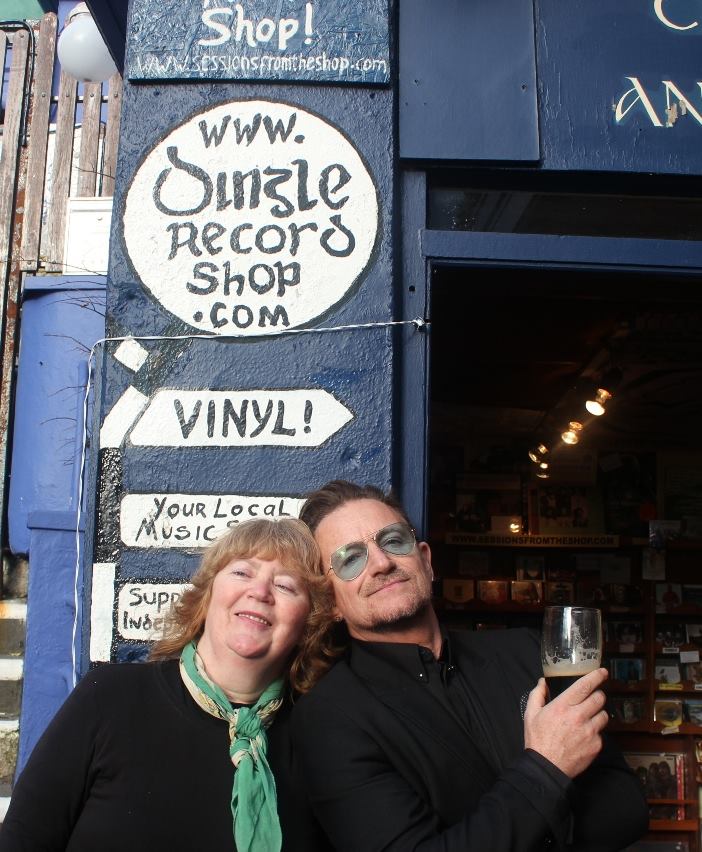 "I actually recorded the first single ever in Dingle," Mazz reminisces. She says that praise from legendary DJ Larry Gogan was amazing.
"He said that it was in the genre of Joan Baez and Joni Mitchell," she continues. "Was there enough space in the sky for me at that stage, there was not!"
She's currently recording a charity single for Dingle Coast and Cliff Rescue and Valentia Lifeboat, 'Dingle Bay'. It will be available in-store and in music shops nationwide.
You can visit Dingle Record Shop at 2-46 Green St, Dingle, Co. Kerry and watch a documentary on the shop produced in 2014, The Greatest Smallest Record Shop in Ireland below.

Advertisement