Queens of the Stone Age to host a launch party for In Times New Roman at The Grand Social
The announcement of the free album launch party celebrating Queens of the Stone Age's In Times New Roman comes with the release of a new single, 'Carnavoyeur.'
It's been known for a few weeks that the glorious rock band Queens of the Stone Age are coming out with some new material. After all, the news came with the drop of their single 'Emotion Sickness.' Now, fans have even more of a reason to celebrate: the band is hosting an official Ireland album launch event for their upcoming eighth album In Times New Roman.
After revealing their plans to release the long-awaited collection on Friday, June 16th, the Queens of the Stone Age banded together with Spindizzy Records, Matador Records, and the underground music PR agency Overdrive.ie, who also act as Ireland's Heavy Music webzine.
Together, they're set to bring to life the perfect launch party at Dublin's The Grand Social on Thursday, June 15th at 8PM. The Grand Social can be found on Liffey Street Lower in Dublin.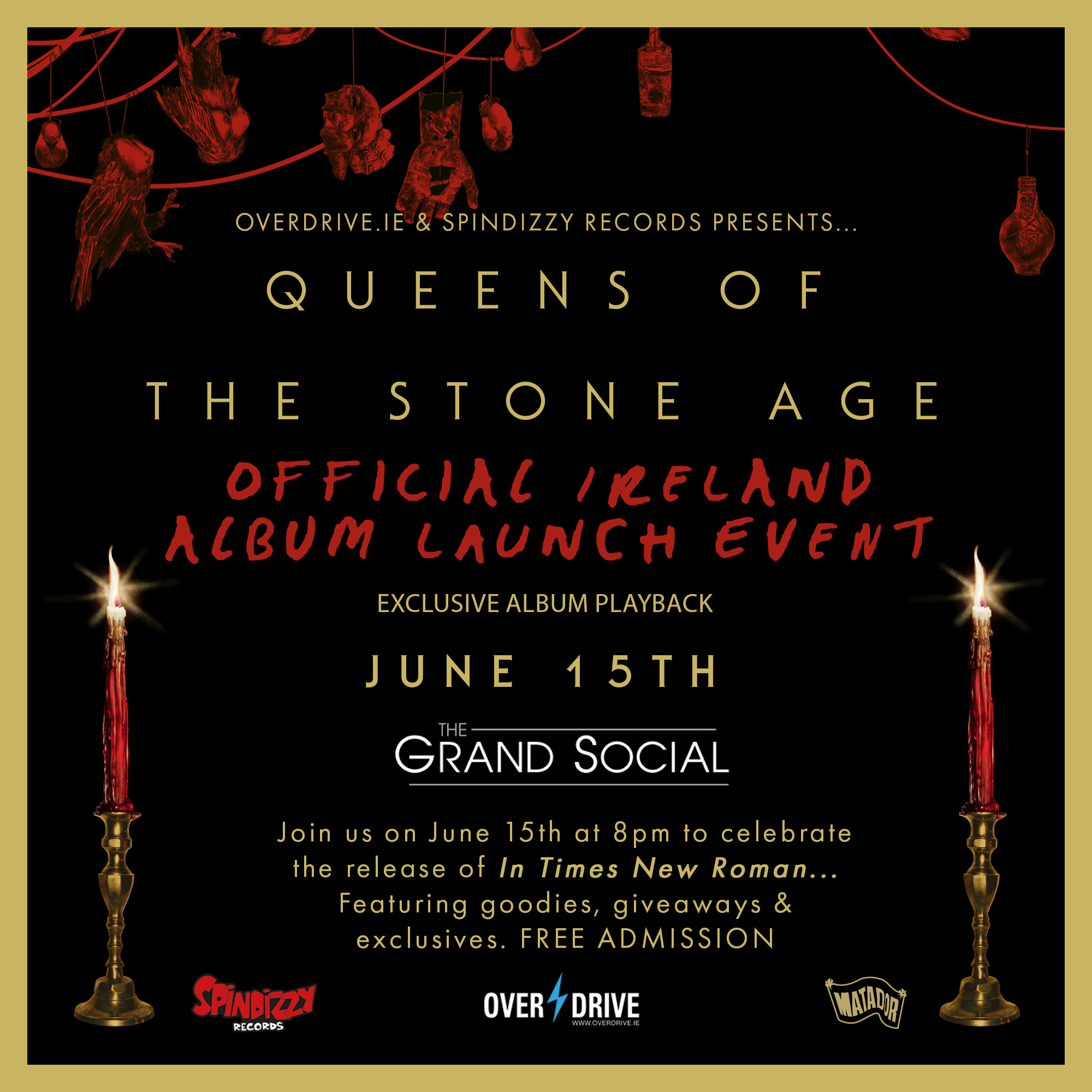 A free event, anyone able to make it will get the chance to hear In Times New Roman before it enters the public realm the following day and will even have the opportunity to purchase limited edition vinyl copies of the album. Attendees will also get the chance to score complementary goodie bags, filled with patches, posters, stickers, and more while supplies last.
Advertisement
If you can't make The Grand Social launch party, Queens of the Stone Age has also just been added to this year's Glastonbury Festival's line-up.
Recorded and mixed at Queens of the Stone Age vocalist and guitarist Josh Homme's Pink Duck Studios, it was mixed by Queens of the Stone Age themselves and Mark Rankin. The collection will be released via Matador Records.
In the meanwhile, the hypnotic 'Emotion Sickness' isn't Queens of the Stone Age's latest track. Earlier today the rock band shared the new song 'Carnavoyeur.' Check it out below.
In Times New Roman releases Friday, June 16th.
Listen to Queens of the Stone Age's latest single, 'Carnavoyeur,' here:
Pre-order the new album here.
Advertisement
Tracklist:
Obscenery
Paper Machete
Negative Space
Time & Place
Made to Parade
Carnavoyeur
What the Peephole Say
Sicily
Emotion Sickness
Straight Jacket Fitting