On this day in 2013: Bono receives Commander of the Order of Arts and Letters in France
Seven years ago, U2's Bono was awarded France's highest cultural honour by French Culture Minister Aurelie Filippetti, at a ceremony in Paris. To mark the occasion, we're revisiting our classic 2014 interview with the band, as they flew to Germany to promote Songs of Innocence.
Sitting comfortably beside Hot Press in a plane taxiing down a Luton Airport runway, U2 guitarist The Edge – passport name: David Howell Evans – is strapping on his seatbelt and discussing his many years of air travel.
"Have I ever flown on a Ryanair flight?" the softly spoken 53-year-old muses. "I have, yes. I do Aer Lingus, mostly. I'm happy in the commercial world. This is purely practical, this time of night, getting there as quickly as possible."
Of course, this is no Ryanair or Aer Lingus flight. It's around 9.30pm on Thursday, October 23, and all four members of U2 and an assortment of their personal staff, security personnel, and record/management company types are aboard this Cologne-bound executive class private jet. The original plan had been to fly to Dusseldorf, but things are running so late that our airport slot there is gone. Cars have been organised to transport everybody between cities when we land.
The mood is exuberant, to say the least, as veteran tour manager Dennis Sheehan keeps everybody's glasses filled with a magnum of champagne - the only people not drinking are teetotaller bassist Adam Clayton and, hopefully, the pilot. More than six weeks on from the contentious mass iTunes giveaway of their thirteenth studio album, Songs Of Innocence, the band are a fortnight into the promo for its physical release. Now that all the brouhaha about Apple's free release has started to die down, they're pleased to see public attention finally waking up to the actual music.
Today's schedule was all focussed on television. Having already made impressive appearances on Graham Norton and Later... With Jools Holland, U2 have spent the last eight hours ensconced in Metropolis Studios in west London performing songs for, and being interviewed by, a succession of international TV crews, some from as far afield as Japan, Brazil and Australia. Tomorrow afternoon they're playing an intimate show in a specially prepared venue on the outskirts of Dusseldorf for German radio programmers, before returning to Ireland for a surprise Late Late Show appearance.
Advertisement
Things are really starting to take off. In every sense. As the engines whine and we speed up the runway, I ask Edge if U2 have ever had an Almost Famous moment on a private jet.
"We did once have a massive drop straight out of the sky, many years ago," he recalls. "We were sitting opposite Sophia Loren on a transatlantic commercial flight and got struck by lightning. And I remember Bono whispered to her, 'Don't worry Sophia, it's just God taking your photograph'. It was such a good line! I thought, 'You smooth talking bastard...'."
The jet thrusts upwards into the inky Bedfordshire sky, and Hot Press' digital recorder goes on. All systems are, finally, go...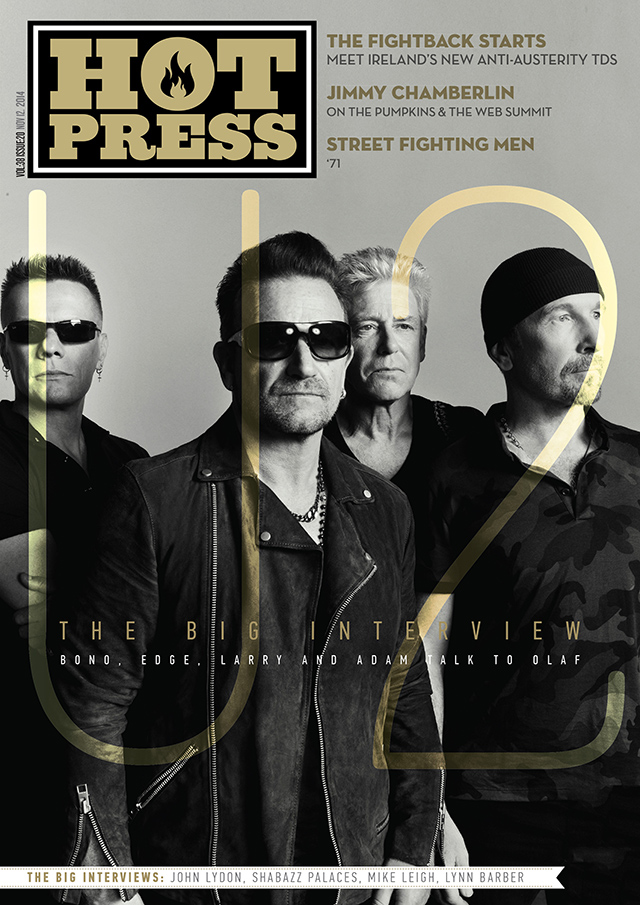 OLAF TYARANSEN: Thematically, Songs Of Innocence is largely about coming of age in 1970s Dublin. How did you approach that musically?
EDGE: Well, we listened to the music of that time to remind ourselves of the milieu, and what was the soundtrack of that particular moment in our lives, both personally and as the band. We didn't set out to make an 'homage' album, by any means. What we kind of bumped into was the unbelievable life-force and vitality of that era of music. And, lo and behold, also some amazing songwriting, like the Buzzcocks. Fantastic melodies and really interesting work. The Ramones, also. So, that was inspiring. But it's not in any way an attempt to recreate the sound of that time.
Why did you decide to look back?
Advertisement
The realisation was, as the music was coming into focus, myself and Bono particularly were talking about, 'Okay, what's the lyrical terrain that we wanna go for here?' We both felt that a Dublin-centric point of view was fresh and valid. My own personal take was I thought that it would be interesting to think about Dublin from the perspective of looking into the future, not really weighted too much on the past, but Bono was like, 'No, I think we gotta go there, I think we gotta really look at the past, look at what it was that formed us', so he went in that direction. Where we ended up was thinking about it as a work of two halves, the first half being Songs Of Innocence.
You co-wrote the lyrics with Bono this time.
Bono's really the lyricist but I ride shotgun. I help by being a sounding board, but I'll throw in the odd line that'll stick. Sometimes it's kinda hard. I'm very much in a supporting role there. Bono's got to own it and believe in it and put it across when he sings it. That's never going to happen if he doesn't have the lion's share of the ownership.
There are five producers credited on this album [Danger Mouse, Paul Epworth, Ryan Tedder, Declan Gaffney and Flood]. How was it working with so many different people?
They all brought really important contributions. We never had everybody in the room at the same time. Brian Burton [Danger Mouse] was there when Flood was working with us, briefly. Apart from that, everybody worked with us separately. We finished the album on our own, in Malibu. The last month was with Dec [Declan Gaffney]. And, of course, when I say that all the producers didn't meet, the one common denominator for the album was Declan Gaffney, who was our long-suffering and incredibly patient chief engineer and co-producer. Dec was there with everybody and he finished the album with us.
You only finished it a week before the iTunes giveaway...
Quite honestly, the album was delivered a week before the release and then we ended up having a little crisis. The 10-track record was sounding a little bit lopsided and we added 'Volcano' at the end. The reason why it wasn't in the shuffle originally was because the cut-off date arrived and it was like, 'Well, we can't have it on the album. It's not finished. It's not done!' But we managed to persuade Apple to give us a couple more days and in that couple more days we finished 'Volcano' and it made the cut, which I'm so happy about. It balanced out the album in a great way.
Advertisement
The acoustic version of 'Every Breaking Wave' that you played on Jools Holland the other night was amazing. It sent shivers down my spine.
I'm so happy to hear that. I'm a huge believer in that arrangement.
Would U2 ever consider doing an acoustic album or an Unplugged in New York-type session?
It's funny you should say that. We kind of set ourselves the challenge of doing some acoustic versions after we finished the album. We left ourselves very little time. We only had, like, five days. So we ended up doing five tracks, one a day. It was a revelation because we all started to find a new way into the songs. Because of our slightly twisted process, the songs aren't really fully written until they're mixed, and you literally have a definitive mastered version. For the first time that I can ever remember, we were able to take the finished song and look at it in a fresh way.
The album release kept on getting delayed. Was the management changeover from Paul McGuinness [who retired last year having managed U2 since 1977] to Guy Oseary responsible for the hold-up?
A little bit. It was kind of monumental for us. We wanted to get it right: to honour Paul and to make it work for Guy Oseary coming in, so it definitely took a lot of energy and focus to do right by both those guys.
The album is dedicated to Paul.
Advertisement
Yeah. Paul is still around, he's still offering advice and support and wisdom. But it got to a point where he wanted to enjoy life at a different tempo and we couldn't argue with that. There's a frenetic energy when it comes to managing U2 and it takes its toll.
How many songs did you have to choose from?
About 25, of which the last five would have been fairly rough and probably not releasable. In the last month or so, there were a bunch in contention and some we decided not to work on any further because we felt they didn't belong.
The street violence of 1970s Dublin is touched upon in some of the songs. But it wasn't just Dublin. When Hot Press was putting together North Side Story [the specially commissioned book for U2.com subscribers], we unearthed a report about an early U2 show in Ballina that ended in a melee. Do you remember that night?
I do, vividly. Dublin and Ireland during that time was a place where there was a fair amount of street violence and you had to handle yourself and know your way around. It wasn't even something that you were necessarily surprised by, or even thought too deeply about: it was just part of the reality of that era. That, mixed with the other, more serious, altogether more disturbing thing of the paramilitary violence of the Northern struggle, would have been a backdrop to our lives growing up. I don't want to over-emphasise it because it's not like we were running for our lives on a daily basis or anything like that.
There's already talk of a follow-up album to be titled Songs Of Experience. What's the plan?
Once we figured out that it was about Dublin and our lyrical connection to the city, this kind of playground... we started working on ideas and it became evident that we actually had a two-record set coming into focus. Songs Of Experience would be the forward-looking, maybe a bit more experimental, futuristic take on things. Bono has been playing around with some very interesting lyrical ideas, one of which is the old Bono and the younger Bono actually managing to have some conversations, which I think is a great idea.
Advertisement
Was there any point where U2 considered splitting up in the past five years?
No, not really. We're still a very strong unit. Making the album was an incredible challenge, but it was a self-created challenge. We set ourselves the task of making an album that would stand alongside our best work.
Do you feel much more united on this album than you might have been on No Line On The Horizon?
I don't think we lacked unity on the last album. It was just a different type of album because of the intention going in. It was always a more experimental record, always a risky thing. We're so easily seduced by the idea of something that we've never done before. It's our tickle.
(The plane suddenly hits some turbulence. As we hold onto the table, Edge looks across at Adam and laughs, "Here's our 'I'm gay!' moment!")
I presume you're all members of the Mile High Club at this stage?
Well, I dunno about that but... we have travelled many miles together (smiles).
Advertisement
Were you surprised at the adverse reaction to the Apple giveaway?
It took me a bit by surprise. I had certain reservations about the whole idea but it wasn't on that basis. My overall concern was, would it distract from the quality of the songs themselves? The negativity was unexpected. Because I thought, 'This is an immensely generous proposition on our behalf, our record company's behalf and on Apple's behalf', and it's a reward for people who I think we can safely say are paying for music, because they have an iTunes account. I thought of it as just a really nice thing to do. I guess, looking back, it does sort of come with the territory. We are, right now, one of the biggest bands in the world. We have been for a long time. People are going to take a pot shot at somebody and it's more than likely gonna be us, so I guess I shouldn't have been so surprised.
How did the giveaway idea come about?
We were doing a lot of talking about trying to launch the album in a unique way. It emerged as the most potentially interesting and ground-breaking release idea. The thing that was really attractive to us was that we thought we could persuade Apple to take one of our songs and do a huge campaign around an ad, which is what they did in the end. All the figures that were thrown around about what we got paid are, in fact, completely inaccurate. What they were doing was accumulating all the money involved in what Apple paid Universal Records for the privilege of giving away our album, plus what Apple were spending to film and produce the TV spot – and what they were spending on the TV networks to run the ad. People were so quick to come to conclusions, but what they weren't factoring in was that Apple were going to be spending the lion's share of that anyway, whether we were involved or not. They have a certain budget for their ad campaigns. The idea that we trousered $100 million... you just have to stop and think for a second to realise how ridiculous that idea is.
That is kind of how it came across...
I know, but the problem right now is that perception is reality. With all due respect to the wonderful institution of journalism, right now a lot of journalists are underpaid, overworked and no-one fucking checks any facts anymore. They just shoot from the hip and once it's out there...
How's it working out with Guy Oseary?
Advertisement
Well, I don't really have any knowledge of the organisation, I just know him personally, and I find him really good to work with, very considered and very smart and tuned-in to what you might call 'the new reality' that we're living with. The digital revolution has been hugely disruptive to music and journalism and the film industry. This is a moment where we have to be light on our feet. We have to try to figure stuff out, which means experimenting. The giveaway was a bit of an experiment: it's probably a one-off, because I'm not sure it's really sustainable for Apple or for us or for anyone else, really. But it was a good idea and – for all the controversy it's caused – it's given the fans a really nice gift.
The hostess appears bearing a hot chicken and rice meal for Edge. He swaps seats with Adam Clayton, who abandons the Gore Vidal biography he's been engrossed in to sit in beside me. "I was just at the bit where he was considering moving to Ireland for tax purposes," Adam laughs.
The quietest member of U2 (nowadays at least), the white-haired bassist is a charmingly friendly, endearingly shy and vaguely aristocratic individual. His large wedding ring reminds me that the former U2 playboy – who was once engaged to Naomi Campbell – is now hitched to Brazilian model Mariana de Carvalho.
OLAF TYARANSEN: Congratulations on your marriage.
ADAM CLAYTON: Oh, thank you very much (smiles).
How has it changed your life?
Um... the surprising thing is that in many ways, it kind of hasn't changed my life. It's just a lot more settled.
Advertisement
You were kind of heading that way, anyway.
Yeah, I kinda was, but Mariana is very independent and she gets on with things. She's quite busy, she travels a lot. It doesn't really feel like being married, but it feels good.
Congratulations also on the album. How do you feel about it?
It absolutely represents where we are, as a band that's been around for a long time. I'm always a little bit wary about that thing of looking back and trying to rationalise where you came from, but I think, in certain ways, it revitalised some of the things that made us. Looking back on that energy and intuition that we had as 18-year-olds, as 20-year-olds... it's amazing that we got from there to where we are now. I guess at certain points you have to look back: you have to process stuff in order to move forward. It's the right record for us. It seemed important to reconnect with Ireland in some way.
Has it been cathartic in any way?
It's too early to say. We haven't really got inside the songs. When we play them and tour them and see how they work in front of an audience, that will be powerful.
The word is out that the next album is already 70 percent recorded. How long will it take to complete?
Advertisement
Well, that's from a perspective of looking at it now. By the time we actually dust it off? A year will have gone by. We might want to make a slightly different statement. I don't want to box us in and say it'll definitely be finished in terms of what the expectation is now. A lot of things could change.
How have your working methods changed over 37 years?
Oh man... 37 years (laughs). That's a hell of a long time! I don't think that they've changed very much. We still take our lead from the music, we still pursue the music, we still improvise the music... and then, eventually, when we've got the music resolved so that the emotions or the idea is right, then the lyric goes on. Unfortunately, because of the way we are, there can be five, six, seven drafts of the lyrics before you get to the good stuff. Rock 'n' roll is a very narrow band, really. You have to care and you have to identify. It's not about poetry. It's about a visceral connection. Sometimes it's hard to get to that stuff.
You've been off the booze and drugs for a very long time now. How has that changed your take on rock 'n' roll? Do you enjoy it more?
Umm... yeah.
The cliché is sex, drugs, booze, rock 'n' roll...
All those clichés exist. The one thing that almost happened to me is: you die young. It is a very young medium and a lot of it is concerned with those young pursuits. It's difficult to grow up in it, but people do. People extend it as an art form. Lou Reed did and Leonard Cohen has... so it's kind of valid if you can remain true to yourself and talk about where you're at, and I think we've managed to do that. I miss that simple world that I had in my twenties and thirties, when you went from gig to gig and party to party and everything was a bit of a laugh. But everything changes and you can't do that in your fifties.
Advertisement
You were one of the most proactive members of the band in the early days. You once famously rang Phil Lynott at 7.30am to ask for advice...
Oh man! (laughs) Gosh. It's kind of different now. We know so many of the artists out there, so it's actually quite comfortable to go anywhere. Doing Jools Holland the other day, it was so comfortable. We go back a long way with Jools and they gave us so many gigs early on. There's a lot of water under the bridge.
Do you ever get nervous before these kind of shows? Especially when you're coming back with a new album and the waters are somewhat untested?
I definitely get nervous. It takes a while, doing a few gigs before you lose that. What takes a shift is just learning to be totally lost in it. Once you've done three or four hundred shows, you step into it instantly. But I've been living the life of a 50-year-old guy for the past four years!
U2 finally played Glastonbury in 2011. Did you enjoy the gig?
I've had more fun at Glastonbury when I wasn't playing. It was just a shitty night. It's hard to win against mud and rain, but we did the best that we could have done. It's very hard to transcend that sort of situation. I enjoyed the set that we played, it was very hard-hitting. Perhaps the fact that we did play such a tough set, that kind of got people through standing in a muddy field and being rained on at 11 o'clock at night.
It's been reported that U2 will be playing arenas rather than stadiums when you tour this album next year...
Advertisement
360° was a phenomenal stage to put into a stadium. And then the fact that we played to seven million people, that's like... 'Wow'. That's a lot. This feels like music that we should start out playing indoors. We haven't played for four years together. Stadiums would be a big jump. We want to go indoors, play in the dark.
Would money still be a deciding factor in those kinds of decisions? Or is it more about, 'No, we want this connection with the audience'.
It's not a money issue. It's really a question of what we want to do. The economics will wash themselves out, you know? We haven't decided on what the production is going to be, so we don't know how much it's going to cost. We have a tradition of investing in our shows, so that's what we'll do.
With the plane preparing to land at Cologne Bonn Airport, Hot Press moves down the back to find Bono and drummer Larry Mullen deep in discussion about the work of Norwegian film director Erik Poppe. "Bloody Scandinavians," the singer deadpans as I sit in opposite him.
Both men are drinking wine and dressed entirely in black, the only splash of colour being Bono's purple tinted glasses (he admitted to Graham Norton last week that glaucoma is the reason for his ever-present shades). Larry's been all over the press this week over an Irish court case, but it seems polite not to mention it. As ever, U2's ebullient frontman handles most of the verbals...
OLAF TYARANSEN: We're landing pretty soon. I'm a little concerned about the time...
BONO: Yeah, yeah, yeah (casually waves hand). We'll be an hour in Customs or whatever. Arriving in a van in Berlin, going into Customs in 1982... remember that, Larry? When they brought the sniffer dogs and they made us open the back and they found all these lads in damp sleeping bags, trying to sleep – us! They thought we were smuggling people. This is better! I love the new Germany.
Advertisement
Didn't you get kicked out of a house on the night the Berlin Wall came down?
Well, we weren't kicked out of it, but we were visited by a family who wanted their old villa back. They found what they thought were squatters and they were very upset. We'd been out at a party, we thought to celebrate the Wall coming down, but, in fact, we ended up getting the wrong directions and we fell in with old Communists who were protesting the Wall coming down. It was the strangest thing. We went home very, very late that night.
Just as well YouTube wasn't around then, eh?
Yeah, yeah (smiles). I went down to look for water. I had a banging hangover. There was no kitchen in the house. They were across the road. It was the old Soviet guest houses. In fact, I was staying in Brezhnev's bed and Denis [Sheehan], who is organising our travels tonight, had found the guest house and managed to talk them into it. The house had been seized during the war so when the family arrived in the door they were not happy. And when they saw me, naked, as I recall – a horrible sight now that I think about it: we should have been evacuated for other reasons. But they were very upset. (The plane hits the runway and he takes a celebratory sip of wine). I love Germany now... where are we now? Dusseldorf or Cologne?
This new album almost sounds like a Bono solo record...
Well, I had a lot of help!
It reminds of John Lennon and The Plastic Ono Band.
Advertisement
Yeah, it's a very odd thing to be doing to yourself (smiles). And some of the bandmates were rightly concerned that it might be a little self-indulgent, solipsistic. How would anyone relate to it? It's so particular, these accounts of growing up in Dublin. But it turns out that everybody has a street that they grew up on, and everybody remembers the first time that they had sex, and everybody remembers a friend that got them through tough times and that first transcendent gig. Actually, if you compare it to No Line On The Horizon which is very esoteric, it's turned out to be quite amazingly accessible...
I actually really like that album.
Oh, I love that album. He doesn't [points at Larry]. I do. Because he's a songwriter. Larry likes songs. We were asked in that Facebook chat, the great gigs we'd ever gone to and people were picking Jimi Hendrix and he picked The Sweet. What was the gig you wanted to be at? The Sweet in the Isle of Man, 1974. I was just saying, you're a 'song' man.
What gig did you pick again?
Oh, I think it was Patti Smith in CBGB's. Another kip! It's ended up this very... I have a vague memory of talking to you about intimacy being the new punk rock, and talking about the way that people hear music now, which is through earbuds, through earphones, in crowded trains and buses, walking down the street, that sort of 'mute' state to the world, but opera is going off in their heads. In terms of songs, yes, some punk rock is necessary, but actually whispering can achieve the same end if what you're whispering about is challenging enough, raw enough, brutal enough, honest enough. It's very hard to keep yourself honest as an artist. Because, remember, we're artists, we're performers, we're masters of dishonesty. And it's not deception of others, it's deception of yourself. That's the real thing. How to go there, and really go there, that's the question. And why would you want to?
I thought you went there with your performance of 'Every Breaking Wave' on Jools the other night.
I can't even begin to tell you what it's like to sing that song. You have to steel yourself. A funny thing happened today, because we performed the song in the studio for whoever and then had to do a few interviews, but the wounds are still open and so I got quite messy in the interview. There were a few black eyes and I found myself quite raw and emotional on a few things because that song had done that to me. So it's not something you can switch on and off very easy. A lot of the songs on this album are like that...
Advertisement
How's 'Iris' [about his mother] going to feel when you're doing it live?
Can't even imagine! I haven't even thought about it. I did think about whether it should be on the album or not, and three, four days after we finished the album, I thought it shouldn't. Even though the song is a beautiful tune and everything, I just thought it was going a bit far and it's not very punk rock, singing about your mother.
Did you talk to your brother Norman about that song?
Here's a wild thing: on the day before, two days before we were going to launch this album and, indeed, this song out there into the universe, I woke up feeling embarrassed about the song. And I thought: 'It's too late'. And I started to think back: how long was this ago? Why is this important? Oh god, this is 40 years ago. I really hadn't thought of that. I really hadn't. I was thinking, what date was it? I texted my brother. He didn't know: it's very Irish in that we don't talk about things like that. We never talked about my mother, which is a reason why I don't have many memories of her. So he didn't know either. I texted my uncle Jack and he came back with, 'She collapsed at the grave of her father as he was being lowered into the ground on the 8th of September', which was the day I had texted my brother. Two days later, her spirit...
Passed on...
Passed on. And on that day we were putting this song out into the universe. I thought, that's amazing. What a blessing. I'm not superstitious and the idea that my mother is looking at me, I just hope it's not true because she would have seen some terrible stuff that I've been up to over the years! I'd be reeeeally embarrassed (laughs). But it was a beautiful cosmic rhyme.
It is a powerful song...
Advertisement
I tell you what it might be. Live, there's something powerful about holding onto a stranger. You and I talked about [the part] in 'Moment Of Surrender' when the character goes down on his knees in a public place and he's on a street, people pass him and he goes down on his knees. There's something... 'Hold me close, hold me close and don't let me go/ Hold me close like I'm someone you might know'. So I'm holding onto this... stranger. There's something very powerful, and in dance culture? It's known. In rock and roll? A little bit. But in dance culture, the idea that you meet somebody and you hold onto them and you don't let go: it's powerful. But the person that happened with, at the same time – that was September 1974 and that's when I met [future wife] Ali. I didn't date her for a few years, but I saw her. And the song deals with some kind of transference of the female energy because the way I would look at women, from that point on, was forever changed. Our organisation is full of smart women... all the women are friends and I have lots of female friends... it's a big moment, at puberty, you're just discovering girls and this women who brought you into the world leaves you, abandons you. And you think it's your fault because that's something that kids do. But, of course it's not.
When I was working on North Side Story, I interviewed your old school friend Mark Holmes. He told me that you were always scheming about women as a young teenager.
Ha, ha! (laughs heartily). I would say: what's Brian Eno's album? Taking Tiger Mountain (By Strategy). I've never met a girl who didn't like a grand plan to seduce her.
Did you play chess?
Oh yes, I did. I stopped at 14. Same moment as I discovered girls...
So you applied your grand strategies to that instead...
Yes, and to other things. I have a funny-shaped brain. I can remember ridiculous details – and then not know what I had for lunch or what your name is. It's an odd brain, but I can, I could, when I play chess, really see a good few moves ahead. Whatever shaped brain that is. And it really is much more useful when directed to the romancing of a beautiful girl like Ali. I'll tell you who's very good at that: Adam Clayton. When he is romancing a girl, he is not just thinking about his own route, he will involve everyone. There'll be 20 people who know, but Mariana wouldn't know. And he'd be just working it. And of course when somebody finds out, they're not like, 'Oh, how terrible', they're actually like, '...Oh!'
Advertisement
LARRY: Smooth-talking bastard.
BONO: Yeah, he's not even a smooth operator...
LARRY: In the nicest possible way.
BONO: He gets away with it. It's the plummy accent and the dressing-gowns and the slippers he wears...
What's with the dressing-gowns?
LARRY: It's an open dressing-gown. That's a big deal.
BONO: That's a horrible thing.
Advertisement
LARRY: It works. The girls love it.
BONO: They're terrorised by it! It's not just that he likes luxury goods, he is luxury goods. We've been living with each other a lot during the making of this record so you get to know people's homes... he gets up in the morning and comes out in a silk dressing-gown and he is Lord Fauntleroy. I mean, he actually is. He has a life like no-one you've ever met. It's like having Prince Charles in the band except, you know, better clobber. But the dressing-gown, he will allow to fall open and, like, our kids and a lot of people are just traumatised.
But, sure, the whole world has seen Adam's penis. It's on the Achtung Baby! sleeve.
LARRY: There was some air-brushing (laughs).
The fallout from the Apple giveaway sort of distracted people from the songs.
BONO: For a time, yeah.
How confident are you that they're going to come around?
Advertisement
BONO: It looks like it's happening already.
LARRY: In the end, what it's about is confidence in songs. We've been banging on about how this is what we wanna do. We spoke earlier about it. It is essential. If you want to do this at this level, when you do the interviews, when you go on promotional tours and when you do the gigs, these things will sustain you and they define you. In the end, your songs define you. We have great experimentation. We've done it. We're probably one of the great bands for experimentation. You put U2 in a room and we come up with all kinds of shit. When it comes to songwriting, it's slightly more tricky for us. And when you go to Germany, France, Belgium, when you're taking to people all over the world, the first thing they wanna know is... 'How did you do that? What about the songs? What about the songs?'. We can play this shit up and down, back to front. That's our calling card. That's what's so great for us.
You sound very relieved, Larry.
No, I am relieved. I'm very proud at this stage in our career and our lives that we have cracked part of the code and that there's more for us to do. It means something. It's significant.
How does Elvis [Larry's 18-year-old son] feel about being featured with you on the cover?
Eh, he doesn't. He's removed from it. He's in school, away. He's not living in Ireland and he's not getting any of the heat. I spoke to him today and he has no idea what's going on, which is good for him. I'm a little worried that he might get a lot of attention for this and I said, 'I don't want it to interfere in your life, me and mum want to make sure that you're ok' and he just said, 'We've never done anything like this together. I'm really proud of this'. It means something to him and that really blew me away. He's proud of it and that's great. It's affecting me because I've got to talk about it all the time, but not him.
That cover image was your idea, Bono, wasn't it?
Advertisement
BONO: It was. And I tried out with Elijah and John, our own kids, to see if I looked better with my kit off... (Larry laughs). Actually, you know Larry's tattoo? He didn't say anything on the day, didn't say anything until we did the download and it was in the artwork, that this tattoo is based on Native American mythology. It's the Pawnee tribe and it's a symbol of protecting the innocence.
Was that coincidence?
LARRY: I got it done when Elvis was in the womb. I got it tattooed on my arm. You don't want to over-arch on this stuff but for somebody who has spent most of their lives dodging this shit, to have that up there, particularly with your first-born that you protect more than anything else, to have that up there, there's a side of that that's, 'Is this too much?'. But, in the end, it resonates, because you brought somebody through those 18 years and you protected them for those 18 years...
BONO: It kinda brought you through it, too.
LARRY: Yeah, it really did, because I've known this guy – this 'kid' – and he's now a man. I'm holding onto him, but what you don't see in the picture is that he's holding onto me as well. There's 18 years in that picture and there's emotions and heartbreak and love and pain, and all those things, in that picture and nobody will know what that is. It's public, but it's still got that intimacy and that's between him and I. When he says, 'That means a lot to me that you and I did that together'... it's a powerful image. His mother is not jumping up and down, but you know... (smiles).
There's an interesting juxtaposition: the father theme on the cover and the mother theme on the album itself.
LARRY: We had an interview today and a journalist said that she saw the picture on the tube in London and she said, 'It's kind of homoerotic', and I was going, 'It's missing the point.' She was so wrong about that. This is a father and son. It's powerful. There's nothing erotic about it.
Advertisement
BONO: It has its antecedent in that amazing photograph of [Aslan singer] Christy Dignam with the child. That's a beautiful shot. What a beautiful dude.
He's been quite ill recently.
He has. I've gone out to see him. He's a great singer. A great singer.
Didn't U2 cover Aslan's 'This Is'?
Yeah. It was a do for him. It's a great cover. It worked out really well. I mean, the things you don't anticipate? We knew we were stirring up the hornet's nest by delivering the bottle of milk to the doorsteps of 500 million people. You know you're going to get into a bit of trouble but you probably don't know the level of bile and spleen that's out there. The thing you're actually worried about – and it was Edge's concern – is the solipsism, the self-indulgence of the first person and writing these particular stories and how would others relate to it? Turns out that that's the thing that's connected. And the picture, the photograph... management, everybody is like, 'Ooohhh...' but that's interesting. That's what's connected. There are lessons here that I don't even know what they are, yet. Something about the rawness of it, no-one gives a shit. All the nonsense that's up there... my kids, 15, they said, 'Ah yeah, it's just internet bollocks'. Have you seen somebody else's site? It's 80 per cent hate mail. Just every day. I don't go on there, so I actually don't know but it really means nothing. But it did distract, for a period.
Although as an early investor in Facebook, it could be said that you're slightly the author of your own misfortune here...
Totally. Totally. I have, yeah. I think it was a bit of a backlash to big tech. There's a line in the tech community, 'If the product is free, you are the product'.
Advertisement
LARRY: Is that the equivalent to, 'There's no such thing as a free lunch'?
BONO: Facebook are getting very sharp now about giving you a button for when you don't wanna push things. Have you read Googled? It's an amazing book and these are amazing people. I know Larry [Page] and Sergey [Brin – co-founders of Google] but every time – and we know this, but to state it – every time you use Google, its brain gets bigger. Wow! Just by using it, you're making it smarter.
Does that not depend on how you're using it? You could be adding really dumb comments and make it dumber...
But then it knows you're dumb! There is the sense now of the end of privacy – there are real concerns to be debated, and we might have bumped into that, but, as it happens, Apple are the last people who are rummaging through your life. They just want to find out what songs and movies you like. Of all the big tech companies, they're the ones fighting hardest for songwriters and musicians to be paid. They're a perfect partner for us. And by the way, [Apple Senior Vice President of Design] Jony Ive is like somebody you'd want to be in a band with. He's a muscular version of The Edge, very quietly spoken, very, you know, professorial, fun, creative guy who loves music. Yes, they're gigantic and yes there are issues that size brings – but we're very proud of what we pulled off. Rewarding people who pay for music by a free gift of music... theirs, not ours? It's really great.
You mentioned in a recent Observer interview that all the shit you and U2 got over your tax move to Holland was because you had published it, because it was there in the public domain. Given the public reaction, if you could turn back time, would you now not do it?
I wonder. We have to stand by a principle. The principle was this; that tax competitiveness was working for the country. If tax competitiveness was a government priority because it paid for more hospital beds and firemen and whatever it is, that culture was a good thing for our country. That it might be intellectually absurd to not expect Irish companies would also be tax sensible or tax competitive... you're either into it or you're not into it. Is it right or wrong? I have some friends and colleagues who believe in a base tax rate. They think that is fair. Across the board, across Europe. There's only one problem. Our country wouldn't survive it. Why can't we, as a nation, have a right, our sovereign right, to decide that we will go lower or higher to be competitive, to be agile, to be nimble, to be innovative? I don't see a problem with that. The real hypocrisy is saying, 'It's fine for the country, but it's not fine for U2 to think like that'. That doesn't add up. No, that doesn't explain the emotional reaction. Because then we ended up a few years later in a recession and that's when people really got...
(We've been parked on the runway for quite some time now. Everybody else, Larry included, has gone. Bono's assistant, Eabha Smith, comes back on board to tell him that the band are waiting in the car outside. He insists on staying talking and eventually another car has to be called for the drive from Cologne to Dusseldorf).
Advertisement
Anyway, intellectually, it's not even an argument to me. I can understand French, Germans and Americans getting annoyed about Ireland, but we're not going to give-in to them. They have scale. We don't. We have to be innovative. The really funny thing is Irish people giving out about it. That's, to me, a bit far-fetched. It's like, 'Hold on a second. Are you for this? Or are you against this?'
The recession did make a difference to the perception.
Yeah, the recession. Something looked a little wrong there. Unfortunately, to fix it, we would have had to break from the principle. We have a principle which we have held to from the very beginning, that philanthropy is a personal and private matter. Your left arm should not know what your right arm is doing, as it says in the scriptures, unless it's part of a public-facing campaign to raise funds from others. So, RED, the band have been public about and they've been incredibly generous. I think it's $12 million, maybe it's more by now. Or the Music Generation thing, which is incredible.
So what were you doing behind the scenes?
How to respond to the hurting that was going on in this country that was so good to us and that we love? We saw that as a private matter. We thought it would be show business in all the wrong ways to do something we don't believe in just to make people like us. We thought that would be wrong and we were, and are, ready to take that on the nose. You either believe in it or you don't and, if you do, then just take it. People in our country have had a very rough time for the past few years. Vicious. They were badly treated. It was a very unjust situation that the public bailed out private sector wrongdoing. Most people know it – and what we felt, what we could be useful with, was trying to get more companies to come to Ireland. So we went to work for the IDA. And I do, and I still do.
Some people think that's not an artist's job.
It's a lame idea that if you're an artist, you can't be smart at commerce. Or if you care about the world's poor, that you can be smart in philanthropy but stupid in business. It is ludicrous. And the people that I know who are doing the most – George Soros, who nearly broke the Bank of England, Bill and Melinda Gates, Warren Buffet, these people – are changing the world. And they are not greedy people. They are effective people. Yes, they have worked in the capitalist system but they are putting their capital to work in service of public goods. They're my inspirations. But I'm still enough of a European not to want to rely on personal philanthropy. I do believe in social democracy and I do believe in the principles behind Europe – and something like the double Irish [tax incentive] was, to me, taking tax competitiveness way too far and I'm really glad it's being phased out.
Advertisement
Given all the vitriol, have you ever felt like writing a song called 'Fuck the Begrudgers'?
Yeah, I have done – 'Acrobat'. Don't let the bastards grind you down (laughs). Achtung Baby! – "Don't believe what you hear, don't believe what you see / If you just close your eyes, you can feel the enemy." I have an umbrella. I've had it with me for 30 years now. When the shit-storm comes, as it continually does, I just put it up. You know, the thing about [the song] 'Cedarwood Road': I realised that a lot of me still lives there. I'm still on that street. Still need an enemy. The worst ones, I can't say. I almost like all this. I almost like it. I must just need a row to get up out of bed in the morning because I keep finding myself in them. If you repeat behaviour, then you must like it. It's like a bad relationship: 'I don't know how that happened! I met that girl and she ran off with all my best friends, but it happened to me three times'. You might have something to do with it. So I've just gotta accept that that's who I am.
Do the band accept it?
I feel sorry for the band because I do tend to get them into these controversies. By the way... isn't it great to be part of the conversation? In the zeitgeist. People taking about you. People arguing about you. It's kind of a great compliment.