On this day in 1995: The Chieftains released The Long Black Veil – featuring The Rolling Stones, Tom Jones, Sting, Sinéad O'Connor and more
28 years ago today, The Chieftains released their classic album, The Long Black Veil – featuring guest stars Sting, The Rolling Stones, Van Morrison, Marianne Faithfull, Sinéad O'Connor, Mark Knopfler, Ry Cooder, Tom Jones, and more. To mark the occasion, we're revisiting a classic interview with the late, great Derek Bell of The Chieftains – originally published in Hot Press in 1995, just ahead of the release of The Long Black Veil.
Originally published in Hot Press in January 1995...
From Sting to Frank Zappa, Derek Bell has been literally instrumental in establishing The Chieftains as your average rock legend's favourite group. Liam Fay hears the full story about his ice cream binges with Van Morrison and his special liking for rosewood oboes!
"There are no big dark secrets or scandals in this band," says Derek Bell. "To be honest, I don't think anyone would care even if there were."
Bell, the Chieftains' clown prince and the man who, some say, puts the 'mental' into multi-instrumentalist, is eating breakfast in the tranquil dining room of Wynn's Hotel in Dublin's city centre. A dogged creature of habit, he orders his customary fare of a single boiled egg, which he then devours with wanton relish. Two pots of strong tea are similarly dispatched while the slices of brown bread disappear from his side-plate like sods in a flood. "I'm a man of simple tastes but monstrous appetite," he affirms, before dissolving into a torrent of giggles.
Okay, so anyone hoping to read tales involving Paddy Moloney & Co in a jacuzzi filled with whipped cream is going to be disappointed, yet again. Nevertheless, there is always something utterly compelling about The Chieftains. It's not just the scale and scope of their phenomenal thirty-three year career which intrigues. Or the ease with which they engage, and are engaged by, some of the most celebrated collaborators in the showbusiness firmament.
Advertisement
It's all this plus the fact that they are, for most intents and purpose anyway, such an irredeemably Irish bunch of middle-aged blokes. In a music business full of shoulder-slapping, bracelet-clinking, fell-off-the-back-of-a-lorry bonhomie, The Chieftains are that rare commodity, the genuine article.
"We're too old to pretend that we're rock stars," Derek Bell asserts. "We're always larking about but we're not rude to anybody. We don't say f.o. to some autograph-hunter who comes bumbling along at the worst minute when we're about to rush on and play. Somebody will sign the darn thing on the way on. Two thirds of the time, of course, we might feel like saying f. o., but we don't."
This week, The Chieftains release The Long Black Veil, undoubtedly their most ambitious and star-encrusted album to date. A thirteen-track interpretative collection of traditional and contemporary songs, its formidable guest list features, in no particular order: Sting, Sinéad O'Connor, Van Morrison, Ry Cooder, Marianne Faithfull, Tom Jones, Mark Knopfler and The Rolling Stones.
Armed with his artillery of harp, tiompán and keyboards, it is Bell's instrumental dexterity which provides this disparate crew with a large part of the musical compass they need to find common ground with The Chieftains. Characteristically self-effacing, however, he responds to queries about how such unlikely cross-fertilisations were achieved with an aw-shucks shrug.
"The answer to that is, as the rabbit said to the lettuce leaf, bit by bit," Bell insists. "We believe that we can unearth common musical ground with anyone. I think it's largely because we work through the air more than through the printed note. Even though I did sit in orchestras for twenty, indeed forty, years before, that isn't particularly relevant in our work. In our band, some people can read (music) and some can't. We work principally through the air. It's easier to make friends in the air (laughs)."
If Derek Bell didn't exist, someone would have to invent him, most probably Harry Enfield. With his heavily-rimmed bottle glasses and fondness for 1950's sartorial chic (slate grey suit, red v-neck jumper, kipper tie with lobster-sized knot), he has the outward appearance of a slightly dotty, absent-minded academic. Assiduously polite, personable and precise, his olde worlde facade is, nevertheless, repeatedly shattered by a mischievous playfulness and a rather goofy sense of humour.
Unbidden, his conversation is wont to wander into the most unexpected areas, and he needs only the slightest encouragement to launch into a paroxysm of hearty chuckles. Some of those who don't really know him have attributed these traits to a form of mild nuttiness or, at best, eccentricity, but they miss the point entirely. Derek Bell is just greatly amused by a great many things.
Advertisement
He subtly conveys the impression, for instance, that he was certainly amused by the endeavours of some of the stellar contributors to The Long Black Veil. Too discreet to name any names though, he hides his smile with a sip of tea when I suggest that The Rolling Stones definitely sound more than a little out of their depth on the gloriously shambolic version of 'The Rocky Road To Dublin'.
Preferring to accentuate the positive, he cites the approach adopted to the project by Sting, who sings a rendition of 'Mo Ghile Mear' ('Our Hero') partly as Gaeilge, as a pleasant surprise.
"He is actually an extremely good musician," declares Bell. "Most of these fellows, I won't just tell you who they are, they never cease to surprise me. Not one of them can read a dot of music. They know absolutely nothing. And they work that way and they make their millions that way. After you've done four years slog at some conservatoire, it's extraordinary to meet these people who can't read a note. But Sting can read his dots. His own kids are sent to music lessons and can play, and he's very proud of that. He can sit and play Chopin waltzes at the piano himself and he did so on the first day we met him. He's not just a complete moron, which is very refreshing."
Another of Derek's personal favourites is Sinéad O'Connor who joins The Chieftains for two tracks on the album, 'The Foggy Dew' and 'He Moved Through The Fair'.
"Oh, she's lovely," he enthuses. "She's been through all sorts of strange mills but she seems to have survived. She was certainly stable enough when she was with us. I got the impression that she really needed some big fella like me to put the arm round her (laughs). For someone who does such strange, daring things, she seems so vulnerable. I put the arm around her a few times. She looked as if she needed a bit of looking after. She's inclined to do these things like tearing up the picture of the Pope or saying 'to hell with the American national anthem' and then not understand why people think it offside. It's just a one-off with her and she can't understand why it causes so much atmosphere. She's such a nice girl, she can't understand it when people don't like her."
Advertisement
Van Morrison, a regular Chieftains cohort, appears on The Long Black Veil with a new version of 'Have I Told You Lately That I Love You?'. Of all the Chieftains, it is Bell to whom Morrison is personally closest, and for reasons that extend well beyond the fact that they are both Belfast born and bred.
"In the days when I first met him," Derek recalls, "he was really looking for some sort of a spiritual answer to things. At the time, I'd made a record of something by a British mystic composer called Cyril Scott. Van had read the information on the back of the sleeve and he made contact with me – this was before we ever teamed up musically. He wanted to discuss mysticism and he wanted to know did I think there was anything he should be studying. I suggested various things but it was very difficult because he had already read something like 3,000 books on mysticism, during a period of personal crisis. Anything I mentioned was covered somewhere in those 3,000 books.
"I share his interest in mysticism entirely. And the two of us struck up an immediate friendship when we started to work together. However, after he teamed up with Cliff Richard, he went back to Hallelujah Christianity again and that doesn't hold very much appeal to me. Van likes to keep changing his concepts. He always says to me (adopts convincing Van voice), 'Ah, I have to go in a new direction'. We no longer share an interest on that level but we still get on very well as people."
Morrison's relationship with the other Chieftains, and with Paddy Moloney in particular, hasn't been quite so sweet and smooth. There was, for example, a much gossiped about fracas between the pair during the extensive European tour which they undertook to publicise the Irish Heartbeat album a few years back.
"That was inevitable," Bell grins. "It's just the way the two personalities are. Paddy was a bit slow to sign some contract and Van was in a bit of a hurry to have it signed up. And, for a while, neither one of them would give way. Bad feeling continued to brew during a very long English tour. They didn't talk for a while, if I remember, and then it came to a head somewhere in the wilds of Scandinavia. It came to the heads of two bottles of wine actually (laughs). They each poured a bottle of wine over each other's head. It's long since resolved now and everything is hunky dory now. But you couldn't be with a personality like Van and not run the risk of something like that happening.
"I think he has loosened up a lot in recent years. He's gotten back into society a lot more, I understand. I think it was good for him to get his band going again and that happened not very long after he began working with us. The collaboration was good for him. I think Paddy cheered him up a bit (laughs)."
Derek and Van share another passion which they like to indulge as often as possible, a mutual love of good ice cream.
Advertisement
"Anytime he's in town, he comes up to us and we take him out for coffee and buns, or ice cream," Bell explains. "Or, we invite him for dinner. I live very close to where he's supposed to live but, of course, he never tells you. I live in Bangor. He is, supposedly, very close to that, maybe about four miles away or something. He never tells when he's coming. He just rings up on the portable telephone and says (Van impersonation again), 'Coming for a scoop? I'm here'.
"We usually go to The Crockers or to somewhere off the Botanic Avenue in Belfast to get whatever kind of a scoop is available. It's not always a drink, you see. He's very fond of a good ice cream and so am I. Both of our profiles would confirm that (laughs). All flavours, but especially chocolate."
For all their almost constant touring, The Chieftains only very rarely play concerts on their home turf. Is there a sense in which they feel under-valued in Ireland and so prefer to play to the more appreciative audiences available abroad?
"There's some truth in that," replies Bell. "But it also comes down to economics. For a tour to be viable, we can really only play in some big venue in Belfast, some big venue in Dublin and then maybe Limerick or Cork. It isn't economical to do too many small ones. It's impossible to get people in some places in this country to go out to a concert. We've gone to certain places which shall remain nameless, Paddy'd walk around the town and everybody would be very friendly and so on. They'll say they'll be along to the concert after eleven, after they have a drink, but, of course, they don't come along. They never seem to make it out of the pub, even when our concert doesn't start 'til as late as 11 or 12 o' clock. It's an economic disaster."
Given the groundswell of popular affection accorded to a group like, say, The Dubliners, isn't it fair to say that The Chieftains are more admired than loved in their native country?
"I don't really think it's that," Bell avers. "Sure with a nose like Paddy's, everybody loves it (laughs). It's simply trying to get people to go to see you. A band that sings a whole lot of bear songs (sic) that might be very comical and so forth, obviously they're going to attract more people than a merely instrumental band with a few vocal things shoved on from time to time. It's like classical or choral music. If you sing 'The Maiden's Prayer' or 'The Holy City', all the old dears will be out to your concert with a smile on their faces. But if you play late period Beethoven sonatas, the hall will be empty."
Wherever they play, The Chieftains are far too long in the collective tooth to ever be overawed by anyone or anything. Presidents, Popes, Mick Jagger, they've twiddled their fiddles and tooted their flutes for the lot of them, and hope to continue doing so for another decade, at least. "There's a limit really to how much you can take seriously," asserts Derek Bell, with a chortle.
Advertisement
Along the way, however, there have been people with whom Bell believes the group have developed a sort of "mystical affinity." One such kindred spirit was the comedian Peter Sellers, an early fan and friend of The Chieftains who wrote the sleeve notes for several of their albums in the '70s.
"Paddy was the closest to Peter Sellers," Derek insists. "And Sellers really connected to our music in a unique way. In the middle of the night one time, Paddy saw Sellers' face in front of him, as real as you are to me now, and he didn't feel good about it. He woke up and Rita made him a cup of tea but he was badly shaken by the experience. Then, the next morning, on the paper, Sellers death was announced. It was a very interesting psychic experience and Paddy has never forgotten it."
More recently, Bell claims, The Chieftains became "mysteriously connected" to the late Frank Zappa, in whose magnificent Los Angeles studio they recorded the powerful 'Tennessee Waltz/Tennessee Mazurka' track, featuring Tom Jones on vocals, for The Long Black Veil.
"The impression I got at the time was that he was desperately interested in doing something with the band," Derek maintains. "About two or three years ago, he invited us over to work with him. He was a very, very sick man by then. He didn't seem to be in absolute agony or pain or anything. He was fully conscious, but he can't have been well. He had to go to the hospital once a day or so for blood transfusions. He was quite intrigued about the way we bantered about, ragging each other. They don't do that so much over there. And our music seemed to touch him in a very deep way.
"This mysterious connection developed whether we liked it or not. The day he was buried, the day after he died, we just happened to be in Los Angeles. We thought it rather strange that we should be just there that day. His family phoned us through in the hotel and asked us to please, please, please come to the funeral. They said that it would've been one of his greatest wishes that we go to the funeral. That has to be more than just coincidence."
No interview with Derek Bell would be complete without reference to his infamously-monikered 1983 solo instrumental album, Derek Bell Plays With Himself. The title, he says, wasn't his own idea at all but the suggestion of "a well-known, blonde-haired, male rock star" who happened to be in the same studio during recording but whose name Bell has now forgotten (answers on a postcard, please).
Advertisement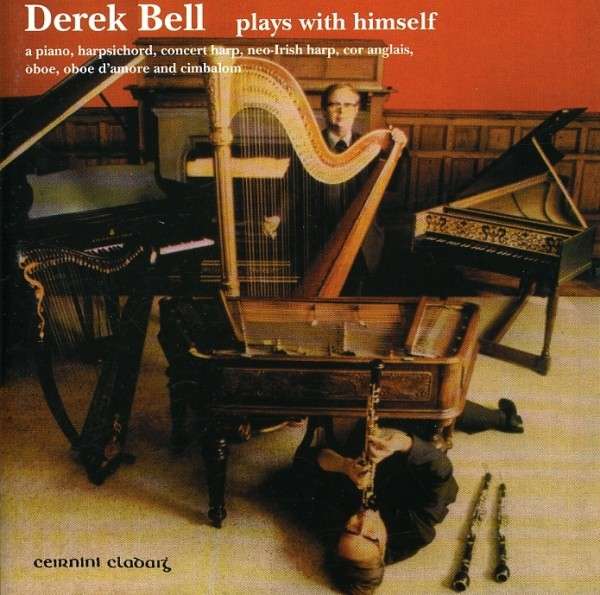 "I just broke up laughing when the record company told me what they were going to call it, and they took my laughter for my consent," he giggles. "None of the nuns would buy it, you know. My music had always been popular with nuns, but not that album. Esther Rantzen had it on her show as a mistake, she thought it was a misprint. I suppose, you could argue that the mistake was that people thought it was a dirty record when, in fact, it was quite a serious piece. Gay Byrne is always asking about this and about the nuns not buying it. But, as I always say, they couldn't be very good nuns if they saw the joke in the title (laughs).
"For years, the American customs wouldn't let it into the country. There's a picture on the front of me with various types of oboe, and, because of the title, they thought that these were phallic symbols (laughs). There was talk of re-titling it to Derek Bell Plays Eight Instruments With Himself but I never really liked that. The other has a better ring."
Throughout our encounter, Derek Bell refers to The Chieftains as "Paddy's band." Would he, one day, like to front a band of his own?
"It is Paddy's band in our view, he's entitled to oversee it," avers Bell. "He's got both an eye and a finger on everything, and that works well for us. The longer you stay together, the more there's a bind on the members that are together. We're a democratic band in the sense that everybody has equal opportunity in a concert situation. Fronting a group doesn't particularly interest me. It would be nice to perfect my art and to leave a few symphonies behind. I'm working on my third one now. I'll probably be going in the next twenty years or so, I might as well leave something behind now at this stage."
In his part-time guise as a musical historian, classically-trained Bell has proven himself an intrepid sleuth, exhuming with affection the work of a number of forgotten and neglected composers. He also likes to work on, what he describes as, "ways of improving the quality of music itself."
"I sold all my oboes this year," he announces. "I bought an entirely new set which are nearly all in rosewood or violetwood which is a kind of rosewood. You see, I proved scientifically that woodwind instruments made out of rosewood rather than blackwood give a much better sound."
Advertisement
"How did you do that?," I enquire, expecting to hear of years of tireless research, elaborate experiments and painstaking analysis.
"By trying them out," replies Derek Bell.