On this day in 1984: Bob Dylan was joined on stage at Slane by Bono and Van Morrison
37 years ago today, Bob Dylan ended his European tour with a performance at Slane. During his two-hour set, Dylan brought out Van Morrison, Carlos Santana and Bono, who was living in Slane Castle at the time. Hot Press sent Bono to interview the famously media-shy music legend – and now, to mark the occasion, we're revisiting that classic interview...
Hot Press had wanted to secure an interview with Bob Dylan for his performance at Slane Castle but the songwriter had always been notoriously media shy. So a different approach was taken...
"First we asked Bono – which turned out to be the easy part," says Hot Press editor, Niall Stokes. "He was up for meeting the rock 'n' roll legend and shooting the breeze, so he said 'yes'. Neil McCormick would act as his guide and mentor, and if necessary show him how to get the tape recorder working (loads of journalists who worked for Hot Press came a cropper right there!). Where and when the summit meeting might happen and what our newly appointed interviewer might ask remained to be seen, but we were excited at the prospect – if we could pull it off.
"And so we got on the blower to the record company. The faxes – we know that some of you don't what they are, but we don't care! – whizzed back and forward between Dublin and the US. Finally, the word came back in the affirmative. The name U2 meant enough to Bob that he was up for meeting the young Irish rock star and talking. Bingo! We were thrilled. Bono and Bob doing a Q+A. Now, there was a prospect!
"Details still had to be arranged. Dylan was on a typically tight touring time-table and so the only opportunity, it transpired, was to do it backstage on the day of the gig. Which, of course, is a scary thought, because anything can happen in that kind of situation: schedules get fucked up, traffic causes delays in getting to the venue, something goes awry at a soundcheck – and all bets are potentially off. But it was the only game in town – or rather way out of town – and so the necessary accreditation and passes were arranged for Neil and Bono. Unfortunately tagging a photographer along wasn't going to be possible…
"On the day, we finally got the word sometime late in the afternoon that Bob was ready. Neil and Bono trooped into the backstage area. The pressure was on, and there wasn't a whole lot of time, but the summit took place. When an understandably nervous Bono stepped into the dressing room, it turned out that Bob had already been joined there by Van Morrison – which probably made our man even more nervous. And so the conversation turned into a three-way one.
Advertisement
"Van, it turned out, had already agreed to join Bob on stage for a song, and the interview gave Dylan the opportunity to invite his young interrogator to do a cameo at some stage during the gig. Bono was thrilled to be asked to sing on 'Blowing In The Wind', and so he did. Carlos Santana clambered up too and played some gorgeously fluid guitar. Overall, it may have been a shambolic singalong, in which Bono got the words entirely wrong, and the crowd did their bit as the ersatz choir, but it became something else too: a strange and touching moment that underlined the vulnerability even of legends and legends-in-the-making…
"The following Thursday, if I remember correctly, we published the interview in Hot Press. The cover wasn't exactly a classic one, but the first ever meeting between Bono and Bob Dylan – not to mention between Bono and Van Morrison – was something special to have engineered. It may even have been a pivotal moment, following which Bono started to dig more deeply into the past. But that is a story for another time, another place."
Here's the interview: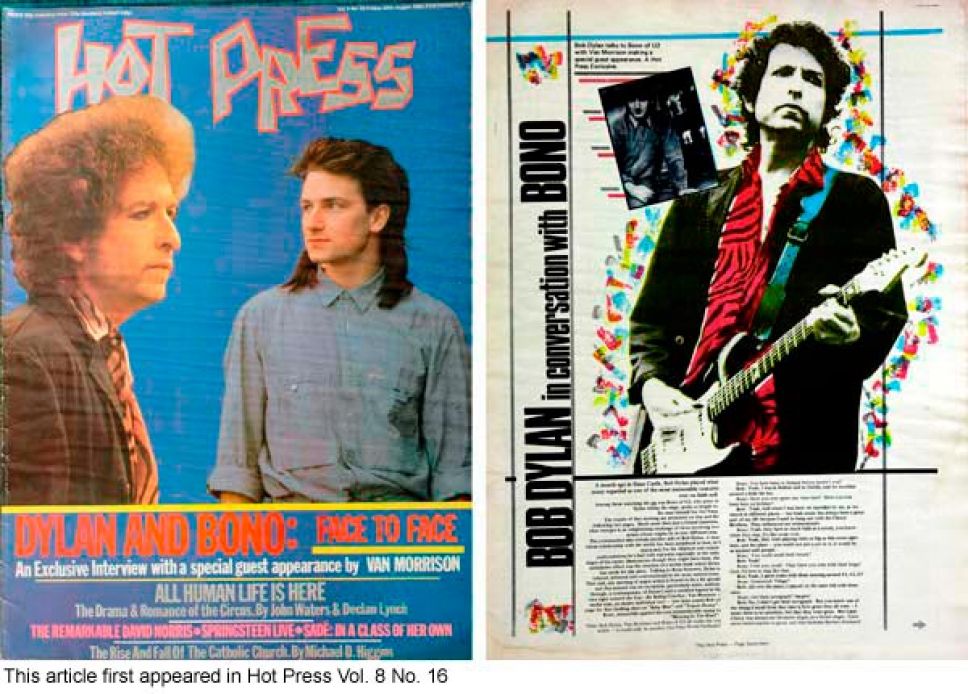 Bono: When you're working with a producer, do you give him that lee-way to challenge you?
Bob: Yeah, if he feels like it. But usually we just go into the studio, and sing a song, and play the music, and have, you know ...
Bono: Have you had somebody in the last five years who said "that's crap Bob".
Advertisement
Bob: Oh, they say that all the time!
Bono: Mark Knopfler, did he say that?
Bob: I don't know ... they spend time getting their various songs right, but with me. I just take a song into the studio and try to rehearse it, and then record it, and then do it. It's a little harder now though to make a good record - even if you've got a good song and a good band. Even if you go in and record it live, it's not gonna sound like it used to sound, because the studios now are so modern, and overly developed, that you take anything good and you can press it and squeeze it and squash it, and constipate it and suffocate it. You do a great performance in the studio and you listen back to it, it even sounds good when you listen back to it because the speakers are all so good, but, ah, no!
Bono: All technology does is -you go into a dead room with dead instruments and you use technology to give it life that it doesn't have, and then it comes out on the speakers and you believe it. What I've been trying to do is find a room that has life in itself.
Bob: Yeah.
Bono: A living room.
Bob: The machines though, can even take the life out of that room, I've found. You can record it in St. Peters Cathedral, you know, and they still make it sound like, eh
Advertisement
Bono: Somebody's back yard.
Bob: Yeah.
Bono: That's a good idea, I'd love to record in a cathedral.
Bob: You know the studios in the old days were all much better, and the equipment so much better, there's no question about it in my mind. You just walked into a studio - they were just big rooms. You just sang, you know, you just made records - and they sounded like the way they sounded there. That stopped happening in the late sixties, for me anyway, I noticed the big change. You go into a studio now, and they got rugs on the floors, settees, and pinball machines and videos and sandwiches coming every ten minutes - it's a big expensive party and you're lucky if you come out with anything that sounds decent.
Bono: Yeah, records haven't got better, have they?
Bob: No. you go in now, and you got your producer, you got your engineer, you got your assistant engineer, usually your assistant producer, you got a guy carrying the tapes around. I mean, you know, there's a million people go into recording just an acoustic song on your guitar. The boys turn the machines on and it's a great undertaking.
Bono: There's a system called Effanel which Mick Fleetwood from Fleetwood Mac brought to Africa. It was built for him because he wanted to get some real African drumming, for "Tusk". We've used that system. It comes in a light suitcase, very small, no bullshit studio, and it just arrives, you can literally bring it to your living room.
Advertisement
Van: I think all the same they'll go back to 2-track eventually.
Bono: There's a guy called Conny Plank, who produced Makem and Clancy and some Irish traditional bands, also orchestral and funnily enough a lot of the new electronic groups, DAF, Ultravox, and so on. He used to record orchestras by just finding a position in the room where they were already balanced and he applies this in his thinking, in recording modern music: he finds a place in the room where it's already mixed.
Van: I don't know, when I started we didn't think about that! You didn't even think about recording (laughter).
Bono: You didn't even think?
Van: You didn't even know what was on the cards. One day you were in the room, they turned the tape on. After about eight hours or so, they'd say "OK tea break, it's over .
Bob: Yeah, next song, next song!
Van. And then that was that - it was an album.
Advertisement
Bob: Yeah, you'd make an album in three days or four days and it was all over - if that many! It's that long now, it takes four days to get a drum sound!
Bono: Do you know the Monty Python team, they're comedians. British comedians, "Monty Python And The Holy Grail". They have a sketch that reminds me of you guys - sitting back talking of days gone by: " you tell that to the young people of today and they'd never believe you". But you can't go backwards, you must go forward. You try to bring the values that were back there, you know, the strength, and if you see something that was lost, you've got to find a new way to capture that same strength. Have you any ideas on how to do that? I think you've done it by the way ... I think "Shot Of Love" that opening track has got that.
Bob: I think so too. (drawls). You're one of the few people to say that to me about that record, to mention that record to me.
Bono: That has that feeling.
Bob: it's a great record, it suits just about everybody.
Bono: The sound from that record ("Shot Of Love") makes me feel like I'm in the same room as the other musicians - I don't feel that they're over there. Some of our records, I feel like they're over there because we got into this cinema-type sound, not bland like FM sound, but we got into this very broad sound. Now we're trying to focus more of a punch, and that's what we are after, this intimacy ... I've never interviewed anybody before, by the way. I hate being interviewed myself.
Van: You're doing a good job!
Advertisement
Bono: Is this OK? God! What records do you listen to?
Bob: What records do I listen to? New records? I don't know, just the old records really. Robert Johnson. I still listen to those records that I listened to when I was growing up - they really changed my life. They still change my life. They still hold up, you know. The Louvain Brothers, Hank Williams, Muddy Waters, Howlin' Wolf, Charlie Patton, I always liked to listen to him.
Bono: I just bought Woody Guthrie's 'Bound For Glory'. I'm just a beginner when it comes to America. I mean, it's changed me. When you go the US, coming from this country, it's more than a different continent ....
Van: It's shell shock.
Bono: Yeah, coming from troubled Ireland, it's the real shell shock! I'm just getting acquainted with American music and literature. Do you still see Allen Ginsberg?
Bob: I run across Allen from time to time, yeah, Gregory Corsos's back now, he's doing some readings, I think he's just published a new book.
Bono: I've just been reading this book 'Howl'.
Advertisement
Bob: Oh, that's very powerful. That's another book that changed me. 'Howl', 'On the Road', 'Dharma Bums'.
Van: (to Bono) Have you read 'On the Road'?
Bono: Yes I have, I'm just starting that. You have a reference in one of your songs to John Donne, 'Rave On John Donne'. Have you read his poetry?
Van: I was reading it at the time.
Bob: (to Bono) You heard the songs - Brendan Behan's songs?
Bono: Yeah.
Bob: 'Royal Canal', you know the 'Royal Canal'?
Advertisement
Van: His brother wrote it. His name is Dominic.
Bob: Oh, Dominic wrote 'Royal Canal'?
Bono: You know Brendan's son hang out around here in Dublin. He's a good guy, I believe.
Bob: I know the solo lyrics to the 'Royal Canal'. I used to sing it all the time.
Bono: How does it go?
Bob: (sings) 'The hungry feeling came over me stealing, as the mice were squalling in my prison cell'.
Bono: That's right, yeah!
Advertisement
Bob: (continues) 'That old triangle went jingle jangle, all along the banks of the Royal Canal'.
Bono: That's right, when did you read that?
Bob: (there's no way stopping him now) 'In the female prison there's seventy women. It's all over there that I want to dwell. And that old triangle goes jingle jangle, all along the banks of the Royal Canal'.
Bono: Have you been to the Royal Canal?
Bob: No I used to sing that song though. Every night.
Bono: Our music - as I was saying earlier - it doesn't have those roots.
Van: Yeah, there was a break in the lineage. I sussed that out when I went to see Thin Lizzy years ago, the first night in L.A. and I was watching at the back of the stage and I realized that the music was a complete cut in the connection between the end of the Sixties and the middle of the Seventies - a severing of the traditional lineage of groups.
Advertisement
Bono: I like to know more about roots music. I'm hungry for a past.
Van: You know you should listen to some of that stuff.
Bono: I will. I've been listening to some gospel music, you know, like the Swan Silvertones, and stuff like that.
Bob: That's US stuff though.
Van: US stuff, but the British stuff you should listen to, you know, like some of the old stuff, like the Yardbirds.
Bono: Yeah, I've got some of their tapes recently, some real good tapes.
Bob: You can still hear the McPeakes. The next generation may not be able to though. Who knows? I would hate to think that. Listen we're gonna have to get ready to play. Are you gonna stay for the show?
Advertisement
Bono: Certainly, that's what I'm here for actually.
Bob: To record it, HA!