So says Noel Gallagher of U2, a band he's been up close and partied with on numerous occasions. Stuart Clark helps recall those memorable moments....
Someone who's got to know U2 and, in particular, Bono well down through the years is Noel Gallagher.
Oasis opened for them in June 1997 when the PopMart tour touched down for two sell-out nights in Oakland, California. Acquaintances were renewed last year when Noel and His High Flying Birds tagged along for a sizeable chunk of The Joshua Tree Tour.
He's ended up drunk as a Mancunian skunk at Bono and Ali's house, sipped some very cheeky vintages with them in the South of France and met the kids including Eli whose band Inhaler were first on when Noel played his own Malahide Castle headliner last summer.
They are, to quote their mutual pal Bruce Springsteen, the ties that bind…
"U2 get a lot of shit thrown at them but here they are, 20 years on, still making alright records," Noel reflected after that '97 Oakland double-whammy. "I don't particularly like stadium shows but I liked PopMart because it didn't take itself too seriously. I mean, it was serious from the point of view that there were 50,000 people there but it didn't pretend to be anything other than a rock 'n' roll show.
Advertisement
"U2 are the same as Oasis in that they came from very humble origins and had to work their bollocks off to get noticed," he continued. "For a while, my two favourite bands were them and The Smiths who could have been U2-sized if they'd wanted but pulled back. Which is kind of similar to the position we're in at the moment."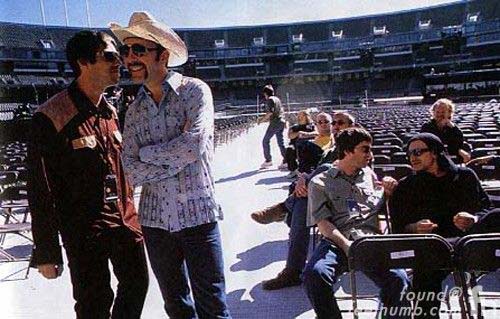 Asked whether there's a song of U2's he'd like to cover, Noel nodded his moptopped head and said: "There are a few off Rattle & Hum that are quite good and I love 'All I Want Is You'. Yeah, I'd have a go..."
We've checked the release schedules and still no sign. By 2007 their friendship had ramped up another couple of gears with Noel telling us: "Before going to see U2 in Manchester recently, me and me girlfriend were saying, 'I wonder what it is with Bono and God?' Anyway, we're sat round a table after the gig and I go, 'Explain it to me 'cause I was brought up Catholic and it means fuck all to me.' We had a good three-hour conversation about his religious philosophy, which is basically, 'Go to God, tell him what all your flaws are and say, 'Can you work with me?' Which is completely different to the 'Don't drink, don't screw, don't take drugs and always go to church' bollocks you get taught at school.
"I didn't think a whole lot more about it until two days later when there's a knock on the door and the recorded delivery guy hands me two books - Searching For The Invisible God and What's So Amazing About Grace?, which are both by Philip Yancey - that have been sent by Bono. There's also a little note, which reads, 'I don't know if you were serious the other night, but here's something that might give you a bit more of an understanding.'"
Getting more and more reflective as the pints went down, he suggested that, "Bono's like Liam – always aggressively pursuing his muse and bigging up U2. The Edge and me, on the other hand, are the Yoda figures at the back going, 'Alright it will be.' If Oasis have been out of the limelight for two years I never panic 'cause I know what's coming next. Liam on the other hand…"
Noel wasn't overdoing the sympathy in 2015 when the subject of Bono falling off a bike in New York and shattering his arm came up.
Advertisement
"That'll teach him to try and stay fit!" he chuckled. "I said to him the other day, 'Remind me not to get in a car with you anytime fucking soon!' Doors of jets falling off, fucking flying off bikes… the guy's a one-man disaster magnet. Stay away!
"He's actually been very sweet with my two lads who've become huge U2 fans and are having a kind of love-in across the Irish Sea with him at the minute. Bono's sent Donovan some of his glasses and pictures and all that. Top man!"
The only cloud on the Gallagher horizon that day was a Paul Weller-shaped one.
"I'm not sure if he's talking to me after the U2 thing," he said, which obviously made us ask: "What thing?"
"The album," Noel explained. "He's never liked U2, mainly because of the haircuts. And the clothes. And the shoes. The day Songs Of Innocence miraculously appeared I got a disgusted text from Paul saying, 'Why do I have their fucking album on my computer? You're a mate of Bono's; you must have known, you cunt!' I was like, 'Why would they keep it secret from everyone else in the world except me?' It didn't change anything; Weller still thought I was a cunt!
"It's not something I'd do myself, but U2's people obviously crunched the numbers and, with all that money from Apple, releasing it that way made sense."
Paul Weller's disdain for north Dublin's finest cropped up again in 2017 when Noel treated us to one of his fabulously namedropping stories.
"We were out in the south of France with Bono and Elton John who's also on Weller's hate list. We were having the craic – please note the correct use of an Irish colloquialism – and I said to them, 'Let me get a picture of you two sat with me and send it to Weller 'cause he'll fucking explode in his boots.' So, I send him the photo with the message, 'E and B both send their regards.' Almost immediately I get a text back saying, 'You've gone too far this time!'"
Advertisement
Noel then treated us to an even more fabulously namedropping story about "the fucking carnage" that followed U2's Joshua Tree Tour homecoming in Croke Park.
"It was the best, just the best!" he enthused. "I fucking lost me voice 'cause I was doing two gigs a night. I was singing mine for an hour and then singing all the way through theirs, pissed, for two-and-a-half hours. You can't have any more fun than you have with Bono; it cannot be done. We had a brilliant, brilliant time. It was just like, 'Fucking, wow!' - and, 'Fucking, ouch!' following the after-show. We left at something to six in the morning when the party was still fucking throbbing. I woke up to the phone ringing and Bono saying, 'Where are you?' I was like, 'I've no idea… I can see trees and the sea.' 'You're in my guest-house.' 'Am I?' 'Yes, you are. Get up 'cause everyone's here.' 'Why, what's happening?' 'The lunch I'm throwing in your honour is about to start.' 'You never told me that.' 'Didn't I?' 'I don't fucking think so.' 'Well, anyway, the Prime Minister's just turned up.'
"The lunch started at three and went on until four in the morning, and then we got up the next day and flew to Paris. I managed to be really drunk and really hungover at the same time, which is fucking rough. I get off U2's jet – at this stage we've been at it for three days with just a tiny bit of sleep and a few bacon sandwiches – and Bono goes, 'I've got to go off and do something. I'll see you back at the hotel.' I'm like, 'Fuck, I need to get to bed…' Anyway, that something turns out to be a live press conference with the President of France! I'm thinking, 'Who puts the batteries in this fucker?!'"
Asked for a final word on their bromance, Noel paused for a second and then said: "Bono's one of my favourite people. Everyone thinks of the politics and saving the world, but all I fucking do with him is talk music. He's so passionate about the new U2 album (the then soon to be released Songs Of Experience) – and rightly so. There's a track on it, 'The Showman (Little More Better)', which is one of the best things they've ever done. Of course, it could be a dub reggae song by now. U2 have this habit of playing you a 'finished' album and then tweaking it for another year. You're like, 'Let it go!' but in their minds it's got to be as good as Achtung Baby or The Joshua Tree. They care, man, they care…"
* * * * *
With two anniversaries rolled into one, 2020 is an important moment for U2 – marking 40 years since their extraordinary debut album Boy, and 20 years since their marvellously resonant All That You Can't Leave Behind. To celebrate, we released the Hot Press U2: 80-00-20 Special – out now!
Advertisement