Noah Cyrus: "I have this overlying fear and anxiety at all times, of how short time feels, and how it's just not enough"
As she releases her long-awaited debut album, The Hardest Part, Noah Cyrus reflects on family, loss, country music and creative control.
"I keep looking at my calendar, and counting the days until the 16th," Noah Cyrus tells me, speaking from Los Angeles, where she's presently surrounded by her dogs. "I'm just in awe that my first album is actually about to come out."
For a star who's spent a major chunk of her life under the too-often unforgiving glare of the public eye – whether through her own work, or by proximity to her famous family, including older sister Miley and father Billy Ray – the 22-year-old is surprisingly unjaded. In fact, her excitement is as genuine as it is palpable, as she prepares to unveil her debut album, The Hardest Part, over six years after first emerging as a solo singer-songwriter and a much sought after collaborator, while still in her teens.
The arrival of The Hardest Part also marks the culmination of a remarkable journey, following mental health struggles, loss and addiction. Like her classic country music heroes before her, the Grammy-nominated artist has poured all that pain into the record – which is driven by both an old-soul spirit and a thrillingly original pop pulse.
"It feels way long overdue," she says of releasing her debut. "I feel like a horse at the gate – ready to be let out, and just fucking run with it. The album is – for once – something that I'm actually really proud of myself for.
"I feel like it has a major elevated sound to it – elevated writing, elevated melodies, elevated music," she continues. "Everything about it is this big step up for me. I knew I wanted to do that with my first album, which is also a reason why I'm okay and grateful that it's taken as long as it has for the album to actually come out."
Advertisement
As her most autobiographical project yet, sharing The Hardest Part with the world has brought its own unique set of nerves. Following the release of the single 'Mr. Percocet' in May, she made the decision to open up about her own experiences with prescription pills – which, she said in a social media post, she used "as a way to socialise and party and fit in" with the people around her.
"As time went by it became a crutch for my anxiety and depression and I became completely addicted to the pills I was taking and lost any hope I had left to live," the statement continued.
The onset of the pandemic made matters worse, particularly as her partner at the time also struggled with substance abuse. In December 2020, she managed to quit "prescription downers" – and she now hopes that her new album will "provide some solace to people going through similar stuff."
"Everything I was pretty nervous about talking about, or singing about, is pretty out in the open now," she tells me, with those revelations behind her. "So there's nothing to really be nervous about. I've been quite open. What people will say is just what they'll say – there's not really anything I can do about that. I'm learning to let go, and just let the album be what it is."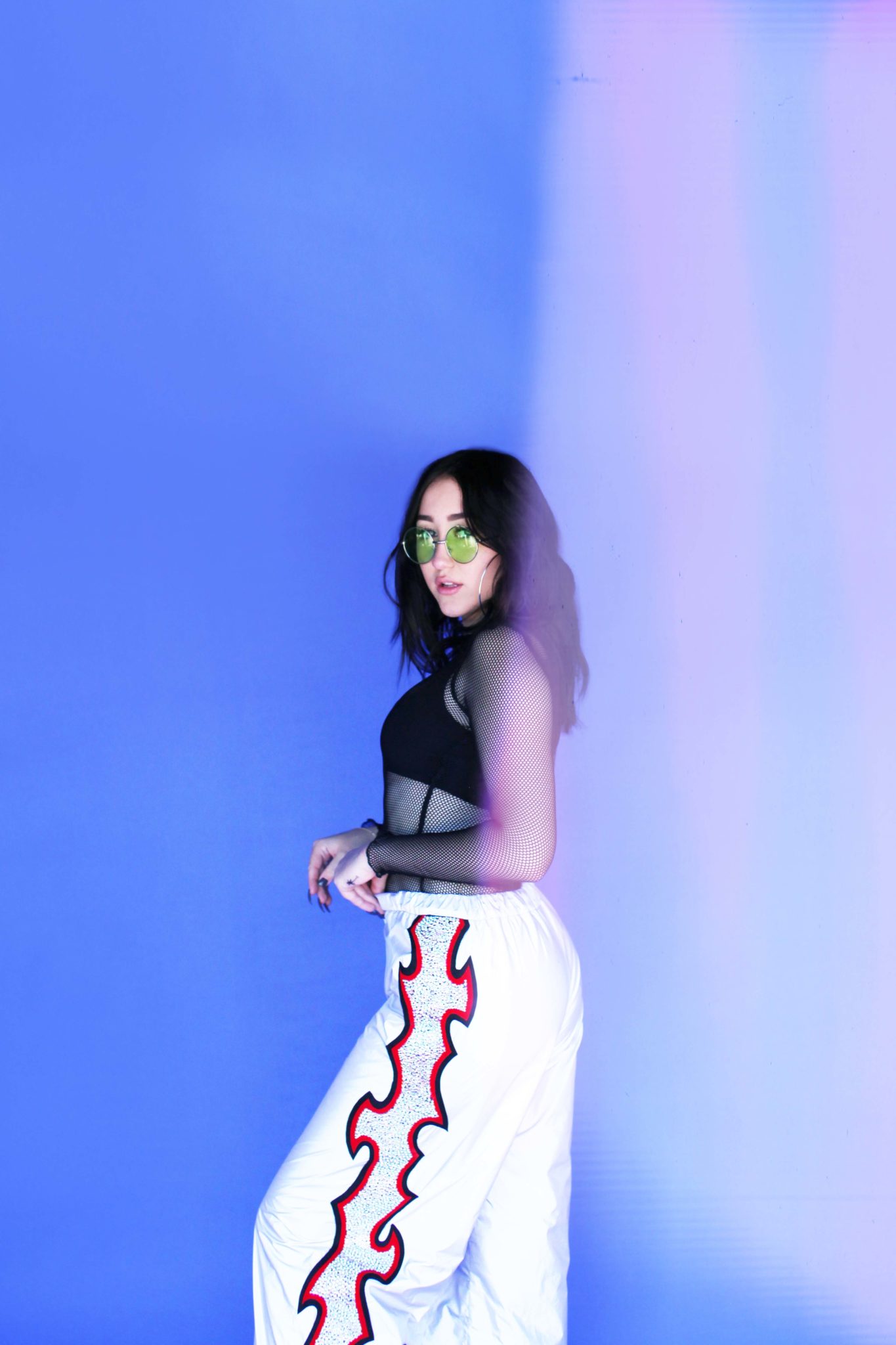 That raw honesty runs through the record, which opens with the devastating lines: "When I turned 20, I was overcome / With the thought that I might not turn 21."
Advertisement
While she found the recording of the album – working alongside Northern Irish producer Mike Crossey – to be cathartic, she acknowledges that, at times, it was a tough process.
"'My Side Of The Bed' was a hard one," she admits. "That's a live performance on that song as well. We did that all squished into one little room. It's a very emotional album, but there's also a lot of good memories tied to creating it. So it's bittersweet, in a way, listening back."
As well as delving into her personal struggles, the album is also a deeply moving celebration of family. The title track finds her reflecting on her fears of growing up, and the loss that inevitably comes with that. She lost her maternal grandmother, Loretta, in 2020, followed by her paternal grandmother, Ruth, just last month. Her parents Billy Ray and Tish, meanwhile, filed for divorce in April.
"I've got a lot of family that's separated between here and Nashville," Noah says of 'Hardest Part'. "And growing up, that was hard on me. I really missed my family. Listening back now since my grandma has recently passed – because I wrote so specifically about my dad's farm, which is where she lived – I'm just so happy that there's pieces of her, and pieces of that, in my music as well.
"I have two songs I wrote about my dad, and where he lives in Nashville," she continues. "It's almost like this sacred sanctuary to us now. I have so many good memories there, and all of them are with him. So I needed to write about it."
Loss is something she's grappled with in many forms over the years.
Advertisement
"I have this overlying fear and anxiety at all times," she explains, "of how short time feels, and how it's just not enough. We just don't get enough time with each other in a day, or in a lifetime. It's something that I've felt quite often – every time I've left my father, or my grandmother, or any of my family.
"I also had just lost my grandmother on my mom's side in 2020, so I felt a lot of loss – with the living and the dead – at that time."
Closing track 'Loretta's Song' is a poignant tribute to Noah's maternal grandmother. Embracing the deep roots of American folk and country music, it also feels like a tribute to a different time and place.
"Absolutely," she confirms. "For the songs 'Loretta's Song' and 'Stand Still', where I speak of my grandparents, we added these bluegrass elements in there. A lot of the instrumentation surrounding those songs is a nod to them, and where they're from in Kentucky, and the music they listened to, and were inspired by. So that was definitely a nod to a specific time and a specific place."
'Noah (Stand Still)', which opens the album, is also based on advice that was passed down to her from her family: "When all the hope and joy you feel / Turns into paranoia – 'cause it will / Remember just stand still."
"I think it's really special, to get to write a song about this advice that's been given to you, and passed on by three different generations on my dad's side of the family," she reflects. "From his grandfather, to his dad, to him – and now on to me, and my kids. It's something you don't hear everyday in a song. So I took the liberty of writing it!"
Although the songs are largely introspective, the outside world does manage to creep in occasionally – from the California wildfires-inspired 'I Burned LA Down', to references to the state of the US on 'I Just Want A Lover: "In the united hate of America, the hearts are just as broken as the nation…"
Advertisement
"We're all just being really open now – and talking about what we feel, and what we're afraid of, and what's wrong with the world, and love," she considers. "And what we admire about things, and what we don't. Everybody's just being so honest in their lyrics."
But speaking out about social issues, or her own struggles, has never felt like responsibility...
"If I made it a responsibility, then it would become maybe unhealthy for me," she states. "It's all been natural, and it's come really naturally to me, to be that open."
That openness also comes across sonically – with Noah opting for a refreshingly raw, back-to-basics approach, complete with pedal steel guitars.
"I wanted to keep it really organic," she explains. "The influence comes from all of these classic country or singer-songwriter sounds that I was inspired by growing up. Those were all so natural, and real, and organic.
"I think there's a lot of country music influence in today's music," she adds. "There's so many brilliant artists out there – my best friend, Orville Peck, being one of them. So fucking incredible. And there's so many incredible country artists out there as well, that I relate to so much, and was also influenced by on this record."
Advertisement
The Hardest Part also had some less expected sources of inspiration…
"It's funny – you know who's been a major influence for a lot of this record?" she laughs. "The Eagles! Specifically with 'Unfinished'. I wanted this classic sound – classic country with a little bit of classic rock in there, which is the inspiration for those guitars on 'Unfinished'."
She also managed to incorporate emotional indie icon Ben Gibbard of Death Cab For Cutie into that world, with a duet on the track 'Every Beginning Ends'.
"I've been listening to Ben and his band Death Cab since I was like 11 years old," Noah enthuses. "Obviously my love for that band grew as I got older, and got to listen to more of their music. I've been really moved by Ben's songwriting. That influenced me a lot growing up, I'm sure – in terms of songwriting, and what I like stylistically.
"Working with him was so beyond surreal. It was this pinch-me moment, of almost disbelief – that I was in the same room with somebody I looked up to so much," she continues. "It was also beyond me, to understand that he liked my songwriting, and he liked my music. That was so hard for me to wrap my head around. But we immediately connected on the first day. We had a few days writing together in Seattle. And from there on out it was pretty cosmic between him and I."
Looking forward, maintaining creative control over her vision remains paramount, with Noah overseeing the arrangements and playing multiple instruments on the new album herself. As a young woman operating in an industry that hasn't always taken the vision, or creative contributions, of young women seriously, that level of involvement has been particularly important to the 22-year-old.
Advertisement
"I feel like I've experienced that a lot in my career," she reflects. "That's another reason why I appreciate Mike Crossey so much. He was open to me being in there, and really respected my point of view and my ideas. He kept the perspective the entire time that it was my album – and he wanted to help me create my album.
"He was the perfect teammate. He let me experiment with different sounds, and let me be so hands-on with the arrangements – really getting comfortable with my musicianship, which I had never really done before. You really get to hear so much of me – sonically, not just lyrically."
The Hardest Part is out now.