Maria Kelly: "It's way easier to think someone will have the answer, but all they're doing is giving you their experience"
Singer Maria Kelly discusses the making of her debut album, the powerful and emotionally resonant The Sum Of The In-Between. "It's just a way to share things I wouldn't normally share," she tells Tanis Smither.
Maria Kelly has accidentally locked herself out of her house. She rings apologetically, explaining that she was just trying to go to the shop and it's all gone horribly wrong. Her partner is out of the country working, and there's nobody around with a spare key.
Her afternoon, thus far, has gone much like the beginning of her debut album The Sum Of The In-Between, a moment of panic, followed by: 'It might be the end of the world, but like, it's fine.'
Taking refuge at a local coffee shop instead, we distract ourselves with iced lattes.
"I feel like the album is the last three years of my life, since I graduated college," the Mayo-born singer-songwriter explains. "Track one, to me, is like my graduation night. That's where I imagine it. It's from that whole weird part of your twenties that nobody really talks about."
That part where you're expected to have it all figured out, she means.
Advertisement
"Everything is so focused on getting to that point," she nods. "But that's actually the beginning of your formative years, I think, despite the fact that you're really on your own with so many aspects of it. You're under pressure, but nobody really knows what they want in their twenties.
"There are all these arbitrary points in life," she continues. "Like when you hit 30 - the big, scary three-oh."
Kelly, for her part, has decided that 30 is going to be the best time ever.
"Why not?" she asks, throwing her hands up in the direction of the universe. "The album is really about me processing that pressure and finding some better way to use it.
"Maybe three years ago, I had an identity crisis, where all I had done for the guts of 10 years was write and play music under my own name. Then when I finished college I was like, 'What else do I do? Who else am I if I'm not doing this?'
"That's scary, if your worth is tied to how well a project is going. It's awful when it isn't going well. For a long time, I didn't define in my head, even, that I ran a project. But now I see it more as something I should spend a certain amount of hours on. Almost like if you're running a business. If it doesn't do well, then it's for all of these practical reasons rather than, 'I'm terrible'."
Terrible, however, Kelly is not. The Sum Of The In-Between's first track, 'Panic', kickstarts a remarkable record that deals with feelings of complacency, anxiety and stagnation.
Advertisement
"There's a voice note mixed in with that track, which is a recording of me when I'm 17, having a panic attack," Kelly says. "I recorded it at the time because I just didn't know what was happening to me."
"I wanted it to be difficult to listen to. It starts the album where I was, and then brings you all the way along. It's interesting now, getting to the end of the album and the process of making it. It feels so far away from the 17-year-old kid who is freaking out. So it felt important to include it."
The one thing Kelly refuses to do on 'Sum' is tie everything up neatly. The final track, 'Everything Just Changes Anyway', starts with the words
"All that I hope for is that things will get better."
"I purposefully did that," she says. "It doesn't really conclude. Through that process, I learned different ways to meet myself where I am, how I could make my present reality better."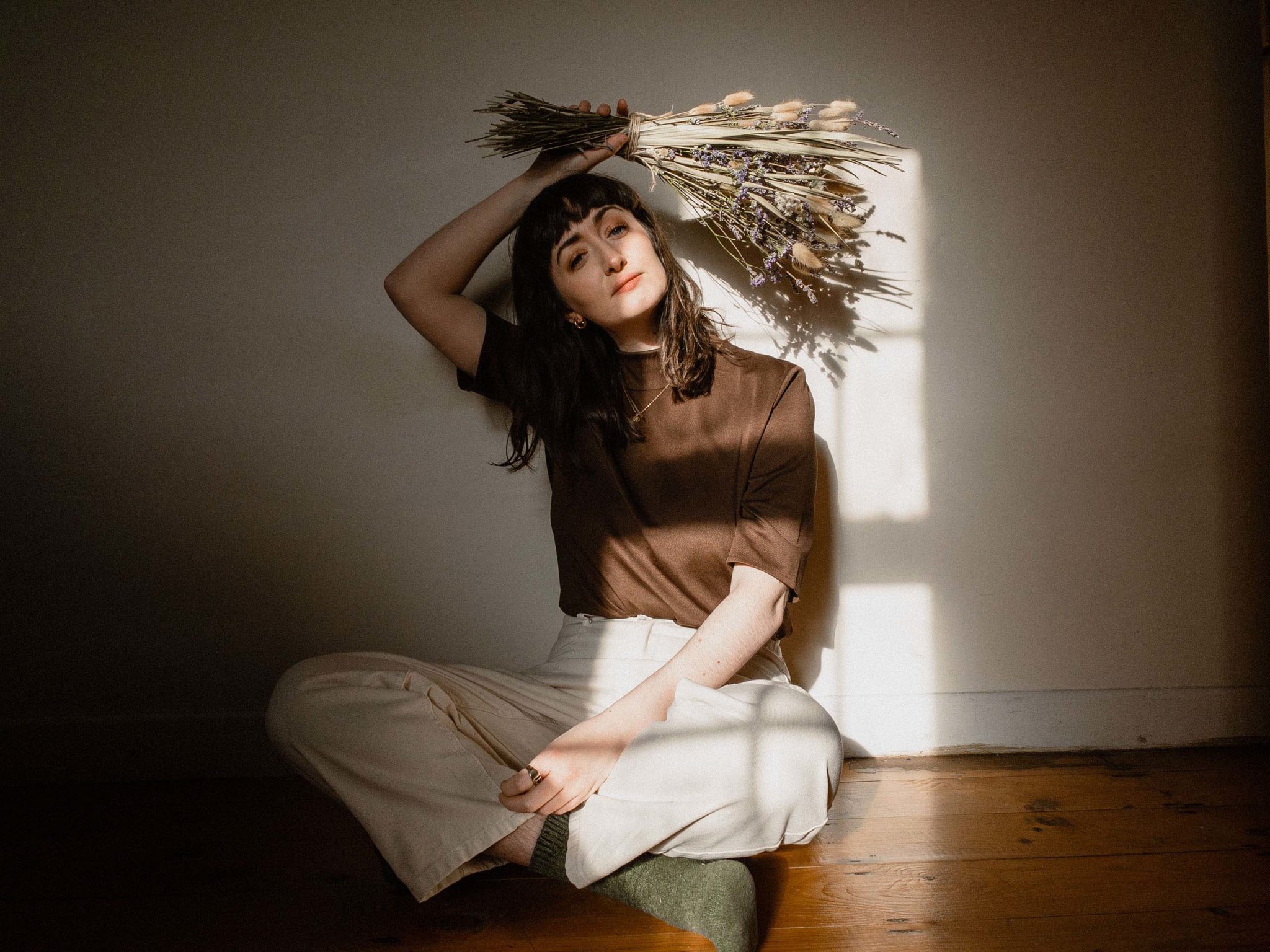 In order to record 'Sum', Kelly and her partner retreated to a cottage by the sea.
Advertisement
"We were living in Ste's parents' house during the pandemic, in a spare room. We couldn't afford to go back into Dublin, so I had this notion that, surely, there were so many holiday homes that were completely empty, because nobody could move around.
"Ste knew about this place in Wexford because he used to holiday there. And the woman was like, 'Okay, we think you're crazy, but you can take it." Because it was this uninsulated house, during winter, by the sea."
The experience was exactly what they needed, it seems.
"It was amazing," enthuses Kelly. "We blocked out so many things that were happening in the world, and we were able to concentrate on our work."
In the three-bedroom house, both Kelly and her partner - a sound engineer and producer - were able to have a work room. The space allowed them to collaborate without feeling claustrophobic.
"He recorded a lot of the vocals and guitars with me, and he also co-wrote some of the songs," says Kelly.
"It was great to have him involved, because he's a really incredible songwriter. I'd be noodling away at something, and he just naturally became a co-writer in certain sections. He'd be like, 'What about this?' and I'd be like, 'Well, that's the best line I've ever heard in my life, so yes.'"
Advertisement
The Sum Of The In-Between works so perfectly, in part, because of its intimacy. The songs practically inhale and exhale, and Kelly finds beauty in everyday life. Scattered amongst lyrics about wishing she got groceries and being a lightweight drinker are heavier, whispered confessions. On Sum's title track, she sings: 'I'm clumsy as fuck, I'll straight up forget to love you sometimes.'
In the same song, surprisingly, she confesses that she doesn't share too much. The music, for Kelly, provides a buffer Ð giving pain, anger and fear a voice.
"I still don't understand it to be honest," she says. "Its a way I process my experience. I'm not sure how I would process it without song writing. But I have some block in my mind. It hasn't quite clicked that people will hear the album. I keep forgetting that journalists are listening to and analysing the whole thing. And I keep being like, 'Ah fuck, that's cool'. I'm genuinely really excited to hear what people think"
"It is true, to a point, that they never quite know what I mean," she adds, "and I think most people find their own experience in it. They mirror themselves in what they're hearing. But definitely it's just a way to share things I wouldn't normally share. I've always done that, since I started writing. I really did not understand my emotions when I was a teenager, but I'd write something, and see it and go, 'That's how I feel about a situation.' I'd separate it from my psyche."
'Sum' is also peppered with WhatsApp voice notes from Kelly's friends; she wanted a sense of support to be obvious as the album unfolds.
"It's chronological in the sense that it starts in a really fearful, doubtful place, and ends in a sense of hopefulness"
The album's final songs are preluded by 'Failing/Forgiving', a minute-long voice note which sees one of Kelly's friends say, ÒI have to believe the mess, the in-between, the hard bits... It's leading somewhere."
Advertisement
It gives way to the title track.
"You can get pieces of advice from people and you can ask for help and support," Kelly says. "But it matters how you think in the end, and what you feel about a situation. And you have to make your own decisions in that respect. When I've gone through hard times before, I've almost escaped feeling bad by just asking everyone what I should do.
"It's way easier to think someone will have the answer, but all they're doing is giving you their experience."
It's also just nice for Kelly's friends to be a part of a record that is, ostensibly, about her mental health
"They supported me so much in the past few years when different things were going on," she notes. "And I feel like it was natural that they'd show up. This album is about a significant chapter of my life that was just bad, which I was figuring out how to get through. I wrote a lot of the record toward the end of that three-year period, processing a lot of what had happened once I was at a certain point.
"And then in the process of writing, making and listening to it, and getting to the hope at the end, it was so nice to make something out of it, because I feel like I got a sense of closure. Now, when I listen to it, I don't hear the bad things I went through."
The Sum Of The In-Between is released on October 15.
Advertisement
Check out our latest issue of Hot Press, in shops now and available to order online below: