Sky Atlas and Classic Yellow
These two exceptionally talented, up-and-coming local bands returned to The Workmans Club on February 28, with support from fellow rockers Pecking Party.
No strangers to the live scene in Dublin, each band brought their own flavour to the venue, coming together to ensure a fantastic night for all.
Pecking Party, consisting of members John Gilbride (Synths/Guitar/Piano) Fiachra Dunn (Bass), Fiachra Kennedy (Drums) and Ciara Ryan (Vocals) kick off the night with their electronically vibrant track 'Choccy Finger'. The mesmerizing yet simultaneously striking beat attracts the audience instantly and gets most of them shuffling closer to the stage to listen. In just minutes the crowd is bewitched by the music, gently swaying and bopping to the playfully progressive sounds.
The band, existing in their current lineup since 2013, are evidently very comfortable on stage. Their aggressive sound is rounded off by Ciara's effortlessly hypnotic vocals. As the band rocks out, Ciara owns the stage centre reminiscent of a modern day, punk, Cleopatra.
Advertisement
Finishing up with crowd favourite 'Fuckboy', you can sense the aura of disappointment in the air when the song came to a close. Disappointment soon turned to anticipation, however, with Pecking Party's gracious introduction to the first headliner, Classic Yellow.
If there was an award dedicated for the best dressed band on the night, Classic Yellow would win without a doubt. The 4-piece take to the stage dressed as classy cowboys in long jackets, tassel vests, neck ties and bandanas to suit the vintage aesthetic they seem to draw influence from. Singer/Guitarist Frank Collins even has a gun belt around his waist with prop guns, which he takes out right before himself and bassist Sam Geraghty break out into a cowboy dance.
At this stage, with the venue nearing capacity, Classic Yellow's danceable rhythms, rolling basslines and equally enticing guitar tones all combine to lend that something extra to the sound - leading to the crowd's growing confidence, with many beginning to dance more enthusiastically.
Advertisement
The band's sound sparks nostalgia for 60's pop, doo-wop, and even a hint of surf-rock akin to the Beach Boys, set into a modern indie foundation. Highlights of the varied and excellently paced set included the tunes 'His Master's Voice', 'Monday's Don't Mean Anything', 'Cheese from Wisconsin' and 'Ophylia'.
Overall, it's an energetic, fun and consistently entertaining performance from Classic Yellow.
Last - but definitely not least - to grace the stage is Sky Atlas.
Advertisement
Concealed within the thick smoke and dim light of the stage, the band open their set with a dark, tension-building instrumental. It's stunningly epic and atmospheric. The now packed venue is teeming with enthusiastic punters, chanting and shouting for more.
They continue on with the very dynamic 'Dream On', a mid-paced soulful song which consists of a very clever call-and-response sax and vocals, excellent bass and guitar interplay, a heavy bass driven chorus and thunderous drums.
They then pick up the pace with a Bloc Party-meets-loungy jazz track 'Falling Apart'. The crowd, by this stage, are having the time of their lives, dancing and jumping around, on top of each other in some cases, due to the mass of people, which only seems to increase as the set goes on.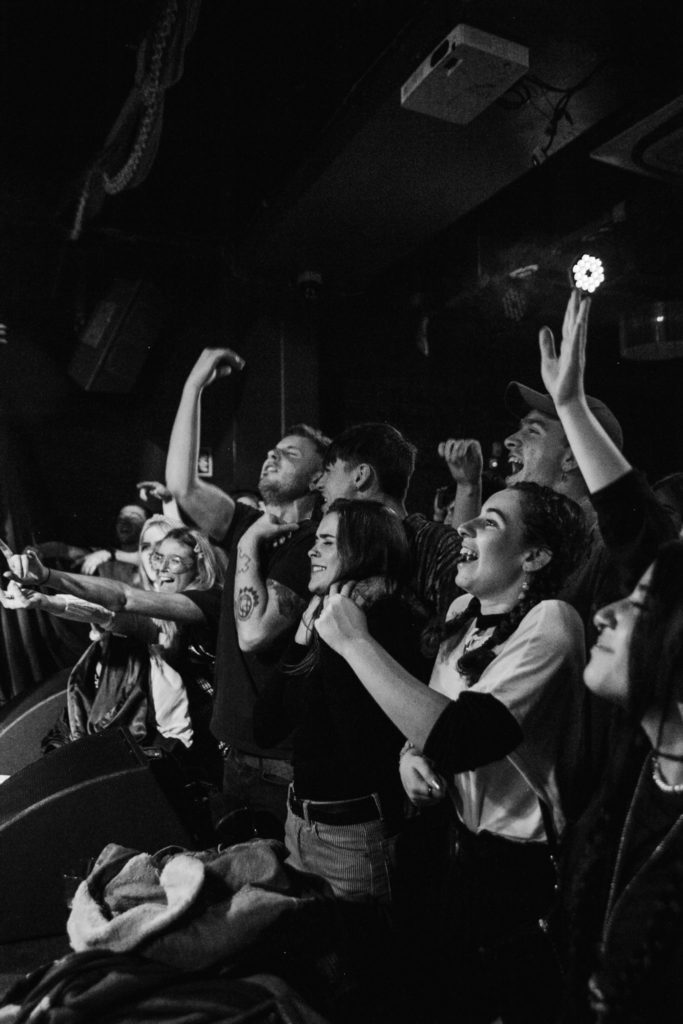 Next up is an obvious crowd favorite in the form of 'Backseat'. For this song, Lughaidh, the main vocalist and the guitarist of the band, introduces guest performers Stephen O'Dowd on sax and Kat Doran on vocals. Kat's powerful yet nuanced vocals fits right in, while Stephen's sax bolsters Louis Younge's already epic musicianship.
Advertisement
By the time the set ends, you're left feeling in awe of the fact that this band has only been going for a year. Their performance completely blew this humble reviewer away. Sky Atlas, while still a new band, definitely showed their prowess and confidence akin to more established acts that successfully play festival main stage slots.