Some people wouldn't recover from the triple-whammy blow of being sexually assaulted, suffering a mental breakdown and having to deal with a stalker, but Lily Allen is in a good place again, and looking forward to headlining Dublin's new LGBTQ-inclined festival, Love Sensation. She talks Boris, Amy, Sally Rooney, Karl Lagerfeld, Billie Eilish and kick-ass memoirs.
"My first memories of Ireland? I got trampled by a horse belonging to a lady called Marina Guinness in Leixlip. They had a house we were visiting because my mum was shooting a film there, This Is My Song, which had people like Adrian Dunbar and Tara Fitzgerald in it. We were out in one of the fields playing and, yeah, I got trampled by a horse."
Lily Allen is giggling as she recalls that 1990 shoot with her producer mum, Alison Owen, whose latest comedy, How To Build A Girl, hits cinema screens in September. The cast includes Lily's kid brother Alfie, more of whom anon.
The Divine Ms. A's enduring love affair with Ireland – "The horse didn't put me off," she reassures us – resumes on August 17 when she takes care of Saturday headlining duties at Dublin's new LGBTQ-inclined festival, Love Sensation.
It'll be welcome respite from life under Boris Johnson who, having described gay men as "tank-topped bum boys", is probably on Lily's shortlist of people to dedicate 'Fuck You' to at Kilmainham.
"Boris… urrrrrrrgh, god, I just actually can't think about it," she winces. "I'm actively taking a break from talking about anything political. I'm going to stick to my music. It's less depressing!
Advertisement
"Funny you should mention 'Fuck You' because last week was the tenth anniversary of it being released as a single," she continues. "Not in the UK because of all the swearing but in Europe where it was number one in a couple of countries. I was in Puglia in Italy recently – gorgeous part of the world – and one of the waiters came up and started singing it to me. I was like, 'Oh yeah, I'd forgotten this was a hit!"
I have this wonderful mental image of the gentleman in question cheerfully intoning: "So you say it's not okay to be gay/ Well, I think you're just evil/ You're just some racist who can't tie my laces/ Your point of view is medieval" as he slapped a plate of carbonara down in front of her.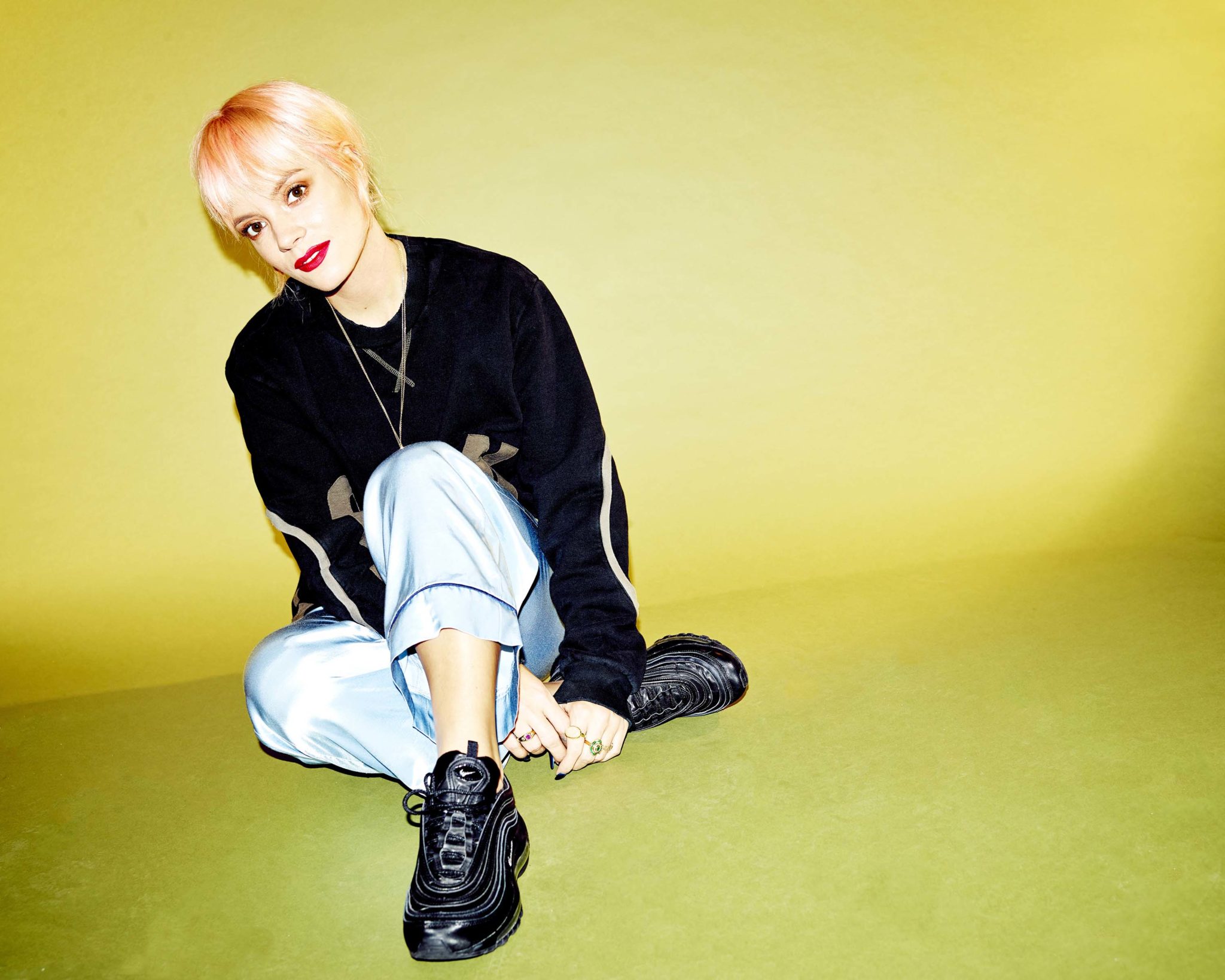 WE WENT CLUBBING TOGETHER
While it's 'Fuck You' and other stonewall classics like 'The Fear', 'Not Fair', 'Smile', 'Alfie', 'Somewhere Only We Know' and, swoon, 'LDN' that the Love Sensation masses will be baying for, we advise against Usain Bolting to the bar/toilet/hotdog stand when Lily says, "Here's one from the new album." Released last summer, No Shame manages by turns to be charming, belligerent, funny, sad, confessional and thoroughly groovesome.
"I'll take that!" she laughs. "It came at a particularly difficult time of my life, my journey. I was separating and divorcing from my husband and rearing two small children on my own, hence the range of emotions you describe. It was a change and I became quite insular, not just with regards to my social life but with my approach to music as well. For the first time, really, because before I'd always been quite outward. It was a necessary record for me to make and I really enjoyed the process."
Amongst other things, No Shame is notable for its eclectic array of guests.
Advertisement
"Yeah, I had some really great people working with me on it," Lily enthuses. "I met Giggs many years ago when he came backstage to see me in my dressing room after I'd played the V Festival. We were both big fans of each other's music and hit it off, so it was kind of natural that we'd do something together. I was playing him stuff that was going to be on the album and as soon as he heard 'Trigger Bang' he was like, 'I want to jump on this 100%' and he did."
Asked whether she's had any other interesting festival hook-ups, Lily pauses, giggles and says, "Yeah, loads of times. I have a different attitude to festivals now. I'm a bit more professional than maybe I was in my youth. I sort of approached it like a punter would, and enjoyed it a little bit too much when I was meant to be working and performing. I couldn't possibly mention them all because there have been so many, but some great relationships have been formed at festivals."
This seems an opportune moment to mention My Thoughts Exactly, Lily's excess all areas memoir, which having topped the Sunday Times Bestseller list last year in hardback has just come out in floppier form. On page 155, Lily 'fesses up to what happened when she found herself on the same flight to Japan for Fuji Rocks as the married (but not for much longer) Liam Gallagher.
"We all got hammered together in the bar (at Heathrow)," she writes. "We got more hammered on the plane. At some point Liam and I found ourselves together in the toilet doing something that we shouldn't have been doing, and it wasn't drugs. Then we were in a lie-down bed together. It wasn't until the next day when he said something like, 'No one can hear about this because of Nic' that I clocked he was married."
Oops! Did Lily do a furious ring-around the night before it came out to warn the people who are in it or did just she think, "Sod it, they can read it like everybody else."
"There's not too much, er, like, debauchery," she lies. "If I'm being critical of anyone's behaviour it's my own. There wasn't anyone I had to call."
A couple of years ago, I had the very surreal experience of verbatim repeating to John Lydon what Viv Albertine had said about his nether regions in her Clothes, Clothes, Clothes, Music, Music, Music, Boys, Boys, Boys memoir. As I got to the bit about him being "rather crusty", he was like, "Aw, no, Viv, you didn't have to…"
Advertisement
"Nooooooo!" Lily cackles. "I definitely didn't go that far."
Returning to No Shame: how did Ezra Koenig end up co-writing 'My One' with her?
"Funnily enough, I met Ezra at the Øya Festival in Norway," Lily resumes. "I hung out with the whole of Vampire Weekend there and afterwards we went clubbing together. Ezra floats around Los Angeles writing with lots of different people, and one day sort of ended up rescuing me. He's an amazing, very clever songwriter."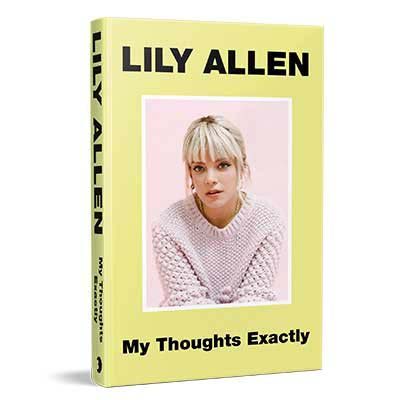 HE LOVED STRONG WOMEN
Having previously professed to being 'done' with the music business – My Thoughts Exactly contains a harrowing account of how she was sexually assaulted in 2015 by a predator referred to as 'Record Industry Executive' – you get the distinct impression that Lily Allen is enjoying it again.
"I've always enjoyed it. It's just that the spotlight got a bit too much, you know? I feel like I'm in a good place at the moment. My energies are really focused on creativity, and that's a great place to be because it hasn't always been like that. Sometimes it's felt a bit forced. That's when things started to fall apart for me a bit. I feel like I'm emerging from a dark place and remembering why I wanted to be doing this in the first place. I'm feeling very rewarded on that front at the moment."
Advertisement
If Lily were to pick two or three "pinch me, am I dreaming?" moments from her career, what would they be?
"Both of my Glastonbury main stage performances were amazing things to have happened," she beams. "It sounds so lame because awards are awards, but winning three Ivor Novellos in the one year, which hadn't been done since The Beatles, was pretty cool. Normally they're like, 'If you turn up, we'll give you an award', but these were voted for by the academy, which is musicians and writers. I can't remember the day at all, so obviously I had a really good time."
Last week as I raised a glass to Amy Winehouse on the eighth anniversary of her death, I couldn't help thinking, "If only she'd hung around long enough to make a record like No Shame," which is somebody dragging themselves back into the light after an awful lot of darkness.
"I know, bless her heart," Lily almost whispers. "It's a tragedy, isn't it? I think about Amy a lot. Maybe it's because of the association she had with Mark Ronson, who I've worked with quite often. She's sorely missed."
Lily is at the level of fame – and Twitter subscribers of whom there are over 5.5 million – where everything she says is a news story. Is that a bit scary?
"It's quite strange to have what you say/tweet treated like a press release. It's always regurgitated with a negative connotation. I'm like, 'No, that was just a conversation I was having with somebody and it's been taken out of context'. When you're running your own social media, you can't avoid it. It turns up everywhere in your feed. And I guess it hardens one slightly."
If only somebody were to come up with a sarcasm or irony typeface.
Advertisement
There's actually a whole thing about that called Poe's Law. How do you make it clear on the internet that you're taking the piss? It's so easy to be misconstrued."
The media hanging on to Lily's every utterance finally came in handy when she decided to speak out about the police's mishandling of a stalker case, which came to a head when Alex Gray, a paranoid schizophrenic, broke into her home at 2am in the morning. Despite copious evidence to the contrary, the Met insisted that Gray – who later said in court that, "I was going to put a knife through her face" – was merely an opportunistic burglar.
"The systems that were in place when it happened to me were not good enough," she reflects. "I was lucky enough to be able to pay for lawyers and private investigators to try and help me out, and get the justice that I deserved – but not many people are in that position. It's by its nature very unnerving. I was in slight shock from start to finish. So, yeah, it seemed important to try and raise awareness of what it's like to be in that position."
A little literary dickie-bird tells me that Lily was blown away by Sally Rooney's Conversations With Friends.
"Yeah, she's amazing, isn't she? I'm going to read the next one – or was it the last one? It's in the pile of unread books next to my bed."
What else is on her recommended list?
"I read a book on holiday called Propaganda, which is from the 1920s and by a guy called Edward Bernay who sort of invented the notion of public relations. There's another up to date one, The Age Of Surveillance Capitalism by Shoshanna Zuboff, who's a professor at Harvard."
Advertisement
Is she turning into Billy Bragg?
"No… well, yeah, maybe," she laughs. "I'm really interested in data, which last year overtook oil as being the most valuable commodity on earth. The internet – or, to be more precise, MySpace – is where my career started, so it's kind of natural that I'm drawn to it."
Did she ever think the day would come when that deadbeat brother of hers, Alfie – you'll doubtless recall the "My little brother's in his bedroom smoking weed/ I tell him he should get up 'cause it's nearly half past three/ He can't be bothered 'cause he's high on THC" refrain from the 'Alright, Still' song about him – would get an Emmy nod for his playing of Theon Greyjoy in Game Of Thrones?
"Yeah, I did, he's an amazing actor," she says switching into proud big sis mode. "He gave so much of himself to the role. We're all elated for him. He's worked his ass off and totally deserves it; I hope he wins. I was meant to go on the Game Of Thrones set one day, but couldn't, which is a shame 'cause it's over now."
Has she ever fancied treading the boards herself?
"Never say never," she considers, "but I wouldn't be a very good actor. My face just gives me away the whole time in real life."
Another of No Shame's standouts, 'Everything To Feel Something' deals with Lily's past addictions, which stopped short of heroin but included just about everything else. Now that she's illicit substance-free, has her addictive nature manifested itself elsewhere?
Advertisement
"I do a lot of travelling and get quite neurotic about compartmentalising things," she confesses. "I have little bags for my trousers, and bags within bags for other items of apparel. So, yeah, I'm compulsively tidy."
Lily's career took a somewhat unexpected turn in 2009 when, at Karl Lagerfeld's behest, she was made the face of Chanel.
"She is cool, young and extremely witty," said the iconic German designer who passed away in February. Were they close?
"We didn't spend Christmas together, but he was a genius. It was incredible to watch him at work; just the sheer amount of stuff that he was creating. He was 85 and never slowed down."
What did she think Lagerfeld wanted her to bring to the brand?
"God knows! It didn't seem like a natural match. At the time maybe that's what he was after, I don't know. He always had these really amazing collaborations with musicians. I remember him doing stuff with Florence and Cat Power. I think he just loved strong women."
Which is the more pernicious industry – music or fashion?
Advertisement
"I imagine it's a dead heat. My knowledge of fashion houses is confined to Chanel, but from things that I've read, yeah, it does seem like a pretty pernicious industry. With it being very focused on youth, there's a high turnover. I managed to carve a little place for myself within the fashion industry for a few years and that was definitely a lot to do with Karl. I hadn't really considered that side of myself until he did, and it was fun."
What's floating her musical boat these days?
"I like a lot of grime. London's really good at creating these subcultures, which start out local and end up having a significant worldwide impact. There's a girl called Miraa May who I'm following quite closely – we have some of the same people on our teams. She's starting to blow up and deservedly so. There's another girl from London, Joy Crookes and a bluesy singer from Brighton, Celeste, who I love. You know what they say; creativity is born out of trying times."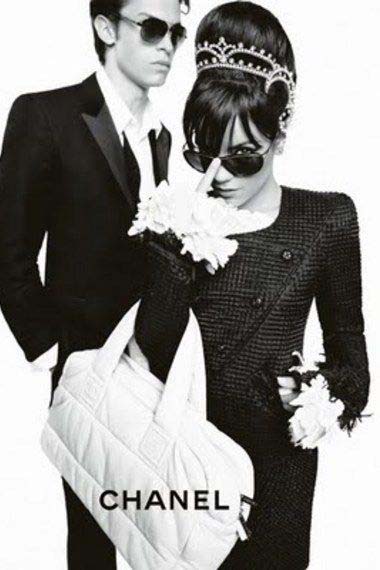 HARD WON FREEDOM
In the new chapter she's penned for the paperback edition of My Thoughts Exactly, Lily gives an example of the record industry's latest form of, as she describes it, "institutional sexism."
"In February I posted a photograph of myself on Instagram wearing nothing but a lacy bra and knickers," she writes. "The knickers were high-cut and you could see my butt-cheek. It was one of those deliberate look-at-me-half-naked selfies, rather than a candid snap. Now, I'm told that the more social media traction I get, the more the record company will spend on marketing and promoting my work; the photograph was a way for me to prove a point. I get about 50,000 likes, on average, when I post a photo, pretty much whatever it is. But the lacy underwear snap got 100,000 likes. You get what I'm saying?"
Advertisement
Having made that her last 'look-at-me-half-naked' selfie, she notes sanguinely that, "No Shame received very little promotion or marketing spend."
Of course, it's not just, as she puts it, "an old lady of pop like me," who feels pressured into getting them off for the online lads and ladies. Lily is worried about the effect Instagram culture is having on vulnerable teenage boys and girls.
"There's no shame in people wanting to showcase their toned bodies, which they've put lot of effort into," is her take on it today. "But if you're young and impressionable and get validation from numbers and likes, it doesn't take a genius to work out the easiest way to get those. It's something that's worth having a conversation about."
Lily regards Miley Cyrus and Billy Eilish as younger kindred spirits in calling out the bullshit female artists have to deal with on an ongoing basis.
"Yeah, fair play to them. What's sad about it is that it always has to be women doing the calling out, and women don't really wield the power in the music industry in the way men do. So, it'd be nice to hear men shouting and doing something about it as well. It's a great industry to work in, but when it's bad, it's bad."
The blast she's been having on the No Shame tour – "The shows I'm putting on at the moment are very different to previous ones; it's always a new experience and one that I'm really enjoying," she says – will continue when she rolls into Dublin for a gig that's of real significance for her.
"Amidst all the fun – and it's an amazing line-up and venue – it's worth remembering that the freedom to come together like this, and celebrate, has been hard won," she concludes. "Younger people take it for granted, as they should, but it wasn't all that long ago that you couldn't have had a festival like Love Sensation in Ireland or the UK."
Advertisement
Love Sensation takes place on August 17 & 18 in the Royal Hospital Kilmainham.