By: Alix Renaud
Next month yet again, the ten-days festival will encompass a wide range of electrifying acts across the medieval city, from contemporary dance to outdoor theatre performances, typically blending tradition and innovation.
Since 1974, it has remained one of the leading festivals in Ireland, by bringing out the finest local and international musicians, artists and perfomers in its cross-genres series, with a focus on classical music.
This year again, the Kilkenny Arts Festival will host an eclectic mix of musical acts from all over the world, including Ireland, Ukraine, Senegal and Canada, spread out in the city's stunning scenery, where castle, townhouses, courtyards and historic churches - such as St. Canice's Cathedral and the Black Abbey - will be turned into unique performance spaces for breathtaking concerts.
This versatility in its programme ensures that the series of events will thrill audiences of all kinds.
Folk opera Mark & Marichka Marczyk will perform their brand new show, Balaklava Blues, a mixture of traditional vocals with a range of propulsive electronic dance beats, performed against a backdrop of documentary footage from the front lines of Ukraine's Maidan revolution.
On the 14th of August, their brand new show, Sun Collective and I Have a Tribe will collaborate to deliver some of the best of what the Irish indie folk scene has to offer, including piano, singing, double bass and percussion on top of their orchestral and jazz background.
Advertisement
On the 16th of August, rising global star Carlou D will blend his powerful voice with Senegalese instruments such as kora and percussion, along with western pop, blues and contemporary influences.
Wooden Elephant, a quintet which features award-winning violinist Aoife Ní Bhriain, will play their groundbreaking interpretation of iconic Bjork's Homogenic and Radiohead's Masterpiece Kid A by playing electronic music on traditional string instruments.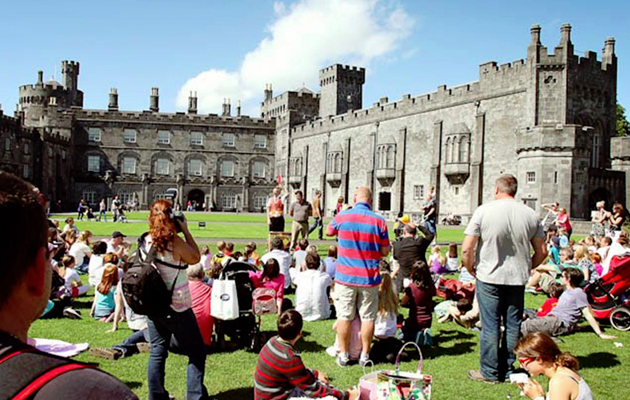 Award-winning poet Cherry Smyth will perform a moving lyrical lament, Famished, in collaboration with composer Ed Bennett and leading jazz vocalist Lauren Kinsella - created after seven years of research into the forgotten stories of the Irish Famine and the role played by British Imperialism.
The acclaimed Crash Ensemble returns to Kilkenny to play a series of free pop-up concerts, including Song of the Books, the Irish premiere of a major new modern work by Northern Irish composer Ed Bennett.
The Quiet Music Ensemble, renowned for their experimental and entrancing music played by some of the best Irish musicians will also be part of the programme. They will mix improvisation with live electronics and recorded sounds to create ambient music designed to immerse listeners fully.
The Rollercoaster Sessions will include four piece indie rock band The Wha and Sick Love, deft lyricist David Keenan backed by a full band, rocker Cathal Coughlan - who will first be accompanied by his band, the Grand Necropolitan Quartet, then by guitarist James Woodrow - indie band Arborist, singer-songwriter Mark McCambridge and alt-folk artist Seamus Fogarty.
Advertisement
More information can be found on the official Kilkenny Arts Festival website.