You can see Denise Chaila on St. Patrick's Day as part of JAMESON CONNECTS JESSIE REYEZ AND FRIENDS – also featuring Jessie Reyez, Junia-T, Kojaque, Savannah Ré and Unorthodox Coolock – at Jameson Connects.
Jameson Connects' St. Patrick's Day global celebration will air on March 17, featuring some of the most exciting names in R&B, hip-hop and rap, including Denise Chaila. So join in, wherever you are!
In advance of her highly anticipated performance, we're thrilled to bring you this iconic interview with the acclaimed rapper, singer and poet – originally published as a Hot Press cover story last year, following the release of her Choice Music Prize-winning project, Go Bravely...
* * * * *
Feel free to write a stiff letter to the Editor if you think I'm wrong, but no other household in Ireland is quite as hip-hop right now as the John Square, Limerick one in which Denise Chaila, God Knows and MuRli are currently in a bubble together.
Despite – and perhaps perversely because of – the pandemic, since March, the Narolane Records trio have gone from cult outsider status to being on prime time telly almost as often as Dr. Tony Holohan.
It's all of six years since Munyaradzi 'God Knows' Jonas and Mawuli 'MuRli' Boevi joined forces with John 'mynameisjOhn' Lillis as the Rusangano Family. The band name was derived from the Shona people of Zimbabwe – where God Knows is from – and means 'togetherness'.
Denise Chaila entered the picture in 2016 when she performed on 'Isn't Dinner Nice', an iron fist in a velvet glove condemnation of casual and not so casual misogyny. "I'm screaming for the seven-year-old girl," she rapped, "getting ready for her wedding night right now/ For the teenage boy on Twitter learning to substitute the word 'woman' with four letter words in his vocabulary" on a track that graced the Rusangano's superb Choice Music Prize-winning Let The Dead Bury The Dead album.
Denise waited until last year to make her solo bow with the equally powerful double-whammy of 'Copper Bullet' and 'Dual Citizenship', a song that proudly proclaims: "I could tell you about Amhrán na bhFiann/ And Lumbanyeni, Zambia/ I could show you the spirit of Lucan, Limerick and Lusaka."
While Denise was waving an immaculately manicured two fingers at the bigot brigade, God Knows and MuRli were attending to their own solo careers which, given that they invariably end up on each other's records, aren't really that solo.
Shortly before Lockdown, God Knows – a man who makes things happen – masterminded the South West All Stars remix of 'Who's Asking?' which powerfully underlined the depth of Shannonside rap talent.
A murderous Bad Boy vs. Death Row-style beef was never likely, but – just in case! – God Knows followed that up in August with an East Coast version and is now considering venturing north of the border to see what Belfast, Derry, Newtownabbey, Craigavon et al have to offer in the hip-hop department.
A frenetic September also saw Team Narolane join James Vincent McMorrow, Sorcha Richardson, Cormac Butler and Conor All Tvvin in the recording of the rambunctious 'Out The Gaff' and Denise unleashing Go Bravely, an 11-track manifesto in the form of a mixtape, hand-tooled for the tumultuous times we live in.
Not to be outdone, MuRli followed up his incendiary 2019 album The Intangibles with July's equally fire-breathing 'Till The Wheels Fall Off', a very different sort of football song, which has to be a Single of the Year contender.
And that really just is scratching the surface where Narolane Records are concerned. To find out precisely what's going down in the Treaty City we've arranged to have separate chats with the three amigos who've spent the morning taking HP snapper Miguel Ruiz around some of their favourite haunts – among them Dolan's, where Denise managed to sneak in a G0 Bravely launch gig just before Lockdown 2.
She and God Knows are the two super-talkers in the Narolane crew. Where Denise is very measured and precise, God Knows tends to jump from subject to subject, determined not to leave anything or anybody out. His is an infectious enthusiasm, which he regularly takes School of Rap-style into Limerick classrooms.
MuRli is the perennially smiling joker in the pack though no less serious in his intent of taking on the world and winning.
All three exude self-belief, sincerity and no little charisma. It's clear that Narolane is something they eat, breathe and sleep, and which is designed to be far more than just a record label.
Meeting them now, all eager, expectant and full of ideas reminds me of my first pre-fame encounters with Soul II Soul chairman of the board Jazzie B and the Beastie Boys. The outrageous talent is there: now they just need to attract the mass international audience it deserves.
There's no debate as to who's going to be interviewed first with Denise occupying the sofa, while the lads go off to make the tea.
It was on another sofa that she made one of the most important Irish TV appearances of the year.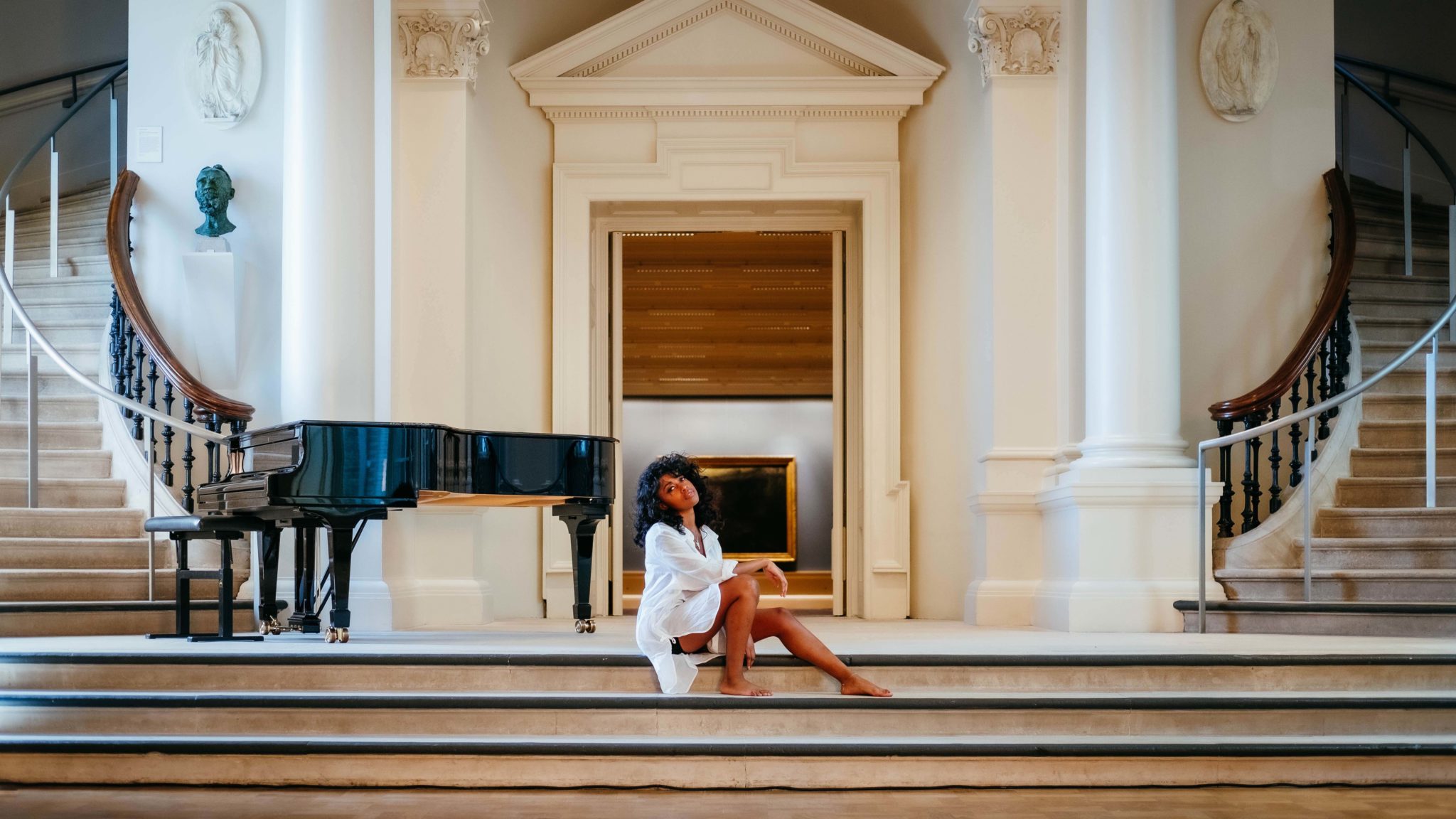 Stuart: Were you nervous about performing and chatting with Ryan Tubridy on the Late Late Show?
Denise: I was nervous about the appearance weeks in advance. I'm rarely sick to my stomach about something but I know the importance it has as an institution in Irish TV. I was running through disastrous scenarios in my head, like what if I go there and embarrass myself in front of the nation? There just seems to be so much weight attached to it. I leant into the fact that I'm rarely alone, the guys are always with me. Somebody is there to catch me when my anxiety spikes and pats me on my shoulder and says, "You're doing great, don't overthink this, you're going to overthink this but don't be mean to yourself."
You absolutely nailed 'Chaila' – I think I'm finally pronouncing it right! – that night, but even more importantly you got to represent and talk to people in their living rooms. Did it feel like a watershed moment?
Yeah, I didn't grow up in an Ireland where I saw black people on the Late Late Show or television in general unless it was a charity commercial or a cry for help. Rarely did I see empowered or content, confident people who were able to show their personalities before they showed their suffering or their pain. That was and is a really formative experience for any child to have growing up. I'm not here to beg for empathy or humanity. I'm here on a very level playing field, really grateful as an artist to have made it this far and to have had the opportunity to share something. At the heart of my music is an experience that has rarely been shared on Irish airwaves up until this point. Appearing on the Late Late was a fundamental moment in my life.
You did a very good impersonation of a chilled person sat there with Tubs.
This year has been a funny one. In so many ways, from secondary school until here, I've been put in positions of responsibility where I've been asked to speak sometimes on what I feel is beyond my capabilities in arenas where it's sink or swim. Maybe it was because I was a prefect and had to keep talking to my teachers or something.
Where did you go to school?
At first in Palmerstown, Co. Dublin but I moved to Limerick in 2012 just before my Leaving Cert. The plan was to stay a while and then go back to Dublin, but it didn't take long before I was going, "I'm not leaving!"
'Prefect' suggests that you were pretty well behaved.
(Laughs) It does suggest that, doesn't it? My parents worked really hard to get me into the positions that they got me into, so I treated school with the seriousness of someone leaving their last year of college and going into the first year of their career. I had to get a scholarship to get into the school and letters of recommendation and references. By the time I was there, I was like, "I'm going to make sure that I pad my CV with everything I could possibly give it." So I was not only a prefect, but also deputy head girl. I was leader of the Christian Union, I was in the jazz band, I was in the choirs, plural. I was in every theatre production. I did it all – except for sport. I don't know how I got to be prefect because there were things that I just didn't want to do, like sport, that were mandatory.
In a recent study, conducted by academics with far too much time on their hands, it was found that kids who play Joseph or Mary in the school nativity are more likely to succeed in life.
Wow (laughs). I didn't play Joseph or Mary but I did play Anne Frank and Juliet, which was interesting. Wait until I come out as an actor. I've got range but it gets weird!
I was struck by the way you worked the camera angles out at RTÉ.
I think from a young age that I was really attuned to people. My dad is a neurologist and when we were young he'd get the bus to school with me. On it, he would talk about people's body language like it was an Olympic sport. We'd sit and watch people get in and he'd ask me what I could observe. "How are they sitting? Are they with that group or on the edge of that group? What job do you think they have? Can you tell me a story based on the shoes they're wearing?" Then he'd turn the questions back on me: "Are you stressed? Are you confident? Are you feeling some sort of way? You're holding your hands like this and that's self-comforting behaviour." He broke the fourth wall on body language and helped me work with other people better. Part of negotiating different cultural clashes or shocks or finding common ground is being sensitive about body language and trying to communicate more with your hands and body and communicating friendliness and openness. That translates on screen.
Did you enjoy going into schools with God Knows and talking to the kids and the teachers?
Yeah, that was a really big thing in my life. It was ostensibly about music and the mechanics of music, but often it would turn into an opportunity for self-reflection, especially in secondary schools. A big part of writing a song is having the confidence to believe in yourself and deliver the lyrics out loud to a room of your peers, potentially for judgment. Because of class privilege and some of the prejudices that exist, gaining that confidence can be hard.
It may have changed now, but when I was in Limerick having Southill, Moyross, Prospect or the Island on your job application was a guarantee that you wouldn't get an interview.
No, that hasn't gone away. Ireland's issue with Travellers runs so deep that it's an acceptable form of discrimination. When I first moved here I felt more kinship with Travellers than I did with settled white people. They knew what it was like to have to do the code switching and to duck and dive and work around people. I change my accent, I get this job. I change my address, I get this opportunity. I don't and suddenly I'm excluded from things I need, to have a life and a livelihood. There's a solidarity here that I know we all feel with our Mincéir brothers and sisters. I'll go places with people and they'll be turned away because they're wearing a tracksuit – but we all know what that means.
After all that deputy head girl-ing, you went to UL. What did you study there?
English Lit with Sociology, and Politics with International Relations. I was there from 2013 until 2019-ish so I took my time!
What do you read yourself?
I love fantasy novels. I write fantasy in my spare time, it's an ongoing project. I love Dungeons And Dragons. I role-play as a hobby. As we get older, we push things like that to one side and get very realistic and forget the political power of the imagination. And how essential it is to your confidence and security as a person to have places where you can just play and not worry too much. It doesn't have to be overtly like 'this is therapy' but it's so therapeutic to meet with someone and be like, "You're an elf, I'm a high orc and we need to negotiate a treaty for our people right now!'"
At what point did you discover the transformative power of music?
I said my first words at seven months, so it was obvious I was going to be a talker. For a long time we said in my family that I was going to be a politician. That's the frame of reference they had for people who wanted to talk like that. As I got older I was inspired by the film Sister Act and by Lauryn Hill, Aaliyah, Missy Eliott and Busta Rhymes. Janelle Monae's The ArchAndroid was a really big record for me. I remember babysitting my brother when he was really small and us dancing round the kitchen for an hour to 'Tightrope'. I heard her music and felt like I shared the references. I know for a fact that she loves Aretha and Stevie Wonder, which is what I grew up with, and that she's a nerd. I know that she's really, really politically conscious. She's all of these things that I feel I am too, and one day I'm going to meet her and we'll be friends and we'll work together. I just have to put myself in the position where I can!
'Tightrope' aside, what's guaranteed to get you dancing?
Right now, 'My Power' by Beyoncé would get me right there; or 'Do I Do' by Stevie Wonder!
Cillian Murphy has championed you and the guys on the radio show he does in between acting jobs.
He played me on BBC 6Music and it blew my mind because in transition year my teachers were always going on about The Wind That Shook The Barley with us. I love comic books, so my point of reference with Cillian is Batman. We met in Cork, had a BBQ and it was cool. He's this very measured, considered, gentle person who is so humble and able to talk to me.
This is not a line I ever thought I'd use in a hip-hop interview, but your first time meeting MuRli and God Knows was at a Brazilian church in Limerick.
I've been a person of faith my whole life and when I moved to Limerick I needed a home. I was basically dating churches and someone told me about this Historymakers conference, which was taking place in a charismatic Brazilian church. I went there and couldn't understand anything because it was in Portuguese, but it was very welcoming with a lot of smiling people. Halfway through this group of a dozen English speaking rappers, one of whom was MuRli, strutted in and started doing their thing in the middle of the church. I was like, "Wow, this is amazing!" It was real, vulnerable, God honouring and true.
What was the outcome of all this church dating?
I followed G and MuRli back to their church in Shannon where they built a studio for them upstairs. Their pastor really believed in them and invested in their music. As time went on, we had the chance to develop our friendship during bible studies, following friends to different countries to celebrate their weddings, long drives in the car to different lakes around Clare and looking at things and writing and dreaming together.
As someone who suffers from anxiety, has lockdown been especially difficult for you?
It has for many reasons. When you're given a lot of space to be alone with your own thoughts, pain becomes very loud. Sometimes you really need someone there to shout down what seems logical to you, but wouldn't be logical to anyone else who heard you speak. There's something very profound about the aloneness of it all, which gives way to hopelessness. I've had so many moments that I know I'll remember for the rest of my life, both positively and negatively. Things have happened in such extremities that I'm going to be processing it for a very long time.
What are the negatives?
It's the combination of the pandemic and really going through and unpacking all of the racism that's been burdening us. It's one thing to live under systematic oppression for your whole life and another to do it whilst you're not allowed access to your community. That's been a very difficult thing to process and work through, because sometimes someone will send you a death threat that's very graphic and visceral. "I know where your parents work, it's not hard to find out where you live" – that kind of tone. You're just left there to look at your phone in your home and maybe no one's there and you can't ask for a hug. Maybe you can only call someone and cry at the same time. My access to my therapeutic processes is gone. I write music, I perform and I work it out with other people. How do I deal with the violence towards me not just as a black person but also as a public figure whose face is known, and who can have very specifically targeted things sent to them? How do you do that knowing that you have a family that you want to protect?
There were lots of positive comments but you suffered some appalling racist abuse after appearing on the Late Late.
Until we have protection against hate crimes this is going to keep happening online. Twitter is no longer just a 'block them' thing. That's dismissing the importance of what it means to have a colleague or a manager or an employer who is interacting with black people every day and isn't comfortable with their presence on this island – and they feel they can work that tension out on me online. I don't find comfort in the fact that there are no names behind the random nationalist icons. I actually think to myself, "Well, that means I could know you."
It's almost worse that it's a hidden enemy.
Nine times out of ten, these people would be terrified if they were to meet me in person. They wouldn't have the cojones to look me in the eye. These are grown people who feel that they are entitled to threaten you with bodily harm because they just don't like that you're alive. That is something that I wish I could call the Guards about, but we don't have the legal processes available to protect people.
I had a conversation recently with Sinéad O'Connor, who was outraged by George Floyd's murder – but she was worried about not being able to do enough to support Black Lives Matters. What should we be doing?
There is no one size fits all. We're all at different places. One of the first things we need to do is come back to the seed of this and start looking at it not as a race issue or a homophobia issue or a sexism issue, but as an issue of integrity and of personal humanity. Because the trend and pattern that's repeated here is that people say, "This is who I am." We feel a challenge or we sense something fracture in the way we see things and the way we've been taught that the world is, and instead of trying to see and sit with that challenge and the conviction, we lash out at other people. Instead of accepting that we can be wrong, and maybe sometimes the pillars that we built our world on can be flawed, you know?
How can we challenge that?
It's a practice of listening to people and being willing to be wrong. I do this all the time because I'm a cisgender woman and I'm not blind to the fact that I have more class privilege than a lot of people who are black in this country. I'm not someone who has come through Direct Provision, for example. Even just that gives me the fluency to be able to interact with whiteness in a way that other people might not. I have the privilege of a certain stability. My parents can catch me if I fall. I have opportunities to work with these incredible men here, and that's also a privilege because I'm a woman in an industry that's notoriously and violently sexist. That's a protection I have.
I saw your withering response to Smiley Osungboun, Jafaris' drummer, who said some very demeaning things about female Irish artists in a podcast.
There is nothing new under the sun. It's that old attitude, the only thing that's needed for evil to thrive is for good men to remain silent. It starts by not ever resting on the assumption that we are good inherently, but rather that we are capable of both great good and great evil. That's not an inherent characteristic, but is rather a choice that we make from moment to moment. I know it's something that Smiley can learn and grow and recover from. I also believe in the power of redemption and correction.
Is it important for women to respond?
I really appreciate that there was an opportunity for women in the industry to say that this is something that almost made me quit music. This isn't something that's overt. Someone isn't going to be openly sexist to your face in the same way that someone isn't going to be openly racist to your face. What can happen in private rooms, in private discussions, things will be allowed to be said that will set the groundwork for certain things to never be allowed to exist. People will never break through in this way because of the assumption that women can't do music. Smiley didn't invent that. Someone had to teach him and he internalised it. From what I know, he's very committed to wanting to change.
The writer Kevin Barry maintains that nowhere else in the world can match Limerick for the richness of its characters and language.
If you're going to go to a city that's called Limerick, you better expect to meet some amazing writers and people who love language. Not the colonised grammatical thing that people do, but playing with words and having the swag to pull it off. One I love and use a lot is 'yurt' instead of 'yes'. It's versatile, it's simple, it's quick. Limerick is a beautiful, creative, very historically important city. People here have a confidence that's beautiful to see. I dare you to go and talk to that girl who's got her pyjamas on in the middle of Tesco's and not find somebody very secure in themselves.
To quote the old cliché, you only have one chance to make your debut album, so it has to be 100% right.
(Laughs) You do only have once chance to make your debut album, which is why I didn't – I made a mixtape! The art of the mixtape is really novel and lost on a lot of people. Children of hip-hop know the excitement of their favourite artist inviting them into their process and development. They get to see you start playing and toying with voices and cadences and picking up things and not being quite so serious about how polished they are. They get to see your excitement and your mistakes. I'm following in the footsteps of Chance The Rapper who gave you an Acid Rap before he gave you the Coloring Book, you know?
Some of the reaction to your music online is really touching.
People send me these long messages about who they are, where they're from, who their families are and how they found my music. They send me essays and books and I'm just crying like, "Wow, I don't know you but this is beautiful."
Other than becoming friends with Janelle Monae, what goals have you set yourself?
I want to go as far and as fast as makes sense for me. I want to be an international superstar but in a humble way. I want to be at the stage in my career where I can go back to Victoria Falls and buy that statue of Livingstone and drop it in the water. That's my main goal. I want to be at the point in my career where I can go to the National Museum in London and get back Zimbabwean artefacts. I want to be at that point in my career where I'm able to sit there with my Emmy and my Grammy and my Oscar and my Tony, but also to give other people opportunities. I want my Mom to be able to go back home and have her family plot and buy the deed.
Is that all?
No. I want security, I want ownership, I want recognition so that I can do more, I want to have music that I can just wake up and make. I want to make sure that my children and my children's children never have to force themselves to fit into the mould of anyone else's expectations and can just actualise for the rest of their lives too. It's a marathon, you know?
Read the full interview with the Narolane Records collective here.
Jameson is about connection. Connecting you to your favourite artists. Local scenes to global communities. And everything in between. Join in wherever you are this St. Patrick's Day at Jameson Connects.
Register to Join In for this Global Live Stream of Jameson Connects Jessie Reyez and Friends on March 17 2021 at 8 PM GMT at Jameson Connects.
Please enjoy Jameson responsibly. Visit drinkaware.ie