Bandmates and fans are paying tribute to the musician (seen right, above) on social media today.
Legendary Irish bassist Rick Laird passed away at the age of 80 yesterday.
A member of the original lineup for John McLaughlin's Mahavishnu Orchestra, Laird, was born in Dublin before moving to New Zealand. He later lived in many corners of the world, including England and the United States.
The jazz-fusion band he joined in London was acclaimed for their work blending Indian classical music and psychedelic rock and their electric live performances.
McLaughlin paid tribute in a sweet message to his former bandmate, tweeting, "RIP brother Rick Laird."
"What great memories we have. Miss you."
Advertisement
RIP brother Rick Laird. What great memories we have . Miss you !!! pic.twitter.com/6cIW51uHSj

— John Mclaughlin (@jmcl_gtr) July 4, 2021
Author of Power, Passion and Beauty, an autobiography of Mahavishnu Orchestra, Walter Kolosky, also reacted to the unfortunate news in a heartfelt post in a Facebook group dedicated to the band.
"He was a very deep (sometimes spiritually so) and empathetic individual who had strong opinions about the world in which we lived," he fondly remembered.
"He was engaged and creating art until the end. I will truely miss him."
Rick was also an acclaimed photographer, taking portraits of legends such as Miles Davis and Elvin Jones. He also played with several jazz musicians, including Wes Montgomery, Sonny Sitt and Buddy Rich.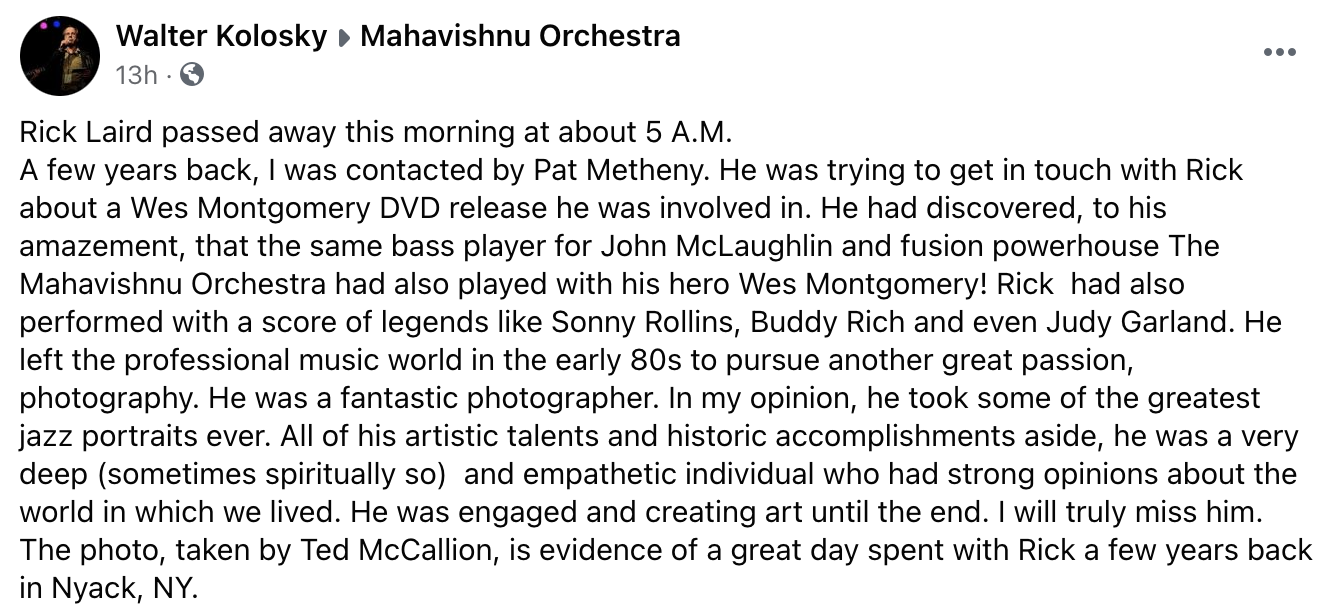 Advertisement
Watch Rick play with his band Mahavishnu Orchestra in their heyday on the BBC below:
So saddened to hear about the passing of Mahavishnu Orchestra bassist Rick Laird. A truly incredible musician.... Prayers and condolences to his family and friends during this sad time. 😔💜🙏✌️ pic.twitter.com/mYB6qSb8vu

— Purple Beacon (@BeaconPurple) July 5, 2021
So long, Rick Laird. A superb bassist & when it comes to his rock solid work with the Mahavishnu Orchestra, very much the eye at the centre of the hurricane. So grateful I got to see him performing with the band in 1973 & so glad we got to talk last year about his work. . . pic.twitter.com/Pts6bRknAr

— Sid Smith (@thesidsmith) July 4, 2021