With Taylor Hawkins & The Coattail Riders about to issue the exhilarating Get The Money, the Foo Fighters' drummer discusses why he's so excited about the project, and also fan boys over Mick Jagger, Paul McCartney, Guns N' Roses and Thin Lizzy. Plus, an update on the next Foos album.
Nobody could accuse Taylor Hawkins of slacking. In his day job as the celebrated drummer with the Foo Fighters, he spent the summer rocking stadiums and festivals around Europe. The tour included a Dublin RDS Arena stop-off, which turned out to be a Gig of the Year contender. As the Foos tore through the highlights of their formidable catalogue, Hawkins again revealed himself to be the band's secret weapon.
In fact, he had a starring role in two of the show's high points, as he first took lead vocals on the stunning, Beatles-style ballad 'Sunday Rain', then had the time of his life as he handled the Freddie Mercury parts on a soaring cover of 'Under Pressure' (his green, white and gold shorts somehow adding to the moment).
For all their FM radio flourishes and catchy melodies, the Foos' punk and hard-rock edge means they retain a subversive quality. As much as he encourages singalongs and pogoing, the Gen X anarchist in Dave Grohl is always lurking under the surface, ready to take the piss out of stadium rock clichés. As with Guns N' Roses, it's a tension that actually makes the Foos an exhilarating stadium act.
GREATEST ROCK BAND EVER
A mere two months after that memorable evening, Taylor is back with Get The Money, the latest album from his side project Taylor Hawkins & The Coattail Riders. An inspired splicing of his beloved '70s rock and new wave influences, and a tongue-in-cheek exploration of Hawkins' dual status as rock star and suburban dad, it's the sort of album on which you'd expect, say, Joe Walsh to make a guest appearance. Sure enough, the Eagles guitarist does appear, in amongst a small galaxy of Taylor's A-list friends, including Chrissie Hynde, GNR's Duff McKagan, Queen's Roger Taylor and, of course, one David Grohl. How did Hawkins fit making the record into his hectic schedule with the Foos?
Advertisement
"You know, you just make it happen," says Hawkins in his surfer-style Californian drawl, sitting down in his LA home. "I wrote the material when I was on the road with the Foo Fighters. Then when I'd come home between legs of the tour, I'd record. I generally just do this for fun anyway. If I'm not recording or touring with Foo Fighters, I'll be making a solo album, or a Coattail Riders album, or whatever. I enjoy doing something on the side."
Did he actually record in person with the guests on the album, or did they trade ideas long-distance?
"Both," replies Hawkins. "Chrissie Hynde and Roger Taylor were over in Europe, so unfortunately I didn't get to be in the studio with them. But we'd have conversations over the phone and get a clear idea of what we wanted."
Was McKagan already a friend?
"He was," nods Taylor. "We've become friends over the last five or six years; I've known him off and on for a long time. We share an interest in mountain biking and a few other things. I'm a fan of him as a human being and I'm a fan of his bass playing. We actually wrote a couple of other songs together that didn't fit on this record, but we'll put them out eventually."
Of course, GNR's ongoing Not In This Lifetime excursion is now the third highest grossing tour of all time. Has Hawkins seen the reunited line-up?
"Yeah, me and my wife went to see them at the Forum here in Los Angeles," he responds. "They were fucking great. It was brilliant to see Slash, Axl and Duff back together. It really worked better than it did without Slash and Duff. No question."
Advertisement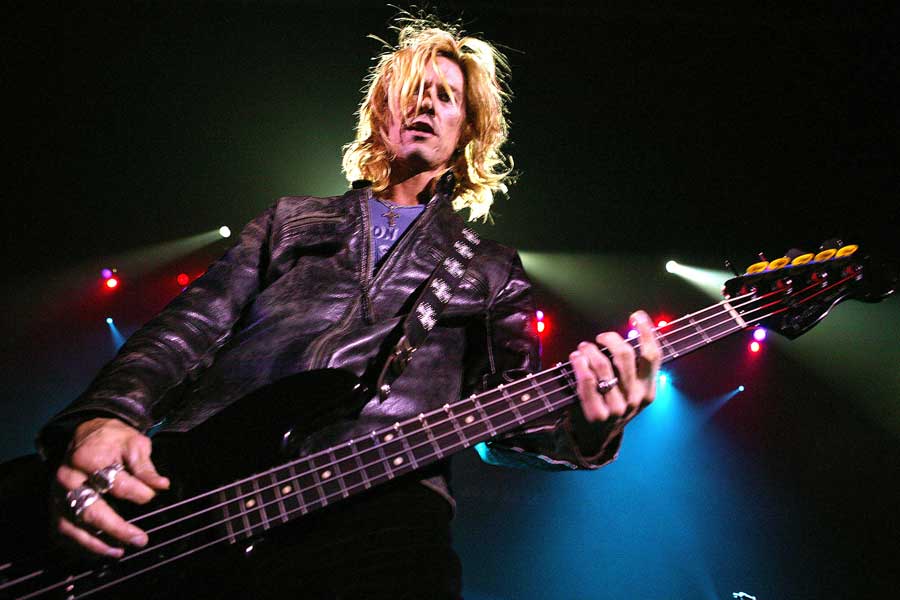 As for Dave Grohl's contribution, Taylor explains that he "played a little guitar and sang a little bit. He's also directed a couple of videos for singles. We did one last weekend that's still being edited."
Another iconic drummer, Roger Taylor, also appears on Get The Money. As an acknowledged Queen super-fan, Hawkins is pleased to see the band's global resurgence following the massive success of Bohemian Rhapsody.
"I love it," he enthuses. "It's great that their music is so important again. I'm glad they're getting their due. They deserve it. They're one of the greatest rock bands ever. The music is timeless. Although the movie is definitely sort of Hollywood-ised - they had to fit a lot into 90 minutes - it's a great story."
"It's a love story not just about Freddie and Mary and his eventual partner, but also between the band. I'm not saying the whole thing is factual, but it needed that Hollywood element, otherwise it'd have been a five-hour movie."
A GENIUS LYRICIST
For Get The Money, Hawkins drew inspiration from the colliding realities of his life - the globe-straddling rock star who returns home to contented domesticity as a married father of three.
Advertisement
"They're mini-stories about real things," he says of the songs. "I don't think there's a theme necessarily, but it picks up where my last solo record, Kota, left off. It sees the humour in me living this insane sort of life, where I'm a rich rock dude living in the suburbs around lawyers and so on. I don't really fit in where I live - it's all pretty ludicrous. But at the same time, I'm blessed that I get to do these things: to live this wonderful life and in a nice house. I find it hilarious. At one point, I wanted to call it Tales From Suburban Hell."
It sounds like Curb Your Enthusiasm.
"It is a little bit," chuckles Hawkins. "It's my version of Curb for sure."
Foo Fighters have achieved a level of commercial success and cultural impact that most musicians dream about. You hit the jackpot.
"Oh my god, absolutely," he acknowledges. "There's no question that I hit the fucking lottery. I'm well of aware of that. I have a lot of freedom because of the money I make playing in the Foo Fighters. I'm still blown away by it to be honest."
The Foos' success has afforded them the chance to perform with a remarkable range of musical icons. One such opportunity arrived when Saturday Night Live producer Lorne Michaels asked the group to be Mick Jagger's backing band, on the occasion the Rolling Stones frontman guest-hosted the legendary sketch show.
"Yeah, we were his backing band," recalls Hawkins. "There's always an after-party for SNL, and that time they asked Chevy Metal - the cover band we occasionally perform as - to play it. And of course, Mick Jagger was there and he got up and did a couple of Stones songs with us. It was pretty amazing. Mick Jagger played with quite possibly the most decorated wedding band of all time!"
Advertisement
Was he demanding to work with?
"No, he was funny," responds Taylor. "He's got so much energy. He would show up every morning for rehearsals and be like (does Jagger-style drawl), 'I'm really tired, I probably won't sing much'. But as soon as we kicked into the songs, it was like we were playing fucking Madison Square Garden. He's such an amazing guy."
The Stones also remain a peerless live act.
"Fucking absolutely, no question. They're still the best live band in the world. I don't think you can beat 'em, really."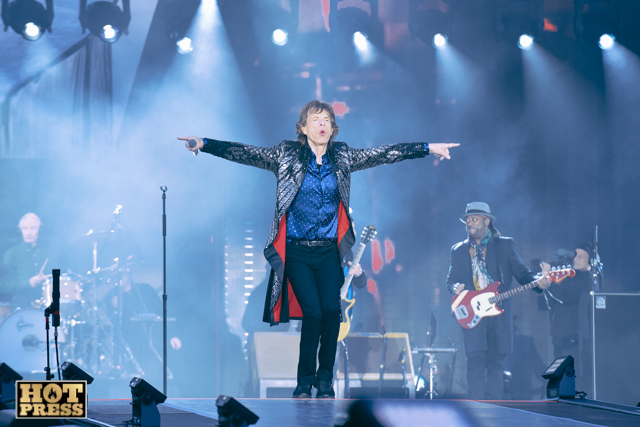 Meanwhile, the Beatles-like vibe of the Concrete And Gold track 'Sunday Rain' - sung so memorably by Hawkins at the RDS - resulted in another landmark collaboration.
"Yeah, Dave wrote the music for that song," explains Hawkins. "He said, 'I'm gonna have Paul McCartney play drums on it and you can sing'. I was like, 'Sounds good to me!' The way Paul plays drums is actually very similar to Ringo. The chords did have a Beatles-y feel - someone said it sounded like Oasis! It was remarkable watching Paul do his thing because he's so musical. He's not sitting there trying to impress you with all his amazing drum licks, but he has an incredible, classic feel all of his own."
Advertisement
As is apparent on 'Sunday Rain', Hawkins has a unique ability to sing in different styles. Is it something he works on?
"A lot of times, it just comes from singing in cover bands. You'll go, 'Okay here's my David Bowie voice, now here's my Perry Farrell voice and here's my Axl Rose'. I don't know why, but it's easier for me to slip into other characters just to emote. If I feel like I'm too much myself, I get embarrassed. It's easier to be someone else sometimes."
How did Hawkins feel about the Foos' RDS extravaganza?
"Hmm, let me rack my brains," he answers, trying to unpack the blur of the summer tour. "Okay, I remember, I'm back there! That was fucking amazing, it was great dude. The Irish are always up for it. I'd say that about Ireland - they're good crowds. It was fucking awesome. In my drum solo, I did a little bit of 'Sunday Bloody Sunday'. That's some serious fucking pandering!"
The band's mid-show medley ended with a cracking take on Thin Lizzy's 'Jailbreak'. When did Taylor become a fan?
"I just knew them casually growing up from what was on the radio," he remembers. "Stuff like 'The Boys Are Back In Town' and 'Jailbreak'. Then in my late teens, I got Live And Dangerous, and from that point on, I was 100 percent into them. The version of 'Rosalie' is so fucking good. I love it, dude. They're one of the best rock bands that ever walked the earth, and Phil Lynott was a genius lyricist, a real poet."
One of the songs on Get The Money, 'Middle Child', has a Lizzy-like feel.
Advertisement
"Oh yeah. I almost talk the verses, and they have the same sort of diction that Phil Lynott would have had. I thought it sounded a bit Thin Lizzy-ish as well, which is great."
Finally, the good news for Foo Fighters fans is that the band have commenced work on their next album.
"Dave had a rough idea for some songs," says Hawkins. "A couple of months ago he decided to rent a place not far from his house, and he put some recording gear there and started doing some demos. He got on a roll - a Grohl roll! - and a month or so later went, 'I've got all the demos for our new record'. So we started recording pretty quickly."
So Taylor is actually taking time out from recording to do promo?
"Exactly," he laughs. "I'm double-dipping!"