They are one of most successful Irish live bands on the planet, playing to 30,000 people at a festival in India, and to large crowds all over the world. And yet they have had little or no media profile back home in Ireland. How, we wondered, can this be? And what is life like on the road with the truly remarkable touring phenomenon that is God Is An Astronaut? Theirs is, it transpires, an astonishing story of long-term triumph in the face of adversity…
1990: Wicklow / Genoe
It's June 25th, 1990. Fourteen-year-old twins Niels and Torsten Kinsella are sitting on the front-room floor of their home in the Glen of the Downs in Wicklow, glued to the TV set. Live from Genoa, is the World Cup Quarter-Final. Ireland are playing Romania. With baited breath, the self-effacing Kinsella boys watch the penalty shoot-out that will be forever sequenced into the nation's DNA.
Jack's Army weren't the only ones to make headlines in Genoa that year. The Asian Tiger mosdquito also made the news, with the city announcing the first ever sighting of the pesky blood-sucking insect in Italy. Today, Italy is Europe's most heavily-infested country.
2019: Milan
Fast forward 29 years. The world's most invasive mosquito species is the cause of concern amongst the brothers when I arrive at the soundcheck for the first Italian date of the God Is An Astronaut summer tour.
Advertisement
Lighting designer, Derval Freeman – Torsten Kinsella's fiancée – is armed with Vick's VapoRub to help combat her mosquito allergy. The local promoter arrives with a can of repellent spray. "I remember the last time!" he says. Soon he's back with another can, along with a stern warning that the aggressive mosquitoes are out in force tonight.
Learning his craft: Wicklow
Growing up, the twins played schoolboy football. Torsten didn't like playing against rough kids but was encouraged by his father Tommy to stick up for himself. He got teased in the classroom, sometimes bullied. He never liked school. Through the boredom, he wrote lyrics, ideas and stories. And after the tedium of formal education, he continued in the same vein. "In my 20s I did not go out at all," he says. "I just locked myself away, writing, learning my craft."
Eventually, the hard work bore fruit. The brothers got a publishing deal with Peer Music and were invited to do dance remixes for EMI. But they weren't satisfied. "This is all bullshit," Niels complained. "We should just make something we actually like and then we can say 'this is us'."
In 2002, they released their debut album, The End Of The Beginning. It was all low-key, but they got some good reviews. "That first album was supposed to be our farewell to music, but we were kind of encouraged, so we decided to do one more," Niels recalls.
The brothers' approach to their second album, All Is Violent, All Is Bright was more ambitious.
Advertisement
"Myself and Torsten mailed CDs to every webzine and radio station on the planet," Niels says. "Time passed. We didn't get much feedback. Then, all of a sudden, a lot of people were talking about it. We had nearly a million plays on the Last.fm website. It didn't make any sense. What had happened was, the radio station producers gave it to the kids, so in the background, people were file-sharing our record, and it was building an underground buzz. It wasn't because of radio play, it was because the radio stations had handed a free CD to these kids and it built its own thing. Right place, right time, right music."
"Yeah, the second album resonated," says Torsten, "It came out at the perfect time. 2004, post-rock… the second wave or the third wave hadn't really hit in yet, and we were right at the start of it."
The night it almost ended: Dublin
Having played their first show in front of five people in The Isaac Butt, in Store Street, the brothers were ready to give up. Then, unexpectedly, Derek Nally – the Whelan's booker at the time, since deceased – gave them a slot in the legendary Dublin venue. Even more unexpectedly, it was 80% full when they went onstage. What was going on? Suddenly people were interested.
Waiting to go on stage in Milan, Torsten takes up the story: "Niels had got some Peta footage of Israeli scientists experimenting on monkeys. We showed it during a particular song – and next thing, the whole crowd just cleared out. Everybody left. The venue was fuckin' empty. The video was that bad. The monkey had been cut in half and was bleeding. There was one guy who stayed and watched.
Advertisement
"I'm looking at Niels and I'm thinking 'Jesus'. I still feel uneasy about it now; every time I look back, I think, 'Oh Jesus, what did you do?' Our drummer at the time, Noel Healy – that was it for him.
"The song finished and the weirdest thing happened: the crowd all came back in. They hadn't gone home, they'd just waited for that song to finish. Afterwards, Pat O'Donnell, who was doing our sound, said, 'Jesus, tame those visuals down! Fuck!' Just then, the guy who stayed turns around to disagree: 'Nah, that was fuckin' brilliant'.
"It was Fearghal McKee of Whipping Boy. He was the guy. He fuckin' loved it. 'Now that's power', Fearghal said, 'they left and they came back'."
Get the fuck off the stage: Bologna
And so it began. They toned down the visuals. And Torsten also took his father's advice to stick up for himself on the football pitch, and brought it into the live music business. "If I feel there's someone pushing their luck a little bit, I'll let them know," he reflects.
He almost pushed his own luck a little too far one night in 2005. Niels explains: "We were in Bologna. The venue had this weird decibel restriction, which we were never going to be able to stick to. Our sound guy, Zack Dutton, was only a young lad, 17 or 18. The venue manager was real hyper. He was threatening Zack throughout the show, holding the faders while Zack tried to do his job.
Advertisement
"After the gig, the venue owner jumped up onto the stage, and got in Zack's face, nose to nose, with two big bouncers looking on. Torsten moved Zack out of the way and got in the guy's face. Just before the pushing and shoving got serious, Tommy comes running across and grabs the venue owner: 'Get the fuck off the stage! This is our stage until we get the gear off, I don't care if you own the place!'
"That de-fused it. Kind of. Backstage, Torsten fucked the fridge against the wall, and threw the couch around the place. The big bouncers came in. Miraculously, they just started laughing."
When the band tried to leave, a wall of people blocked the van. Torsten remembers Zack vowing that this was the end. "I'm never coming back with you guys, this is fuckin' ridiculous!" he bellowed. It could have got ugly: there was a screwdriver at the ready. Or maybe a crowbar, depending on which band member you listen to. Either way, neither was required. They left trailing exhaust fumes...
The next year, the band were invited back, but they declined the offer.
"We never went there again. You have to be careful, because you don't know who you're messing with. Especially in Italy," says Torsten. "That was the only time we did something like that."
Advertisement
The line-up
Rewind. The adventure started in December 2001 with just Torsten (guitars, synths, vox) and Niels (bass). Nowadays, Niels also looks after the business and tour management end of the operation. Torsten is behind the more creative stuff – and he makes sure the computers are working! On the road, the twins' father Tommy – formerly of psychedelic Dublin band Orange Machine – runs their merchandising operation. Derval Freeman, a visual artist when she isn't on the road, now lights up their stages.
"I had a hunch Derval could do something good with lighting," says Torsten. "She comes at it from a different perspective. She's ended up being amazing."
On sticks is the incomparable Lloyd Hanney, who learned his chops under the legendary jazz drummer, Johnny Wadham.
While it's a full-time gig for the brothers, the rest of them juggle their God Is An Astronaut work with other commitments. After Milan, we travel to Rome. Throughout the journey, sound engineer Zack – still with them despite the Bologna incident – is busy attending to the demands of his investment business in the UK. Gaz Carr (keyboards, synth, guitar) returned to the fold recently after a five-year hiatus. The pedal enthusiast is also a member of Butterfly Explosion and deftly balances touring with his day job in IT.
Robert Murphy (keyboards, synth, guitar) also plays with Irish electronic outfit Xenon Field, alongside God Is An Astronaut stage-manager Conor Drinane. Due to the emotive nature of the most recent album, Epitaph, Torsten turned to Rob and Conor for help. "The hardest thing is trying to stay relevant," he observes. "Rob and Conor had very specific viewpoints on what we had been doing. With the stuff the guys brought to the table, Epitaph is probably the most critically acclaimed album we've had since All Is Violent… in 2005."
The sound
Advertisement
So what exactly is the sound created by these assembled musicians?
"It's electronic instrumental rock with a focus on melody and emotion. It has to make you feel something. That's my only rule for this group," says Torsten. "Nobody knows the real story of how we got into this (post-rock) genre. And if anyone did their homework they'd be able to tell the difference between the copycats and the people who legitimately have their own sound. There's elitism within post-rock music. And outside post-rock, you've got people who see it as completely uncool.
"Our music has nothing to do with the wave of bands from the late '90s: it was never influenced by them. We came from an electronic rock background – primarily early '90s heavy rock music and we combined it with dance music as a style. But the most important thing that we learned was not to emulate. I'm happy that this music is original and that our personality is in it."
Right time, right place
God Is An Astronaut are a hardworking band. But Torsten is aware that it takes more than just hard work.
Advertisement
"There are so many great bands in Ireland, and luck just didn't go their way," he says. "You need to have something that is legitimately good. Then, you need money. Otherwise, it's hard to record and go on tour. My father Tommy has been really good to us. He's been able to allow us the time to develop it.
"After that, there's a certain degree of 'right time, right place'. Let's say you're a grunge band… well, grunge died two years ago, so it's dismissed because stylistically it's old hat. A lot of groups get caught out making legitimately good music, but the trend has moved on and stylistically they get fucked over. We were lucky with the timing. And we were lucky that we could reach an audience. It's nearly all luck, once you have the first part done."
This is a worldwide thing
God Is An Astronaut have certainly reached an audience. How did they manage to build up their fanbase? Torsten shrugs.
"It's hard to say. We started touring properly from 2007 onwards. People might have heard us through Last.fm, which was popular at the time. Or maybe places like Italy have a more of an underground word-of-mouth thing for our kind of music."
The fans are just about everywhere. Torsten nods. It's true.
"We could pull 500 people in Bucharest," he says. "Russia is a strange anomaly. We never sold a thing there, but there's 2,000 people at our shows. We do extremely well in places like China and Canada. In fact, we do well everywhere from Belarus to Turkey, and from Brazil to South Africa. And every time we get to the US, the shows get bigger.
Advertisement
"Ireland is really beginning to build," he adds. "There's a very loyal audience at home. It's funny though: the UK is harder for us than most countries. It could be that it's very press and radio-orientated."
The band can draw 600 or 700 people in London, although getting the nod from Robert Smith live on BBC Radio may have added to that number. They went on to support The Cure in Bucharest during the summer, with Smith watching their entire set from the wings. "He's nicer than you could possibly imagine and is genuinely intrigued by music," says Torsten.
"Different cultures enjoy our gigs in different ways," Rob Murphy offers. "Sometimes people just have their arms folded. They look stand-offish, but they're actually enjoying it. Somewhere else they're going crazy and jumping around."
1.7 tonnes overweight: Austrian border
Early days. The band's van attracts the attention of the police close to the Austrian border. "This was when we had a big trailer and nine people in a van, with extras seats put in – illegally, of course," Niels remembers.
Advertisement
Their weight should be no more than 3,500kg. They are taken to the weighing station and clock in at 5,200kg. "No, no, no, everyone out!" the policeman roars. Next stop, the police station…
There they manage to negotiate paying just one of the two €1,800 fines. Niels is the driver. Everyone else has to board a train from the middle of nowhere to Vienna, in the hope of getting a late sound check!
The guards, the cash & the 5:30AM crossing: Ukrainian border
2010. The band drive to Ukraine to play an outdoor headliner to over 6,000 people. They are refused entry at the border for having a photocopy of their vehicle registration, rather than the original. They call the promoter. He arrives and hands the guards €1,000, securing the band's unhindered entry and exit. The instruction for the band?
"Cross over the border at exactly 5:30am tomorrow morning!"
The show must go on.
Missing in action: Barcelona
Advertisement
Nowadays, after years on the road, God Is An Astronaut have touring down to a fine art. Everybody knows their job and gets it done. The band and crew have matured.
"We used to have Jack Daniels and vodka on the rider but chaos ensued after every show – and sometimes before," Niels laughs. By way of contrast, Gaz and Rob now sit in the Milan shade, discussing whether or not they should add oat milk to the rider. The times they are a-changin'.
"There was always some sort of shit going on back then," says Niels. "I remember going to the police station in Barcelona to ask if a dead body had showed up. We couldn't find Lloyd anywhere."
The band's widely-revered drummer interjects: "Eventually, they found me in the subway." Niels describes the discovery: "He was painted as a tiger, had two broken ribs, a concussion and a huge cut on his head."
Now that's how to go missing in Spain.
Advertisement
Pune: Headlining to 30,000 people
December 2018. The band headlined the Bacardi NH7 Weekender in India. It was very much a flying visit.
"We flew in, drove straight to the hotel, had two hours sleep, a shower, and went straight to the festival," Niels recalls. "The stage was the biggest you've ever seen. It was so big, our cables weren't long enough. Eventually we got set up. It was nearly 40 degrees, there was no roof on the stage, and we didn't bring any sun cream because we're idiots. We were looking out at 30,000 people, I couldn't even see the end of the crowd. We played our set, jumped into the taxi and got straight back onto the plane."
Were the crowd familiar with your music?
"If you look at our record sales, we don't sell shit in India or Russia – but when you go there they all turn up. Part of it is the novelty of being from Ireland, of being a Western act. But when you get there, they know every fuckin' song. They see you're on the bill, they look you up on Spotify. They're music fans. Especially compared to the US, where they're spoiled for choice."
Fans doing their homework is one thing, but why does a promoter pick God Is An Astronaut to headline in the first place?
"The instrumental scene in India is emerging," Niels speculates. "You have the instrumental bands like Mogwai, Explosions In The Sky, God Speed You Black Emperor, us. So, they might ask the other three – and if they can't or won't do it, we get the next call. We still get money: we got about $15,000 to play there. All these festivals want an instrumental band, a post-rock band. They see we're top five in the instrumental scene. It's a good place to be."
Advertisement
So God Is An Astronaut are in the top five in the world?
"In the instrumental scene, in the world, for sure," Niels says. "We're very fortunate. People ask how did you do it, what was your plan? Lemmy from Motörhead said it best: 'You raise your flag – your music – as high as you can, and the people will let you know'. So that's what we did. We put our music out to as many people as possible."
"Only for your album, I would be dead today": Madrid
God Is An Astronaut have commandeered the ears of people worldwide. But they've also connected on an emotional level. That's an achievement for any band, but particularly for one making music where lyrics are not to the fore. The outpouring of emotion – joy and tears – is evident among the fans and autograph-hunters who stand patiently front-of-stage after the Milan gig.
"There was a guy in Spain," says Torsten, "who came up to me and said he was thinking of committing suicide."
"Yeah I remember that," continues Niels, "he was deadly serious, and he said that 'only for your All Is Violent album, I would be dead today'. What are you supposed to say to that?"
Knickers on Stage: Poznań
Advertisement
Not all fan interactions are quite so intense. Torsten remembers the first time they played Poland. "These girls started throwing knickers onstage," he recalls. "That was ridiculous. We felt really uncomfortable about it. We felt we were quite an apocalyptic, dark band. I remember saying at the next concert, 'Ok, we're just playing really dark stuff'. I still don't know what the hell that was about. It was like we were a boy band in Pozna for the day."
God Is An Astronaut returned to Poland a few years later, arriving in Gdask the night before their gig. Their hotel was above the venue, which is also a nightclub: they had some drinks and went to bed at 3am.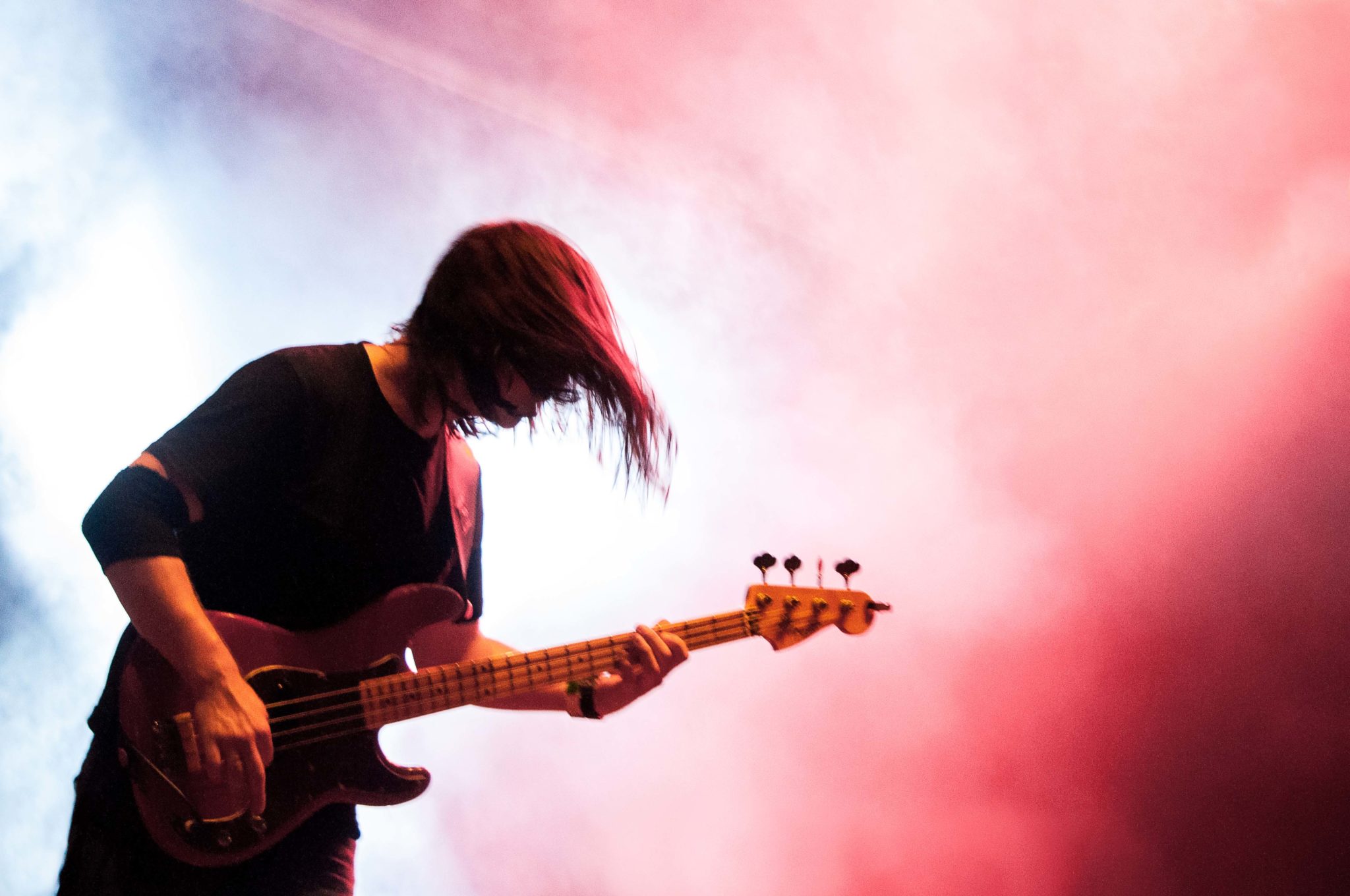 At 1pm the next day, they started setting up their gear. Lloyd was nowhere to be seen. At 2:30pm they went to his room. No answer. Eventually they got staff to open the door. His bed was perfectly made. They called his phone: again no answer. At 5pm, the band wondered if they'd have to cancel the gig. The promoter informed them how many thousands they'd owe him if they did. A lot of money. The promoter started calling local drummers. A guy arrived and started learning the songs. Doors were due to open in two hours.
"Eventually, he answers his phone," Gaz says. "It was one of those conversations: 'Where are you?', 'I'm at the party', 'What party?' 'I don't know'. He's rat-arsed drunk."
"A taxi brings him to the venue. He arrives at 6pm, still hammered. Tommy and me take him up to his room: we feed him water, Berocca, Panadol. We bring him downstairs. There's no time for a soundcheck or any of that shit. We go on stage at 7:45pm."
Gaz pauses.
Advertisement
"We got through the gig," he continues. "He was a bit sloppy by his standards. The next day, we posted a photograph from the gig on Facebook. The most 'liked' comment underneath the photo was 'Amazing show guys, but I have to say that as a drummer, Lloyd stole the show. Some of his timings were unbelievable'.
"Because Lloyd is such a good drummer, if he's sloppy, you're convinced he's doing it on purpose. He can pull it off, he's that good."
The cost of touring
The band have had their ups and downs on the road, particularly in the US. It's one of their favourite places to play. It's also one of the toughest in which to make money. For their recent US tour, they had to spend €6,500 on visas alone. Add 30% withholding tax, 10% State tax and 10% for the booking agent, and half a band's wage is gone before a note is played. There is, it turns out, clear discrimination against bands like God Is An Astronaut. "Bigger bands can get the withholding tax back," he says. "But you have to earn over $100,000, otherwise you can't. So for us, that money's just gone."
But he is undeterred.
"We do it anyway for the fans," he says. "We always get good crowds in New York and Chicago. Two years ago we broke even and we were delighted."
The band's otherwise successful debut US tour in 2008 ended in disaster when they had €20,000 worth of equipment stolen the night before they flew home. The band and crew returned to the hotel after their final gig, only to wake up the next day with all their more expensive equipment – projectors, microphones, laptops – gone. The police were involved. Backstage in Milan, however, Niels reveals that he suspects it was an inside job.
Advertisement
"Listen, we had hired this guy to help us on the ground with the tour," he says. "It was only when we were on the flight back, that I twigged it. I remember saying 'He did it! That fuckin' prick!'"
Tommy had usually shared a room with the guy, but on that night he'd booked his own room – and encouraged the band go to bed early.
Niels can laugh at it now. "There was something not right with him," he says. "I'm sure he's in a penitentiary somewhere, serving time!"
Epitaph
Torsten might be the nicest guy you'll meet. He's affable and engaging. So I'm surprised when, in a quiet moment, as he strings his guitar backstage in Milan, he says doesn't like socialising.
"I'm happier living a quiet life," he continues. "I'd hate to go into bars in Dublin. I'd prefer a countryside bar. I'm a bit of a hermit, although that can annoy Derval, so I try to get out when I can. But I'm quite content in my studio, and going for walks in the Djouse forest. I guess I'm a private individual."
He strings the guitar slowly, deliberately. I want to know about his songwriting process.
Advertisement
"I rely on emotion to feel my way through the dark," he explains. "The music, to me, has already been written and I'm just trying to find it again in the dark. That's how it feels to me. It feels like pulling from something that's already there."
An almost subconscious thing? "Yeah. I feel that I have a certain amount of music in me. I feel like it's written, because I don't know where else it comes from. Let's say I've written a verse; I know the song is already finished, I just have to piece it back together."
While they are primarily an instrumental band, Torsten always brings a brutal honesty to his lyrics. This is never more apparent than in 'Oisín', written in the aftermath of the tragedy of his seven-year-old cousin, whose death was consistent with a murder-suicide. "I try to make sure my lyrics express what I'm feeling. Epitaph was about my cousin whose life was taken away. The lyrics are the vision I remember, looking at him in the coffin."
Was writing the album a therapeutic experience?
"It was, yeah. I was in TK Maxx, in Carrickmines, and my father texted me, 'She did it'. I knew what had happened. Your whole world stops. When you see a seven-year-old boy in a coffin… it was horrible. You can talk all you want about it, but there's no way you can process it, so the music helped me do that.
"I wrote the song 'Oisín' on the piano, the day I received the news. I gave it to his father at Christmas. I don't know if it helped him, but it was the first time I didn't care what anyone thought of a song: it just had to be written.
"It's not sadness that hits you first," he adds, "it's this absolute horror, and I wanted to capture that in the song: the absolute tension that makes you question reality. But you've got to move on. In one way, Epitaph is prolonging it; you get on stage and you're going through that time, because as a performer, it's my job to get back into the mindset. What's important to me is that I was true to myself."
Advertisement
The backline accident: Athens
His guitar meticulously stringed, Torsten now sets about cleaning and polishing. There have been other tough moments along the way. He recalls a gig in Greece, where, it transpires, being true to himself didn't exactly work out.
"When my temper goes, it goes pretty bad, unfortunately," he confesses. "So if someone messes around and they persist at it, it can be explosive. Last year, we had a group playing before we went on stage in Greece. Their music was pretty good, but the guys had a bit of an attitude. It was a big stage, and we left them plenty of room. So, part of the singer's antics was to wander around the stage, doing things like wishing our equipment to fall down. But then he started going in behind our equipment line. I started thinking 'this is ridiculous, it's dark back there, there's tonnes of cables, wires and technology, for him to be walking behind the backline'. I told the stage manager that it wasn't on, but he just laughed. So I went on stage, in front of a thousand people in Greece, pretty much grabbed him by the shirt, and said 'this gig's fuckin' over'.
"It was disastrous for me, personally. It was just pandemonium. I'm not proud of it. I handled it wrong. 100%. It was a classic case of tired musician meets the weekend warrior who didn't understand protocol.
"So we were at the receiving end of, I guess it was racism, for three weeks. Hate mail, death threats… The press shaped it to say that acts like us are the reason Greek bands don't get anywhere. I just thought, 'Hold on, we always show groups respect. This group didn't respect us'. I'd handled it the wrong way. And I apologised. But now they were trying to use it as a publicity stunt."
It must have been a difficult gig to do after the explosion? "That band was bad news and they caught me at a very bad time. For what it's worth, I'll take the blame. I'm generally mellow. It's just that if things don't go my way, I can get to a point where, I guess, my passion gets the better of me. It's a weakness, for sure. I'm keeping it in check now."
The crickets join in
Advertisement
A 6am start. The drive to Rome takes six hours. One of the capital's biggest parks, Villa Ada, is nestled in the North-Eastern part of the city. It's 150 hectares of dense vegetation, thick forest and a fine lake, in front of which the band will play tonight.
8.30pm. While the Milan gig was punctuated with different flavours from the back catalogue, a more emotional offering will be delivered in Rome, in the form of the darker Epitaph set. "This set speaks to me more, because my mind is still in this place," says Torsten, before they walk out to a packed, ecstatic crowd.
Gig done, crowds of fully-grown adults – as excited as teenagers – gather in front of the stage. Handshake, selfie, autograph, chat. That's the routine. Mid-signing, Rob recounts a mini on-stage crisis, when a giant tiger mosquito landed on his arm during 'Remembrance'. And there it remained, biting him, as he waited for the intro to end, before he could stop to flick it away. Lloyd also got a few bites on stage. Derval escaped.
Standing at the back of the more than 2,000-strong crowd, I can see that God Is An Astronaut's music connects in a truly extraordinary way. I watch as 'Frozen Twilight' builds teasingly. And then, without warning, the crickets in the trees of Villa Ada begin their chorus, steadily getting louder. Surely they're not falling in time with the band? Assuredly, they are. In a seemingly perfectly-timed coming together of worlds, the crickets add an ultimate layer to the Epitaph opus.
We had all been distracted by the mosquitoes lying in wait to draw blood. But more important were the crickets, biding their time, before joining the beautiful noise. Adding their own layer. Or a layer they had previously written. And then all of a sudden, they stop. And they listen without prejudice. As should we all…
Advertisement
Epitaph is out now. God Is An Astronaut's 'All Is Violent, All Is Bright' 15-Year Anniversary Tour will go worldwide in 2020. They play The Academy, Dublin on April 17 and Cyprus Avenue, Cork on April 18.
You can read the complete 'Artists of the Year' in one brilliant sweep in the Hot Press Annual – in which we distill the highlights and low-points of the year, across 132 vital, beautifully designed pages. Starring heroes of the year Fontaines D.C. on the front we cover Music, Culture, Sport, Film, Politics, the Environment and much, much more. Buy this superb publication direct from Hot Press here.