Interview: Def Leppard's Joe Elliot talks about the band's induction into the Rock & Roll Hall of Fame, and close run-ins with Bono and Bowie
When Def Leppard weren't being lauded by their celebrity pals this year, Joe Elliott could be found having a ball with his other band, Down 'n' Outz. Big New York nights, forays into circus music and close encounters of the Bowie 'n' Bono kind all feature as he meets Stuart Clark. 
"I was standing there with a daft grin on my face thinking, 'It doesn't get any fucking better than this!'"
Joe Elliott has graced some star-studded stages in his time, but none that match the wealth of talent, which gathered in March at New York's Barclays Center to celebrate Def Leppard's induction into the Rock & Roll Hall of Fame.
"The Rock & Roll Hall of Fame and its legendary invisible panel have always preferred the likes of Loudon Wainwright and the Velvet Underground to your Mötley Crues and Def Leppards," Joe resumes. "We didn't care about being in a club they didn't want us to be a member of, but in 2012 a Fan Vote was introduced and guess who this year got the biggest Fan Vote ever? Yep, those unlikely lads from Sheffield! So we thought, 'Okay, let's go and enjoy this.' We avoided, brilliantly I think, the wretchedly awful all-star inductee jam – I couldn't imagine us doing The Beatles' 'I Saw Her Standing There' with The Cure and Radiohead – by saying to the organisers, 'I'm in Manhattan and guess who happens to be recording over the Brooklyn Bridge? Mott The Hoople who had Queen opening for them in 1974 and, oh, Brian May's in town too.' I asked Brian, 'If Ian Hunter's up for it, will you do 'All The Young Dudes' with us?' Straight away he was: 'Yeah, I'm in.' I phone Ian and he goes, 'No, I'm not fucking doing it for them. Don't forget that it was you and me who did the first fundraiser for the Rock & Roll Hall of Fame Museum and Mott have never even been nominated.'"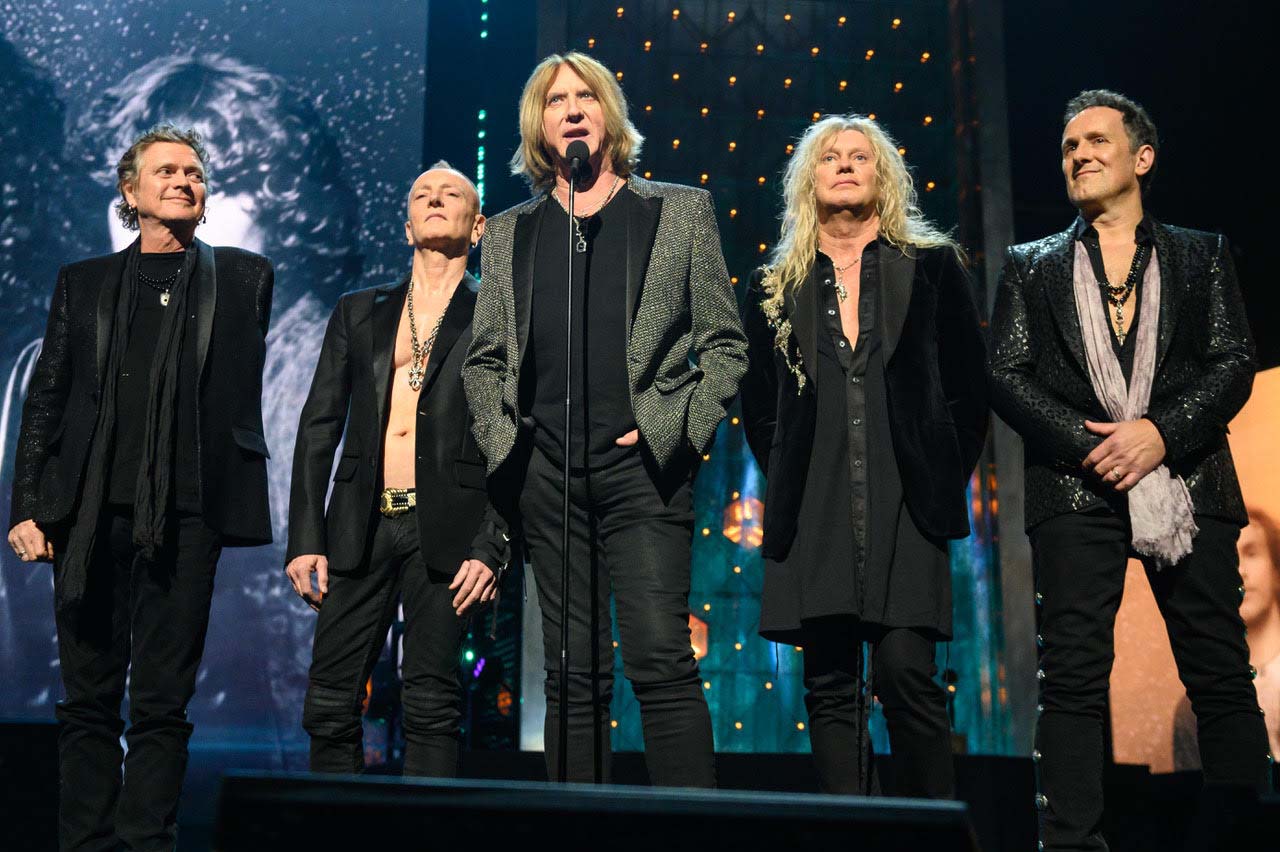 Two days later a more conciliatory Mr. Hunter called him back.
Advertisement
"I think the wife had been working on him," Joe laughs, "because this time he said, 'For you, yeah, I'll do it.' Ian turns up with an acoustic after we've rehearsed it as a band and it sounds fucking amazing. By the time we get to go on stage in the Barclays Center we've added Susanna Hoffs from The Bangles, Rod Argent and Colin Bluntstone, Stevie Van Zandt and Ray Manzanera from Roxy Music to the line-up. It was a fantastic way to say, 'Wow, we're in, and this is the man and the song who brought us together in the first place.'"
That only being the start of the Leps' hobnobbing with musical royalty.
"Stevie Nicks was being inducted too so we had a joint party afterwards in this swashbuckling hotel room which everybody came to – we had the Duran Duraners there; Roxy Music minus Bryan Ferry who ghosted in to the ceremony, sang some of the greatest hits and then fucked off; and Fleetwood Mac's newly recruited member of Crowded House, Neil Finn, who was on piano duties. We were all there at five o'clock in the morning singing 'Don't Dream It's Over'."
Sadly, an administrative error meant that Hot Press' name wasn't on the guest-list – smacks and P45s have subsequently been issued – but we did get to see Joe dad dancing to 'Don't Dream It's Over' in June when Fleetwood Mac, complete with Finn and Tom Petty's former right-hand guitarist, Mike Campbell, swung by the RDS.
"You saw me dancing?" Joe deadpans. "Fuck! Stevie announced in front of 40,000 fricking people that I was there. Her dad used to be our promoter in Phoenix – he owns the shed out there – and she's a massive fan of Hysteria. We also share the same management company, CJM, who have Lenny Kravitz, Jeff Lynne, Chris Isaak, Tesla, Chicago and Boz Scaggs on their books too. She's as warm and funny and nice and mystical as you'd hope she'd be."
The aforementioned Ian Hunter and Mott The Hoople are the reason why Joe and assorted members of The Quireboys and Vixen have just released the third Down 'N Outz album, This Is How We Roll.
"Down 'N Outz was supposed to be a one night only tribute act opening for Mott The Hoople when they played Hammersmith Odeon in 2009," he recalls. "We couldn't for obvious reasons play their songs, so we dug up all this stuff they'd done solo or with their other bands like Mott and British Lions. Afterwards we had people coming up to us crying and saying, 'We never thought we'd get to hear those songs live again; you have to record them!' Which we did over the course of two albums – My ReGeneration and The Further Adventures Of… – that were so much fun to make we decided to do a third, only this time comprising of original material."
Advertisement
Any preconceptions you have about what This Is How We Roll sounds like are shattered by 'Music Box' and its 'Music Box: Griff's Lament' reprise, the origins of which are, to put it mildly, curious.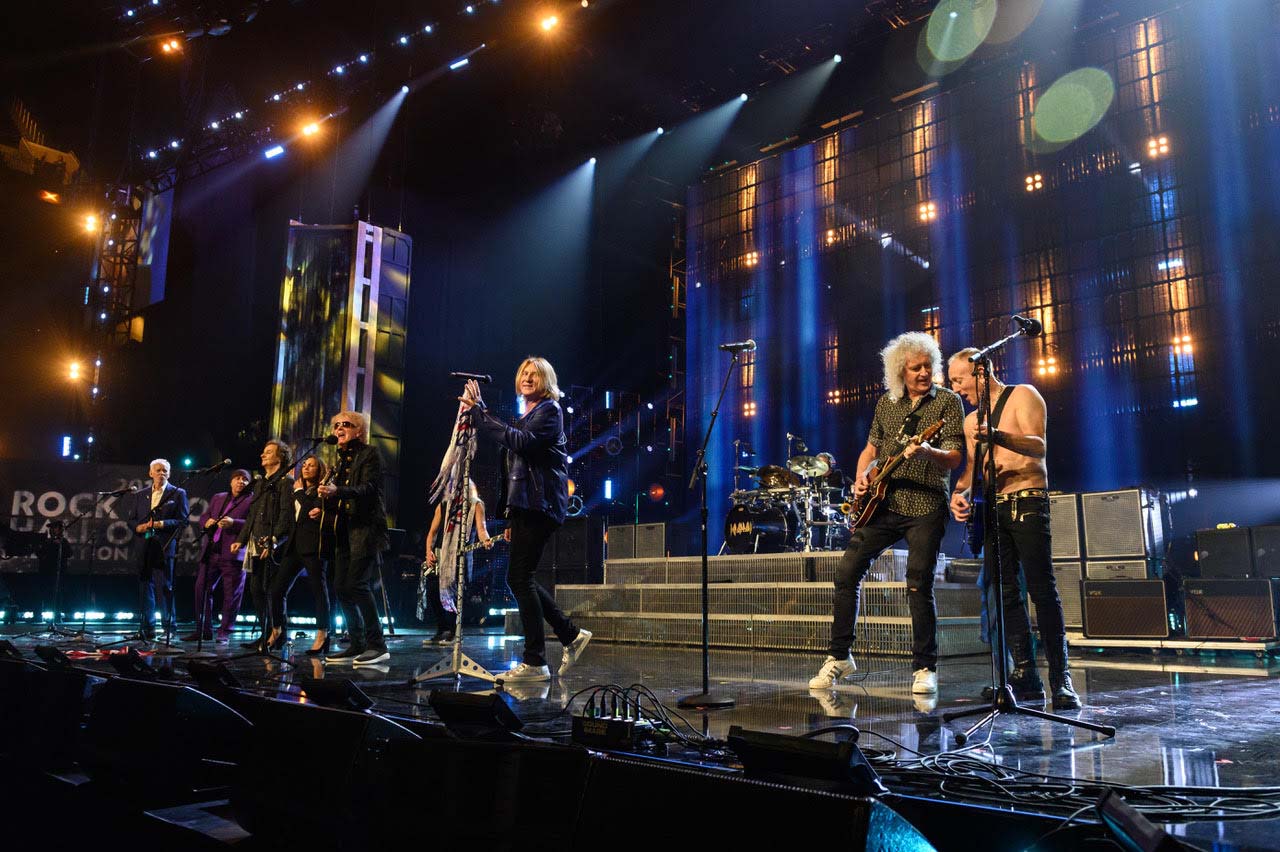 "It's a living breathing 'here comes the clown' song which you'd hear at the circus," Joe explains. "I wrote the melody for that in 1978 in the spoon factory in Sheffield as a sort of finger exercise for acoustic guitar. You know when people have a car crash and wake up suddenly being able to speak a foreign language? Well, I was in the studio, picked up an acoustic and started playing it for no reason. I'd completely erased it from my mind but out it popped. The recorder on it is the one that, sad bastard I am, I'd kept from my schooldays and was lying around on a shelf in the studio. It just got more and more fucking ridiculous after that."
Along with other standouts that salute The Kinks ('Creatures'), Elton John ('Let It Shine'), 10cc ('Walking To Babylon') and Queen ('Another Man's War'), Joe has penned the gorgeous David Bowie tribute, 'Goodnight Mr. Jones'.
"I was always going to tackle that subject matter because it's so close to my heart," he reflects. "I wasn't going to rush it, though, and do something cheesy. Some of it might come across as being a bit close to the knuckle, but that's because it's honest and real and doesn't just rhyme with the next line.
"I namedropped a couple of his titles into the song, but there are also some double-bluffs. The 'Station to Station' I mention isn't the song, but the Mick Rock photo of Mick Ronson and Bowie on a train during the Ziggy Stardust tour, which was years before Station To Station the album came out. It gets very clever at the end when it goes to the 'Five Years' ride out, which is actually Woody Woodmansey sampled off the Cybernauts album we did as a tribute to Mick Ronson. I think all the Bowie trainspotters will enjoy it!"
Joe and David's paths crossed on several occasions, the first being in Dublin – at Bono's house!
Advertisement
"The Sound & Vision tour came to the Point Depot in 1989 or so," he resumes. "At the time, Bono was having a barbecue, which Bowie was at. I didn't realise this, so when Bono takes me to one side and says, 'I want you to meet somebody in the other room…' I had no idea who I was about to shake hands with. I was like, 'You could've fucking told me!' Anyway, Bono arranged for me to get my five minutes. It was, 'Hey David, nice to meet ya!' and, 'Hi Joe, how are ya doing? Congratulations on your album.' Before it got awkward he said, 'Why don't we go downstairs to the barbecue?' We got back to the drinking and food and hanging with other people, just talking the talk. The interesting thing was that night 'All The Young Dudes' got brought up. I said, 'Why didn't you put your version on Aladdin Sane?' and David goes: 'Oh god, I haven't heard my version since I recorded it.' I said, 'I got it.' He looked at me and went, 'Really?' I said, 'Yeah, it was on a bootleg years ago.' He said, 'I don't have a copy.' I said, 'I'll bootleg the bootleg and bring it along tomorrow night if you want?' He was like, 'Yeahhhh!' so I went home and made a cassette of the song, which is what you did in those days. I go to the Point the next day and am in the corridor of the dressing-room area when David in his suit comes out and winks at me. I go 'here you are' and gave him the tape and he went, 'Oh fuck, brilliant', put it in his top coat pocket and walked right on stage. I nearly fainted with fucking excitement at reuniting him with 'All The Young Dudes'!"
Joe was also hanging round the dressing-rooms – "I'm surprised David didn't take out a restraining order," he laughs – when Mr. B played his famous HQ Dublin gig in 1999.
"That's where I met one of his backing singers, Emm Gryner, who I've been writing a Hunky Dory-type glam rock album with for the past ten years," Joe reveals. "Mark Plati, who was Bowie's producer/bass-player at the time, said: 'You've got to meet this girl 'cause she's a huge Def Leppard fan.' Bowie's giggling his ass of at this because he thinks it's really funny.
"When we got talking later, he told me, 'I'm re-working some of my older songs' for an album.' This was Toy, which some fucking muppet at Virgin Records decided to reject but was leaked – probably by David himself – onto the internet about ten years ago. I ask him, 'What are you doing?' and he goes, 'Oh, 'Let Me Sleep Beside You' and stuff like that.' I go, ''Silly Boy Blue'!' He looked at me and went, 'You know that song?' I'm like, 'I know everything you've fucking done!' He looks over at Mike Garson, his piano-player, and Plati and says, 'What about 'Silly Boy Blue'?' They said, 'We don't know it but, yeah, if you want.' Anyway, that's the last I heard of it until Toy eventually dropped and 'Silly Boy Blue' from 1967's David Bowie album was fucking on it. That was another proud moment."
Asked whether he had any more Close Encounters of the Bowie Kind, Joe goes all wide-eyed and says, "Do you remember in 1997 when he was over in The Factory in Ringsend?' It was the Earthling rehearsals and he let a load of kids in for a listen. His production manager, Charlie Hernandez, who'd done the Hysteria tour said, 'David knows you're in, come back later.' So I did and he introduced me to his wife and Gail Ann-Dorsey who I had a great conversation with. I read an article in Hot Press by an ex-MCD employee who said the cops turned up at The Factory at five o'clock in the morning because the subsonic bass Bowie was using was rattling people's bathroom windows for miles around. I don't remember this because, well, it was one of them mad nights and I was pissed but the way it was written up was, 'One of the Guards went, 'What the fuck's going on?' and then out of the haze came David Bowie and Joe Elliott, and the cop just turned round and said, 'Oh, right… well, tell them to keep it down!' He was a lovely man."
The Down 'n' Outz album, This Is How We Roll, is out now on Universal Music
Advertisement
You can read the complete interview in one brilliant sweep in the Hot Press Annual – in which we distill the highlights and low-points of the year, across 132 vital, beautifully designed pages. Starring heroes of the year Fontaines D.C. on the front we cover Music, Culture, Sport, Film, Politics, the Environment and much, much more. Buy this superb publication direct from Hot Press here.