Gama Bomb and Spider Stacy discuss their collaboration on The Pogues' classic 'If I Should Fall From Grace With God'
"We're not a band who have ever been massively interested in appealing to the mainstream or doing anything to get up the ladder, it's always been about what satisfies us, and what we find fun and creatively moving."
Thrash metallers Gama Bomb have delighted fans in time for St.Patrick's day with their cover version of The Pogues' classic, 'If I Should Fall From Grace With God'.
The Northern Irish band have grown from strength to strength, amassing a significant global following. Now joined by Spider, the re-made version is accompanied by a raucous music video featuring the legendary band's own Stacy on guest vocals. So how did such a collaboration come to fruition?
"Slid into the DMs" Gama Bomb's Philly Byrne chuckles.
"He cold called me on Instagram," Spider nods in agreement, "and…it kind of caught my imagination."
"We'd always talked about doing that as a cover, we never really do covers…and we said for Paddy's Day it would be nice to do something," Philly continues.
Advertisement
"I liked the audacity," Spider laughs, "I liked the spirit. The whole way Gama Bomb approached the song- they did it in just the right way, and that speed metal take on it was brilliant."
"This does happen from time to time, that people do get in touch and are like, "have a listen to this", and most of the time, I'll be honest, it's like, "Christ." It's like when your friend says "I've written a book"- please don't ask me to read it.  You don't want to be horrible so you go "yeah, but I haven't really got time at the moment". But I heard the Gama Bomb's 'Fall From Grace' and was like, "yeah this is really good, I like it."
"We debated about it for a long time whether we would do it," Philly admits.
Covering the classic track was unlike a recording experience Gama Bomb had faced before as Philly explains what it was like to tackle the feat.
"It was an experience we've never had before," Philly begins, 'cause me and Domo [Gama Bomb's guitarist] were born and raised on The Pogues' music, and it's so familiar- it's like you're trying to copy 'Mary Had a Little Lamb' but at the same time you don't wanna be doing karaoke. It's very hard, especially as a singer…you're like- I'm not trying to be Shane McGowan. So you have to go, "how do I make it sound like I mean it, and how do I make it sound like me, and not someone else when the original version is so fucking famous"."
"And when we came back and heard it with Spider's vocal and we heard him doing the screams and stuff, it was amazing. It was like a noise you already knew in your head so well- it was just the real deal… it was like taking something you heard in the crib- and now it's yours- which is amazing."
"'Fall From Grace' in particular- the topic suited us, the speed of the song suited us, and we were able to make something of it."
Advertisement
Of all the classics in The Pogues' repertoire, the decision to choose 'Fall From Grace' can hardly have been a swift pick. As the Gama Bomb vocalist elaborates on the song's fit with the genre of the group's fast-paced aesthetic, he talks about the integral part The Pogues played in his and many other families' in Northern Ireland's musical upbringing.
"That album [If I Should Fall From Grace With God] and Rum Sodomy and the Lash, along with a load of other stuff like Buzzcocks and The Clash, were some of the first records I ever heard," the 39-year old says.
"I come from a very big family- I'm one of nine children…so I was listening to a lot of the contemporary music when I was four. Alongside The Sisters of Mercy and The Cult and all that, we were listening to The Pogues. It was kinda just the done thing in the 80's when you were a Catholic. It was a part of the fabric of my relationship with my brothers and sisters. It's just one of those things like that's always been around, like Thin Lizzy- Irish people just listen to it."
"We're not a band who have ever been massively interested in appealing to the mainstream or doing anything to get up the ladder, it's always been about what satisfies us and what we find fun and creatively moving."
For Spider, the world of thrash metal was an unexplored one before his encounter with the Northern Irish band.
"It's a strange and wonderful world that I would happily spend more time in," he laughs. "It was cool…and it's always good to do something a bit different as well."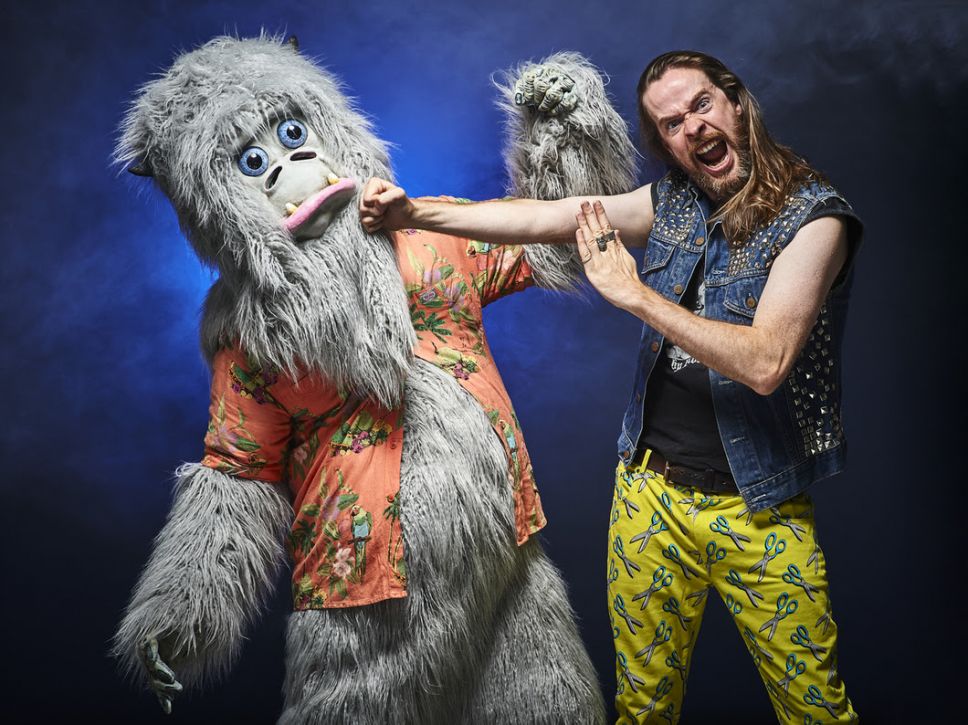 Advertisement
Speaking on his venture into the raucous genre's world, Stacy speaks of what it was like to keep up (literally) with his band's remastered music.
"Although The Pogues version is pretty fast, it's not as fast as Philly and the lads do it. One of the things was trying to figure out a way to sing it," The Pogues co-founder explains.
"I tried to sing following Philly's vocal and it was impossible. So we did it line by line just because of the sheer velocity of it. But it was fun doing it… it kinda shows the strength of the song, that it can be adapted so readily. Given the fact that both versions and the song itself is pretty straight ahead, it lends itself naturally to that treatment."
"It's a hallmark of great song writing," Philly adds.
"Any really good piece of art can be interpreted, that's why there are great versions of Beatles' songs and Dylan songs and Pistols' tunes- they're the sort of thing you can pick up and move around," he continues.
The Pogues' were a significant influencing factor in the formation of Byrne's band, "For it to be a thing we grew up with, I don't think we would have existed as a band without them," the Gama Bomb vocalist says.
Stacy and Byrne are excited to share the single with their following. The track, which drops in time for St.Patrick's Day, Philly explains, will give international Gama Bomb fans a flavour of personally-curated Irishness.
Advertisement
"I'm so delighted we're doing it for St Patrick's day,' he expresses enthusiastically. "We don't have a huge standing in Ireland but we do play all over the world. It's great to be able to represent that in a way that isn't toxic, and that isn't contrary to how we experience Irishness. Because half of the band are from Northern Ireland, we grew up during the Troubles, during the peace process, and having a version of that that you can hang your hat on, and be proud of, that isn't "twiddy-dee" or "up the 'RA" or any of those things
is really nice."
MacGowan's nuanced lyrics were, and remain are a hallmark of The Pogues' established genius musicality. Translating the multi-layered meaning of the song was something at the forefront of the musicians' minds when entering into the endeavour.
"We did speak about the patriotic element while recording it," Philly says, "and we were saying that one of the genius things about Shane's lyrics is that the song does about four or five different things."
Passing it over to his collaborator, Spider takes a beat before stating, "Shane would be best placed to answer it, but I do think the song wears different hats." He continues to explain, "when we were having workshops for the mooted Pogues musical… one of the characters in the musical sings 'Fall From Grace', and I was going through the song with him. And it occurred to me as I was going through it with him you could interpret it- certainly the verse "This land was always ours", as quite nationalistic if you chose to, which I don't think is the intention, but then again Shane has this way of talking through other peoples' mouths."
"I think Philly's hitting the nail on the head there about the pissed up patriot's thing, it does sort of have that ring to it. But I think it works on another level as well, on a nationalistic "they shall not pass" sort of thing, but there's more going on underneath it."
Advertisement
"It's hard to explain, but it's more nuanced than that and there's possibly a more personal reading," he adds.
"That's the amazing thing about singing somebody else's song," Philly adds, "you can never really know the particular meaning to them- once you find a meaning for yourself in it."
"I think it's important to bear in mind with 'Fall From Grace'- Shane actually wrote that and showed it to me on the third day of filming Straight To Hell- it was in Spain," Stacy recalls.
"Given some of the characters we play, I'm not sure when he actually wrote the song, but he gave me the finished version three days into filming in Spain and I think some of it was simply, "I'm going to write a verse from the standpoint of the McMahons" the family of coffee-drinking psychopaths who kill strangers on site that we play in the film, so there's also that. It could be something very simple like that," he adds.
Like many of Gama Bomb's videos, the accompanying video to the single is full of fantastical ridiculousness at its best. Shot in Abney park graveyard, with features from the band's mascot, Snowy, The Gamabombinable monster, Spider and Philly discuss the filming process.
"A lot of the initial ideas we had were topically off, and the more we thought about it, we were like,"that's not what the song is about, the song is about mortality," if it's about anything it's about death and a free-wheeling embrace of it, the Gama Bomb lead singer explains. "There's a thing my Da always says that's very true, "Better men than me had no grave" and I think the song is kind of about that."
"I suppose if anything there's a slight intent to be Beckettian about it, like "who are these two weird men in a graveyard", he adds laughing.
Advertisement
It's not the first time a Pogues' cover has been attempted but it's one of the few that have earned the merit of recognition from a band member. Misunderstanding, and as a result, being misunderstood, is a feature that has prevailed in previously-attempted Pogues' covers.
"I hear a lot of cover versions of Pogues' songs and not only by people chancing it a bit, but by people who are more established, and I have to say that I'm usually not very impressed. Cat Power recently did 'A Pair of Brown Eyes' which I thought was lovely, really, really good and she very much did her own sort of thing and it worked," Spider says.
"Sometimes you get them and it's sort of trying to be like The Pogues and yet all they seem to think is it's songs about getting drunk and it really isn't. You do wonder sometimes guys what have you been listening to, where are you getting this notion because its quite clear the man is a fucking poet, go and write some fucking poetry- set it to music."
Philly shares in his own experiences with the same process, "when we got together as a band- you're so young- like we were only 19 when we started the band- one of the only life experiences you had was being blotto, and it fit in with the fact that we were raucous and fun and stuff."
"We wrote songs about it," he continued, "and when you go back over it, you can see a trajectory- some of the songs are about getting drunk and being a madman, and then suddenly the songs start to become about hangovers and now, we're not writing songs about drinking anymore!"
"Now it's about trying to get the kids ready for school," Spider laughs.
But Gama Bomb lead singer thinks he's unlocked the key to a successful cover. "I've always found the most important thing is connecting," metal artist shares. "You have to be able to connect and mean it."
Advertisement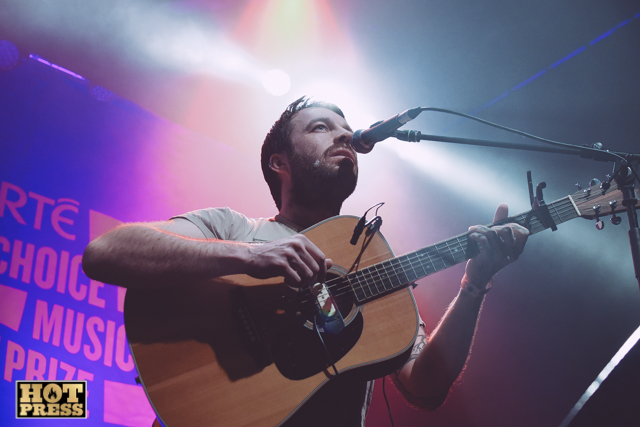 "Yeah," Spider immediately nods in agreement. "I think as long as you're not actually tone deaf… if you can sound like you mean it, that's three-quarters of the battle won. The fact is most people can sing a bit...And it's really so much about sounding like you mean it, and having the confidence to not be afraid, and just opening up and letting go."
"We're not gonna make a million quid off doing this, but it's worth a million bucks in cred and stories to us," Philly concludes.
"You should get a stipend from UNESCO or something," Spider says.
"For keeping ludicrous Irish music alive?"
"Absolutely."
Having just been in Dublin, Stacy recently performed alongside Lankum in Vicar Street's venue in December.
Advertisement
"Oh Lankum," the 64-year-old sighs. "I love Lankum. Don't start me on Lankum. I'll be here all day."
"It was just great and they're such a good band," he gushes. "They just released two singles, one hot on the heels of the other, and god they're so good. I think they're the best band in the world and I absolutely stand by that. I can't praise them highly enough."
"There's other great people at the moment as well," the musician continues,reviewing the Irish music scene at the moment. "I love the Mary Wallopers, there's something about them that reminds me very much of the Dubliners, and Lisa O' Neill is brilliant," he adds.
With Gama Bomb due to perform in Dublin later this year, could a reunion of the co-collaborators be on the cards?
"Yes! Spider's already up for doing it," Philly chimes in.
"Only for an astronomical fee," Stacy jokes. "No but really, I should say, it hasn't been a lot of fun, it is a lot of fun, and it's continuing to be."
Stream Gama Bomb's cover below.
Advertisement