The Philip Lynott commemorative €15 coin went on sale via the website of the Central Bank this morning. However, hundreds of fans were disappointed when stocks ran out – and dealers appear to be about to reap the rewards...
Controversy has erupted following the issue of a special commemorative €15 coin in honour of Philip Lynott by the Central Bank yesterday.
In all 3,000 of the special coins were minted and made available from the Central Bank via their website this morning. However, according to fans, the system couldn't cope with the demand – with Hot Press receiving dozens of reports of people having spent all day trying to access the site to purchase the coins.
However, to add insult to injury, disappointed fans were deeply frustrated to see coins being offered for sale this afternoon on sites like adverts.ie and eBay for grossly inflated amounts.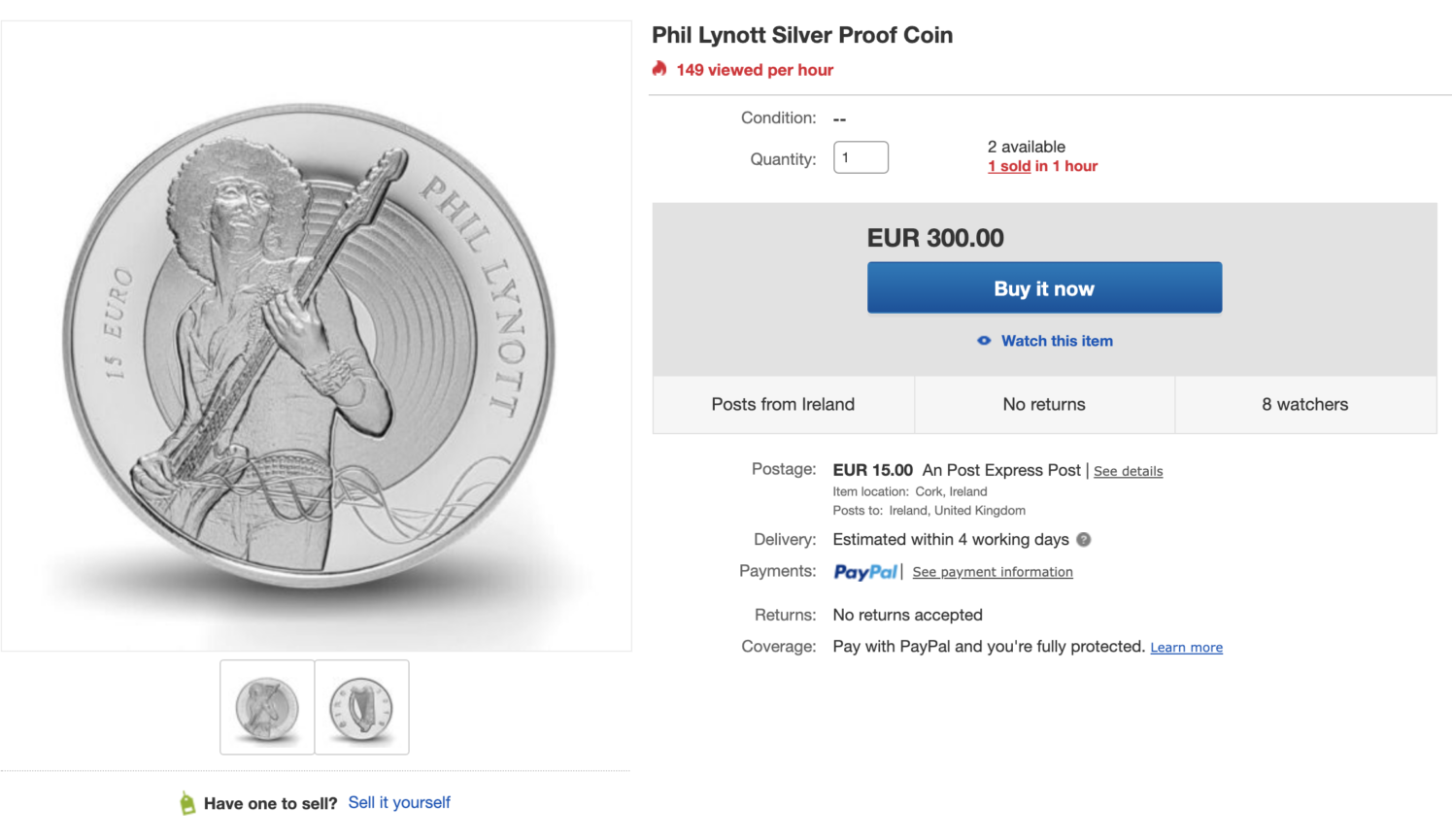 "They're for sale for €300, which is outrageous," one super-fan told Hot Press. "It is a total scam. It is impossible to understand how the Central Bank allowed this to happen. I know a load of the real fans of Thin Lizzy and of Philip Lynott. My phone has been hopping with people wondering did I get a hold of one of the cons and the truth is that I didn't.
Advertisement
"It was a big mistake to pick such a low figure," the fan added. "If they had spoken to An Post, who issued the stamps recently in honour of Philip, they'd have been told that the demand would be huge. And so it's proven.
"It is terrible to see the extent of the disappointment that real fans are feeling – and even worse to know that it is the scammers who won out. I don't know why they didn't at least have a table in a corner at the launch, where people could buy them. Some of the real long-term fans were there and they could have bought them on the spot. But they didn't do that, and so now those fans are faced with the dilemma: am I willing to pay 10 or 20 times the price to someone who beat the system.
"A lot of people are feeling very disappointed and upset, that's for sure.
"It is sad, because the launch itself was such a nice occasion, and it was great for everyone to meet the President there."
The coin was launched at a special ceremony in St. Kevin's College, which Philip Lynott attended, growing up in the Lynott house on Leighlin Road in Crumlin. President Michael D. Higgins spoke of Philip Lynott's lasting legacy, highlighting the importance of creativity and the arts in the lives of young people. The school band played a medley of Thin Lizzy songs.
The launch was attended by Sara Lynott and Cathleen Lynott, who travelled from the UK for what was a nicely low-key occasion. But the demand for the coins turned out to be a different matter entirely – with disappointment ensuing for many when the coins sold out.
"With what has happened with the scammers gaming the system, I think they really have to issue additional coins," the super-fan said. "Why should they be able to make a killing at the expense of ordinary fans, who have collected everything to do with Philip Lynott and Thin Lizzy over the years? It is wrong. They need to issue more coins. I certainly think that they will be receiving lots of complaints, so it'll be interesting to see what their response is."
Advertisement
Other fans have taken to social media to complain about the technical difficulties.
@centralbank_ie can you confirm if Phil Lynott coins in carts waiting to "Complete Purchase " are actually sold or not... very poor communication from a professional organisation, a lot of angry people today , surely you knew they'd be big demand

— David Nealon (@david_nealon) November 27, 2019
Aaaaand thanks to their shite website, the Phil Lynott commemorative coin that I actually managed to get into my cart several times between 10am and 11.50ish when they SOLD OUT is STILL IN MY CART. @centralbank_ie is officially rubbish. Imagine doing online banking there 😱 pic.twitter.com/wbXUXB7h3M

— ⚫️ Elle Gallica (@BaroqueChic) November 27, 2019
A spokesperson for the Central Bank has addressed the controversy, stating: "We wish to sincerely apologise for any inconvenience caused due to technical issues on the website www.collectorcoins.ie this morning. This was a result of extremely high demand for the limited edition (3,000) Phil Lynott coin which launched today."