On this day: Kanye West settled a dispute with Evel Knievel - a look back at the Kanye controversies of 2018
2018 marked the year Kanye outraged celebrity after celebrity, with his cheeky tweets and questionable support for Trump.
On 28 November 2007 Kanye West and Evel Knievel settled a copyright dispute. Kanye depicted the stuntman as the character Evel Kanevel in his music video for 'Touch The Sky'. Knievel criticised the "vulgar, sexual nature" of the video.
Evel Knievel isn't the only one to face-off Kanye. Hot Press reflects on the rapper's many high-profile controversies during 2018.
One of the more recent cases all started with a tweet.
Kanye revealed "McDonald's is [his] favorite restaurant" earlier this month. Fast food chain Burger King were not pleased by the rapper's choice and clapped back with a salty tweet referring to his hit song 'Eyes Still Closed'.
Advertisement
eyes still closed I guess https://t.co/Z8pzojmDgb

— Burger King (@BurgerKing) November 4, 2018
One Burger King hit back wasn't enough as the UK account joined in on the fun with a cheeky "explains a lot" tweet.
Explains a lot https://t.co/CalmlcD3eu

— Burger King (@BurgerKingUK) November 5, 2018
Kanye's visit to the White House in October 2018 outraged many, many people. Axl Rose summed up the visit well in just three words, "what a joke". The Guns 'N Roses lead singer criticised Kanye believing the visit wouldn't "solve anything in Chicago or anywhere else with any of that attention seeking nonsense."
What a joke. Not gonna solve anything in Chicago or anywhere else with any of that attention seeking nonsense.

— Axl Rose (@axlrose) October 11, 2018
Advertisement
'Video Games' singer Lana Del Rey targetted the rapper following a Trump supporting Instagram post. The singer did not hold back, claiming Kanye's support for the President was a "loss for culture".
"I can only assume you relate to his personality on some level. Delusions of grandeur, extreme issues with narcissism – none of which would be a talking point if you weren't speaking about the man leading our country."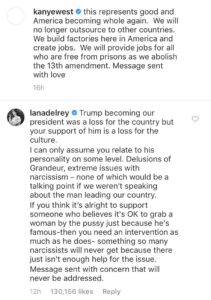 Snoop Dogg ranted about Trump supporters telling listeners "If you like that n***a you motherfuckin' racist. Fuck you and fuck him." The rapper added in one last "fuck you" to Kanye West, saying "Throw him in the bag, he right with them motherfuckers."
Late night talk show host James Corden openly talked about Kanye's flaky attitude pulling out of Carpool Karaoke several times. "He's cancelled, twice. Maybe even three times." Corden discussed Kanye during a stint of Spill Your Guts or Fill Your Guts on the Late Late Show with Kris Jenner.
Advertisement
Corden said he was around the corner of his house on time when the rapper cancelled as he was "not in the zone for it now". As an apology Kanye sent a cube of flowers and Yeezy, which Corden jokingly described as the most expensive trainers ever costing his show $45,000.
As a bonus video we had to include one of the most controversial moments in Kayne's career, the 'Famous' music video.
Kanye hand-picked 13 famous faces for the music video to symbolize fame in the 21st century. Knowing the video would cause a stir the rapper tweeted "can somebody sue me already #I'llwait". The tweet has since been deleted.
The copycat celebrities include Kanye and his wife, Kim Kardashian West, and Rihanna who features on the track.
The Kim's ex Ray J and Kanye's ex Amber Rose are also in the bed. Ray J made the leaked sex tape with Kim that launched her into fame. While Kanye and Amber Rose had a rocky relationship over the years. Rose even called Kim a "homewrecker" in the past.
Advertisement
Another controversial ex makes an appearance, Rihanna's ex Chris Brown. The singers split in 2008 due to domestic abuse.
Family friend Donald Trump was also chosen for the video, along with former President George W. Bush. Caitlyn Jenner, Bill Cosby and Anna Wintour were seen in the bed.
It wouldn't be a Kanye controversy without mentioning Taylor Swift. The singer was horrified to be included in the music video and song. She was offended by the vulgar lyrics "I feel like me and Taylor might still have sex/ Why? I made that bitch famous".
The Swift-West feud started at the 2009 VMAs when Kanye swiped the award for 'Best Female Video' from Swift's hands as he believed Beyoncé was more deserving. Who could ever forget this moment?