Just before record store day, Dylan sent his thanks and a signed album to Tower Records Dublin.
Music icon Bob Dylan expressed his appreciation for the support Tower Records has given him over the years. He also sent Tower Records Dublin a signed copy of his 1997 album Time Out Of Mind. 
Tower Records Dublin reported the news on their Twitter:
Unreal to receive a signed album from @bobdylan the day before @recordstoreday

It is now hanging pride of place behind our counter in Dawson St.

Thanks a million @bobdylan #legend pic.twitter.com/Y8EDiR79Hq

— Tower Records Dublin (@TowerDublin) April 12, 2019
77 year old Bob Dylan won the Nobel Prize for Literature in 2016. Dylan was the first songwriter in history to be awarded the prize. The music legend has captivated listeners and influenced countless artists for generations with his iconic folk songs and lyrics. The signed album is now hanging up in their Dawson St. location. It reads:
Advertisement
"To Tower Records Dublin. Thanks for still selling records! - Bob Dylan"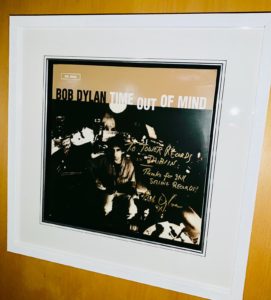 Tower Records Dublin has proudly featured many of Dylan's recent releases at their Dublin stores. Tomorrow is the eleventh annual Record Store Day. The international event celebrates the contributions of record stores to music and their local communities.