In 1997, The Spice Girls were the biggest phenomenon in the world of music. Their debut album, released in 1996, had been a No.1 best seller in 19 countries and a huge hit everywhere else, selling 24 million copies worldwide. Impressively, there was no delay whatsoever getting the follow-up recorded and into the shops.  In October 1997 it was unleashed on the world. As part of the promotional plan, a platoon's worth of media people were flown to Granada in the south of Spain for what might best be described as the mother of all listening parties. Oh and to meet The Spice Girls, and throw a few questions their way. Hot Press was on the plane, and the result was a highly entertaining cover story.  Also in that 'coming-of-age' issue of Hot Press (Vol. 21 No. 21 – ok, we just spotted that!), there was a Presidential election looming and we interviewed three candidates for Áras an Úachtaráin: Dana, Derek Nally and Adi Roche – none of whom, it turned out, would remotely match Mary McAleese's vote on the day. Brendan Gleeson, RTÉ's doyen of sports broadcasting, Jimmy Magee and, curiously, former Rolling Stone Bill Wyman were among our interviewees. And the legendary, and in his day much maligned, Oscar Wilde made a guest appearance. Our headline and sub-headline at the time read...
THE LIFE OF SPICE
They're the biggest thing on Planet Pop, so a few cocktail sausages and triangular sandwiches would hardly suffice for the launch of the latest SPICE GIRLS album. OLAF TYARANSEN joins 250 other music big movers and shakers in Granada, Spain for fireworks, screams and the first public playback of Spice World; charts their extraordinary overnight success story; and gives a blow-by-blow account of his exclusive, unprecedented, one-to-one, face-to-face interview with SCARY SPICE.
IN COMMON with many of Spain's ancient Moorish palaces and castles, the Palacete Del Carmen De Los Martires in the southern city of Granada has seen its fair share of sieges in its time. Over the centuries numerous marauders and invaders (not to mention native Spaniards themselves, on occasion) have attempted to scale its sheer stone walls and penetrate its gardens and luxuriously decorated interior, thirsty for Moorish blood and riches. But it's certainly never seen a siege quite like this one before.
It's just after 9pm on October 6th, 1997, and, deep within the lavish palace gardens, beautifully lit with hundreds of candles and ornate lanterns, more than 250 music business movers and shakers have gathered from all over the globe for the mother of all record launches. Virgin Records have chosen the Palacete as the location for the debut public airing of the new Spice Girls album, and no expense has been spared in keeping expectations high and bitter journalistic cynicism at bay.
Champagne is flowing freely and the air is thick with the smell of citrus, and the steady rattle and hum of chatter and drunken laughter as gossipy industry stories are exchanged and various media deals and wheels are spun. Television crews roam the palace in search of the perfect angle for when the big moment arrives and camera flashbulbs periodically bathe the whole scene in strobe-like bursts of pure white, as photographers from publications as varied as Hello magazine and the NME capture moments in Spicetime for their readers. If you were colour blind, you'd swear you were in a Fellini movie: La Spice Vita.
Meanwhile, just outside the palace walls, an even bigger crowd has gathered, all prevented from approaching the main gates by the kind tightly knit security cordon more normally reserved for heads of State. Hundreds of young children – almost all girls, some as young five, none older than sixteen – are anxiously keeping vigil, hoping for a glimpse of their heroines. Some of them would quite gladly give their right arms to be able to get inside the palace's garden of delights. Even more of them would be far happier to give somebody else's.
When I'd arrived, my cab wasn't allowed within 500 yards of the palace walls so I had to walk the final distance. As I made my way through the crowd, several screaming young Spicettes attempted to forcibly remove the fluorescent 'Access All Areas' Spiceworld band from my wrist. I quickly discovered that there's not a whole lot you can do when there's an hysterical child hanging off your wrist (at least not while there's witnesses around). Fortunately, the security men eventually managed to wrench them off me. In one sense I was lucky. Once inside, I saw several journalists comparing bitemarks on each other's arms, obviously sustained during similar experiences.
Actually, the palace interior isn't a completely child-free zone. About a hundred young children – possibly competition winners, I never asked – are waiting in the wings for the big moment. When it finally comes, shortly after 10pm. they're unleashed by the security men and let loose into the crowd to perform the mandatory frenzied whooping and yelling vocal duties. These they duly supply, more than adequately. "SPIIIIICCCEEEE GRRRRLLLS!! GEERRRIII!!! EEEMMMMMAAAA!! WE LOOOVVVEE YOUU."
Advertisement
Ouch!
You could almost compare it to Beatlemania, except it's girls screaming at other girls. The moment the Spices emerge onto the palace balcony, the decibel level hits fever pitch, something akin to the sound of ten maternity wards combined just before feeding time. Geri (Ginger Spice), Mel B (Scary Spice), Victoria (Posh Spice), Emma (Baby Spice) and Mel C (Sporty Spice) all strut out, wearing party dresses for once, rather than their usual high street mix of club and sports gear, and immediately begin clowning around and screaming back at their adoring fans.
"OLA!" they shout in unison.
"OLA!" the crowd scream back.
"I'm over here!" I shout. (I didn't actually, but I thought about it).
"I think you might know who we are!' Mel C teases, before roaring "OTHERWISE WOTCHA ALL DOING HERE???"
And on it goes, a modern day pop pantomime. The Spice Girls jump around, the crowd screams. The Spice Girls sing a verse from 'Wannabe', the crowd screams. Sporty Spice kicks her leg in the air, the crowd screams. The banter is generally pretty inane. Actually, it's totally inane. This is a py after all (that's a party with no art, in case you were wondering).
"Do you like the place we've chosen?" Geri coos (crowd screams).
"We're gathered here today to not only listen to the Spiceworld album but also to have a BLOODY GOOD TIME!!" Mel C announces (crowd screams).
"Actually we've brought you all here on false pretences," Mel B confides. "You've heard of Waco, you've heard of all that. This event isn't actually about the Spice Girls music. This is a cult movement! By the end of the evening, you'll all be naked and in a trance. All chant together 'GIRL POWER, GIRL POWER, GIRL POWER, GIRL . . ."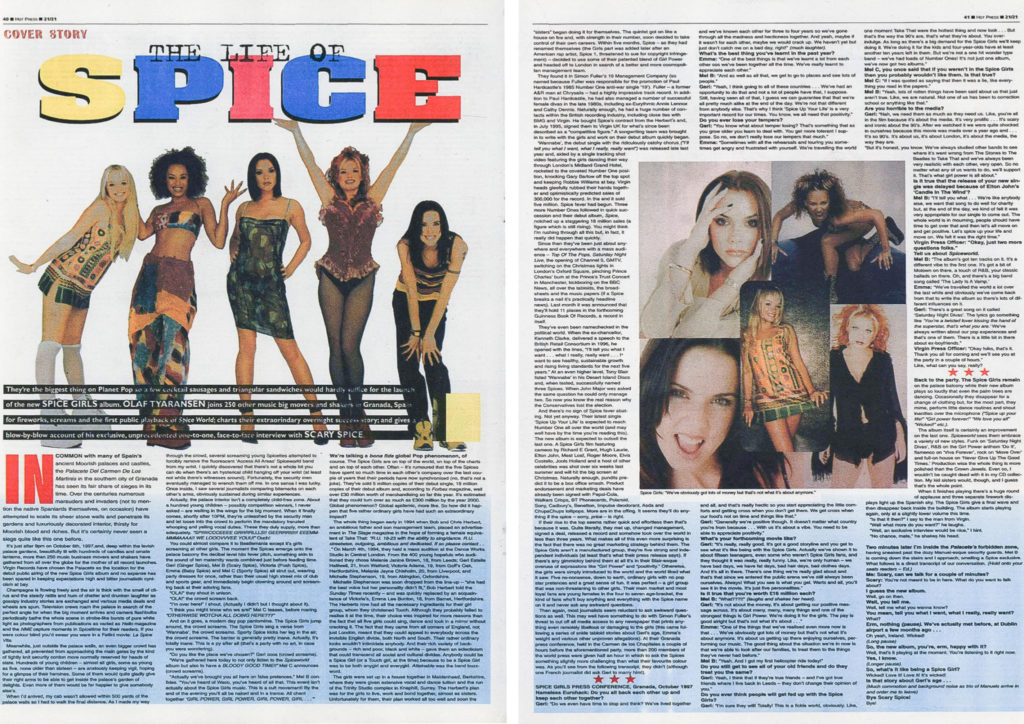 We're talking a bona fide global Pop phenomenon, of course. The Spice Girls are on top of the world, on top of the charts and on top of each other. Often –- it's rumoured that the five Spices have spent so much time in each other's company over the last couple of years that their periods have now synchronised (no, that's not a joke). They've sold 5 million copies of their debut single, 18 million copies of their debut album and, according to Forbes magazine, well over £30 million worth of merchandising so far this year. It's estimated that they could turn over as much as £300 million by the year 2000. Global phenomenon? Global epidemic, more like. So how did it happen that five rather ordinary girls have had such an extraordinary impact?
The whole thing began early in 1994 when Bob and Chris Herbert, an ambitious father and son management team, placed an advertisement in The Stage magazine, in the hope of forming a female equivalent of Take That: 'R.U. 18-23 with the ability to sing/dance. R.U. streetwise, outgoing, ambitious and dedicated. If so please contact..." 
On March 4th, 1994, they held a mass audition at the Dance Works Studio in Central London. From the 400 young hopefuls who auditioned, they chose Melanie Janine Brown, 18, from Leeds; Geri Estelle Halliwell, 21, from Watford; Victoria Adams, 19, from Goff's Oak, Hertfordshire; Melanie Jayne Chisholm, 20, from Liverpool; and Michelle Stephenson, 19, from Abingdon, Oxfordshire.
Advertisement
Michelle Stephenson was soon dropped from the line-up – "She had the best voice but her personality didn't fit," Bob Herbert told the Sunday Times recently – and was quickly replaced by an acquaintance of Victoria's, Emma Lee Bunton, 18, from Bamet, Hertfordshire. The Herberts now had all the necessary ingredients for their girl group, whom they christened Touch. Although they probably failed to realise it at the time, their choice was inspired for more reasons than the fact that all five girls could sing, dance and look in a mirror without cracking it.  The fact that they came from all corners of England, not just London, meant that they could appeal to everybody across the invisible English divide, both North and South. Their sometimes rather ordinary looks wouldn't intimidate anybody. And their wide variety of backgrounds – rich and poor, black and white – gave them an eclecticism that could transcend all social and cultural divides. Anybody could be a Spice Girl (or a Touch girl, at the time), because to be a Spice Girl was to be both anygirl and everygirl. Attainable was the band buzzword.
The girls were set up in a house together in Maidenhead, Berkshire, where they were given extensive vocal and dance tuition and the run of the Trinity Studio complex in Knaphill, Surrey. The Herbert's plan was for the girls to live, work and bond together, almost as sisters. Unfortunately for them, their plan worked all too well and soon the "sisters" began doing it for themselves. The quintet got on like a house on fire and, with strength in their number, soon decided to take control of their own careers. Within five months, Spice – as they had renamed themselves (the Girls part was added later after an American rap artist, Spice 1, threatened to sue for copyright infringement) – decided to use some of their patented blend of Girl Power and headed off to London in search of a better and more cosmopolitan management team.
They found it in Simon Fuller's 19 Management Company (so named because Fuller was responsible for the promotion of Paul Hardcastle's 1985 Number One anti-war single '19'). Fuller – a former A&R man at Chrysalis – had a highly impressive track record. In addition to Paul Hardcastle, he had also managed a number of successful female divas in the late 1980s, including ex-Eurythmic Annie Lennox and Cathy Dennis. As a result, he had a huge number of contacts within the British recording industry, including close ties with BMG and Virgin. He bought Spice's contract from the Herbert's and, in July 1995, signed them to Virgin UK for what's since been described as a "competitive figure." A songwriting team was brought in to write with the girls, and work on their debut album quickly began.
'Wannabe', the debut single with the ridiculously catchy chorus ("I'll tell you what I want, what I really, really want") was released late last year and, aided by a single tracking shot video featuring the girls dancing their way through London's Midland Grand Hotel, rocketed to the coveted Number One position, knocking Gary Barlow off the top spot and keeping Robbie Williams at bay. Virgin heads gleefully rubbed their hands together, and optimistically predicted sales of 300,000 for the record. In the end it sold five million. Spice fever had begun. Three more Number Ones followed in quick succession and their debut album, Spice, notched up a staggering 18 million sales (a figure which is still rising). You might think I'm rushing through all this but, in fact, it really did happen that quickly.
Since then they've been just about anywhere and everywhere with a mass audience – Top Of The Pops, Saturday Night Live, the opening of Channel 5, GMTV, switching on the Christmas lights in London's Oxford Square, pinching Prince Charles' bum at the Prince's Trust Concert in Manchester, kickboxing on the BBC News, all over the tabloids, the broadsheets and the music papers (if a Spice breaks a nail it's practically headline news). Last month it was announced that they'll hold 11 places in the forthcoming Guinness Book Of Records, a record in itself.
They've even been namechecked in the political world. When the ex-chancellor, Kenneth Clarke, delivered a speech to the British Retail Consortium in 1996, he opened with the lines, "I'll tell you what I want... what I really, really want. I want to see healthy, sustainable growth and rising living standards for the next five years." At an even higher level, Tony Blair listed 'Wannabe' in his Desert Island Discs and, when tested, successfully named three Spices. When John Major was asked the same question he could only manage two. So now you know the real reason why the Conservatives lost the election.
And there's no sign of Spice fever abating. Not yet anyway. Their latest single 'Spice Up Your Life' is expected to reach Number One all over the world (and may well have by the time you're reading this). The new album is expected to outsell the last one. A Spice Girls film featuring cameos by Richard E Grant, Hugh Laurie, Elton John, Meat Loaf, Roger Moore, Elvis Costello, Jools Holland and a host of other celebrities was shot over six weeks last summer and will hit the big screen at Christmas. Naturally enough, pundits predict it to be a box office smash. Product endorsement and marketing deals have already been signed with Pepsi-Cola, Walkers Crisps, BT Phonecards, Polaroid, Sony, Cadbury's, Benetton, Impulse deodorant, Asda and ChupaChups lollipops. More are in the offing. It seems they'll do anything if the spice – sorry, price – is right.
Advertisement
If their rise to the top seems rather quick and effortless then that's because it was. Quite literally, they met up, changed management, signed a deal, released a record and somehow took over the world in less than three years. What makes all of this even more surprising is the fact that there was no great marketing strategy behind them. The Spice Girls aren't a manufactured group: they're five strong and independent individuals (at least that's what their press release says). If there's any gimmickry behind them at all, it's in their Blair-esque overuse of expressions like "Girl Power and "positivity." Otherwise, the girls were simply introduced to the world and the world liked what it saw. Five no-nonsense, down to earth, ordinary girls with no pop star pretences and a great sense of fun. It was perfect – a girl group that was non-threatening to other girls. Their main market and most loyal fans are young females in the four to seven age-bracket, the kind of fans who'll buy anything and everything with the Spice name on it and never ask any awkward questions.
Then again, most journalists seem reluctant to ask awkward questions as well. This may well have something to do with Simon Fuller's threat to cut off all media access to any newspaper that prints anything even remotely libellous or damaging to the girls (this came following a series of snide tabloid stories about Geri's age, Emma's weight and various other unproven allegations). At their Granada press conference, held in the Carmen de los Chapiteles a couple of hours before the aforementioned party, more than 200 members of the world press were given half an hour in which to ask the Spices something slightly more challenging than what their favourite colour was. As you'll see from the following transcript, they didn't (although one French journalist did ask Geri to marry him!).
*
SPICE GIRLS PRESS CONFERENCE, Granada, October 1997
Nameless Eurohack: Do you all back each other up and keep each other together? 
Geri: "Do we even have time to stop and think? We've lived together and we've known each other for three to four years so we've gone through all the madness and hecticness together. And yeah, maybe if it wasn't for each other, maybe we would crack up. We haven't yet but just don't catch me on a bad day, right!" (Much laughter).
What's the best thing you've learnt in the past year?
Emma: "One of the best things is that we've learnt a lot from each other 'cos we've been together all the time. We've really learnt to appreciate each other."
Mel B: "And as well as all that, we get to go to places and see lots of people."
Geri: "Yeah, I think going to all of these countries... We've had an opportunity to do that and not a lot of people have that, I suppose. Still, having seen all of that, I guess we can guarantee that we're all pretty much alike at the end of the day. We're not that different from anybody else. That's why I think Spice Up Your Life is a very important record for our times. You know, we all need that positivity."
Do you ever lose your tempers?
Geri: "You know what about temper losing? That's something that as you grow older you learn to deal with. You get more tolerant I suppose. So no, we don't really lose our tempers that much."
Emma: "Sometimes with all the rehearsals and touring you sometimes get angry and frustrated with yourself. We're travelling the world and all, and that's really hectic so you start appreciating the little comforts and getting cross when you don't get them. We get cross when our food's not on time and things like that."
Geri: "Generally we're positive though. It doesn't matter what country you're from because... With us it's about a vibe. You need to be able to appreciate positivity."
What's your forthcoming movie like?
Geri: "It's really, really good. It's got a good storyline and you get to see what it's like being with the Spice Girls. Actually we've shown it to about fifteen teenagers, even some who weren't Spice Girls fans, and they thought it was really, really funny. Like, we're only human – we have bad days, we have fat days, bad hair days, bad clothes days. And it's all in there. There's one thing we're really glad about and that's that since we entered the public arena we've still always been ourselves. Always!What you see is what you get. Warts and all, you'll see it in the movie. It's just five personalities."
Is it true that you're worth £16 million each?
Mel B: "What???" (laughs and shakes her head).
Geri: "It's not about the money, it's about getting our positive message across. It's about many, many, many things and one of the strongest things is Girl Power. We're doing it for the girls. The pay is good alright, but that's not what it's about..."
Emma: "One of the things that we've realised even more now is that... We've obviously got lots of money but that's not what it's about anymore. It's about us getting up there enjoying ourselves, performing our music. The good thing about the situation we're in now is that we're able to look after our families, to treat them to the things they've never had before."
Mel B: "Yeah. And I got my first helicopter ride today!"
Do you still get to see all of your old friends and do they treat you the same?
Geri: Yeah, I think that if they're true friends – and I've got true friends where I live back in Leeds – they don't change their opinion of you."
Do you ever think people will get fed up with the Spice Girls?
Geri: "I'm sure they will! Totally! This is a fickle world, obviously. Like, one moment Take That were the hottest thing and now look. That's the way the 90's are, that's what they're about. You overindulge. As long as there's a big demand for the Spice Girls we'll keep doing it. We're doing it for the kids and four-year-olds have at least another ten years left in them. But we're not a one hit wonder type band - we've had loads of Number Ones! It's not just one album, we've now got two albums."
Mel C, you once said that if you weren't in the Spice Girls then you probably wouldn't like them. Is that true?
Mel C: "If I was quoted as saying that then it was a lie, like everything you read in the papers."
Mel B: "Yeah, lots of rotten things have been said about us that just aren't true. Like, we are natural. Not one of us has been to correction school or anything like that."
Are you horrible to the media?
Geri: "Nah, we need them as much as they need us. Like, you're all in the film because it's about the media. It's very prolific . . It's scary and ironic about the 90's. After we watched it we were quite shocked in ourselves, because this movie was made over a year ago and it's so 90's. It's about us, it's about London, it's about the media, the way they are. But it's honest, you know. We've always studied other bands to see where it's went wrong, from The Stones to The Beatles to Take That and we've always been very realistic with each other, very open. So no matter what any of us wants to do, we'll support it. That's what girl power is all about."
Is it true that the release of your new single was delayed because of Elton John's 'Candle In The Wind'?
Mel B: "I'll tell you what . . We're like anybody else, we want that song to do well for charity but, at the end of the day, we kind of felt it was very appropriate for our single to come out. The whole world is in mourning, people should have time to get over that and then let's all move on and get positive. Let's spice up your life and move on. We felt it was the right time."
Virgin Press Officer: "Okay, just two more questions folks."
Tell us about Spiceworld.
Mel B: "The album's got ten tracks on it. It's a different vibe to the first one. It's got a bit of Motown on there, a touch of R&B, your classic ballads on there. Oh, and there's a big band song called 'The Lady Is A Vamp'."
Emma: "We've travelled the world a lot over the last while and obviously we've come back from that to write the album, so there's lots of different influences on it."
Geri: "There's a great song on it called 'Saturday Night Divas'. The lyrics go something like 'You're a twisted lover kissing the hand of the superstar, that's what you are'. We've always written about our pop experiences and that's one of them. There is a little bit in there about ex-boyfriends."
Virgin Press Officer: "Okay folks, that's it. Thank you all for corning and we'll see you at the party in a couple of hours."
Like, what can you say, really?
* * *
Back to the party. The Spice Girls remain on the palace balcony while their new album plays so loudly that even the palm trees are dancing. Occasionally they disappear for a change of clothing but, for the most part, they mime, perform little dance routines and shout inanities over the microphone ("Spice up life!" "Girl power forever!" "We love you all" Wicked!" etc.).
The album itself is certainly an improvement on the last one. Spiceworld sees them embrace a variety of new styles. Funk on 'Saturday Night Divas', R&B on the Girl Power anthem 'Do It', flamenco on 'Viva Forever', rock on 'Move Over' and full-on house on 'Never Give Up The Good Times'. Production-wise the whole thing is more polished than the Crown Jewels. Even so, I wouldn't be caught dead with it in my CD collection. My kid sisters would, though, and I guess that's the whole point.
When it finishes playing, there's a huge round of applause and three separate firework displays light up the Spanish sky. The Spice Girls give a final wave and then disappear back inside the building. The album starts playing again, only at a slightly lower volume this time.
"Is that it then?" I say to the man from Virgin.
"Well what more do you want?" he laughs.
"Well, an exclusive interview would be nice," I hint.
"No chance, mate," he shakes his head.
Two minutes later I'm inside the Palacete's forbidden zone, having sneaked past the dozy Manuel-esque security guards. Mel B is coming down the stairs and I approach, smelling a Spice exclusive. What follows is a direct transcript of our conversation. (Hold onto your seats readers - Ed.)
Me: "Scary, can we talk for a couple of minutes?"
Scary: "You're not meant to be in here. What do you want to talk about?"
"I guess the new album."
"Well, go on then."
"Well, you tell me."
"Well, tell me what you wanner know?"
"You mean, tell you what I want, what I really, really want?"
"What?
"Erm, nothing (pause). We've actually met before, at Dublin airport a few months ago…"
"Oh yeah, Ireland. Wicked!"
(Long pause)
"So, the new album, you're, errs, happy with it?"
"Well, that's it playing at the moment. You're listening to it right now."
"Yes, I know."
(Longer pause).
"So, what's it like being a Spice Girl?"
"Wicked! Love it! Love it! It's wicked!"
"Is that story about Geri's age…"
(Much commotion and background noise as trio of Manuels arrive in and order me to leave)
"Bye Scary Spice!"
"Bye!"
By Olaf Tyaransen
Advertisement
• The Spice Girls play Croke Park, Dublin on 24 May, 2019.