This week's catwalk: Temple Bar, Dublin 2. Photography by Ellie MacLean.
This week we strolled through Temple Bar to find a mix of students and professionals flaunting '70s styles, sustainable fashion and catchy prints.
Jo Linehan
30, Journalist at the Irish Times and Co-Founder of GAFF Interiors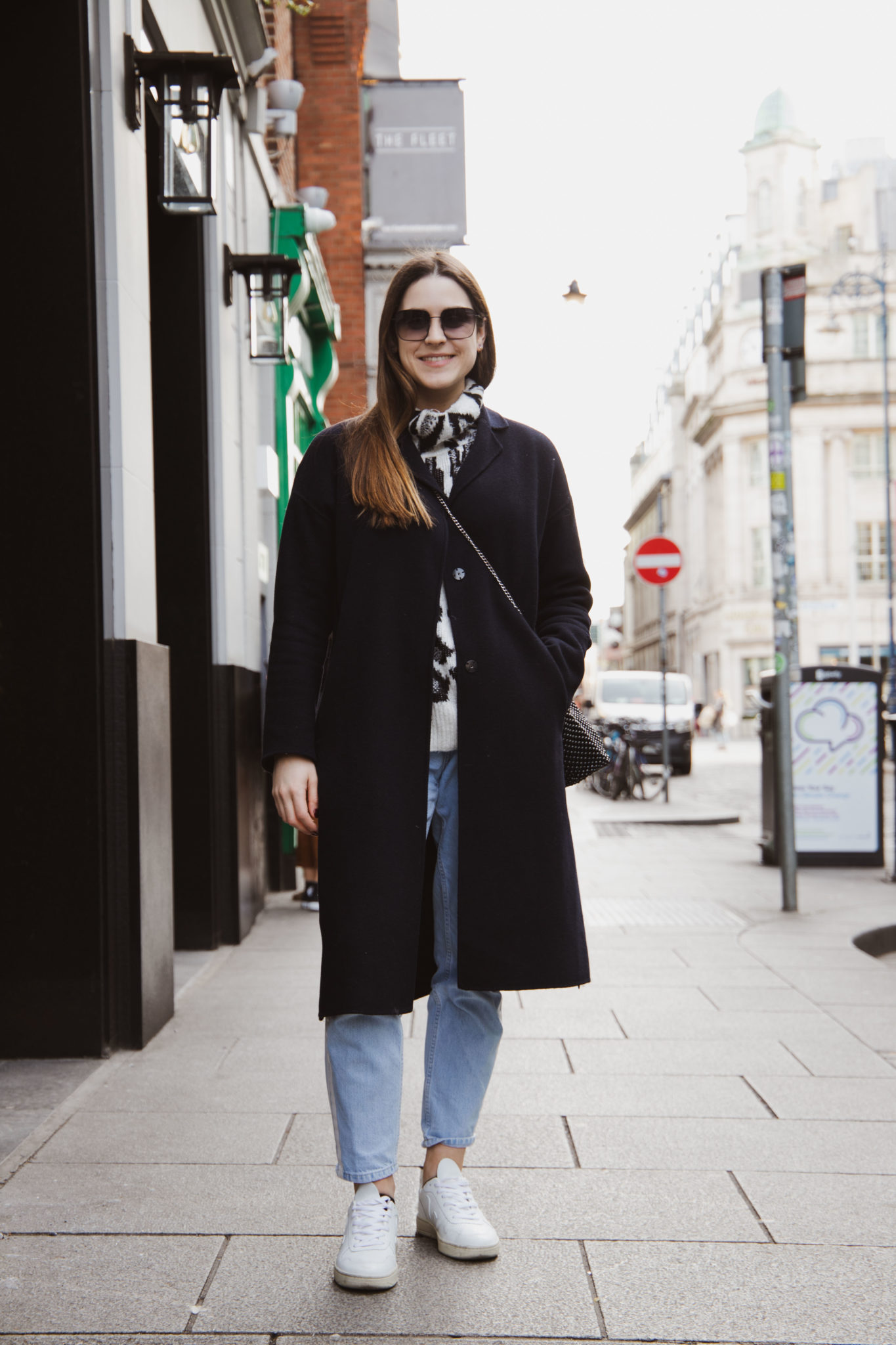 Outfit:
Coat - Zara
Jumper - Topshop
Jeans - Penneys
Sneakers - Veja
Sunglasses - Ace & Tate
Bag - New Look
Earrings - & Other Stories
Advertisement
Top trend: I love everything printed; tiger, zebra, snake. I just bought a snake print dress that I love. I'm very into jeans and white sneakers.
Style icon: I think Rihanna. She's just amazing. If I could just take an inch of her style, oh you'd be sorted.
Wardrobe staple: I love my sneakers they're the only pair I pick up and they're vegan so that's brilliant for the environment. Other than that, I think an oversized jumper. You can wear it with everything over a skirt or a dress, bare legs and you're good to go.
Go-to shops: Everywhere on the high street. I think Topshop have changed up their buyers and it's really improved and they've really come back. I love Penneys and Brown Thomas if you're going to invest in something. I'm saving to buy a Rixo dress from BT.
Aisosa Oduwa-Malaka
18, Law Student at DBS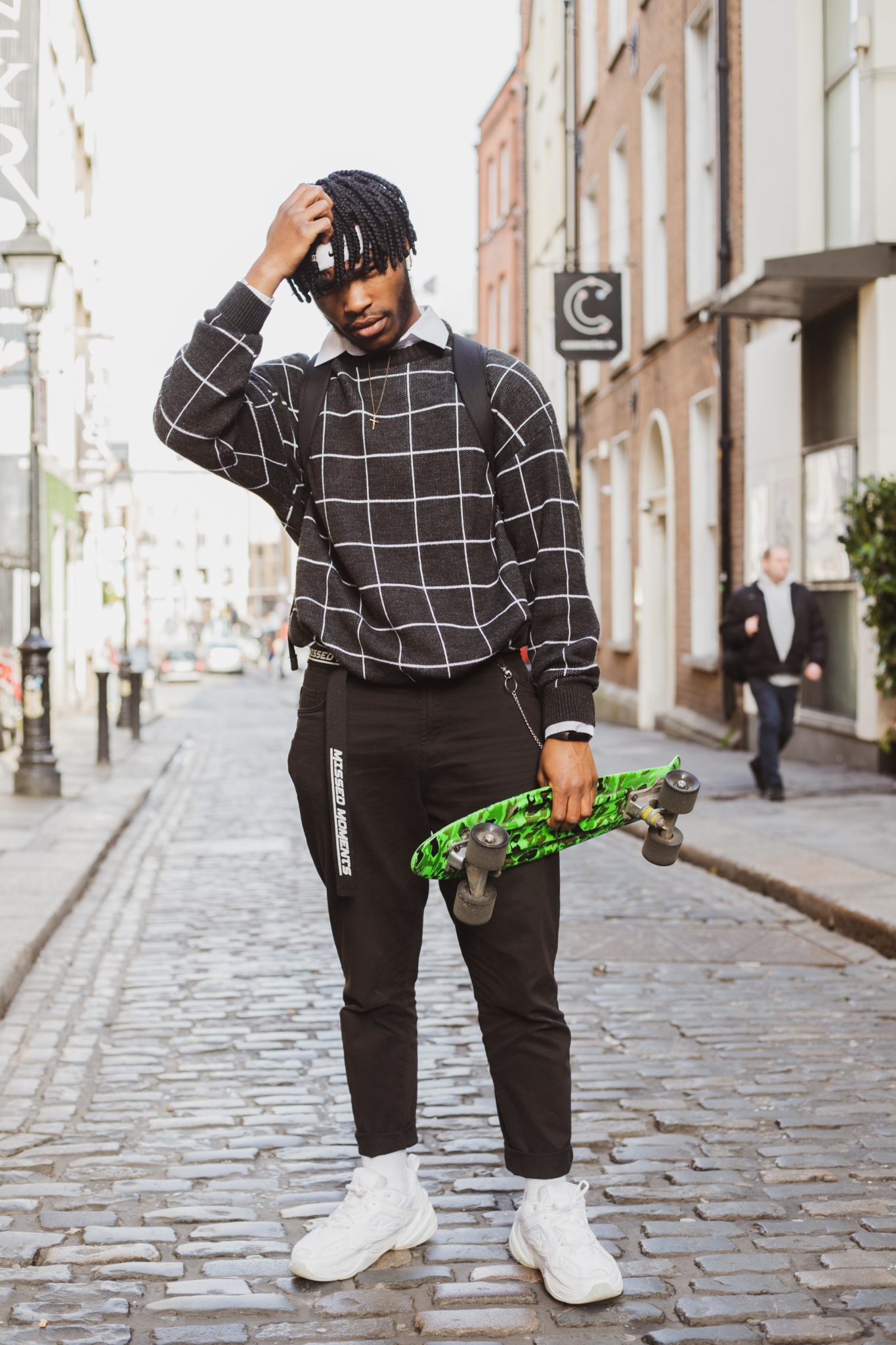 Advertisement
Outfit:
Coat - Bershka
Jumper - Bershka
Shirt - Zara
Bottoms - Bershka
Runners - Nike
Belt - Bershka
Ring - present from friend – one of his favourite animés
Watch - FitBit
Headband - Nike
Bag - Nike
Skateboard - Limitless
Top trend: Most of my trends come off Slyde on Instagram (@slydeofficial).
Style icon: My style icon would be A$AP Rocky.
Wardrobe staple: Usually I don't wear this headband. I have another white one, that's my go-to.
Go-to shops: Bershka and Urban Outfitters – never JD Sport.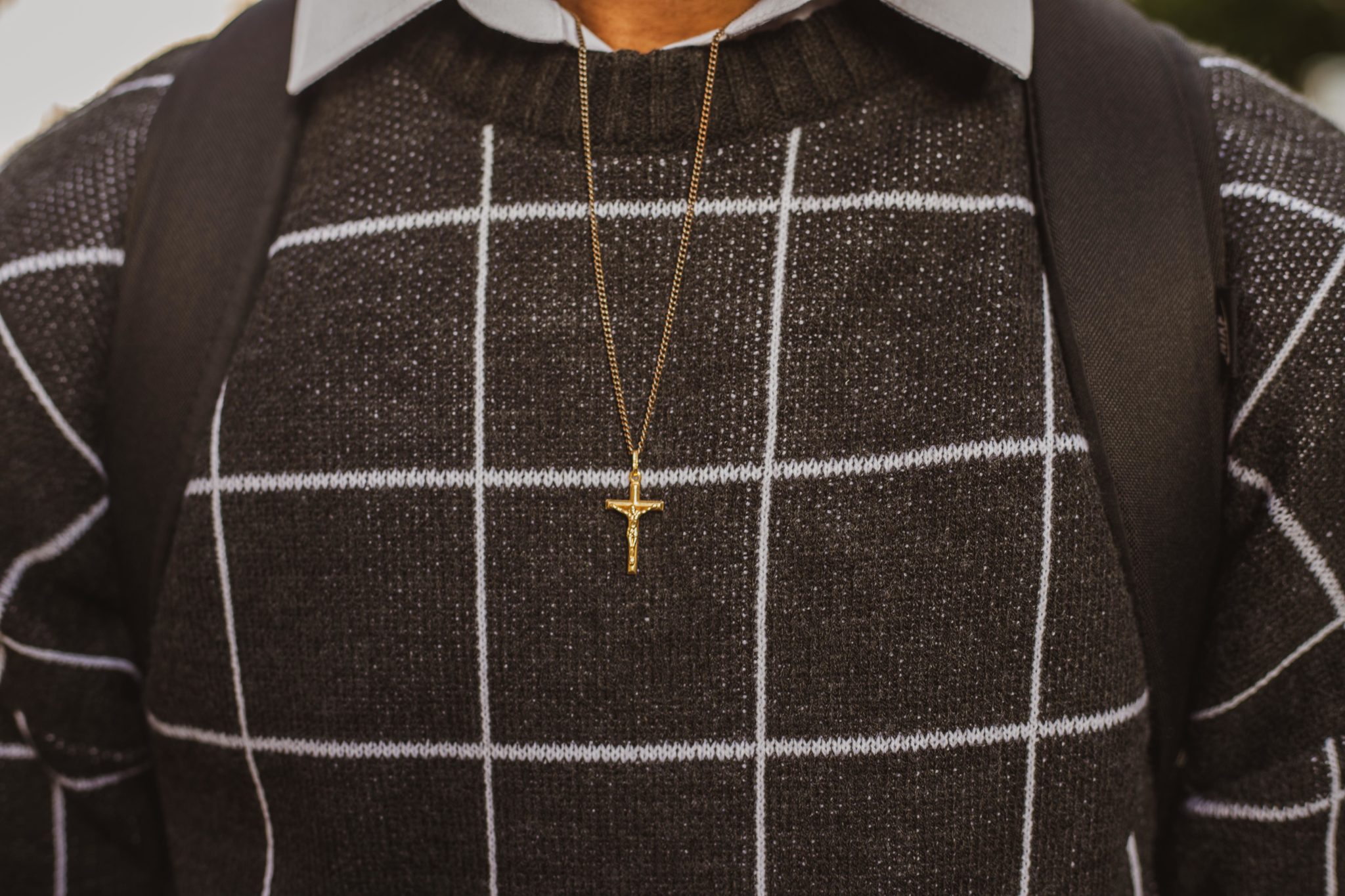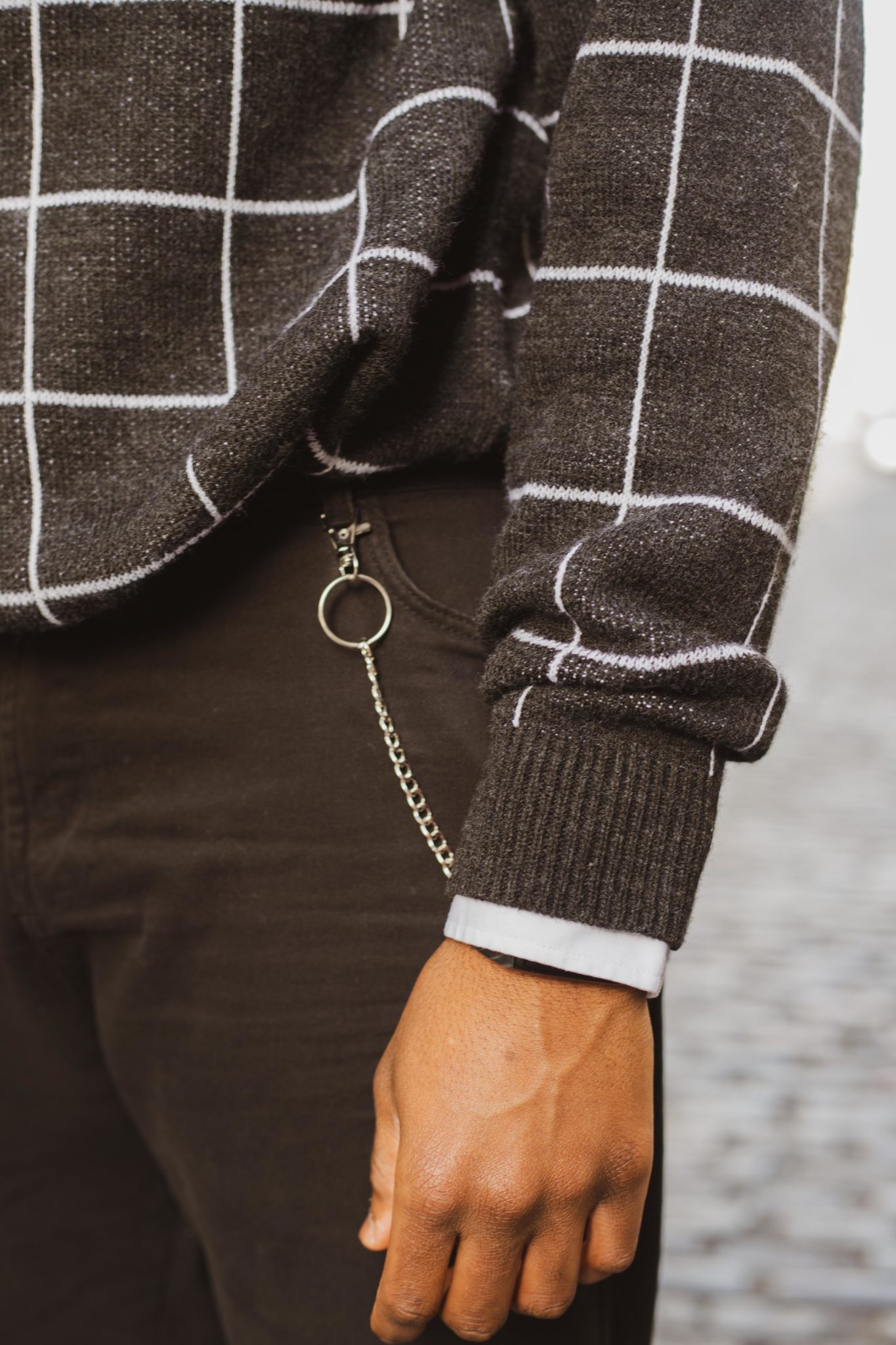 Advertisement
Sadhbh Nuanán Ní Dhonnabháin
21, Law Student at TCD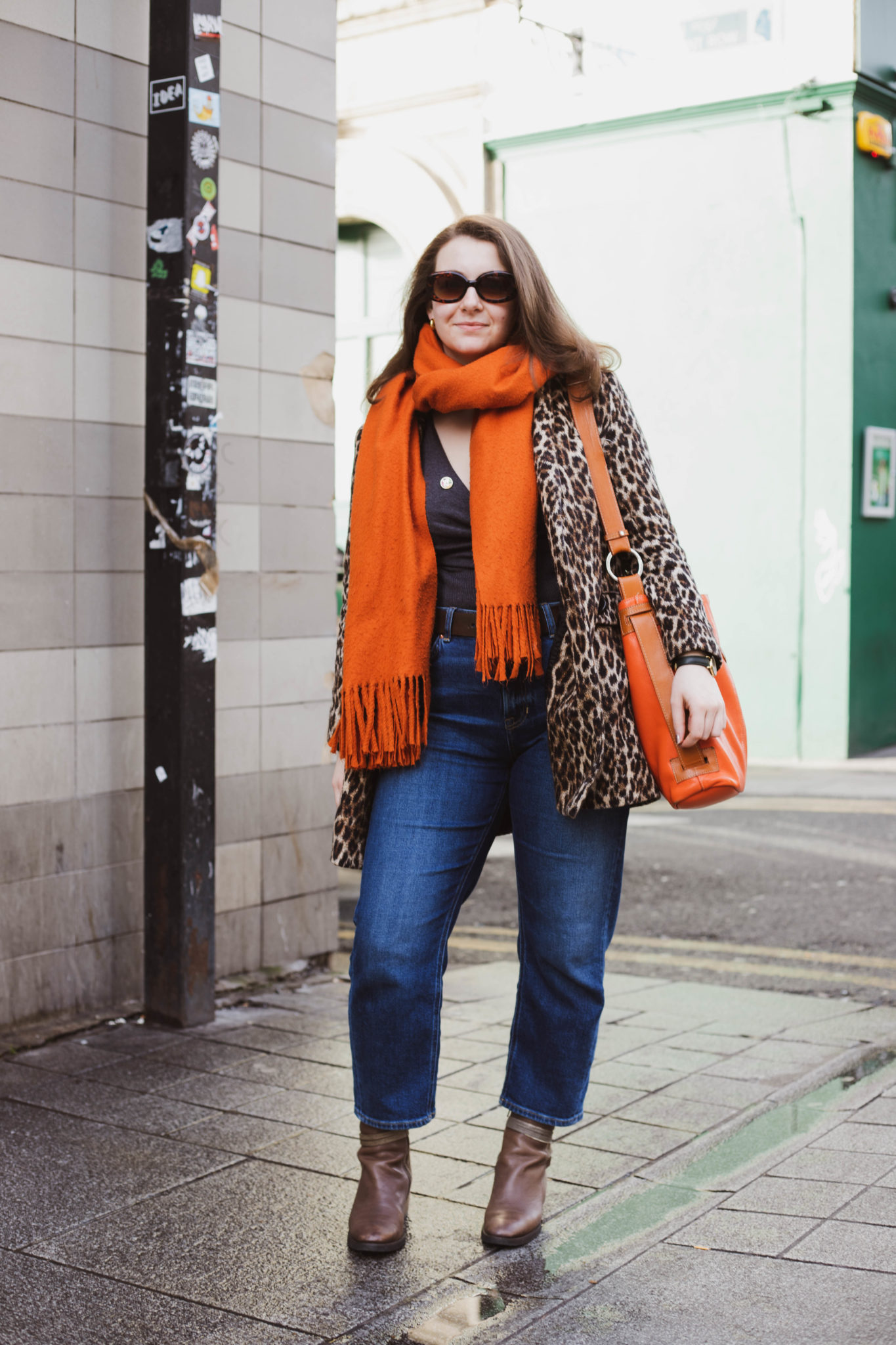 Outfit:
Coat - Zara
Top - Oxfam, Marks & Spencers
Belt - Levi's (her dad's)
Sunglasses - Steve Madden from TK Maxx
Scarf - Zara
Shoes - from a charity shop
Bag - Todd's
Earrings - P D Paolo
Watch - Rosefield
Top trend: I really like '70s style. Just anything '70s at all.
Style icon: I take inspiration from '70s movies. I really like leopard print. I don't know if orange is in, but I really like orange. I'm really into wearing high-waisted jeans with belts as well.
Wardrobe staple: Anything orange.
Advertisement
Go-to shops: Charity shops – Oxfam and Siopaella. I like TK Maxx as well. I try not to buy from Topshop and places like that because it's bad for the environment.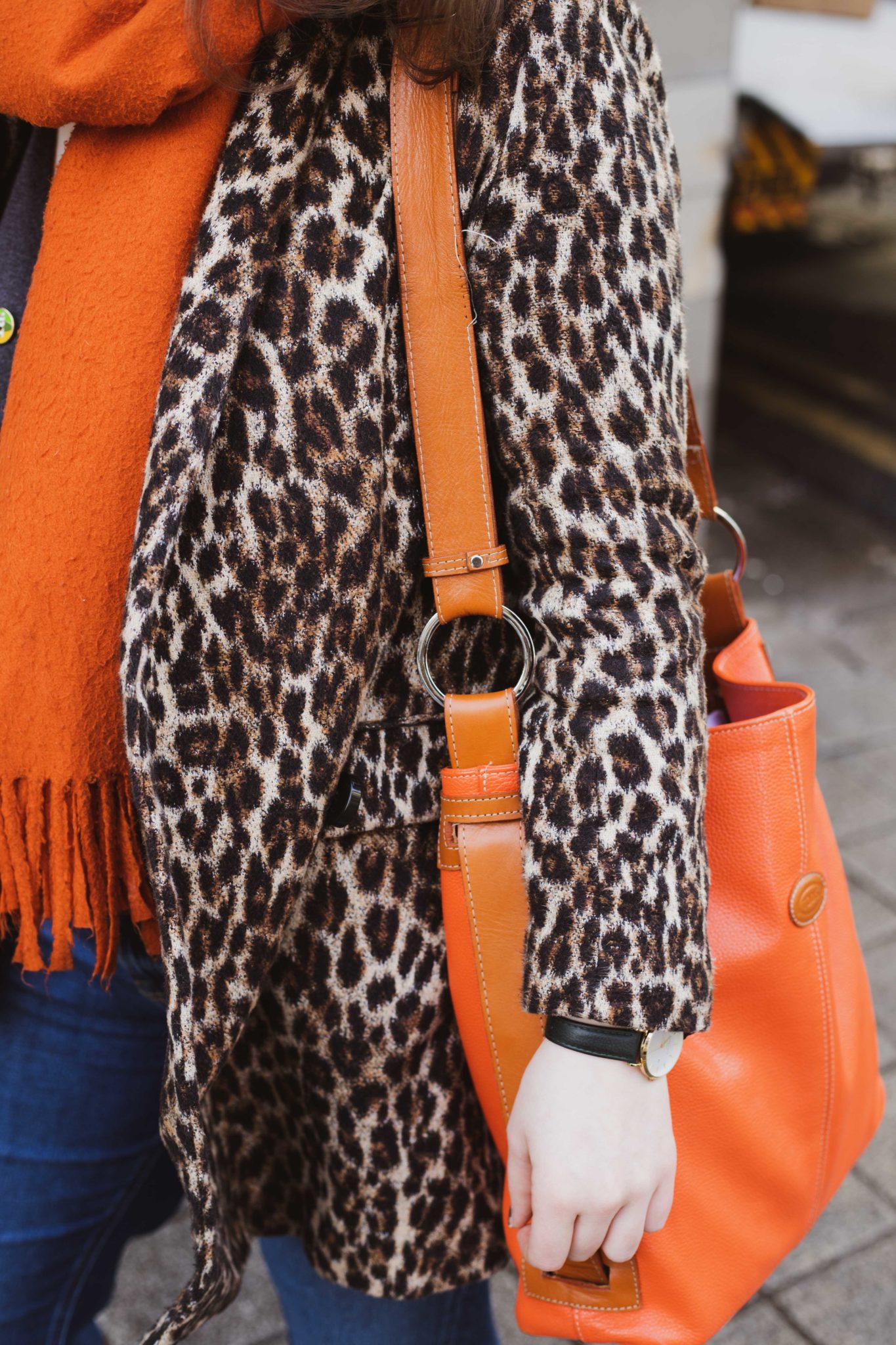 Rosa Leurng
20, Biomedical Science Student at DIT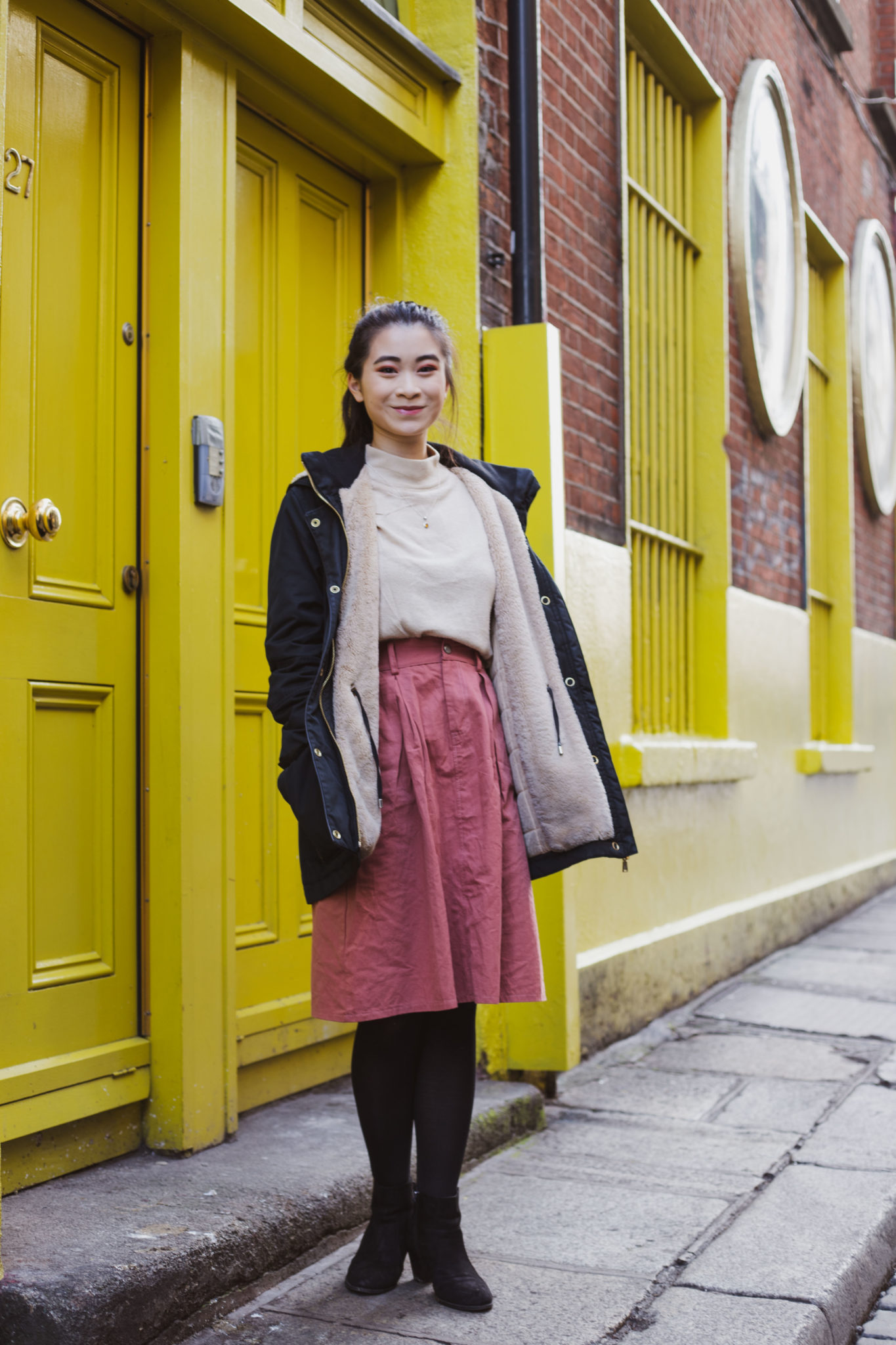 Outfit:
Coat - Zara
Jumper - from her mum's '90s wardrobe
Skirt - bought in a vintage shop in Hong Kong
Boots - Penneys
Tights - Penneys
Top trend: I like big chunky shoes like the FILA Disrupter II Sneaker. I really like them. I can't afford them but I think they're really nice.
Advertisement
Style icon: No, not really. This outfit is kind of dressed-up for me. I don't usually dress this nicely, I'm going out for dinner later. I have a more boy-ish type of style on a more casual day so BTS would be more me. I love really big hoodies, big loose guy tops and I took them into high-waisted jeans with Converse or Vans. I get a lot of inspiration from BTS.
Wardrobe staple: Just because I'm really lazy probably my college hoodies or turtlenecks. My mum moved here from Hong Kong in the '90s and didn't realise how cold the Irish winters were so she had to buy a load of jumpers like this and they don't fit her anymore so she passed them all down to me. Or, high-waisted jeans. I can't do without a high-waist. I have a long torso and short legs so high-waisted jeans help to put the proportions in order and pinch in the waist.
Go-to shops: Pull & Bear, H&M, Penneys – 1, 2, 3. In that order.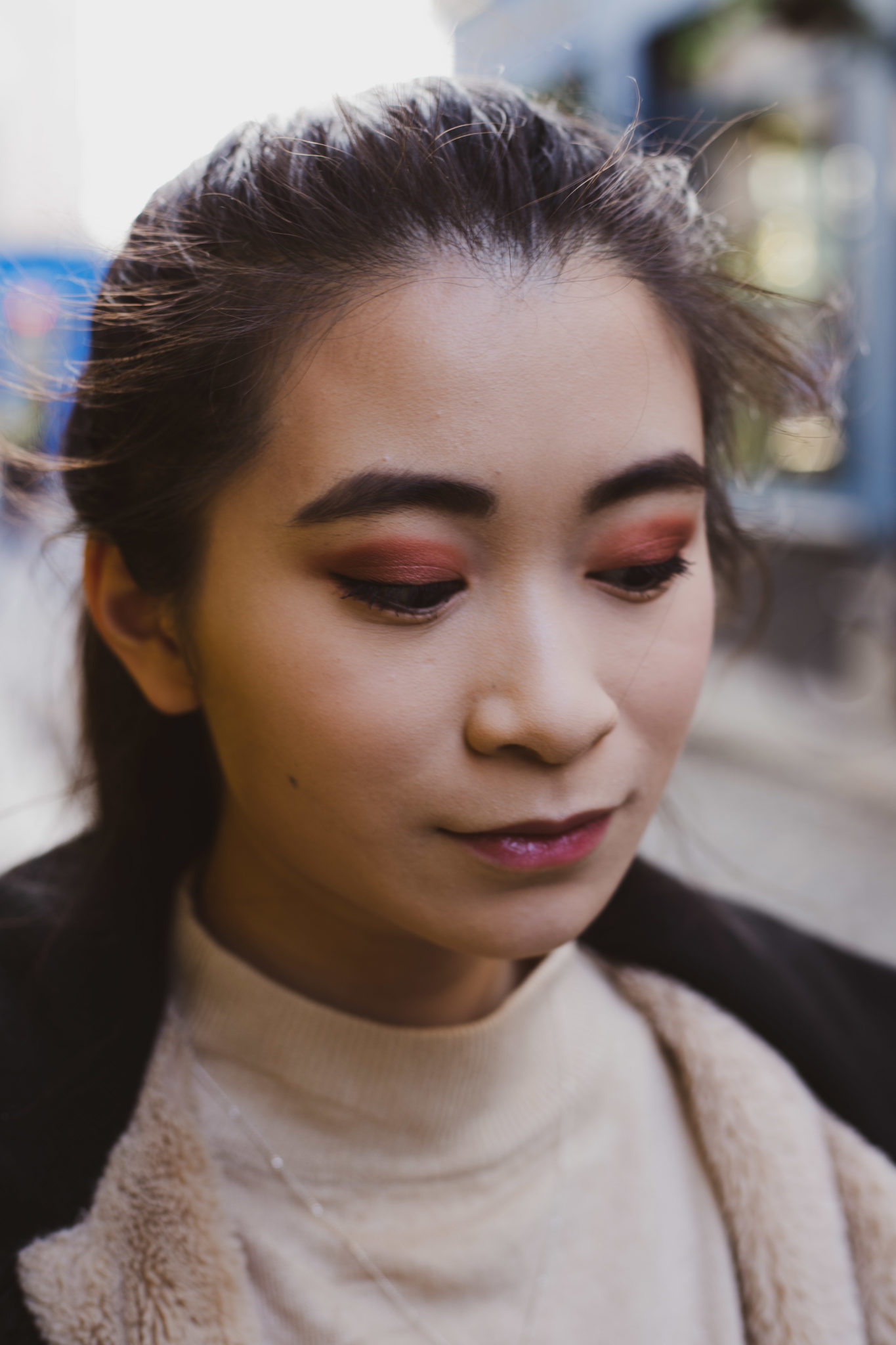 Étáin Sweeney
20, Law & Politics Student at TCD
Advertisement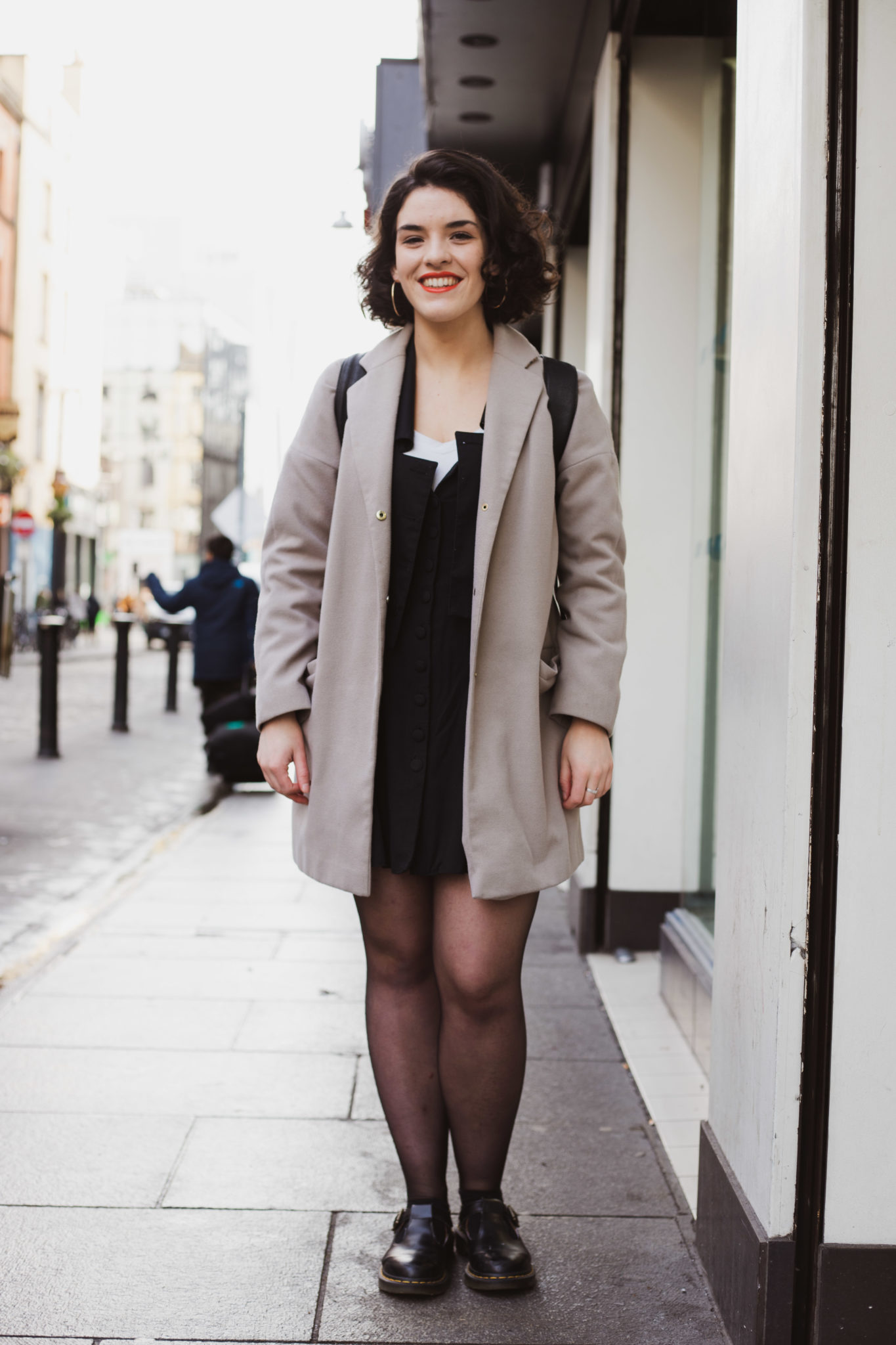 Outfit:
Jacket - Penneys
Dress - from her mum's wardrobe
Top - Dublin Vintage Factory
Waistcoat - St. Vincent de Paul charity shop
Boots - Doc Martens
Tights - Tesco
Earrings - H&M
Bag - Unrivalled Supply
Top trend: I like the '70s trend a lot. It's a good era.
Style icon: Stevie Nicks and Joni Mitchell.
Wardrobe staple: This dress. You can put it with anything and it looks great.
Go-to shops: Charity shops 100%. I really like all of the ones on George's St. and Oxfam.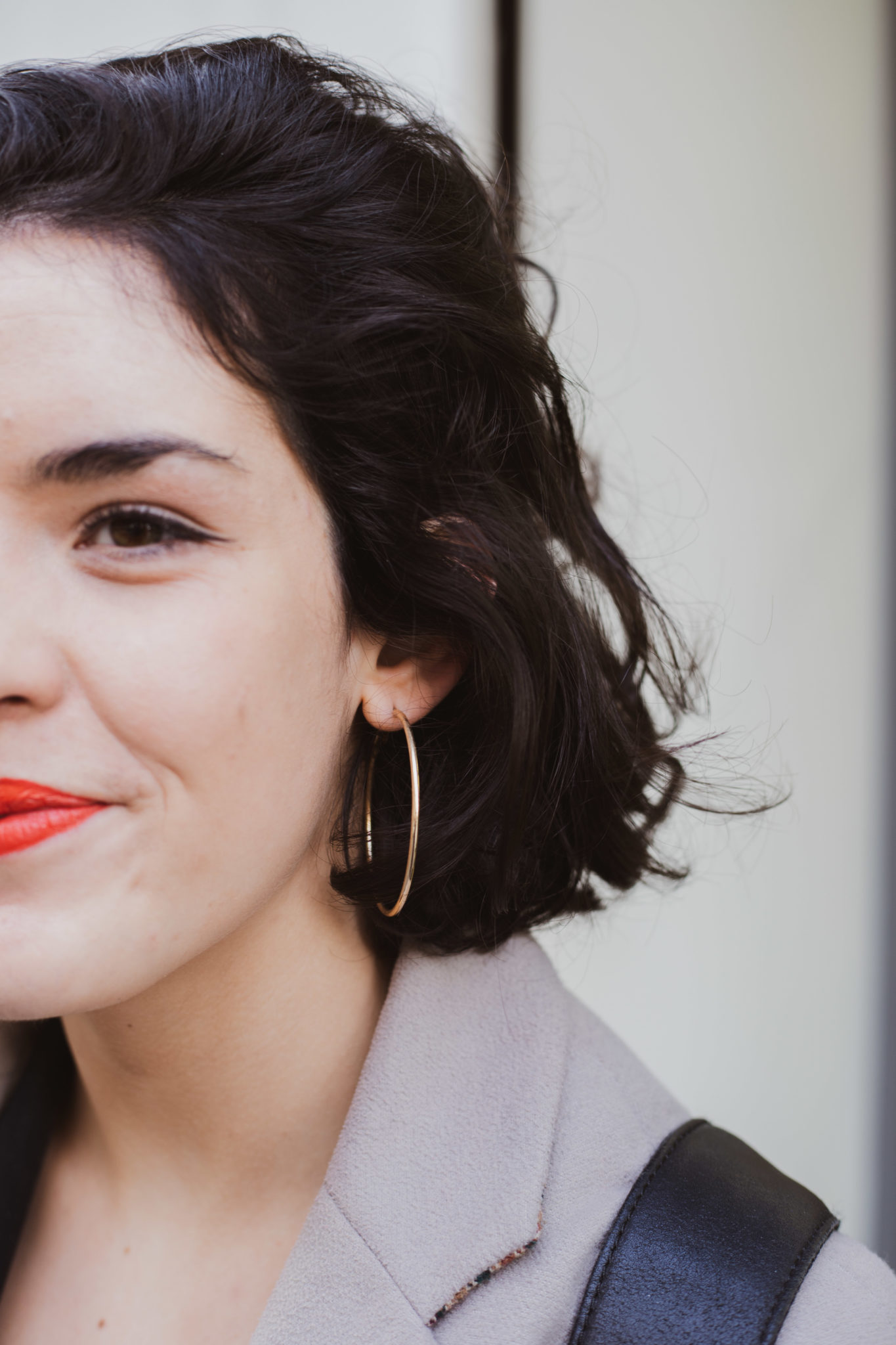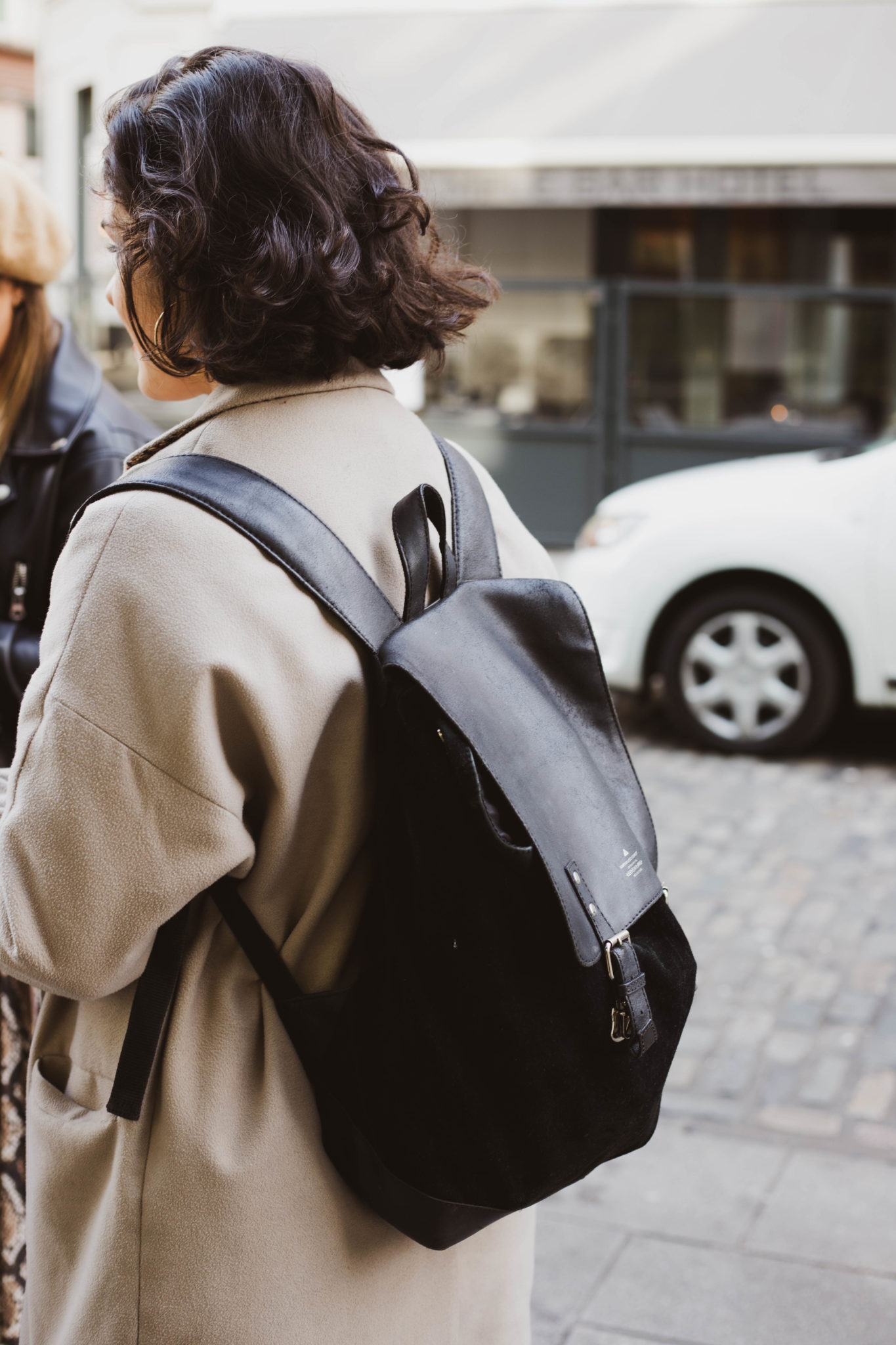 Advertisement
Jacob Long
29, Barman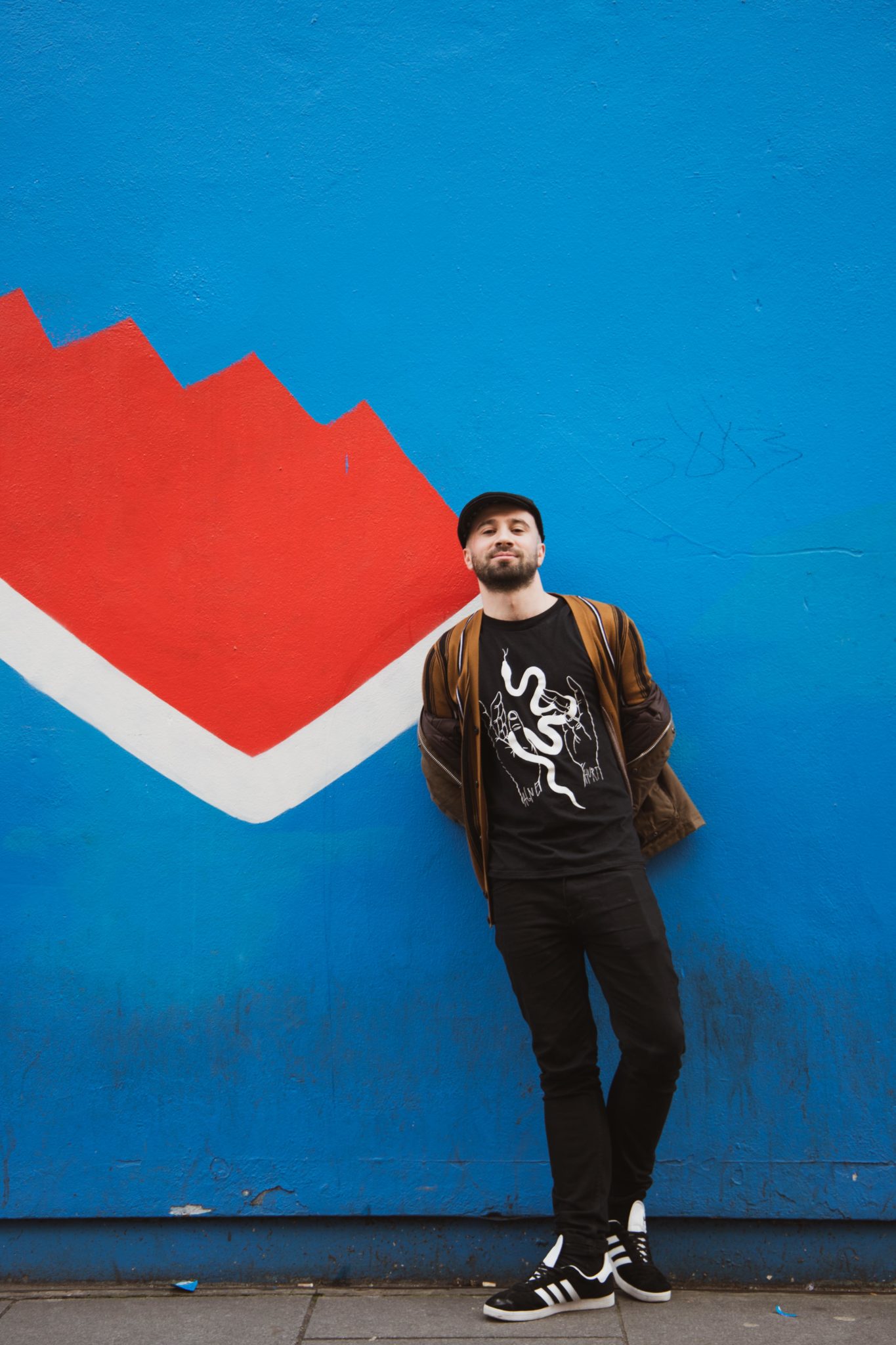 Outfit:
Jacket - Brown Thomas
Top - Ink Factory
Jeans - Urban Outfitters
Runners Adidas
Hat - Ted Baker
Top trend: At the moment, no. There's a shop called Rebirth of Cool here in Dublin and it's quite unique from any of the other shops.
Style icon: I don't know about 'icon', but I suppose Paul Weller. I like the mod style a lot and preppy looks.
Wardrobe staple: This jacket I suppose because it's so fucking freezing.
Advertisement
Go-to shops: Rebirth of Cool and I'm shopping ASOS a lot. Other than that I just pick something up if it catches my I eye, I wouldn't really plan it.
RELATED
Lifestyle & Sports
16 Feb 23
Lifestyle & Sports
30 Dec 22