Till star Tosin Cole: "Barbara Broccoli recommended me for the role, and I had to do the subject matter justice"
Tosin Cole discusses his role in one of the year's most powerful films, Till, an account of the racist murder of 14-year-old Emmett Till in '50s America.
There's likely to be plenty of awards talk, including Oscar buzz, over the next few months for Chinonye Chukwu's Till. It's a powerful and timely biographical drama about the racist murder of 14-year-old Emmett Till (played by Jalyn Hall) in the American deep south of the '50s, and the pursuit of justice by his mother, Mamie Till-Bradley.
The latter is portrayed in a bravura performance by Danielle Deadwyler, while the supporting cast also includes the likes of Whoopi Goldberg (who also produces) and The Wire star Frankie Faison, respectively playing Mamie's parents Alma and John Carthan. Also delivering an impressive turn is 30-year-old English actor Tosin Cole, who takes on the role of civil rights activist Medgar Evers.
 

View this post on Instagram

 
Talking to Cole at the BFI London Film Festival, Hot Press starts by asking how he became involved in Till.
Advertisement
"I'd worked with the producer Barbara Broccoli before," explains the amiable actor. "She recommended me, and at the time, I was filming a show called 61st Street. I did a tape and got the part in Till, although I was kind of scared to do it. I was like, 'I've only got a couple of days' turnaround, and I wish I had more time to prepare.' You want to do the subject matter justice."
Was he already familiar with the story?
"I didn't know the exact details," replies Cole. "I knew that something happened to Emmet Till back in the day, but I didn't know the full story. Getting approached to do the job, I had an opportunity to educate myself. I was able to give it the respect it deserves. Obviously I did a lot of research into Medgar Evers. I read up on his involvement in the NAACP, and I was like, 'Man, I really need to take this role seriously. I don't take much else seriously, but I have to go the extra mile in making sure that I do this right, and perform to my full potential.'
"As I say, it was a short turnaround; I was filming a comedy maybe a week-and-a-half before. Then that finishes and you switch over, and I was kind of going, 'God, this is all happening so quick!' I needed time to learn the accent and mannerisms, and I couldn't use YouTube, because I was doing another accent, and I didn't want a different one to trickle through. But I asked the team for an extra three days, which I got, and that was a real help."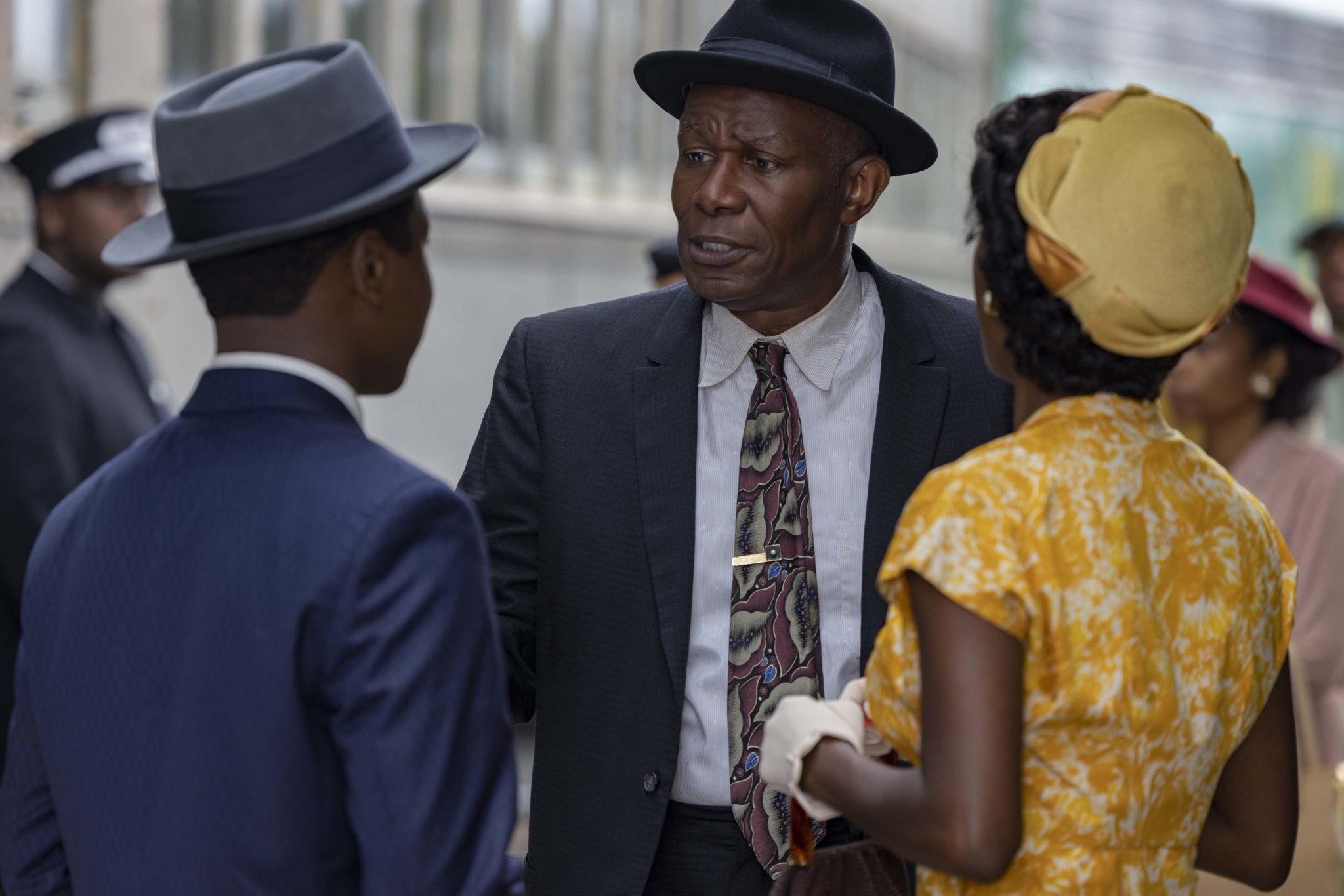 Did Tosin find it difficult to replicate Evers' accent and mannerisms?
"YouTube clips, man!" he says. "Once I did turn to that footage, it was a real help. Obviously, the people are from Mississippi, so you have that base of doing the southern accent. The dialect coach would teach you how to do certain lines, because Medgar was very articulate, so you're really trying to capture how he would say it. Yeah, it was YouTube clips and a good dialect coach – and hoping for the best!"
Advertisement
Did director Chinonye Chukwu have a specific vision for the character?
"It was definitely, 'Make it your own', for sure," says Tosin, "but obviously it was a real person, so I had to handle it with real care and respect. I was fortunate enough to talk to his wife, Myrlie, and she went into detail about how he was and what his mannerisms were. The way she described him, you really got a clear sense of his energy. Her memory of him was still very present, and she remained very much in love with him. She gave us a lot of information that you couldn't really get off a page or a video clip. That was beautiful and really helped me shape the character."
A war veteran and civil rights activist whose murder would also prompt many artistic responses, Evers could easily be the subject of his own film.
"For sure," nods Cole. "I keep on meeting family members who say, 'They need to do a movie about Medgar – and you need to star in it!' I was like, 'Well, I don't think it works that way, but I definitely hope so!' He was a pioneer, very pivotal to the civil rights movement. He has so much history and prominence, it would be silly not to make a movie about him, and educate people about what he's done. Medgar means a lot to modern American history, so it would be a shame to let that go."
Was it an emotionally intense shoot?
Advertisement
"You know what?" says Cole. "I came into the last third of the shoot, and as I say, I'd just come from a comedy. So on the first day, I was kind of nervous. I'm seeing actors like Frankie Faison, who I grew up watching on The Wire. I wanted to do a good job and earn everyone's respect, but I'm quite a joker onset. So I'm trying to remain focused and serious, and then I made a joke, and I was like, 'Sorry! If you want to be quiet, I'll try my best to shut up.' People were like, 'No, cool.' Even though it was very serious subject matter, we still had fun in between takes. You had to read the room – when it was time to knuckle down and get serious, we had to get to it."
The centre-piece of Till is a devastating court-room scene, where Mamie delivers her testimony about Emmet's death. One of the scenes of the year, it is simply a tour-de-force performance from Deadwyler that deserves every bit of praise it's sure to get.
"She was so locked in," reflects Tosin. "Danielle has this brilliant intensity onset, she was laser-focused. Everyone followed suit – with the subject matter we were dealing with, we just had to work efficiently. But we also had to work collectively as a team, to make sure we weren't overdoing it and tiring ourselves out. Danielle was so on it. I keep on saying it, but her testimony scene on the stand was one take. I remember her saying, 'We're going to do this four-page scene in one go.' And I was like, 'No, this is going to take forever – I'm going to switch off, man!'
"As the take was going on, I was thinking, 'Wow, this is really good.' Her performance was special, you don't get that often. It was a real one-take wonder where everyone applauded. It was like, 'Yeah, I think we've got it.' Danielle is such a super talent, and I'm proud to have worked with her and been a part of something special.
Advertisement
Was the director surprised at completing the scene so quickly?
"With scenes like that, you never want to overdo it, because they're so long," says Tosin. "A lot of Danielle's scenes are very emotionally heavy, so you want to handle it with care. You want to get what you need for the scene, and make sure the actors are happy with their performance. I think Chinonye was planning to shoot that scene a whole different way, know what I mean? But that take was so powerful, we actually got home early. I don't know, it was special and hard to describe.
"Actors talk about those moments that stand the test of time, and for me, that scene is in that category. You can imagine yourself years down the line going, 'Do you remember when Danielle did that testimony scene in one take?' I don't think you can plan those scenes, they're a blessing that just kind of happen."
• Till is in cinemas on January 6.
Read more interviews in our brand new annual issue, out now.
Advertisement
RELATED