Stellan Skarsgård on Dune: "It's mystical and a little magical, and it's quite sensual at the same time"
Cult actor Stellan Skarsgård on his role in Dune, the adaptation of the bestselling sci-fi novel, which is one of the year's most hotly anticipated movies.
It's finally here. The unfilmable film. After a Covid-delayed release, Denis Villeneuve's adaptation of Dune is set to hit cinemas, and early reviews are saying this is easily the best adaptation of Frank Herbert's dense sci-fi tome anyone could have ever hoped for. Dune is the story of House Atredies, one of several dynastic factions existing within an empire known as the Imperium.
Oscar Isaac stars as Leto Atredies, tasked by the Emperor to take over desert planet Arrakis, which holds the most valuable substance in the galaxy, Spice. But Arrakis has long been ruled by the brutal House Harkonnen, who won't give up power without a fight. The film stars Timothée Chalamet, Rebecca Ferguson, Zendaya and Jason Momoa, and is one of the year's most highly anticipated releases.
House Harkonnen is led by Baron Vladimir Harkonnen, an inconceivably wealthy evil mastermind, who is the bitter rival of Oscar Isaac's Leto Atredies, with Harkonnen played by veteran actor Stellan Skarsgård.
Many sci-fi and fantasy fans have a special relationship with Dune, holding the book up as a complicated masterpiece, whilst bearing very conflicting feelings about David Lynch's 1984 film adaptation. But Skarsgård came fresh to the book, and noticed some thematic similarities with some seminal writers.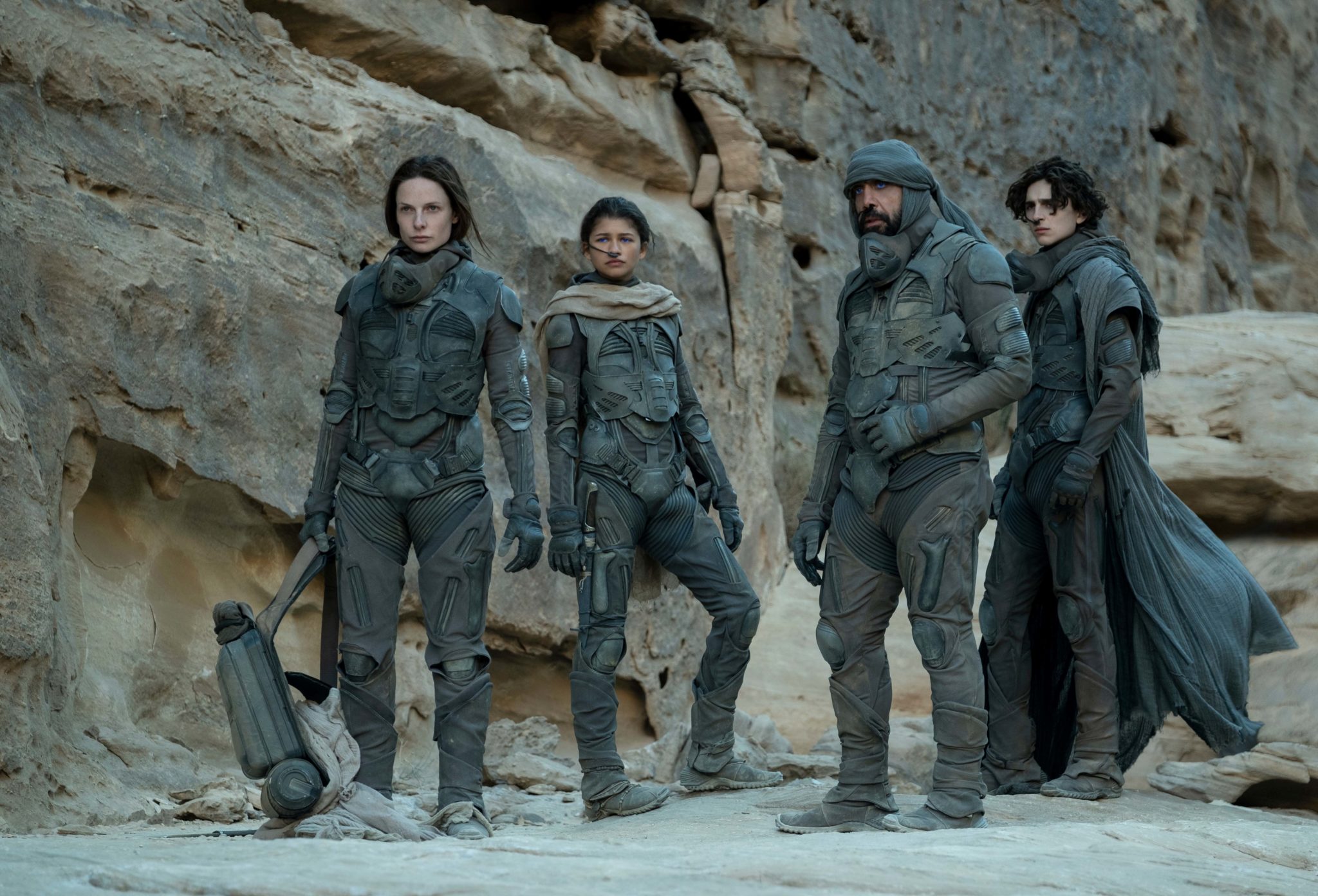 Advertisement
"I still haven't seen the previous movie," he says. "Not because I was afraid it would influence me in a bad way, but because I never seemed to have the time. I read the book, though. It was fun and obviously written by someone who took a lot of drugs in the '70s!
"I was also familiar with Machiavelli's writing. The power mechanics of the novel are fantastic and very entertaining – it's a sci-fi world that I hadn't seen before. It's mystical and a little magical, and it's quite sensual at the same time. Of course in Denis Villeneuve's version, it's ten times as sensual."
Skarsgård has appeared in over 70 films, including Breaking The Waves, Good Will Hunting, Ronin, Angels And Demons, The Girl With The Dragon Tattoo and Dogville. At this stage of his career, he is drawn to working with particular writers and directors. He says that he had long admired Denis Villeneuve's work on features like Arrival, Prisoners, Blade Runner 2049 and Sicario, and was initially attracted to the project because of the esteemed director, before becoming invested in his character.
In the book, Harkonnen is described as a huge, monstrous looking being, and Skarsgård found that playing with his physicality was a fun and interesting way to get into character.
"Compared to the book, the role is extremely reduced, by necessity," he notes. "You have to cut away a lot of the book. He becomes, like in any Hollywood movie, the kind of evil function. I was fascinated by the idea of creating in very little space, this monster that had to be visually strong enough – because there was so little dialogue – to be remembered by the audience throughout the film, and looming as a threat even when they don't see him."
With such a large character and less screentime than the book's original character arc, Skarsgård eschewed going too method, and instead focused on his physical presence.
"When it comes to his psychology, I know the audience doesn't give a fuck how his childhood was," he smirks, "and I don't either. I concentrated on the presence, the sort of still violence in him in every scene. The threat of a resting tiger, the slow movements, dense physicality. That's what I worked with, they were my tools… there's no psychology whatsoever.
Advertisement
"So I worked with the make-up and prosthetics people, who are among the best in the world. And what they are really good at is making a monster, but it's a human monster. You can see it's not a fake head, it's my head. You can see my face, you can see it's Stellan Skarsgård, that fucking monster! And you can read my reactions in the face, in the eyes, everything. Which is fantastic, because you make a human monster. So I think I concentrated very much on what he'd look like."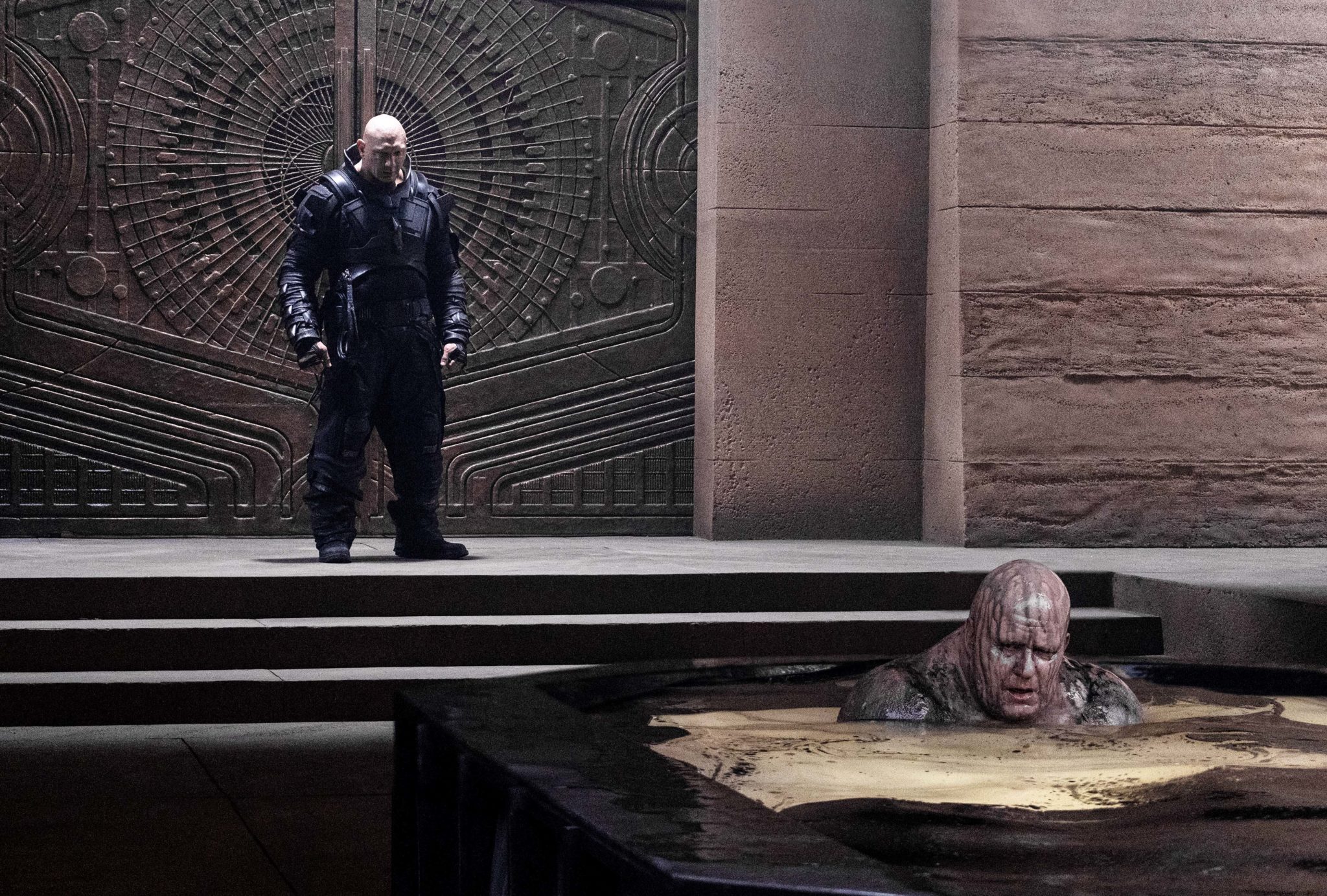 The character of Baron Vladimir Harkonnen has historically been quite controversial, as the book describes the character as being gay and a paedophile; character traits that many have found offensive due to the historical homophobic tactic of associating homosexuality with predatory behaviour. Skarsgård reveals that this aspect of the character has been updated and edited.
"Yes, they took away a lot of things and they also took away the paedophile side of him that is in the book. I don't miss it! And you don't need it. Also, that way of looking at it feels, today, dated, I would say."
Onscreen, Dune, like all of Villeneuve's films, is such a visual spectacle and the book itself is known for these fantastic elements. But when actors get a stripped-back script, it can be difficult for them to visualise the end product. Skarsgård, though, was happy to trust his director completely.
"It was impossible to visualise what it would look like," he says. "But I knew it was Denis. I knew that he would throw out half the lines that are left to create beautiful long pauses, which suck you into the screen –  that makes you reflect on the characters and the situation, and experience things. So I knew that, with him, I don't care. If this film had been done with a normal blockbuster Hollywood studio, I'd have been worried."
Of course, Skarsgård has plenty of experience on big-budget, CGI-laden affairs, having appeared in the Marvel Comics Universe films alongside Chris Hemsworth's Thor, and Pirates Of The Caribbean franchise. He's now set to star in Andor, Disney+'s Star Wars spin-off show, which acts as a prequel to Rogue One. And he has appeared in small independent efforts and Dogme 95 films, which eschew special effects of any kind. The actor thinks that Dune exists somewhere between these big blockbusters and arthouse.
Advertisement
"Dune is not a commercial juggernaut, yet at least," he reflects. "It's a high-class artistic film, like everything that Denis Villeneuve does. It's not a factory reproduction. He works very cinematically, he creates a great atmosphere, he takes away a lot of dialogue, you get sucked into his films in a way that is not common amongst those big budget films. But each kind of film has it's own charm. I've had fun on all them, whether it's Pirates Of The Caribbean or Marvel, Mamma Mia, whatever. I have fun on the set, that is paramount for me. And then I go do something for nada, I do some hard-work little independent film in between to get more of a psychological challenge."
It helped that Villeneuve was committed to using as little green-screen and CGI as possible, instead using real sets and practical effects to make his fantastical world.
"The first time I walked on a physical Dune set I just said 'Wow'," Skarsgård enthuses. "My sets were all huge, reflecting my stark power and everything, but it also has a very simple elegance. Everything is beautiful in a very brutal way. Patrice Vermette is such a brilliant designer. I thought 'This is not regular fare, this is Denis Villeneuve fare.'
"It does change the parameters. Sometimes it's not important, because there's no subtlety in what you're doing anyway. I've been standing on a three-metre stand in the desert outside of Albuquerque pretending I'm on a rooftop in New York. And that's fine for that kind of scene, but when you do something with so much substance that is beyond the first or second visual effect, then it helps.
"As an actor you feel the room, because the room is like another actor. You feel the room, you know the space, you know the distance to the next person. If you talk to a tennis ball on a stick in front of a green screen, your acting must fail somehow."
Of course, like all films hitting our cinemas this year, Dune is being released at a very unique time, after having its release postponed due to Covid. For a film that is essentially about a dystopian future and the choice of whether to war or come together, does Skarsgård feel that it is going to have a new resonance with audiences now?
"Every film is extremely vulnerable to the time it's released," he replies. "A film can be a success one day, and had it been released two months later, it would have been a failure. It's so volatile. I hope that it will be seen by a lot of people, because it's a beautiful film, but I'd never think it would change the world or anything.
Advertisement
"The pandemic has already changed our ways of thinking fundamentally, hopefully at least. We've been exposed to the horrible inequalities of the world, even within our own western societies. You could say if we don't take this seriously, and grow up and do something about this now, then we really are the bad guys."
Dune is in cinemas from today, October 21.