REVIEW - Barbie: Margot Robbie oozes charm, radiance and pathos every moment of the film
And Ryan Gosling is pretty damn amazing too as Ken!
"Now I am become Death, destroyer of worlds." That's the realisation and fear facing Oppenheimer when he realises he has unleashed a power on the world that might just blow it apart… Sorry, did I write 'Oppenheimer'? I meant 'Barbie.' Barbie is Death, destroyer of worlds.
See, Barbie (Margot Robbie is going through an existential crisis. Her bubblegum pink Barbie dream house world with beach days every day, girls' night every night, disco parties with choreographed dancing and a magically replenishing wardrobe that Cher Horowitz could only dream of isn't bringing her as much picture perfect plastic joy as it once was.
Her waterless shower starts running cold. She can no longer effortlessly float down from the top level of her dream house to the pool, as if guided by an omnipotent hand. And her dainty, permanently tip-toe, high-heel fitting feet have suddenly fallen flat.
She goes to visit Weird Barbie (Kate McKinnon, a Barbie with an undercut, marker tattoos and disjoined limbs – all the results of being played with too hard). Weird Barbie reveals that whoever is playing with Barbie in The Real World must be imbuing her with some of their all-too-human angst and anxiety. Barbie must travel to the Real World, find the little girl and fix the emotional rip between the two realms before Barbie becomes hideously, cellulite-ly human.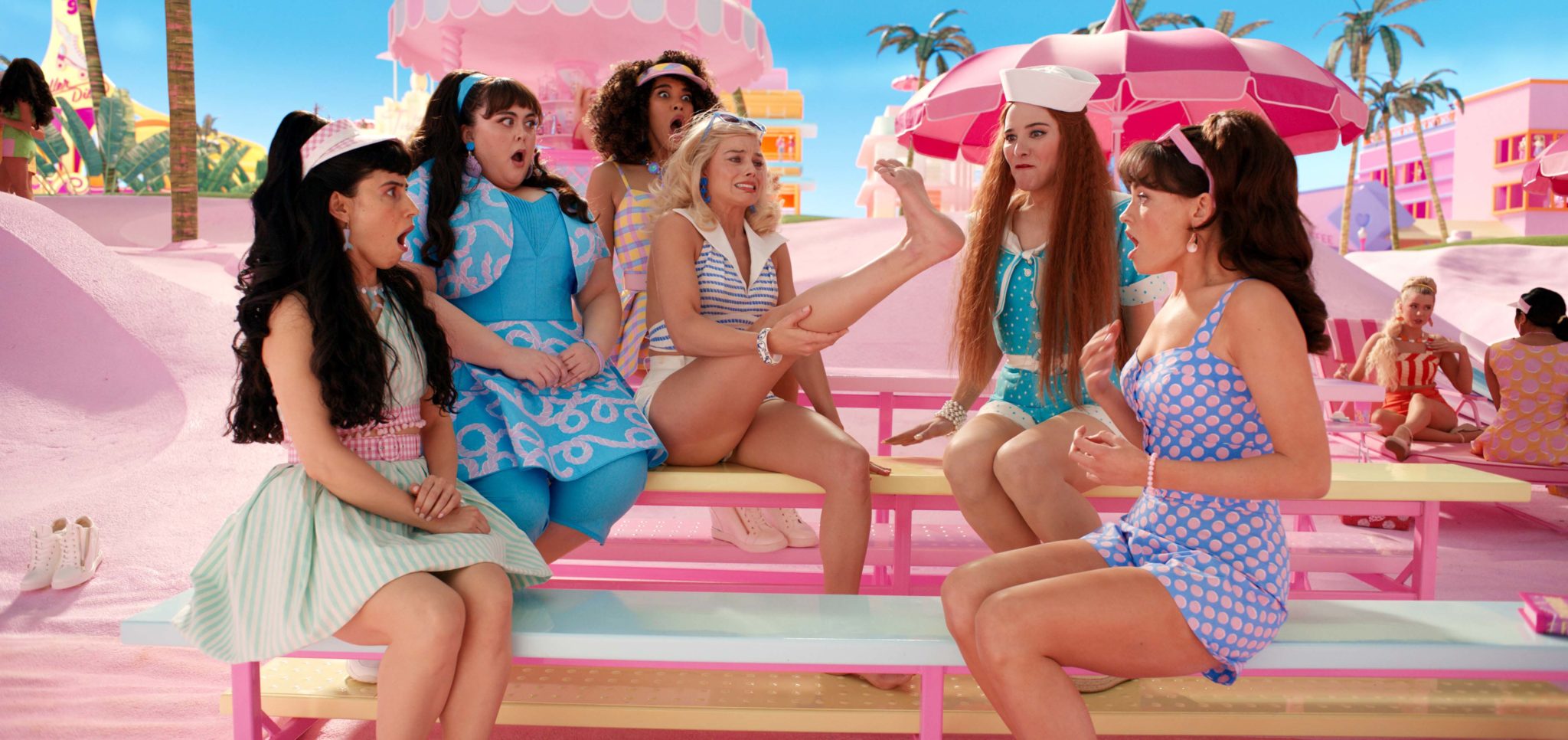 Advertisement
So goes the plot of Greta Gerwig's Barbie, co-written with Noah Baumbach – but the plot isn't what we're here for, and good thing too, because this combination of Splash meets Toy Story meets The Lego Movie (complete with Will Ferrell in a similar role as Mattel CEO) isn't original, nor is it particularly well executed.
The social messages - addressing how Barbie's endless professions and tokenistic diversity promised a pink Girl Power utopia that never arrived – are quipped and winked at relentlessly while never getting sharper than Feminism 101 lecture recovered from 2003, presumably to not anger the giant $7.53 billion corporation at the heart of this project.
The same goes for the cognitive dissonance many women have around Barbie, holding her up as once a nostalgic symbol of childhood, an aspirational image, and a source of deep insecurity and body image problems.
And there's no escaping the marketing at play, as we're re-introduced to Barbie characters like Midge, her pregnant friend; Growing Up Skipper, whose breasts could grow on command; and Alan, Ken's drippy, definitely-not-gay friend, played to perfection by Michael Cera.
And yet. Despite the well-worn plot; the eye-rollingly inane Girl Power Feminism; the surprising heteronormativity undermining the camp; the 'ask one question and the whole ideology falls apart' surface level Social Messaging, I laughed until I cried.
Margot Robbie oozes charm and radiance and pathos every moment of the film. The production design and costuming are sublimely fun, with pink plastic exclamation points marking every visual gaga and every nostalgic callback. The soundtrack, featuring Lizzo, Billie Eilish, Dua Lipa and Ryan Gosling contains bops galore, some deliciously silly dance sequences, and an extended Matchbox 20 reference that is hilariously, painfully real.
Advertisement
But it's Ryan Gosling's Ken that steals the show. With almost disturbing chiselled abs, peroxide hair and the illustrious job of 'Beach', he's nevertheless relegated to playing Barbie's sidekick in a world where Barbies are the main event, and Kens are merely afterthought accessories.
When Ken accompanies Barbie to the Real World, however, he experiences something new: patriarchy. Here, men can rule, while women are the pretty, powerless objects. And doesn't that look more fun? As Ken decides to co-opt an incel/beer commercial/80s-musical masculinity mash-up, Gosling is completely game to play the blond idiot, and perfectly execute a glorious Drake-meets-Grease dance routine that's destined to be projected on the walls of gay bars for evermore.
The script is endlessly funny and quotable (dibs on a new podcast called 'Two Wise Trees'), and while the emotional and feminist resonances are undermined by a script more preoccupied with being clever and Content-filled rather than saying anything in particular, it will spark off a thousand more articulate and interesting think pieces and undergrad theses, and that's okay.
Barbie is a pink, frothy, funny, fizzy delight, and maybe accepting her, flaws and all, is what we're supposed to do.
Four/Five
In cinemas now.
Advertisement
Directed by Great Gerwig. Written by Greta Gerwig & Noah Baumbach. 114 mins