Paul Laverty on The Old Oak: "Our fear is, if there is no progressive political representation for young people – and for older people and the ill – the right will move into that vacuum"
Ken Loach's long-time collaborator, screenwriter Paul Laverty, discusses the celebrated director's final film, The Old Oak, which examines the social tensions in a historic mining town.
In May this year, Ken Loach's film The Old Oak was screened at Cannes, competing for the Palmes D'Or, making it the fifteenth of Loach's films to do so. Though the film didn't win, Loach isn't short on awards. He first won in 2006 when his historical Irish drama, The Wind That Shakes The Barley, earned him acclaim, and won again in 2016 with I, Daniel Blake, a sharp examination of Britain's healthcare crisis.
Following this, he presented Sorry, We Missed You, which provided an equally scathing critique of the punitive gig economy. Reflecting the style of the last two films, The Old Oak is also situated in the North East of England, and shows 86-year-old Loach again condemning the relentless cynicism exhibited by the British government, a mission he undertakes alongside his steadfast screenwriter, Paul Laverty.
Positioned at the heart of the narrative is The Old Oak, the sole surviving pub in a historic mining town. This establishment serves as a focal point, encapsulating the myriad challenges faced by the city. The pub's proprietor, TJ (Dave Turner), forges an unexpected bond with Yara (Ebla Mari), a youthful refugee who has fled the conflict in Syria.
Along with I, Daniel Blake and Sorry, We Missed You, The Old Oak rounds out an unofficial trilogy, with a slightly more hopeful perspective this time – an intentional final note, perhaps, as Loach has announced this will be his last film. This decision brings to a close a decades-long filmmaking partnership with screenwriter Paul Laverty, after they first worked together on 1996's Carla's Song, which dealt with the impact of the Contra War in Nicaragua.
Advertisement
Laverty was working there as a human rights lawyer and witnessed the systemic cruelty and atrocities, and knew their story should be told. So began a now celebrated filmmaking partnership with Loach, which Laverty speaks of with huge appreciation.
"Me and Ken came together because we saw the world in a similar way," he explains in his warm Scottish accent. "We wanted to try and understand why the United States was determined to crush this tiny little country. So right at the beginning, there was a political connection, but then we became very close friends and one film has bled into another. Sitting here, I can't quite believe that one film led to so many!
"But in essence, Ken's a director, I'm a writer, and we meet in the middle as filmmakers. Ken doesn't tell me what to write, and I don't demand that he tries to direct something in a particular way. We really feel joined at the hip, we share a kind of similar sensibility about the world. The same things make us laugh and we get angry at the same sort of things.
"But it's also just the fun and nourishment of working with a very intelligent human, it's very intoxicating. And to think he's now 87 and that was our last feature film, it's kind of a shock to the system. But he's my friend first, and I'm delighted that he'll get the chance to take things a little bit easier physically, because intellectually, he's still so sharp and bright. But it's been an amazing journey."
The Northern England setting of The Old Oak, I, Daniel Blake, and Sorry, We Missed You connects all three films. Laverty says it wasn't his intention to write three linked films, but the region served as such a microcosm of larger societal issues, he and Loach felt the need to return.
"After finishing I, Daniel Blake, we felt there was unfinished business and it felt very urgent," says Laverty. "We felt there were so many stories to still tell, like the gig economy and how did people end up working eighteen working hours? So we made Sorry, We Missed You. And then we still felt there was unfinished business. What's fascinating is going again from the miners' strike of 1984, and these vibrant communities with culture and solidarity and community, to the disintegration that we find.
"That's a series of political decisions and defeats. How did we get from that eight-hour day to Ricky in Sorry, We Missed You working fourteen hour days, without time to go for a piss, and people grey in the face, and technology used to crush them? The same with Daniel Blake, which looked at a bureaucratic nightmare and systematic cruelty. We didn't set out to make a trilogy, but I hope these three films will be come to be seen as one, because they all feed into each other. I hope that many of the themes will become untimely, but that they'll be understood by seeing them together."
Advertisement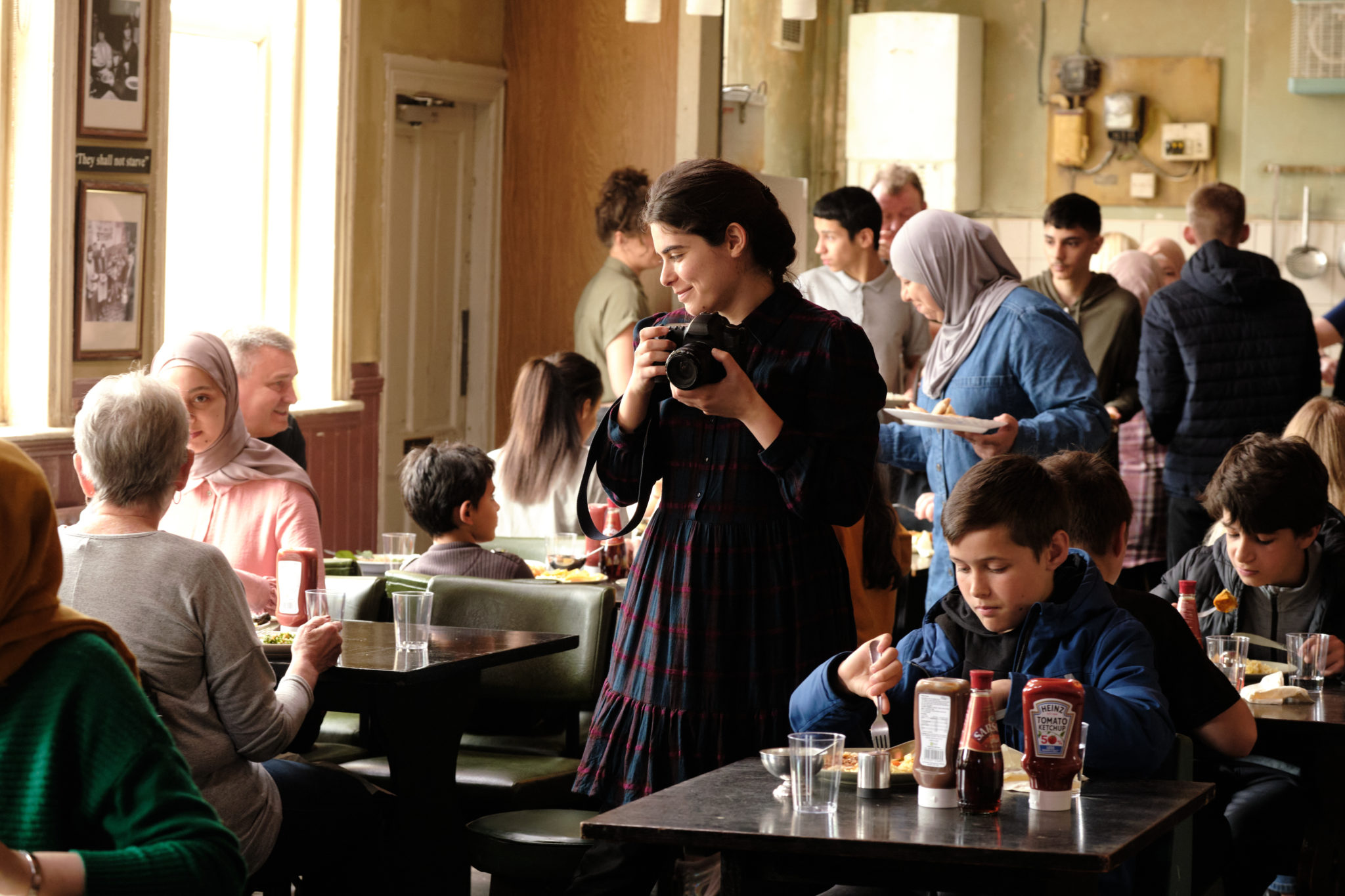 The Old Oak examines a combination of forces that dictate the lives of both the locals of a small old mining town. and the Syrian refugees who are brought there. These include leaders engaging in wars; corporate landlords buying houses and devaluing them; governments deciding who deserves financial support and protection; and politicians deciding what happens to both refugees and under-resourced communities.
Laverty doesn't mince words when speaking about the failures he sees across the UK's political parties.
"The Labour Party just now is a disgrace," he says. "They're useless, they're so right wing and one inch to the left of the Tory party. Our fear is, if there is no progressive political representation for young people – and for older people and the ill – the right will move into that vacuum. There's a real existential fear now for a functioning democracy. Are we going to end up with these populists? This myth of the Strong Man who is going to solve all our problems? Because we won't solve our problems that way, we'll just continue with the scapegoating."
Loach and Laverty's work addresses important societal issues in brilliantly complex, human ways. They are often described as 'political films' and 'kitchen-sink realism' – terms that may seem complimentary, but could also be viewed as patronising to the working class communities often represented. They could also be described as wilfully naïve about the political views of every filmmaker, including those behind major blockbusters.
Even looking at the biggest films of the past year, tell me that Top Gun: Maverick's funding from the US Department of Defence didn't influence it; or that Oppenheimer's silence around the impact of the nuclear tests on the Indigenous communities isn't political; or that Barbie's crowd-pleasing, capitalistic white feminism wasn't influenced by the billion dollar corporation whose permission was needed for the film to exist.
"You put your finger right on it," says Laverty. "All these labels put us in a cul de sac. They're stories, they're all stories. You look at American stories that celebrate the Wild West and the Cowboys and Indians – people say, 'Oh that's just entertainment', but they're massively political. You go all the way back to Birth Of A Nation, which led to the rebirth of the Klu Klux Klan, and where Black people were presented as idiots.
Advertisement
"These are totally political films. So many films are disguised as entertainment, but there's a deep politics underneath – I don't mean party politics, but the idea of only solving problems by use of violence, or the great strong man who comes to the rescue. These are all patriarchal, political decisions by filmmakers."
In The Old Oak, Yara, a young Syrian woman hoping that her father is still alive somewhere, cherishes a camera he once gave her, saying that she finds hope and strength through the lens. As someone who is so politically aware and has seen such cruelties inflicted on people, does Laverty still feel hopeful, or is it a struggle?
"It takes strength to hope," he asserts. "And there's a tension there, because so many people are broken by the cruelty. If you've lived in one of these war zones – and I've seen Nicaragua – and seen your community terrorised, that's to kill hope. It's intentional. But what always amazes me is that people still do hope, and that's what nourishes me."
• The Old Oak is in cinemas from today, September 29.
RELATED