Niamh Algar: On acting, working with Ridley Scott, and her favourite spots in the capital
Rising Dublin-based screen star Niamh Algar talks about working with legendary directors like Shane Meadows and Ridley Scott, and guides us through her favourite spots around the capital city.
Anyone who watched Shane Meadows' raw, bleak and masterful miniseries The Virtues would be forgiven for still needing time to recover. The critically acclaimed drama saw Meadows elevate his already masterful work to a new level of emotion and technique.
Based on his own experience of childhood sexual abuse, the drama sees Joseph (Stephen Graham) struggling with addiction, loss and fragmented memories of abuse that begin to resurface. When he reaches out to connect with his long-lost sister Anna, he becomes entangled with her troubled sister-in-law Dinah, played superbly by Niamh Algar. She too is haunted by a troubled past.
While The Virtues may be downbeat, the former Gaiety School of Acting graduate is anything but. Naturally bright, friendly and positive, Niamh is also delighted by the rave reviews that the show has been receiving. "I knew when we were shooting it that we were making something very special, but I never could have predicted this reaction," says the 26-year-old. "Shane is on Cloud Nine: the whole team is really. We were such a tight-knit crew, and rehearsal and prep and shooting was a long process, so we became like a little family. And seeing the response has been incredible."
Algar is currently in Cape Town, South Africa. She reveals that she had to watch the final two episodes of The Virtues on her own. "Everyone was tweeting, 'Oh, so delighted to be surrounded by our family and friends', and I'm sitting on my own," she says. But, overall, working with Shane Meadows was an extremely collaborative experience, and her viewing of the first two episodes was happily very different.
"Shane had us edit it together, so very early on the whole cast and crew had an afternoon of drinking beer and watching a rough cut of the first two episodes," she recalls. "It was amazing, both because we were all watching it, everyone who had made it, and also because we were seeing our characters and the stories unfold in a very chronological way before we shot the other episodes. That's the brilliance of Shane: he creates crews and sets where we're all so invested in the stories."
Advertisement
The characters in The Virtues are complex, flawed and vulnerable, with unique histories and perspectives on the world. As Dinah, an explosive fireball of energy and dysfunction who hides her vulnerability behind tattoos and a mean right-hook, Algar is superb, capturing the resilience and deep pain of a woman tormented by inner demons. As the drama dealt with sexual abuse, addiction, loss, motherhood, betrayal, violence and atonement, every performance demanded authenticity and bravery.
"Shane was very open and honest about where the story comes from. When you're handed the responsibility of telling someone else's story, you want to be as good and honest and giving as possible," she reflects.
"Shane's own honesty brings out the best in his actors. He gives us the freedom to play and also the opportunity to go towards emotions that many people shy away from, because they're tough and difficult. But the characters and writing are so authentic you want to. Stephen Graham, who I worked with a lot, is such a giving, generous actor. He never shies away from the ugly truth of a character, is never afraid to put his emotions on the line. So when you're up against that, you just want to match it with the same energy."
Dinah's arc is a rollercoaster of emotion, as we learn about a painful decision that has haunted her for years, as well as a deep betrayal committed against her. As she struggles to find peace, her story goes in several shocking directions.
"We shot an option of a different ending," she reveals. "We ended up using the original one, but he wanted us to have an option. Shane was very good about asking us how we were feeling about the story, where it was headed. We all workshopped with Shane, and for me, it was so important to understand what my character goes through.
"For the scene where Dinah goes to meet the social worker and gives her a letter to be passed on to her child, I was trying to get into character so I started actually writing a letter. Shane came over and asked me what I was doing, so we both read it and got a bit teary. But I think we all felt like that, like we were living and breathing our characters. That scene with the social worker, we shot it twice, and you really are watching my heart break onscreen, I felt every emotion."
While that sounds like it could make for a harrowing shoot, Algar says that every single actor was similarly inspired by Meadows. The atmosphere became that of a team, all supporting each other through the necessary work of mining tough emotions.
Advertisement
"We'd hang out and go for a Guinness or go boxing in the gym to try expel some of that energy. And once it's over, it feels very cathartic to have gone to those vulnerable places but to have come through it, and to learn from it, instead of bringing it home."
The Virtues is just one of Algar's thought-provoking projects this year. She also starred in Pure, the daring, hilarious and tender portrayal of Marnie (played by Charly Clive), a young woman with obsessive compulsive disorder who suffers from constant, distressing, intrusive thoughts about sex. Based on the memoirs of Rose Cartwright, the comedy-drama subverted typical portrayals of OCD, and received widespread acclaim for its intelligent writing. Algar plays Amber, a young women who strikes up a bond with Marnie after an ill-fated one-night-stand.
"I shot that right after The Virtues, and it was such a great project," says Algar. "I thought the story and writing were so brilliant and original and eye-opening. My perception of OCD was always that someone had to wash their hands fifty times or turn the lights off and on fifty times or else the world will blow up. So looking at the idea of obsessive thoughts was fascinating. But the characters were so relatable. It was funny and warm. These characters are trying their best not to feel stupid or ugly or lonely. They're just trying to get by, and trying not to be screw-ups – like all of us! But the production was so lovely. The idea of these people meeting each other and becoming friends and just trying to figure out life, felt very real to our relationships on set. I made friends for life."
Algar's ability to bond with her fellow cast-mates and crew is a testament to her own warmth and level-headedness – traits that are bound to serve her well over the next year, which could well be life-changing. She has finished shooting the movie drama Calm With Horses, also starring Barry Keoghan, and is currently filming Raised By Wolves, the TV directing debut of sci-fi action icon, Ridley Scott, who directed Alien, Blade Runner, Gladiator and The Martian. The project is set to make a global star of Algar, opening up doors to Hollywood films – but for the moment, the young actress is just revelling in the utter joy and excitement of filming such a big project with such an esteemed director.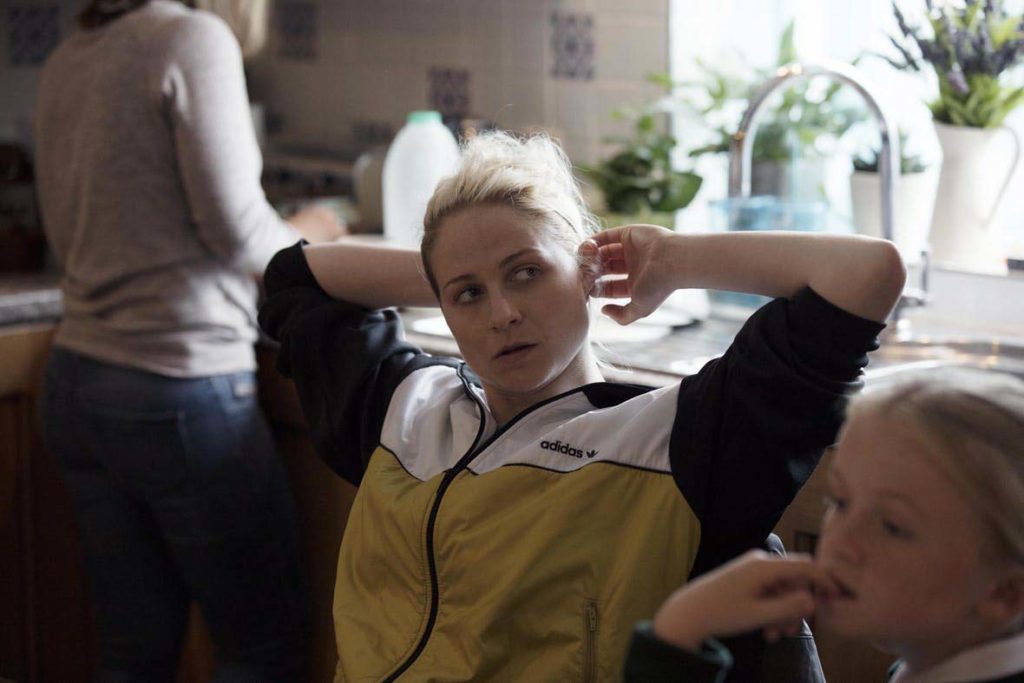 "It's monumental, the scale of it is huge. And Ridley is – well, it's Ridley Scott!" she exclaims. "I grew up watching his movies, as did everyone. He's established himself, and the worlds that he has created, as formative experiences for so many people, and it's because he really builds these worlds so brilliantly. We're shooting out in the desert, and the mountains, and all around Cape Town. I can't get over the scale of it. So I think watching it is going to be mind-blowing."
Algar has had a lifelong love affair with boxing, which helps her deal with any worries or anxiety – but it has also come in very handy for her action-heavy role in Raised By Wolves.
Advertisement
"I play Sue, and she's a combat medic caught up in a war between two main armies, all trying to survive because Earth has expelled all of its natural resources and oxygen levels are critical – it's terrifying but it's also what Ridley thinks people are anticipating about where our future might be heading! She and her husband, played by Travis Fimmel, head off, and then there's a parallel story about two androids who are raising human children. I'm so excited about it."
Algar's parents visited her in Cape Town, and true to Irish parents, soon made themselves at home on the set.
"They disappeared for about an hour, just wandering around – and then turned up literally as I was filming a scene. I was trying to say my lines, pretending I'm on a different planet – and I could just see my mum and dad standing right in front of me, and then walking back behind the director's monitor! I'm the only Irish one, so I couldn't even pretend that the two randomers from Mullingar wandering around the set and asking everyone how they're doing weren't related to me! But they had never come to see me film before, so it was really special."