Concert documentary Home Again: Carole King Live In Central Park arrives this month
The feature-length documentary will be available to stream via The Coda Collection from the 9th February.
Carole King fans can look forward to a brand new feature-length concert documentary, Home Again: Carole King Live In Central Park, presenting the musical icon's May 26, 1973 homecoming concert on The Great Lawn of New York City before an audience of around 100,000.
The documentary, which is set to premiere on 19th January at New York's IFC Film Center via Abramorama, will be released wide on February 9 (which also happens to be King's birthday) streaming exclusively on The Coda Collection.
Directed by George Scott and produced by Lou Adler and John McDermott, the film includes the complete multi-camera 16mm footage filmed and recorded by Adler in 1973, which has never been seen before.
The behind the scenes story of King's transformation from an in-demand, staff songwriter beloved for such timeless Goffin and King classics as "(You Make Me Feel Like) A Natural Woman", to an iconic artist in her own right, will be unveiled in the documentary. Her May 1973 performance came at the peak of her success with Tapestry, basking in the critical and commercial success of her career.
"We wanted to do something special with Carole in New York," Lou Adler remembers.
Advertisement
"I got in touch with Ron Delsener and told him that Carole was coming home to New York. This was where her upbringing took place and where she got her start in music. New York was everything to her and she wanted to give something back to both her hometown and devoted fans," continues.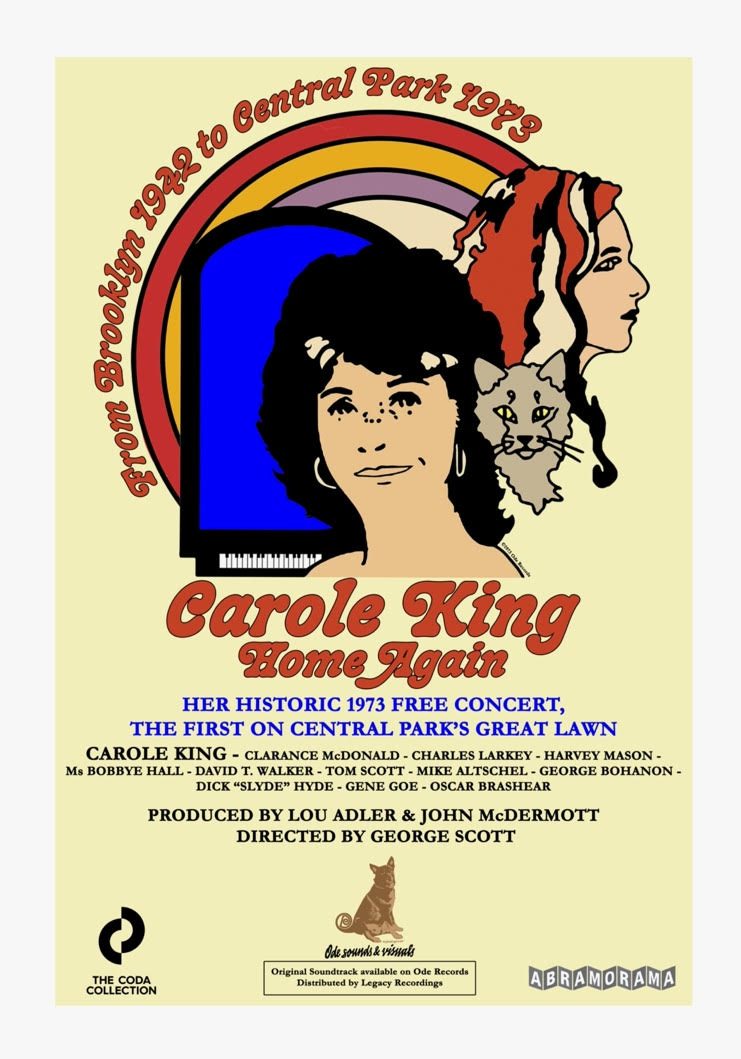 The now iconic Central Park performance came about when Adler and New York concert promoter Delsener agreed to stage the first ever free concert on the park's Great Lawn, which went on to change the landscape of live performances in New York, and usher in an era of Central Park performances that have continued to this day.
Despite the singer's enormous success at the time, King moved between signature classics and songs from her then soon-to-be released 1973 album Fantasy, dividing her performance into two parts- alone, on piano and then alongside a powerhouse 11-piece band.
"I brought Hank Cicalo, my recording engineer from Los Angeles, out to Central Park to record the show as it might possibly become an album," Adler explains. "Then I had the notion, having done the film Monterey Pop [Adler had produced the ground-breaking 1967 music festival together with John Phillips] I felt that something this big should be filmed. I had no idea what I was going to do with the film at that time, but I felt that something this important should be documented."
Having taken the recordings back to Los Angeles, the film remained unreleased for 50 years. "Recently, John McDermott came to me and said, 'This should be a film. This performance should be seen,'" details Adler of the footage's release. "His interest excited me and I said, 'Yeah, let's do it.'. I contacted Carole and we got started."
As a New York native, King reminisces on her Central Park performance, "Tapestry had become such a huge hit, and I really wanted to give something back to the people."
Advertisement
"When I first walked on stage, in Central Park, in front of the Great Lawn, and it's full of people…it was kind of terrifying for a minute. Then the crowd began to cheer, and it was like a wave coming toward me. There was just so much love. It was too much to take in, but I realised all I had to do was sit down and start playing. They were there to hear me. I knew how to deliver, and that's what I sat down to do," she remembers.
Abramorama is set to release the film at New York's IFC Film Centre on 19th January, accompanied by a Q&A with Lou Adler. Additional theatrical screenings in other US cities as well as international markets will also be announced.
Watch the trailer for Home Again: Carole King Live In Central Park below.
RELATED