From the era-defining music and Maisie Williams' turn as punk provocateur Jordan to Johnny Rotten's trademark sneer and the fabulous Vivienne Westwood-designed clothes, there are lots of reasons to be glued to your telly when Danny Boyle's Sex Pistols bioseries lands. All six episodes are now streaming on Disney+.
THE MUSIC
Along with the Pistols' own timeless howls of punk protest – the likes of 'Anarchy In The UK', 'Pretty Vacant', 'God Save The Queen' and 'Holidays In The Sun' really are as potent now as they were in the '70s – the opening episode manages to pack in choice tracks from David Bowie, Alice Cooper and the Bay City Rollers whose 'Shang-A-Lang' soundtracks the most raucous warehouse party you've ever seen.
THE CLOTHES
Malcolm McLaren's Fagin-esque plans for the Pistols were hatched in SEX, the King's Road boutique he co-owned with then-girlfriend Vivienne Westwood whose bondage suits, Destroy t-shirts and other iconic punk designs have subsequently gone on display in the Victoria & Albert Museum.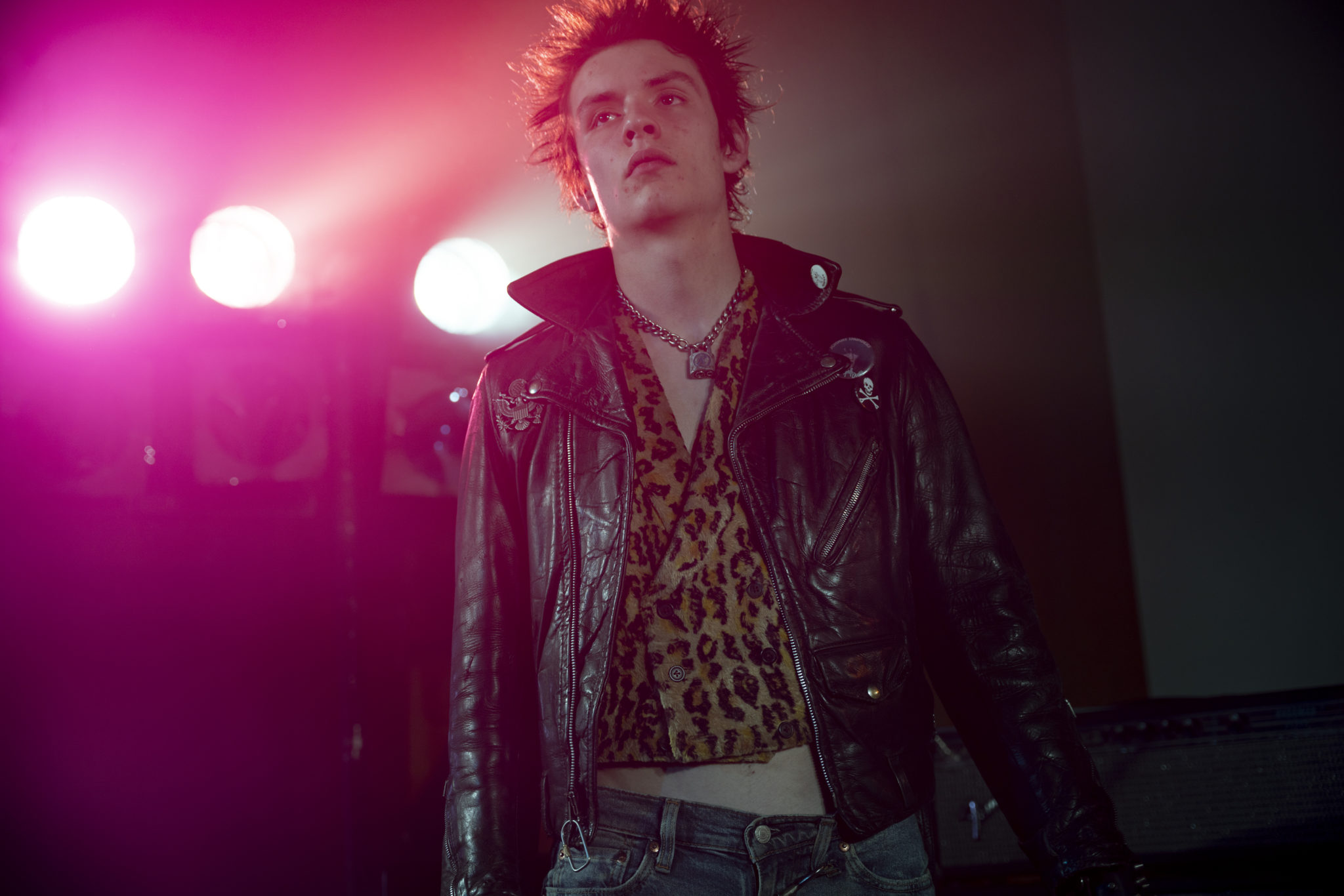 STEVE JONES GOING ON HIS NICKING SPREE
In an opening episode flashback scene, the Pistols bass-player gets collared for robbing equipment for his first band, Swankers, from venues where Roxy Music and his beloved David Bowie were playing. Jones amassed fourteen criminal convictions and a year in a remand centre before embarking on the Great Rock 'n' Roll Swindle.
MAISIE WILLIAMS GETTING ON HER BIKE
In one of her first major post-Game Of Thrones TV roles, the Bristol actor plays beehived punk provocateur Jordan who's first spied cycling through her hometown of Seaford wearing a see-through plastic mac with only knickers, suspenders and stockings underneath. Heads didn't so much turn as spin through 360 degrees!
THE RAZOR-SHARP ONE-LINERS
Whether it's Chrissie Hynde declaring punk to be "a vulva-powered revolution" or Malcolm McLaren summing his charges up as "a band of sexy young assassins whose instruments could just as easily be pickaxes or shovels or machine guns", the Pistol writers deserve multiple claps on the back for the series' brilliant dialogue.
JAMES FROM DERRY GIRLS GOING PUNK
Keep your eyes peeled for Our Lady Immaculate College's only male pupil, Dylan Llewellyn, as Wally Nightingale, the Swankers guitarist who's fired to accommodate Johnny Rotten's arrival and their morphing into the Sex Pistols.
JOHNNY ROTTEN'S SNEER
Any worries director Danny Boyle had about casting the Sex Pistols frontman went out of the window when he saw Crawl and 1917 man Anson Boon's ability to theatrically curl his upper lip just like Johnny did!
IRIS LAW AS SOO CATWOMAN
Jude Law and Sadie Frost's 20-year-old daughter succumbed to the clippers to play another of the '76 Punk Uprising's style icons who launched a thousand razored haircuts.
THE HANGERS-ON THAT BECAME STARS IN THEIR OWN RIGHT
Pistol's cast of miscreants also includes Siouxsie Sioux, Billy Idol and the aforementioned Chrissie Hynde who respectively went on to form Siouxsie & The Banshees, Generation X and The Pretenders. In her forward to Steve Jones' Lonely Boy memoir, which the Pistol series is based on, Chrissie memorably describes him as "an Elvis fan. A dandy. The girls had a soft spot for this shy West London thug and he took full advantage."
ITS REAPPRAISAL OF NANCY SPUNGEN
Danny Boyle talks of taking "a fresh look" at the self-professed American groupie who introduced Sid Vicious to heroin.
"I was shocked when I found out that she was only twenty when she died," he tells Hot Press. "Nancy has been vilified by virtually all of us – including myself – in that lazy way you do. Emma Appleton (from The Witcher) plays her in a way that without misrepresenting her brings Nancy's humanity out a bit."
Pistol is now streaming on Disney+.
Revisit our July 2019 interview with Danny Boyle here.