Comes An Age In A Man's Life When He Don't Wanna Spend Time Figuring What Comes Next.
As will soon become painfully apparent, I am not a film critic. I probably don't even qualify as a movie buff. Apart from a reminiscence about Cyrano de Bergerac that has very little to do with the actual movie, I've only ever written one film review. I was invited to a screening of Bohemian Rhapsody, the Queen biopic, and - whether out of generosity or mercenary calculation - the movie/record company decided to treat the attendees to some very fancy gin for the hour or two before hand. By the time the movie began, I was in very pleasant form; I laughed, I cried, I sang, and I felt, in the bar afterwards, that I'd had a capital evening altogether. A day or two later I received an editorial phone call strongly suggesting that I write a review of the movie. The results were 'a bit impressionistic' to say the least. I'm still waiting on a commission to do another one.
Earlier this year, David O'Mahony, the Head Of Programming at the Irish Film Institute, asked me to chair a Q&A with Don Letts before a screening of the documentary about his life, Rebel Dread. I was delighted to do it and I felt it went well. David must have thought it was at least passable because he then asked me to choose a movie for their Bigger Picture programme and put together some class of an introduction. The series has been running since 2015 and usually involves proper movie people like Donald Clarke or Paul Duane or Tara Brady or Paul Whittington. I suspect David was approaching the southern end of the barrel when my name came up.
Not long after, I happened to be in a car with my friend Dave, a well-known movie head. As per usual, he delighted in informing me that he had been there first, presenting John Ford's The Man Who Shot Liberty Valance about three years ago. He then asked what I had in mind.
"The Cannonball Run!" I declared, delighted with my impeccable good taste.
"No," He flatly grunted.
Advertisement
"Okay. The Thirteenth Warrior!"
He hadn't even heard of that. I explained that it starred Antonio Banderas, and was based on a Michael Crichton novel with a bit of Beowulf thrown in.
He said nothing.
"It's vikings versus cannibals! Come on!"
Still nothing.
"Right. I've got it. Taffin! Pierce Brosnan takes out the trash down in Wicklow!"
"What is wrong with you?"
Advertisement
In light of this 'expert' advice, I reconsidered. I rang David a day or two later and suggested Sam Peckinpah's Pat Garrett And Billy The Kid. "Great choice!" he declared, blissfully unaware of the other classics that had been briefly mooted. A few days later the IFI secured a print of the 2005 Special Edition.
The Ballad Of Sam Peckinpah
Thanks to the recommendation of Don Siegel, who he had worked with as an assistant, Peckinpah got his break writing for the popular Western TV shows of the 1950s. This eventually led onto directing, including episodes of Klondike and The Rifleman - which originally came from a screenplay he wrote - where he met several future collaborators like James Coburn, Warren Oates, and L.Q Jones. It was the star of The Westerner, Brian Keith, who recommended Peckinpah for his first feature film, The Deadly Companions. Released in 1961, it's no lost classic, despite the presence of Irish movie queen Maureen O' Hara, who would later describe the director as "one of the strangest and most objectionable people I ever worked with." Peckinpah was already fighting his corner, and a clash with the movie's producer left him determined to take more control in the future.
Film number two is a much better bet. With Western icons Joel McCrea and Randolph Scott in their last great roles, Ride The High Country is a marvellous film, and was recognised as such, by European critics at least. Charlton Heston loved it too and hired Peckinpah for his next vehicle, Major Dundee. This didn't go well. For whatever reason - inexperience, nerves, the scale of the production - Peckinpah wasn't ready. He consoled himself with an old friend, the bottle, and abused those beneath him, firing several of the crew before Heston physically threatened him to straighten up. After schedule and budget overruns, producer Jerry Breslin took the over the editing and, despite a restored version released in 2005, it remains one of Peckinpah's lesser works.
Advertisement
Following on from that disaster, he was fired from The Cincinnati Kid after only four days, although he did somewhat re-establish his reputation with the Jason Robards-starring, TV movie Noon Wine. This success led to Warner Bros taking him on to rewrite - and then direct - a script called The Wild Bunch. Still regarded by many as his greatest work, this huge 1969 hit introduced audiences to Peckinpah's trademark slow motion sequences, his graphic - for the time at least - violence and his quick-fire editing. Crucially, it was an attempt to show the west as Peckinpah felt it really had been.'Revisionist' was what they called it.
The movies that followed all touch on themes he would return to in his masterpiece. 1970's The Ballad Of Cable Hogue sees Jason Robards' dreams dashed by the appearance of the modern world in the form of a motorcar, Straw Dogs (1971) was criticised for its violent content, and the following year's Junior Bonner features Steve McQueen as another slightly over-the-hill protagonist reluctant to give up his old ways. If The Getaway, which also came out in '72, was a deliberate shot at a hit, it was at least a good one.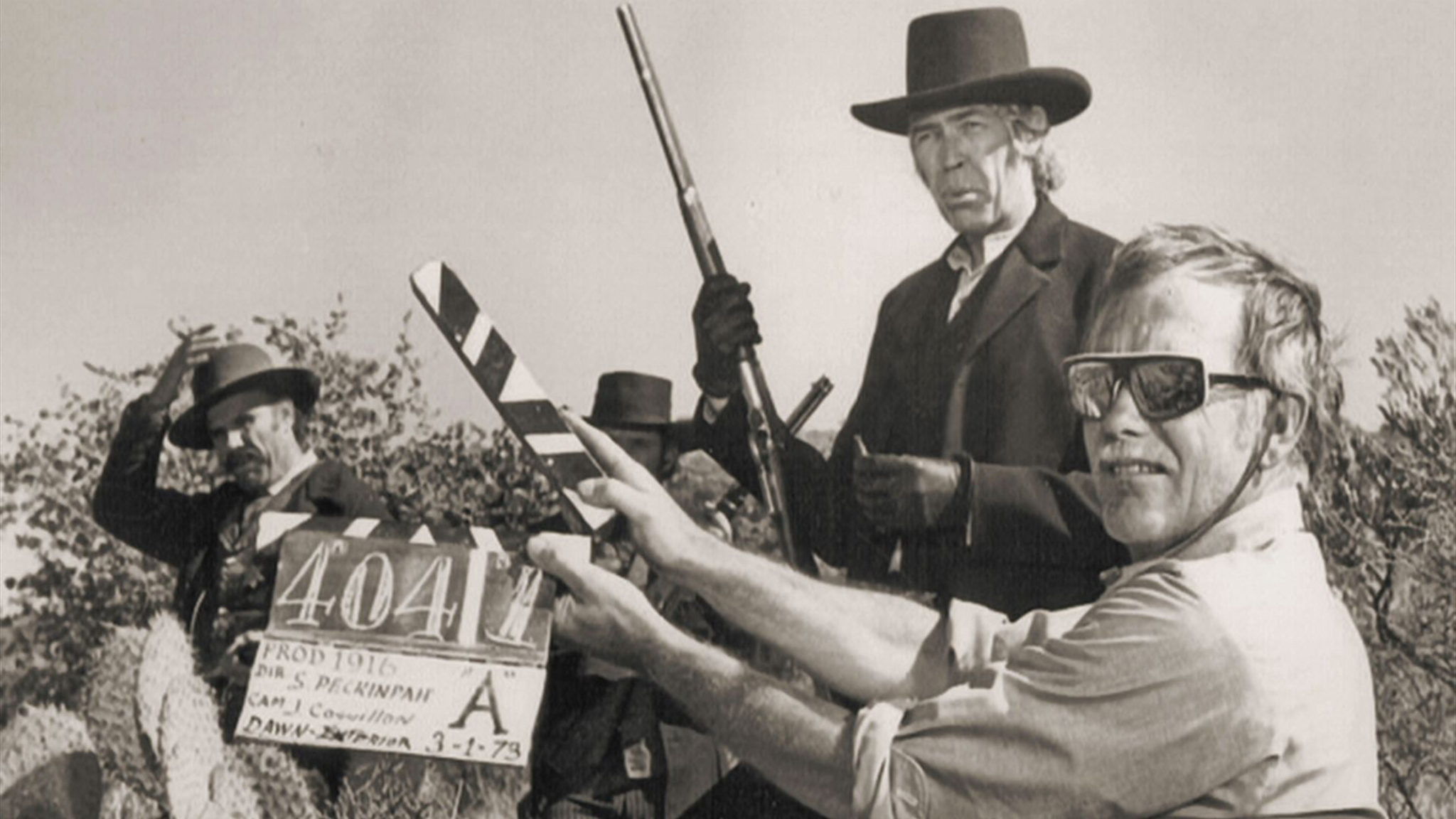 Romance In Durango
Brought in on the suggestion of old pal James Coburn, Peckinpah next set to work with Rudy Wurlitzer (Two-Lane Blacktop) on a script he had written about Pat Garrett and Billy The Kid. Insistent on working in the themes he had already included in those earlier movies, Peckinpah inevitably fell out with the writer, but that was only the start. Shooting in Durango, Mexico, everything that could go wrong - the weather, disease - probably did. Peckinpah's propensity for hard liquor early in the morning, combined with the brandishing of a fire-arm, didn't help matters much, but the main problem was then president of MGM James Aubrey's reluctance to loosen his purse strings. At this time MGM were diversifying themselves of assets as they moved into other businesses - Las Vegas's MGM Grand was then under construction - so they were intent on putting as many pictures as possible into theatres as quickly as possible, and any costly artistic tendencies were given short shrift. Hence, budgets and schedules were severely curtailed.
Kris Kristofferson, hired to play Billy even though he was about ten years too old for the part, didn't have a huge amount of movie experience at the time, although at least he had worked with Dennis Hopper on The Last Picture Show so a slightly unhinged director wasn't something new to him. As he said, with some considerable understatement years later, "Sam liked to have a lot of tension on the set." Aubrey wouldn't cough up for a camera mechanic, which meant that dailies - the day's footage - were being sent back to L.A. for viewings where shortcomings were overlooked before they were sent back to Mexico. Kristofferson recalled how Peckinpah, on seeing the out-of-focus footage, pissed on the screen in anger. Bob Dylan, brought in, in part at least, at Kristofferson's behest, looked at his friend with what-the-hell-have-you-got-me-into? despair in his eyes. On another occasion, again according to Kristofferson, Dylan and Harry Dean Stanton ruined a shot because they had decided to go jogging and unknowingly wandered into the camera's view. Peckinpah fumed that Stanton had just cost him thousands of dollars. Stanton, in his defence, claimed it was Dylan's fault and he was only running after him to stop him. Peckinpah responded by throwing a knife at Stanton's head. Kristofferson had to remove the director's fire arm at another juncture because he was "worrying" a few people. Naturally, these stories made their way back to Hollywood, exasperating an already precarious situation. Peckinpah took out a two-fingered, full page ad in the trades where he was pictured on a gurney being drip fed a bottle of whiskey by way of a response.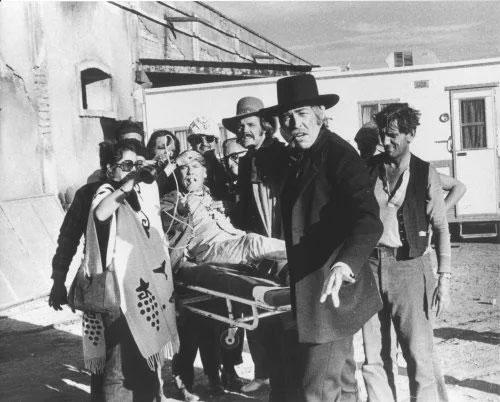 Advertisement
Cut & Recut
The film came in three weeks behind schedule and more than $1.5 million over budget, thanks in no small part to Peckinpah and his cast working extra hours to complete the reshoots and extra scenes that Aubrey had vetoed in the first place. The irate president wanted the film in theatres by Labour Day and so gave Peckinpah and his team an unrealistic deadline. Despite this, they did manage to submit a 124 minute cut but Aubrey had had enough. The studio took over and excised a further 18 minutes, including some key scenes. The movie made it in time for the holiday but it bombed. Disowned by those involved, it left the critics equally disappointed. According to long time Peckinpah production assistant Katherine Haber, the studio "didn't want a ballad or a piece of poetry, they wanted another Wild Bunch" but they didn't even get that.
Cut to - movie term there, I'm not a complete philistine - 1988 and Turner Home Entertainment, after the film had been re-examined for television, released Peckinpah's initial cut to the home video - and laserdisc - market. This became known as Preview version, the cut that all directors are required to present to studios within ten weeks of production ceasing according to Directors Guild Of America contracts. Critics were now falling over themselves to praise what would come to be considered as one of Bloody Sam's greatest works. Around this time, the BBC ran cult and little seen movies under the Moviedrome banner, hosted first by director Alex Cox and then by the soft-spoken, Ballymena-raised documentarian and critic Mark Cousins. I fondly remember this series which allowed even movie imbeciles like me an introduction to something outside what was on offer at the local flea pit. I was sure this was where I first saw the movie in question but the IMDB insists they never showed it. They did run another great film that I recall with certainty, Marlon Brando's sole directing credit, One-Eyed Jacks, which research for this article reveals allegedly originated from an uncredited Peckinpah screenplay. Anyway, it may have been a scratchy VHS tape, but I did see Pat Garrett And Billy The Kid, and it made an impression, something I'll come back to.
Crossfade - see? I'm getting the hang of this - to 2005. A team of experts led by Oscar nominated - for his work on The Wild Bunch: An Album In Montage - editor and author of Peckinpah: The Western Films - A Reconsideration Paul Seydor took it upon themselves to rectify the problems they saw in the director's cut that had surfaced seventeen years earlier. Some scenes were cut back slightly, a crucial dialogue between Pat Garrett and his wife was put back in, and - in my opinion - the ending was improved by removing the flash-forward to Garrett's death that is already there at the start of the movie, the format of which is also slightly altered. Sounds issue were also addressed and, despite the additions, it came in with a shorter running time than the 'Turner' presentation.
It's the version I prefer as it is tighter, improving upon what was already a piece of film making shot through with genius. Perhaps most importantly, it also manages to make what might be the greatest death scene in cinema even better. Slim Pickens, the character actor we saw riding a nuke to earth in Dr Strangelove and getting hit over the head with a shovel in Blazing Saddles, plays it straight here as a local sheriff Alamosa Bill, called upon by Garrett to help round up some of the gang. When we first meet him he's building a boat in what seems to be the middle of the dessert, a futile attempt to parry the thrust of faith. He takes a bullet to the gut in the furore and, with his last ounces of strength, staggers towards the river he will now never sail away on. He nods wordlessly to his tearful wife. They both know it's over. A never-better Coburn as Garrett looks on with a pained expression on his face. He caused this, another prelude to his own demise. We hear Bob Dylan's immortal 'Knocking On Heaven's Door', replacing the instrumental version in the Turner cut. It's one of, alongside De Niro's Johnny Boy walking down the bar to The Stones' 'Jumpin' Jack Flash' in Mean Streets or Vietnam burning to The Doors in Apocalypse Now, the greatest uses of a song in a film. "It's getting dark, too dark to see." Kristofferson might remember this as an allusion to those ruined shots that Sam pissed on but, for the rest of us, it's about a man facing his end. Drummer Jim Keltner, veteran of a thousand recording sessions, remembers crying all the way through the take as the film's rushes played overhead.
Advertisement
The Dylan Question
Screenwriter Wurlitzer already knew Dylan and it was he who apparently reached out to ask him to write a song for his screenplay, which Dylan read and liked. The song 'Billy' would be used in several forms throughout the movie as we now have it and was a slight throwback to the outlaw ballads written for the John Wesley Harding album. Dylan flew down to Durango to meet Peckinpah and play him what he had. It seems that the director genuinely had no idea of Dylan's stature and needed persuading from Kristofferson and Coburn to entertain him at all. They were at Sam's house having a drink-up when Peckinpah finally gave him a shot. The two men went into a separate alcove and Dylan performed. According to Coburn, "Sam came out with his handkerchief in his eye: 'Goddamn kid! Who the hell is he? Who is that kid? Sign him up!'"
Sam offered him a part to go along with the songs and it was Wurlitzer who suggested he take the role of Alias, a genuine historical figure who turned up in Pat Garrett's book, Authentic Life Of Billy The Kid. He was already in the screenplay before Dylan came on board but the role was reduced, mainly because Dylan simply didn't have the chops, and therein lies the problem; Bob Dylan can't act.
Ever since Robert Zimmerman made it to New York in the early sixties, he had been playing his greatest role, that of Bob Dylan, the character he had created, and the only one he's ever been believable as. Rock stars in movies are usually a bad idea, especially the ridiculously famous ones. While Tom Waits might be able to disappear inside a character, it's nigh-on impossible to see Dylan or Jagger Or Bowie in a movie-role and not point at the screen and go, "That's Dylan/Jagger/Bowie". Kristofferson, a far better actor than all three of them put together, didn't have that problem, and, as brilliant a singer/songwriter as he was, possibly became more famous as an actor anyway. Let's take just one scene, early in the finished movie. Dylan, the printer's assistant, stands behind Coburn and Jack Elam, outside a saloon. He decides it's the cowboy life for him and hands his clipboard and pencil to a nearby child. He then removes his apron, throws it to the ground, looks at it to ensure it's hit the target, and then walks away with all the grace of a new-born giraffe taking its first steps. If he'd been anyone else, he'd surely have received his marching papers, although he probably would have made a balls of that method of perambulation too. Later in the movie he gives Billy a thumb's-up gesture so awkward, it would have seen him replaced in a school play.
Still, his music is perfect, despite the protestations of Jerry Fielding who Peckinpah brought into to supervise the soundtrack work. Fielding thought 'Knocking On Heaven's Door' was "shit". It isn't. The influence of the work Dylan did for the movie would resurface on 1976 masterpiece - and my vote for best Dylan record - Desire, with 'Romance In Durango' being the best screenplay that Peckinpah never shot. Perhaps less deserving of celebration are a couple of throwaway lines between takes at the Burbank sessions for the soundtrack - "Rock me Mama, like a wagon wheel" - which would later be expanded upon by Ketch Secor of the band Old Crow Medicine Show. The resultant song, inspired by a Dylan bootleg, became a barroom staple, later recorded by Darius Rucker amongst many others and is probably being murdered by some Nathan Carter soundalike on a cruise ship as you read this. 'Wagon Wheel' is all Dylan's fault.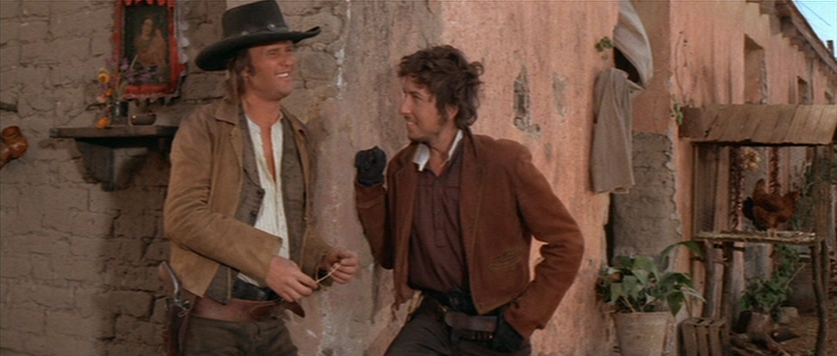 Advertisement
Time's Over For Drifters And Outlaws
As interesting and entertaining as the fights, the drinking, the location, the booze, the casting, and the music are, it's the movie itself that matters. Peckinpah delivered that ballad and that poetry which Haber referred to. "He was trying to make a great piece of art," said Kristofferson. "He had to fight to do it." Eventually, art won out. It's been called a revisionist western and it certainly is that. It's also been classed as part of Peckinpah's revisionist trilogy alongside Ride The High Country and The Wild Bunch, which also fits, but it's really about two men. Actually, scratch that, it's really only about one.
The flash-forward that happens early shows the death of Pat Garrett, years later in 1909, but the movie itself shows him dying a little bit in each frame. Back in 1881, Billy and his gang, played by the same stock Peckinpah cast he used throughout his career, are down in New Mexico, shooting the heads off buried chickens but Garrett, who used to run with Billy, no longer has time for such pastimes. He's moved on, married, matured. Coburn was only eight years older than Kristofferson but his grey hair and haggard face suggested a much greater difference. Twice he suggests that Billy would be better off heading to Mexico. The electorate want him gone, out of the country. Pat's asking now, but in five days he's making him, when he takes over as sheriff. Billy raises a toast to "Sheriff Pat Garrett, sold out to the Santa Fe Ring". Pat tells him times have changed. "Times, maybe," replies Billy. "Not me." They part ways. Billy's asked why he doesn't kill him. "He's my friend."
What follows could really be called The Tragedy of Pat Garrett. He doesn't want to go after Billy, because Billy is his friend, but it's more than that. Billy is Pat as he used to be, before time and life caught up with him, and Pat knows it. Coburn's slow burning and subtle portrait of a man who's betrayed himself should have been lauded. We see it in the scene with the wife he's no longer intimate with and we see it when he sits with Jason Robards as Governor Wallace who introduces him to Holland and Norris who speak for the political influence and investments of the Santa Fe Ring. He may throw their reward money back in their faces, but it's an empty gesture, delivered too late.
The Santa Fe Ring was a conglomerate of attorneys and land speculators who built great fortunes through corruption and fake land deals in and around the state capital of New Mexico and lead directly to the Lincoln County War. To Peckinpah, these men represented the falling away of the old west built on individualism, replacing it with corporate greed. It's no coincidence that Pat Garrett And Billy The Kid was being made as the Watergate Scandal was unfolding and the truth about Vietnam was starting to emerge. The people were being lied to again. Garrett was taking the wrong side and he knew it.
Each step closer he takes to Billy, he loses part of himself. Slim Pickens says he rather be outside the law than working for those folks and all Garrett can defend himself with is the sigh that it's a job. He looks at the dead body of Black Harris, a man he's just shot even though they once rode into the county together, knowing Harris was right when he said that "us old boys shouldn't be doing this to each other."
In one of the movie's most beautiful scenes a boat drifts by a resting Garrett. He and the occupant nearly face off before deciding to live and let live. If only Pat could have reached a similar understanding with his old friends, but it's too late. He's shadowed by Poe, a representative of those business interests, but we already know that Poe will eventually kill Garrett. They'll turn on him like they turn on everybody else. Peckinpah knew, from his own bitter experience, that there's no escaping the inevitable. He may have yearned to identify with Billy but surely saw more of himself in Pat.
Advertisement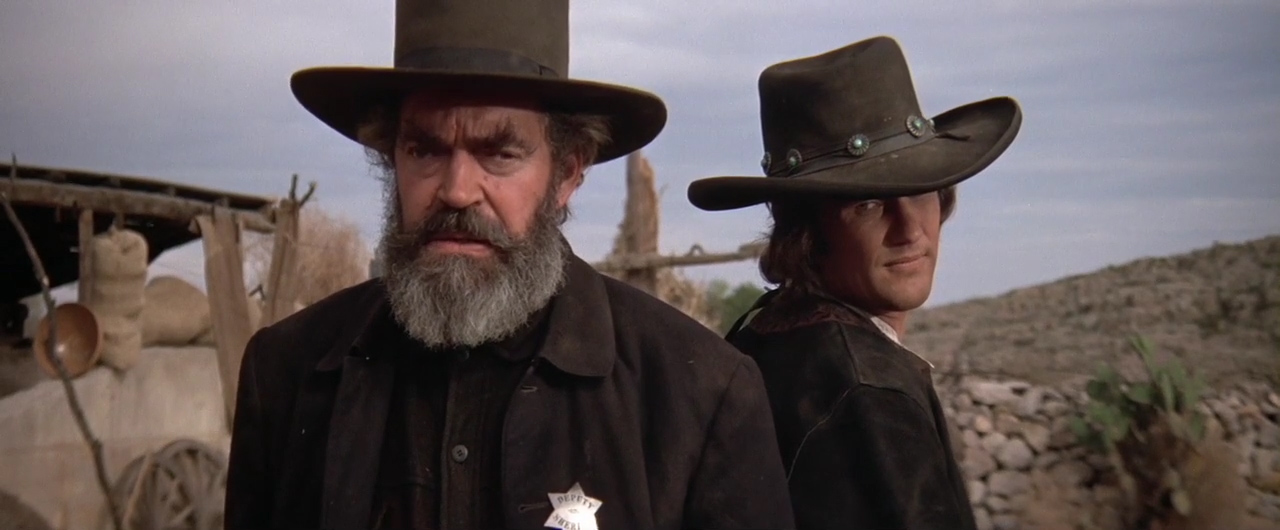 Billy & Pat
Pat Garrett And Billy The Kid becomes a different movie depending on when you see it. When I first came across that creaky VHS back in the late eighties I was a young man, still a few years from being weighed down by any kind of real responsibility. The knocks were in the future. Naturally, I identified with Billy The Kid, he was a McCarty after all. As played by Kristofferson, he's young, beautiful and carefree. He sings his own praises as he breaks out of jail, he takes what he wants, whether it's horses or women, and he does it all with a smile. Without wishing to stray in to Bon Jovi territory, he is the cowboy as rock star. There's even some Jesus Imagery going on, as when Pat arrests him and The Kid assumes a Christ pose, although that's turned on its head when he asks the vicious, God-fearing Ollinger, as played by R.G. Armstrong, reprising a similar role that he played in Ride The High Country, how Jesus looks to him now before blowing him away.
You watch it later in life and things are no longer so clear cut. Billy escapes by shooting a former friend in the back, when he faces off against Jack Elam, he cheats, and when he comes across another friend who's been shot and whose wife or daughter has been raped, he abandons them in the wild and rides away. He's reduced to shooting at targets again just to pass them time as he awaits the inevitable because he too knows there's no outrunning life. My father, who adored westerns, would explain to me as we watched John Ford's classics how you could tell the good and the bad guys apart because the heroes wore white hats. Billy and Pat both wear black. There are no white hats in this movie, but plenty of grey ones. When you watch the movie again, you're forced to identify with Garrett. In life you either become the man or get coopted by him. Nobody gets to run forever. Pat takes the job because what other choice does he have? "This country's getting old and I aim to get old with it. The kid don't want it that way and he might be a better man for it." We were all the kid once, but you either grow old or you die. Freedom's just another word for nothing left to lose but the longer you live the more you'll compromise just to hang on to what you have.
Despite all this, or maybe because of it, Garrett is in no hurry to get to Billy, and he becomes more vicious as he moves along, being particularly callous in the scene at the outpost run by a never-better Chill Wills, another brilliant use of a familiar old western star by Peckinpah. Garrett slaps a prostitute around in order to find out where Billy is and then takes comfort with several of her co-workers in a way he no longer can with his own wife. When he finally gets to Fort Sumner, he meets Will the Undertaker, played by Peckinpah himself, the only time the director appeared in one of his movies. "You finally figured it out," Peckinpah says to him. "Go on, get it over with." Though he did have at least one more great picture – Cross Of Iron – left in him, Sam too knew his time was coming to an end and that box he was carving waited from him like it waits for us all. Garrett then sits on the porch swing outside the room listening as Billy makes love with a passion that he's lost. Billy goes out of the room to get something to eat. Poe has a chance to kill him but he splutters cowardly lies because the man rarely does his own dirty work. Garrett shoots Billy and then immediately fires at his own image in the mirror. He can no longer stand to look upon his own reflection. By killing Billy he's finally killed off the best part of himself.
In another vain gesture he stops Poe from taking Billy's trigger finger and then sits back in the porch swing until sunrise, trying to come to terms with himself. The last we see of him, he's riding away, alone. Peckinpah nods to the famous ending of Shane but this time the kid is throwing stones at the 'hero' rather than calling for the white-hatted Alan Ladd to come back. This is a greyer world. The one we all have to live in, if we want to keep living at all.
The Bigger Picture: Sam Peckinpah's Pat Garrett And Billy The Kid, with an introduction by Pat Carty. The Irish Film Institute. July 28th.
Advertisement
RELATED