Mad Hatter Q&A - Yewande Biala: "Most desirable date? I would love one with Harry Styles"
Author and TV personality Yewande Biala discusses her most embarrassing moments and favourite books with Hot Press.
Who would be the last person you would invite to your birthday party?
Piers Morgan - only good vibes, and positive energy on my birthday. No one needs to hear his belligerent opinions.
Who would be the first person you would invite to your birthday party?
Definitely my best friend, only because she'd probably have to plan the whole thing. I get stressed very easily.
Favourite saying?
"IT'S A LIFESTYLE, HUN!" Literally the perfect answer to most situations. Why are you wearing a puffer jacket in 27-degree heat? It's a lifestyle, hun!
Favourite record?
I have so many, it's unfair to just say one. I feel like I'm doing a great injustice. I like to say I'm an old soul at heart, and I really do enjoy soul and R&B records from the 1950s onwards. So, on this occasion we'll go with Luther Vandross' 'Never Too Much'.
Favourite book?
I've read Bad Love by Maame Blue so many times - it's fiction and she's just such a beautiful storyteller.
Advertisement
Favourite film?
My Girl. It was the very first film I was obsessed with when I was younger and I still watch it now. It's a real classic!
Favourite author?
For non-fiction, it would be Candice Brathwaite who's written I Am Not Your Baby Mother and Sista Sista. In fiction, it would be Bolu Babalola, whose books include Love In Colour and Honey & Spice.
Favourite actor/actress?
Morgan Freeman/Denzel Washington and Kerry Washington/Viola Davis.
Favourite musician?
Right now, I would have to say Cat Burns. I'm loving her new EP, Emotionally Unavailable.
Most embarrassing moment of your life?
I have many, I don't know which one to share. I'll go with the time I forgot to lock the doors in a gender-neutral bathroom, and some guy randomly opened the door and I nearly died.
Favourite food/drink/stimulant?
Cranberry juice with a few cubes of ice and a slice of lemon. In terms of food, I love a burger or steak.
TV programme?
Your Honour was a great watch, I hope they bring it back. I'm currently obsessed with The Good Doctor - Freddie Highmore is a great actor!
Advertisement
Favourite TV personality?
I honestly don't think I have one. I don't watch lot of reality TV, LOL.
Favourite item of clothing?
A nice top that will go with anything.
Most desirable date?
Would love one with Harry Styles!
Favourite method of relaxation?
Music and scented candles! My favourite scent is Socialite from August Piers.
If you weren't pursuing your present career, what other one might you have chosen?
If I could sing, I would probably say singer. But then again, if my grandmother had wheels she would have been a bike!
Biggest thrill?
Don't have one.
Biggest disappointment?
When you order food after trying to stay healthy, and it doesn't taste nice.
Advertisement
Your concept of heaven?
A place of pure bliss, peace, love and happiness.
Your concept of hell?
40-degree heat in London.
Greatest ambition?
To live a life that makes me happy every day.
Period of history you'd most like to have lived in and why?
None, thank you.
If you weren't a human being, which animal would you have chosen to be?
Probably some type of bird, though only ones that can fly. They just seem quite peaceful soaring. Anything but a pigeon, though.
If you were told that the world was ending tomorrow morning, how would you react/what would you do?
I would eat my body weight in food with all the people I loved.
Your nominee for the world's best-dressed person?
Blake Lively for her phenomenal red carpet looks.
Advertisement
Favourite term of abuse?
Idiot.
Biggest fear?
Dying with regret.
Humanity's most useful invention?
Electricity.
Humanity's most useless invention?
Shoe umbrella.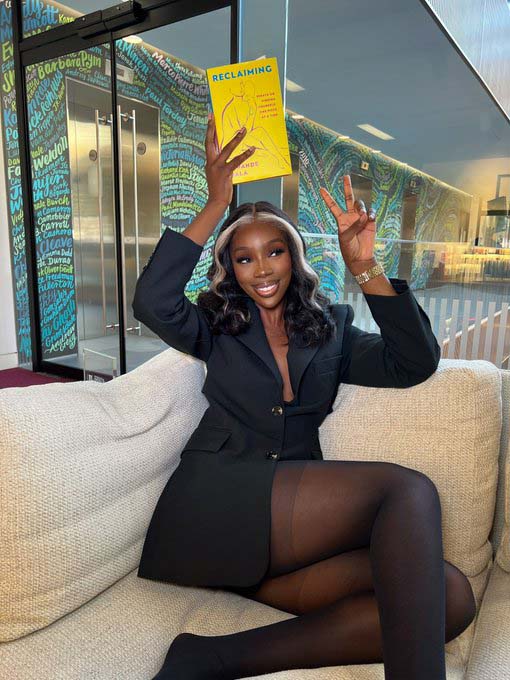 Reclaiming by Yewande Biala is out now, published by Coronet.
RELATED