Joanne McNally: "I think comedy should be kept as open and as controversial as it possibly can be..."
As she takes Ireland by storm with her Prosecco Express tour, our Comedian of the Year, Joanne McNally, discusses early journalistic aspirations, her anxieties around fame, and finding her "large purpose" in life through stand-up.
With disarmingly charming irreverence, an acclaimed podcast, and eight years of hard graft on the gigging circuit to her name, Joanne McNally has stepped out as an unconquerable force in Irish comedy.
Tapping into the concerns of a generation of 30-somethings – while simultaneously channelling the spirit of the mouthy young one at the back of every all-girls classroom in the country – the Killiney-raised stand-up's fearlessly frank approach has resonated with audiences on both sides of the Irish Sea. And now, after the better chunk of a decade in the stand-up game, serious success has come knocking, with two million podcast downloads every month, a newly announced book deal, and phenomenal ticket sales for her tour of Ireland and the UK, The Prosecco Express.
The 2022 tour, which kicked off earlier this month, includes an impressive thirty nights in Dublin's Vicar Street. But it's all just part of the job for Joanne, who reckons that people's surprise over the number of nights she's performing largely comes down to gender.
"I guess because I'm female, maybe it's more shocking?" she reflects. "Whereas Des [Bishop] has done like 41 – I think he has the record. It just seems stranger when a woman does it. Apparently some lad asked my mother, 'What's she going to do when she gets up there?' As if I had no plan. Like I was going to go up there and do a movement to music. No, I'm going to read poems! Do some spoken word for an hour. .. "
As she notes, she's "been doing this for years" – progressing from small stages to sold-out tours, star-studded chat shows, and a slew of TV appearances.
Advertisement
"I love gigging," she says. "And I'm happiest when I'm gigging. So to me, the calendar isn't a shitshow. I'm more like, 'I'm going to have the fucking time of my life."'
That being said, Joanne is human – and despite her audacious stage persona, like countless other comedians and performers, adrenaline and jitters all come into play before a show.
"I still get nervous when I do gigs," she reveals. "It just depends on what's at stake. I could be doing a small gig – but I know the booker is watching me, to see if he's going to book me again. I've a constant issue with my adrenaline levels. They're in a constant state of flux.
"To be honest, if I didn't get nervous, it would be a problem," she continues. "The nerves and the adrenaline is your body telling you that you're about to do something you care about – so wake up. I find myself yawning a lot before gigs, which I couldn't understand before. I was like, 'Why am I so tired?' But then I read that it was actually my body knowing I'm going to do something that demands attention. It's your body trying to take in oxygen and stuff.
"So my body knows what's going on. It's not like I'm going to walk onto the stage in Vicar Street, thinking I'm buying a baguette in Londis."
Plenty of comics get hooked on that adrenaline rush.
"I've enough addictions, to be honest!" she laughs. "It's probably one of them, that I haven't really identified as one. But there's certainly something about it. It's progressive – you can very much see and track your progress, which is addictive. Before, when I worked in PR, you couldn't see your progress as much. Whereas with this, it's like weight loss, in a weirder, healthier way. That's what I used to be addicted to – losing weight. Now my addiction is progressing in comedy."
Advertisement
Joanne's experiences with eating disorders are something she's been refreshingly open about, in both interviews and as the central focus of her first one-woman show, Bite Me. In fact, letting people into her personal life has always been a key feature of her comedy, whether she's tackling heavy issues or the comparatively trivial: "I just say whatever's going on," she notes. "There's no real filter or boundaries."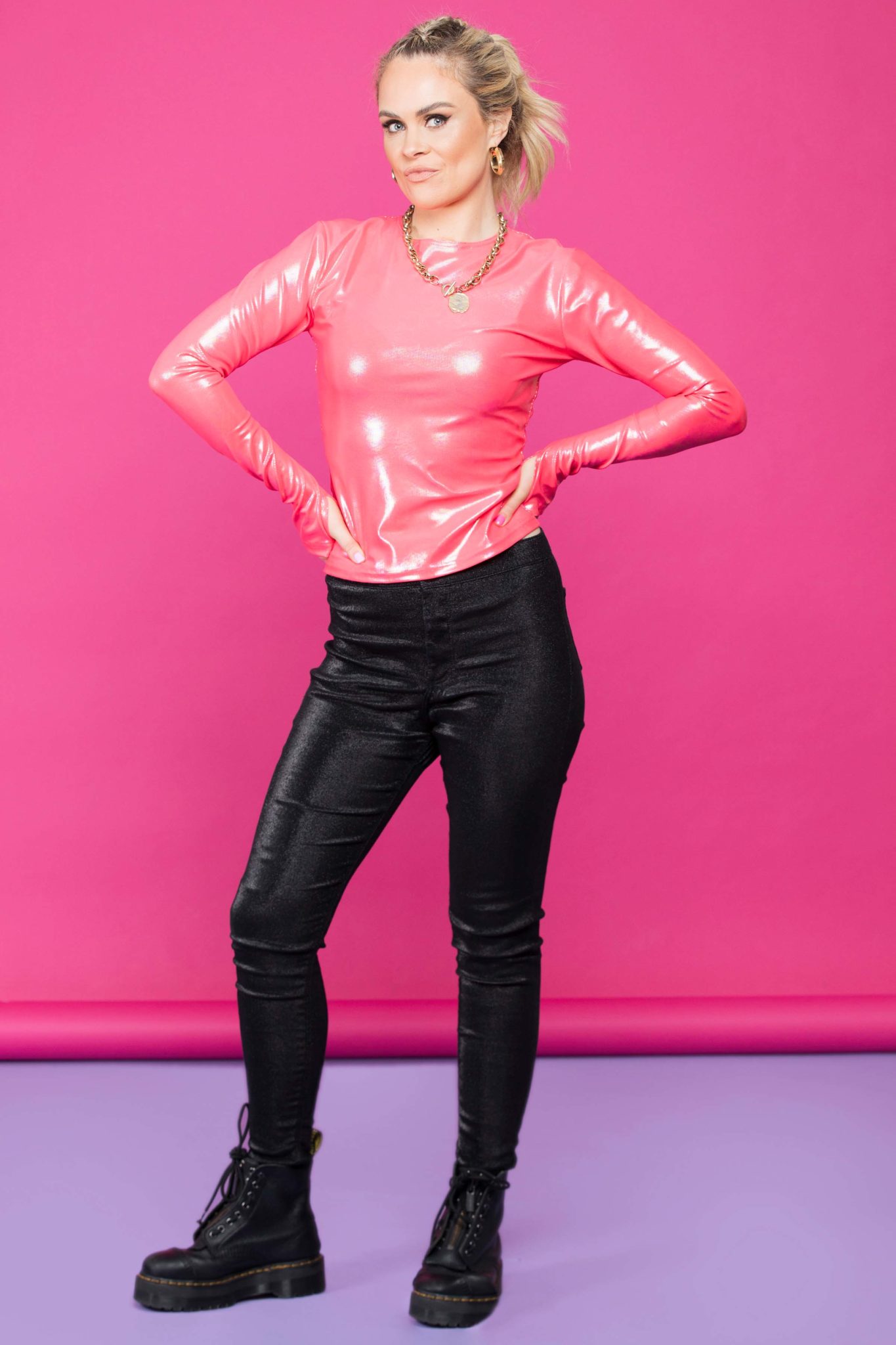 With The Prosecco Express, she's continuing to address subjects that countless women will find only too relatable – in particular, being surrounded by friends that are suddenly settling down with spouses and children. As she's made blatantly clear, that traditional path has never really been on the 38-year-old's agenda. Comedy, she says, is her "whole life."
"When lockdown happened, I realised that I have very little going on in my life outside of comedy," she admits. "Which was a bit tragic. But then when it lifted, and things started moving again, I was like, 'This is all I need.' I feel like I always need a large purpose, and for the moment, my large purpose is stand-up."
Of course, with her ever-rising profile, and the phenomenal popularity of her My Therapist Ghosted Me podcast, which she co-hosts with her close friend Vogue Williams, things are likely to jump up a few gears for Joanne. For now, however, she's happy not to be at the centre of the tabloids: "It's almost like a superpower, being mildly invisible," she laughs.
"The cool thing is that I'm mostly ignored, media-wise," she resumes. "I guess because I'm a comic, no one cares what you say, because it's all taken with such a massive pinch of salt. Whereas Vogue will be like, 'I washed Gigi today', or 'Gigi woke up early today' – and it will be a headline in the Daily Mail. I could be like, 'I drank a pint of mushrooms and ran naked down Grafton Street.' And it will literally appear nowhere – no one will give a shit!
"But I've anxiety around where I'm going, and having that change for myself," she adds. "Because I feel like I'm in a really nice spot – where I can sell tickets, but no one really gives a fuck about me. I'd love to be able to hold onto that, but I don't know if that's possible. I don't know if I'd be able to handle the level of attention that Vogue gets. I don't know if I'm mentally robust enough to handle that shit. I like where I am now."
Advertisement
As Joanne points out, she's living in an age where, as a comedian, "you have to be visible in between your shows, for people to remember you exist'' – whereas, in the past, "the likes of the Tommys and the Daras and the Jasons just sold tickets and did their shows."
Equally, the nature of comedy itself continues to change dramatically, with younger generations largely looking to social media and video platforms for their own funny fix.
"I've done college gigs, like Freshers Week stuff, and I did find them a bit tense," she acknowledges. "Because I find that generation are more sensitive than my generation. We're used to slagging stuff that they just don't like hearing slagged. That was a bit of a challenge.
"I think comedy should be kept as open and as controversial as it possibly can be – because that's what makes it interesting," she continues. "There are certain topics that I personally wouldn't touch on, just because it's not worth it to me, for the sake of the laugh. I don't necessarily want to start slagging off people, because it's just not my vibe. But that's just me – I'm not going to tell anyone else how to do their job. When it comes to comedy, I'm fairly open-minded about stuff."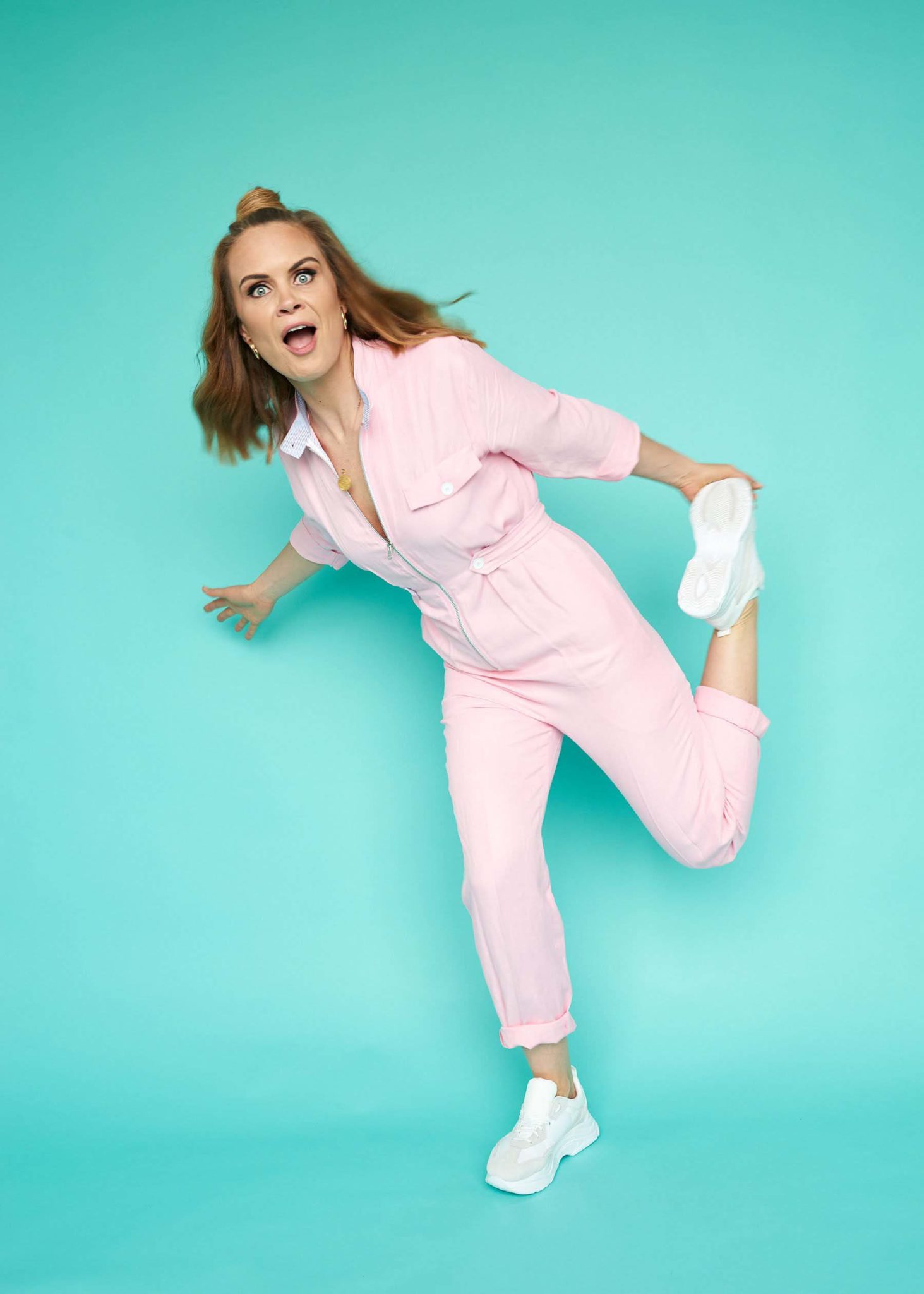 While her tour will be keeping her busy for most of 2022, it's by no means the only thing on Joanne's plate for the foreseeable future. In November, it was announced that Sandycove, the Dublin-based imprint of Penguin Random House, will be publishing her debut collection of essays in autumn 2023.
"I've been dying to write a book, fucking hell," Joanne enthuses. "I love reading, and I've always loved writing. Originally, I wanted to be a journalist. I studied English in college, and then I was going to do an MA in Journalism. And then someone was like, 'You need to fucking be prepared to sell your granny for a story.' I was like, 'Well, my granny's dead! I've nothing to sell!' So I ended up going into PR.
Advertisement
'Tm shit at maths," she adds. "Literally, I could not divide anything, even with a calculator. I've kind of self-diagnosed myself with numerical dyslexia. But writing was always a thing for me."
With those major plans in motion, Joanne will be continuing to split her time between London and Dublin – glamorously, of course, via-Ryanair.
"I'm constantly flying between the two," she says. "I'm pretty sure I flew corona into Ireland. I was so sick one day, and then got a Ryanair flight to Dublin, and puked up a panini in the middle aisle. In hindsight, I'm pretty sure I had corona. I'm pretty sure I carried it through the clouds."
In-flight ailments aside, Joanne admits that moving to the UK has been crucial in opening up important new doors in her career.
"It's tough in Ireland, because there just isn't the same opportunities for comics," she points out. ''And you can't be angry about it – that's just the way it is, because it's a smaller country. So of course you're going to go where the opportunities are. And that means that you'll probably settle down in that country.
"But I'd love to buy a gaff in Dalkey," she adds. "That would be the dream – so I could start sea-swimming in my Dry Robe ... "
• See Joanne McNally's full list of Irish and UK tour dates at joannemcnally.com
Advertisement
RELATED