The film X was a huge success for director Ti West. Now, with Pearl, he has delivered a prequel, which promises to make an even bigger impact – not least because of a stunning performance by Mia Goth. Here's our five reasons why Pearl is essential viewing...
Ti West's latest movie, Pearl, is a prequel to the cult favourite A24 film X. In it, Mia Goth reprises her role as Pearl, now as a young woman, feeling trapped at the isolated family farm in Texas.
It's 1918 and Pearl's husband is off at war, and an influenza pandemic is sweeping the country, leaving her feeling even more isolated. On the farm, Pearl is tasked with attending to her ailing, comatose father, while under the harsh micromanagement of her cruel mother. Pearl escapes into a world of daydream and fantasy, lusting after the glamorous life she has seen depicted in the movies. When Pearl's ambitions, desires, frustrations and repressions all collide, a darkness rises up within her.
The film is blackly funny, visually sumptuous, and unabashedly vicious. But if you're still on the fence, here are just a few of the many reasons to go see Pearl in the cinemas.
A Great Standalone, and a Brilliant Prequel
X was one of the first A24 movies to hit screens in 2022 and takes viewers on a wild ride of suspense and violence at a rural Texas farmhouse. Ti West has buIlt a reputation on writing clever plots with unexpected twists, bringing a real freshness to the horror genre. In X, Mia Goth, Jenna Ortega, and Brittany Snow give standout performances in the story of a group of actors who set out to make an X-rated film in rural Texas under the noses of hermitic hosts. When the couple discover them, the group gradually get picked off one by one. The origin story, Pearl, is a slasher horror that gives a character evaluation on the villains of X; showing how Pearl became so full of spite, envy and lethal rage against the young, beautiful, desired and famous.
Pearl makes these motivations even more clear, and builds on the origin stories of other characters – even the alligator!
Advertisement
Now, Pearl works as a unique and wickedly nasty standalone FILM, while also strengthening Ti Wests' slasher universe.
The Magic of Mia Goth
Mia Goth has long been captivating audiences and her performance(s) – as both young Maxine and the disturbed, elderly Pearl – in X was critically acclaimed, showing her range and the blend of innocence, eeriness and utter commitment she brings to all her roles. In Pearl, Goth is in every scene, showing her captivating presence and ability to convey both the idealistic dreams of her character – and Pearl's uncannily detached terror and sadism. A six-minute monologue to her absent husband at the end of the film is an incredible piece of acting, showing Goth's talent as an actress – but she's not just a powerhouse in front of the camera. Goth shares screenwriting credit with Ti West on Pearl, having helped create this oddball, starry-eyed murderer.
Advertisement
The Wizard of Oz Influences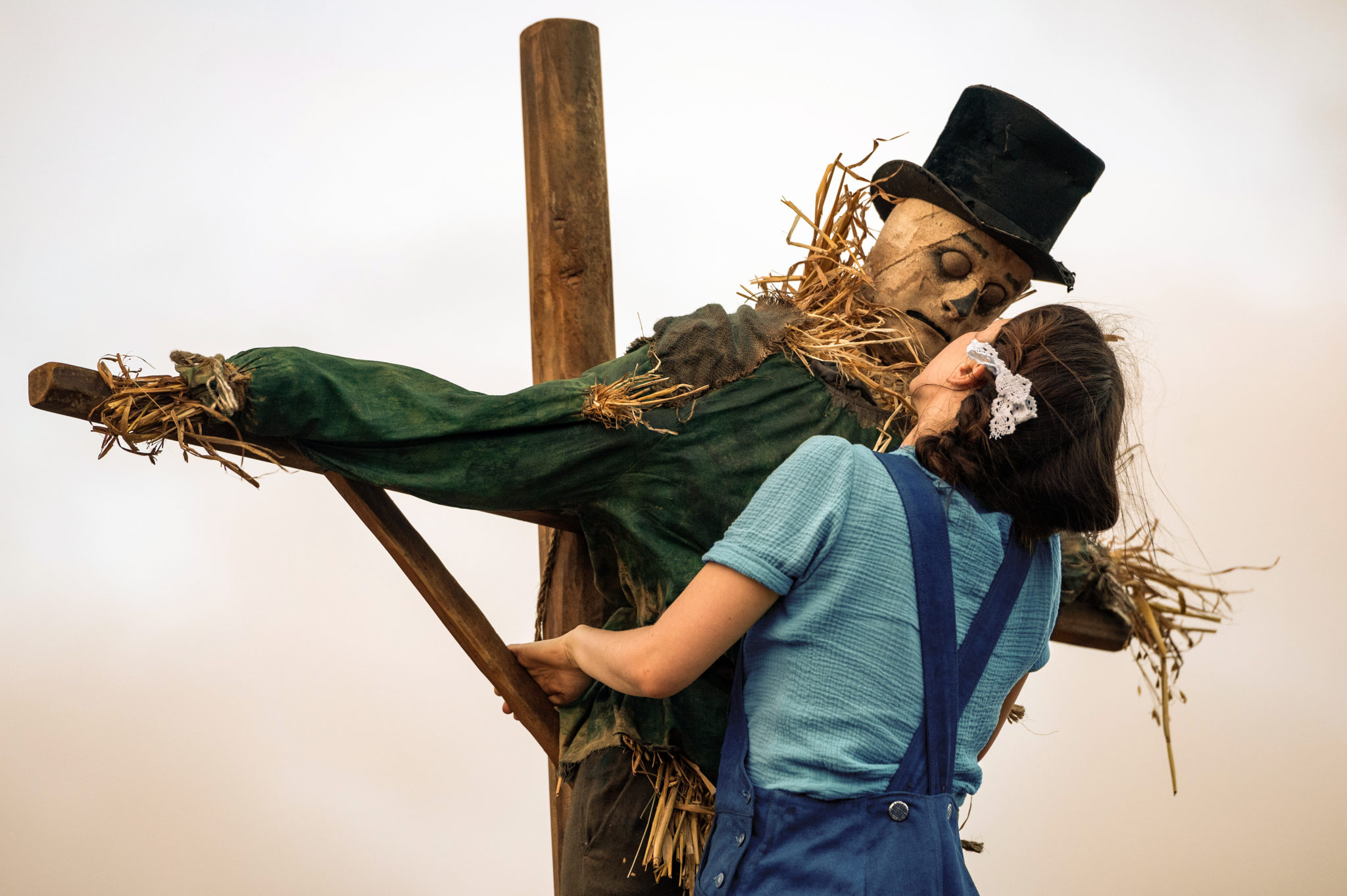 For a film with such darkness, violence and pitch-black humour, the visuals of Pearl are a technicolour delight. Eliot Rockett's cinematography is reminiscent of grainy, classical Hollywood cinema of the early 20th century, reflecting Pearl's love of cinema. The colours are all enhanced to look vivid, vibrant and captivating, lending even the darkest scenes a dreamlike, fantastical quality. The technicolour visuals evoke The Wizard Of Oz, and the influence of the film is felt in the screenplay, too, as we see this young farm-girl escape into her fantasies. In town, Pearl meets a handsome cinema projectionist (David Corenswet) who represents the Tin Man; seemingly full of knowledge wisdom, and magic, he soon turns out to be hollow. Pearl also has a truly unforgettable encounter with a scarecrow that is slightly more sexually charged than the Judy Garland version… see if you can spot the other Oz characters throughout the film.
The Power of Pandemic Prescience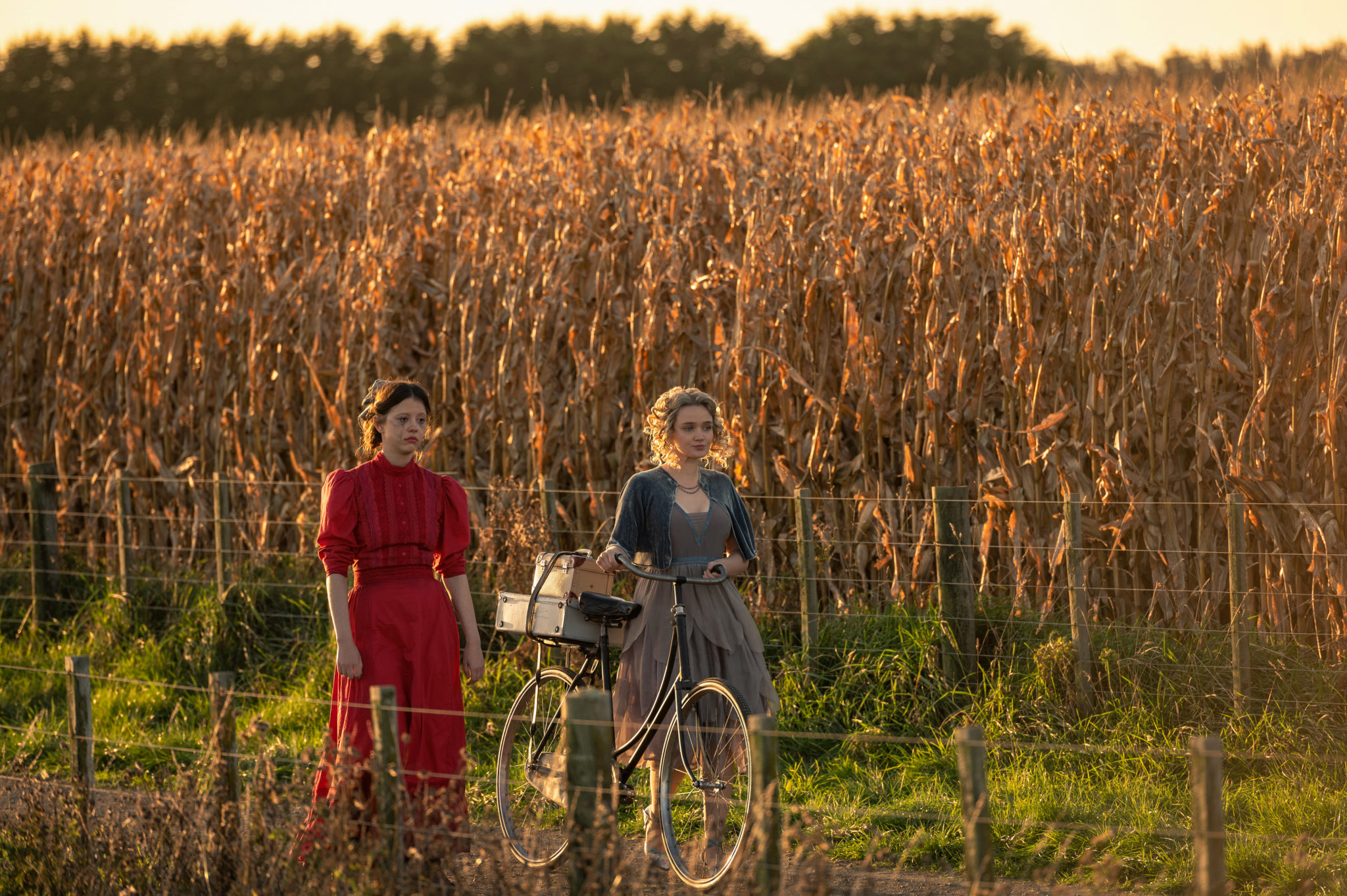 Set in 1918 during an influenza pandemic, Pearl feels isolated and alone on the family farm, and on the rare occasions that she travels into town, she must wear a mask. Pearl was shot during Covid, and the influence is felt, as Pearl's experience of isolation and despair fuels her dreams – and eventually her downward spiral.
But Covid also, ironically, helped Ti West make Pearl. In an interview with IndieWire, Ti West shared that once filming on X wrapped, the team immediately started filming Pearl. West said he "came out of quarantine, and was like, 'We're already building all of this stuff, it's COVID, and we're on the one place on Earth where it's safe to make a movie... We should make two movies!'"
Advertisement
Get ready for Maxxxine
Pearl is receiving rave reviews and looks set to join X as a proper cult favourite – and fans won't have to wait too long for another installation into Ti West's wonderfully weird world of cinematic violence. Pearl will be followed by Maxxine, a direct sequel to X that sees Goth reprise her role – not of Pearl, but of Maxine, as Maxine tries to make it in L.A. A teaser has already been released and shows West again playing with a sense of both era and style, showing a strong 80s flavour – and of course, letting Goth add to her reputation as one of horror's most intriguing and multi-faceted new villains.
Maxxxine will not only round out this highly entertaining trilogy, but give audiences the chance to see this story unfold over decades and generations – while observing the role of cinema itself in how it shapes the lives, attitudes and dreams of its central characters. Needless to say, seeing Pearl first is essential!
• Pearl is showing in Ireland from Friday, March 17.
RELATED