We speak to the crew of the new Take That jukebox film Greatest Days about why you should grab a group of pals and head to the cinema this week
1. Aisling Bea
Aisling Bea, a force to be reckoned with in the entertainment industry, has forged an impressive career that spans across various creative realms. Recognized for her impeccable comedic timing, razor-sharp wit, and undeniable talent, Bea has left an indelible mark on both the small and big screens. Her journey began in the world of stand-up comedy, where she quickly became a standout performer, captivating audiences with her infectious energy and clever observations. Transitioning seamlessly into acting, Bea showcased her remarkable range, delivering powerful and nuanced performances in acclaimed television shows like This Way Up, which she also co-wrote. From her irresistible charm to her ability to evoke both laughter and tears, Aisling Bea continues to leave an indelible impression on audiences, etching her name among the brightest stars of her generation.
Here in Greatest Days she takes her first lead role in a film, playing Rachel, a woman who reconnects with her childhood friends as they travel to Greece to see their favourite boyband in concert. As they reconnect with their beloved pop songs and each other, they remember the painful experiences they shared as teens – but also the joy, support and hope.
2. Take That Songs
Greatest Days features all of Take That's huge hits, including Pray, Patience, Could It Be Magic, Relight My Fire, Shine, and many more
Advertisement
"The thing about Take That songs," director Coky Giedroyc says, "is that whether they're anthems and big bangers, or some of the tiniest, gentlest ballads, they're all so redemptive and full of joy. We found every single song perfectly underscores an emotional moment in the story. It's extraordinary."
What that means for audiences, producer Kate Solomon says, is simple. "Some musicals just go from song to song to song. In this, the music feeds and bleeds into the story, accelerating it down the path to the end. By the end, everyone will be out of their seats, dancing."
Giedroyc knows the importance of these songs to fans, and how rehearing them can connect audiences with their younger selves.
"It's about the power a band has to connect you to when you were a teenager," the director says. "When we're 16, everything is developing, growing. I've seen it with my own kids – they sort of start to fill their skin. And you're so emotional. So emotional. Your hormones are raging. Everything matters a million percent. And you hear a song that chimes with your mood or your feelings or aspirations or yearnings, and it just sticks. Those are the songs that are still in your head all those years later."
3. The Choreography
In Greatest Days, 'The Boys' as they are known, appear whenever Rachel (Aisling Bea) and her friends are looking for some fun, empowerment and escapism. Need an escape from your parents' arguing? Need some encouragement for an ambitious dive? Getting excited to travel with your friends? The Boys are ready to bust out a song and a dance routine to help you express yourself.
So while the friendship and emotion onscreen is based in realism, whenever the boys do arrive on screen, its musical elements kick in and this touching comedy-drama becomes something else entirely, transformed by magic realism into an all-singing, all-dancing musical epic packed with vibrant colours, thrilling choreography and stunning costumes. Award-winning choreographer Drew McOnie has worked on stage productions such as King Kong on Broadway, Baz Luhrmann's Strictly Ballroom in the West End, and Jesus Christ Superstar, which has travelled all the way from Regent's Park to North America, and his work on Greatest Days is a joy.
Advertisement
Whether it's lavish, Busby Berkley, MGM-style, big band numbers in ballgowns on airport runways to intimate, Magic Mike-style grinds in leather trousers on Manchester buses, McOnie's choreography is exhilarating, joyous, liberating and playful, and will have you dancing in your seats.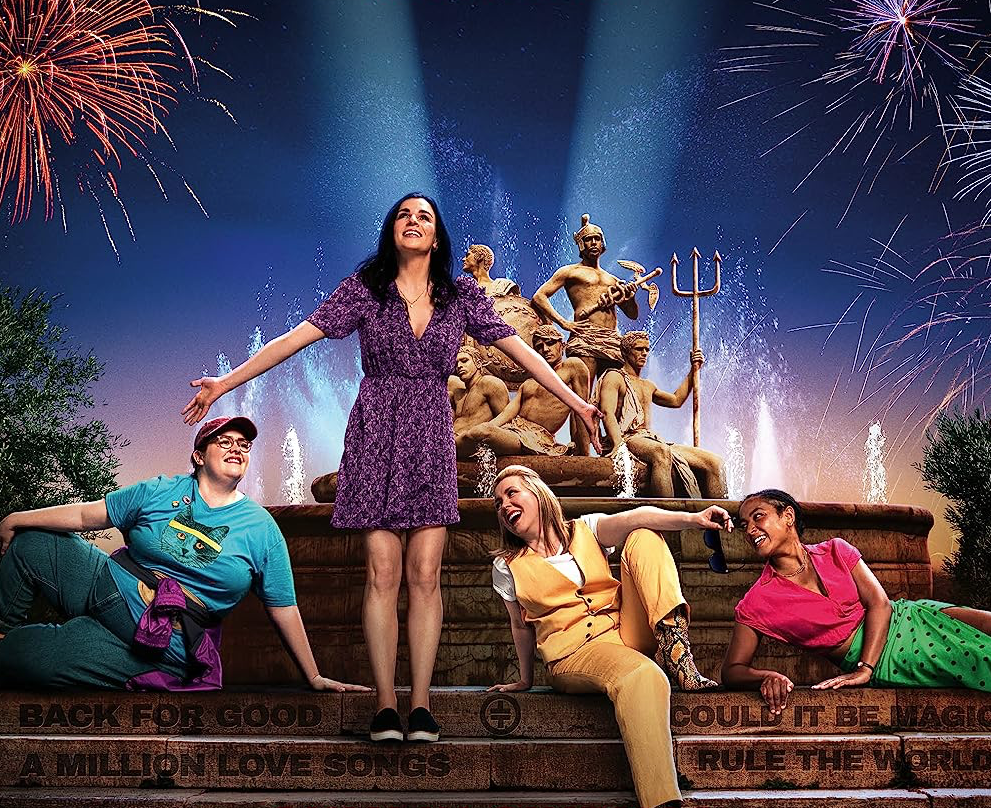 4. Seal Of Approval from Take That
The film has officially been blessed from the lads from Take That, with Gary Barlow remarking that "Everyone on this production has done a beautiful job," Barlow says of the finished film. "The direction, the cinematography, the acting, all of it. It's fantastic. Picture amplifies music, just as music amplifies picture. When those two stars align, you've got something so special. I can't fault it."
It's a testament to Take That that they never wanted this film to be about them, but instead wanted it to be a love letter to their fans.
That was always important to us," says Mark Owen, who along with Barlow and their fellow bandmate Howard Donald has worked closely with this production as it has reimagined their music for cinema audiences. "It was only right that this story would turn the spotlight on the fans. Without them, we wouldn't be here."
Expert tip: When you see the film, do keep your eyes peeled for a cameo…
Advertisement
5. A Tale of Friendship
While many people will see Greatest Days just to hear Take That's best bops, there's also a lovely tale of friendship on display.
"The film is about these five girls," says its writer, Tim Firth, who also wrote the stage show – The Band on which Greatest Days is based. "These five fantastic, brilliant, dangerous, odd girls, who sometimes don't get on but who are the very best of friends, who are blown apart by an event that splits up their friendship group when they're 16."
When we meet the characters again as adults in the modern day, they are living very different lives. Rachel is now played by Aisling Bea, Claire by Jayde Adams (Alma's Not Normal, The Outlaws), Zoe by Amaka Okafor (The Sandman, Upon The Edge) and Heather by Alice Lowe (Black Mirror: Bandersnatch, Prevenge). Reunited when Rachel wins a trip to see a reunion tour of their beloved boy band, the women meet after years apart, and rediscover both their connection and the reasons they have not been in touch. Amidst some heartache and yes, maybe even some tears, they also rediscover the joy of their youth and remember the importance of never forgetting where you've come here from.
Bring a grouped of friends, sing along, and hug like maniacs.