Deutschland 89: "If the Stasi were still operating today, they'd have Martin in Silicon Valley spying on the tech companies there"
Stuart Clark meets the makers of Deutschland 89, the final part of the cult Cold War spy trilogy, which is the most-watched foreign language drama ever in Ireland and the UK. It's also given birth to Unorthodox, the controversial Netflix series that won big at the last Emmy Awards.
Pandemic life is full of uncertainties, but at 9pm on Friday March 5, there was only one place the Clarkian arse could have been, and that's parked on the sofa for the season three premiere of Deutschland 89.
Having spent the past six years watching Martin Rauch progress with alacrity through the Stasi ranks, we got to see what happens when the Berlin Wall comes tumbling down and it's every East German Ministry for State Security operative for his or herself.
As anyone who caught the 83 and 86 instalments will know, Deutschland's intricate John Le Carré-esque storylines are laced with the darkest of Cold War humour.
Barring a late entry from North Korea, East Germany was the biggest surveillance state ever with one Stasi officer per 166 of the population. Factor in the state police's network of home, neighbourhood and workplace informants, and the figure ends up as a staggering one agent for every 6.5 residents/inmates of the Deutsche Demokratische Republik.
A friend of mine's parents who grew up in communist East Berlin – hello, Mr. & Mrs. Baumbach! – tell me that the look and mood of the show is spot-on to the point of veering into documentary territory.
Advertisement
The Deutschland trilogy comes from the fertile minds of American screenwriter Anna Winger, and her husband Joerg who spent his mandatory West German national service eavesdropping on Soviet radio communications.
"Most of it was army lingo and routine exercises, but occasionally they'd stop and say 'hello' to us," Joerg recalls. "We knew that they knew we were spying on them and vice versa. It felt like we were playing a game albeit one in which people did lose their lives and liberty. I was on the lowest pay grade and the lowest floor of the operation, so I hardly qualified as a spy but I did have this incident where DDR border guards interrogated me about illegally changing money in East Berlin, and then being interrogated by our own intelligence who wanted to know ecaxtly what had happened in case I'd been comprised. That brought the seriousness of it home to me."
While the 30th anniversary of the Berlin Wall coming down resulted in a degree of reflection, Joerg says most Germans are happy to forget old divisions.
"There's been a concerted effort to get rid of that part of our history," he reflects, "but if you go to parts of the former East Germany that are outside of the reunification boom, of which there are many, it can feel like nothing's changed since the DDR days."
"We shot some of this season in Leipzig because it's becoming more and more difficult to find places in Berlin that look like the East did then," Anna takes-over. "The exception being the twenty different locations we've managed to squeeze into the old Stasi headquarters on Normannenstraße, which has been frozen in time as a reminder of what happened there."
Whatever about the banality of evil, Stasi HQ is also testimony to the idiocy of it. Along with numerous other hairbrained schemes, one of the comrades came up with the idea of sticking people's odours in a jar so that sniffer dogs could if necessary pick up their scent. The end result; lots of perplexed pooches.
"Basically they were bureaucrats who loved collecting data, which was put on shelves and in most cases never used," Joerg proffers. "The Stasi would have been dreaming about the computer power we have now to analyse things. If they were still operating today, they'd have Martin in Silicon Valley spying on the tech companies there."
Advertisement
Was there much ideology left among the Stasi when the wall came down or was it just a desirable job with good perks?
"I'd say that at the start of '83 there was still ideology; by '86 they were on the slippery slope where it's mainly about survival; and by '89 all belief in and loyalty to the system had gone out of the window," Anna asserts. "That's the sort of evolution we're tracking with the trilogy."
"At one point," Joerg resumes, "the genuine belief in the DDR was that communism would win the Cold War. When they stopped believing that, they started squeezing money out of anybody who'd do business with them like the apartheid government in South Africa.
"Something I thought a lot about developing the show is how many times Germany has reinvented itself over the last hundred years. It went from monarchy to failed democracy to fascism to socialism/communism to successful democracy. That's unique in the western world and really feeds into the show."
Where did the senior Stasi go when there was no longer a state to employ them?
"As happens in Deutschland 89, they were either hired by other agencies like the CIA or MI6 or they went into business because they were well acquainted with capitalism," he continues. "They'd been able to travel and knew what the world was like outside. On one hand they had a lot of opportunities, and on the other they didn't know if they'd be arrested or killed. We made sure to give our characters the full panoramic of possibilities!"
Contrary to the news footage of people partying while lumps were knocked out of the Berlin Wall, not everyone was thrilled by – cue the Spice Girls – two becoming one.
Advertisement
"It was a big surprise and I felt very concerned about it in much the same way that Margaret Thatcher and Francois Mitterand did," Joerg says of the tumultuous events of November 1989. "Mitterand's famous line was, 'I love Germany so much I'd rather have two!' That also made it into the show. Some of us were very happy in the Western Alliance and worried that a too powerful Germany would upset the balance of Europe and lead to the return of nationalism. From my school trips there I remembered East Berlin as this incredibly grey and depressing parralel world. There was also a lot of snobbery towards the East Germans and exploitation like going over and selling them bananas, which many of them hadn't seen before, for 15 Deutschmarks each."
Martin Rauch is played with hangdog aplomb by Jonas Nay who – SPOILER ALERT – will have you totally convinced in episode three that he's on the mother of all magic mushroom trips. How he ended up in such a mind altered state is something we'll leave you to discover.
"The thing about Deutschland is that it's a coming of age story moonlighting as a spy show," Anna confides. "I love the evolution of Jonas' character and the way he plays it. From the beginning of the trilogy all the way through to the end, you feel like you're being taken on a journey by Martin's inner compass. Of course, the tension between him and Maria as Lenora Rauch is amazing. The whole show is built around that nephew/aunt dynamic, which is an unusual relationship."
Many a Deutschland 89 scene is stolen by Fritz Hartmann, a Basil Fawlty doppelganger ("Don't mention the Cold War; I mentioned it once but I think I got away with it") whose serial fucking up of undercover operations would be funny if it didn't usually result in somebody being killed.
"A side story I really love in the new series is Fritz trying to break into the computer business with the least integrated desktop you've ever seen!" Joerg chuckles. "He's played by a guy called Niels Bormann who's known in the industry as a very interesting, skillful actor who does a lot of theatre, but is picky with his roles and not a star although he has great star potential. In Deutschland, he goes from comical to sinister really fast!"
Adds Anna: "I also love Sylvester Groth who plays Walter Schweppenstette. There are so many great moments with him like in this season where he has an undercover marriage and has to go to bed with this woman he's never clapped eyes on before. The tension arising from that is very funny."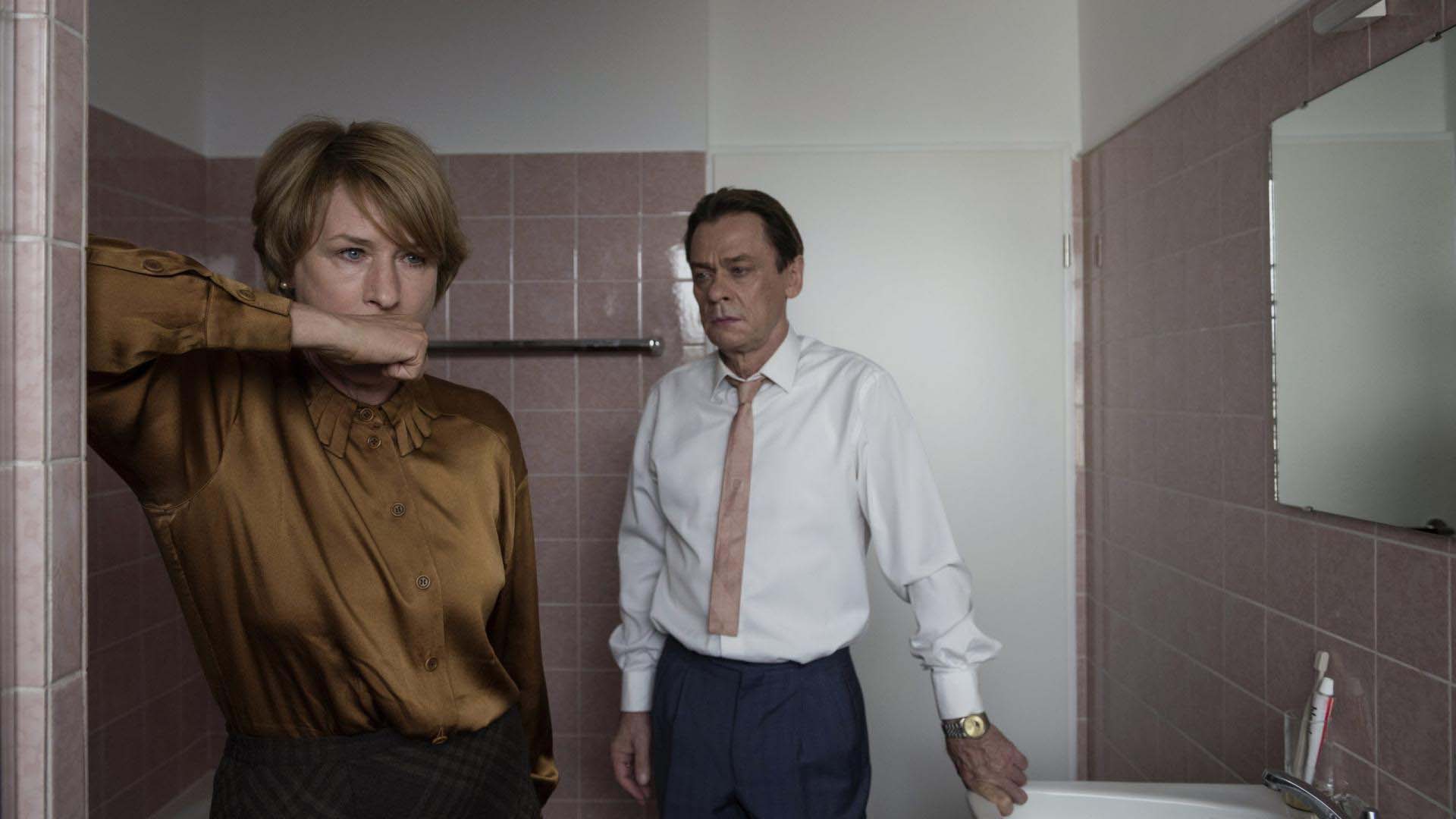 Advertisement
As if working out 'what next?' for Martin Rauch and his Stasi colleagues wasn't enough, Anna co-created and wrote Unorthodox, the Emmy Award-winning Netflix show directed by Maria Schrader, AKA Deutschland's Auntie Lenora.
"I loved the second feature Maria directed, Farewell To Europe, which is about Stefan Zweig, the Jewish novelist who as a result of the Nazi Party's rise in Germany fled Vienna and ended up in Brazil," she enthuses. "It looked so beautiful that I hired Maria, her cinematographer and her production designer to work on Unorthodox, which is a different way of telling the story Deborah Feldman wrote about in her book."
The TV adaptation reignited the controversy Feldman's Unorthodox: The Scandalous Rejection Of My Hasidic Roots memoir sparked when it was published in 2012.
"It was the biggest Netflix show last year in Israel where people assume it's an Israeli production," Anna resumes. "It's actually a German/American project but we did a lot of the casting in Tel Aviv, which is probably why it feels so authentic. There's a spectrum of Jewishness that ranges from the secular way I was raised to the very religious upbringing Deborah had. We've more in common, though, than we don't. Unorthodox is partly a celebration of that whilst also asking some important questions about faith and religion.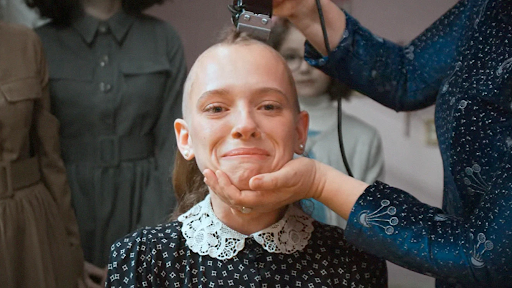 "It was popular not only with all kinds of Jews, but also in the Muslim, Catholic and Hindi worlds. Their identifying with the story of a young woman from a different culture finding her own voice is something we found very moving."
German reunification has doubtless been studied by the Irish civil servants entrusted with making sure that, should Sinn Féin's day finally come, we're ready for a 32 county Republic.
Advertisement
"My agent happens to be a Northern Irish Catholic so we've talked about the IRA and the whole question of one man's revolutionary being another man's terrorist," Anna says. "One of the things that struck us researching 86 was how many 'terrorist' organisations were concurrently active and the relationships they had with each other."
A top priority in 89 for both the GDR and what's left of the DDR is infiltrating a domestic West German terrorist cell based on the Badaar-Meinhof Gang who during their three decades long reign of terror murdered 35 people.
"They had a sort of celebrity or rock star status with a lot of people who didn't think they were siding with terrorism," Joerg explains. "They thought they were doing terrible things for the right reasons."
"As we saw in America with the storming of the Capitol building, the idea of the struggle for liberation has been co-opted now by the right, which is really confusing," Anna ventures. "We write this stuff and you couldn't make the shit that's happening in the US right now up. They're called protestors but really they're terrorists."
Might there be a Deutschland 91 or is that it, series over?
"We're dying a very natural death," Joerg says dashing our hopes before Anna raises them just as quickly.
"We've toyed with the idea of spinoffs," she says, "so you never know!"
Advertisement
• Deutschland 89 premiered on All4 on Friday March 5, with all episodes available immediately after from the Walter Presents strand of Channel4.com
RELATED