Conor MacNeill: "A really good script and a really good character will draw you, no matter what it is."
Having already starred in Sam Mendes' acclaimed play 'The Ferryman' and hit thriller 'The Fall', Belfast actor Conor MacNeill is set to enjoy another milestone moment with his role in the Lena Dunham-directed 'Industry', an unflinching look at the cutthroat world of London high finance.
Conor MacNeill is really nice, although you wouldn't know it from watching him in the new HBO/BBC finance-world drama, Industry. But his latest role as the cringe-inducing Kenny seems to be working for him: the young actor's recent penchant for taking on nasty characters has revealed him to be anything but a sideline player.
A rare mercurial talent, the Belfast actor has played pivotal roles in film, television and on stage, most notably travelling all the way to Broadway with Jez Butterworth's critically lauded The Ferryman, and acting as a perverse, psychopathic sidekick to Jamie Dornan's hunted serial-killer in the third season of The Fall.
Right now, the actor is sipping coffee at his home in London, regaling me with tales of his brief holiday in my hometown, and enthusing about his current obsession with the Canadian TV comedy hit Schitt's Creek.
"I literally started that this week! Someone recommended it to me, I'm five episodes in. They're amazing! Catherine O'Hara's acting is off the scales."
Did the acting bug bite MacNeill early on?
Advertisement
"I used to play the traditional Irish flute, and my aunt worked as a receptionist at a theatre company where they needed a kid who could play some sort of trad instrument. So I auditioned for it, got it, stopped acting for a while, and then came back to it when I was 18 and haven't really stopped since. Initially, I actually wanted to work in A&R. But this chose me."
He winces.
"I know that sounds so wanky," he laughs. "I even auditioned for drama school because I thought that's what you were supposed to do. I got into one, but then was offered a job. I had to make my choice, so I just took the job and kept working."
And work he did. One of MacNeill's more talked-about roles was an appearance in the Sam Mendes-directed West End (and later Broadway) run of The Ferryman, about the family of a former IRA activist living in Armagh during the Troubles.
"It was probably one of the most impactful experiences of my life. I think it will stay with all of us forever. We became a genuine family," MacNeill says. "I started maybe a year before the actual production, doing these small, secret workshops that you weren't allowed to tell anyone about. You weren't allowed to read the script, they'd give you a paper script on the day and then take it away from you."
The play went on to gain an astonishing amount of hype, with tickets selling out in fifteen minutes.
"I was actually with Laura Donnelly the other day, and we were talking about the very first performance," he laughs. "We didn't know if it was good or not. There was so much hype around it, and we took that first bow, and there was silence for a second. And then everybody just stood up together, at the same time. I don't think I'll ever forget that."
Advertisement
Though he has worked in various mediums, MacNeill is adamant that it doesn't matter whether you're on stage or in front of a camera – it's the script that counts.
"A really good script and a really good character will draw you, no matter what it is," he says. "Live theatre gives you an immediate hit, but there's also a huge commitment and discipline."
The Ferryman, though it required a significant time commitment, proved to be a gateway to another incredible script – Industry.
"They were seeing Irish guys for the role of Kenny, and it came to some of the boys while we were on Broadway," MacNeill recalls. "We were all taping for it at the same time, which was quite strange. During that process I got a phone call asking if I could go on a Zoom with the two creators, Mickey and Konrad."
And then, deafening silence. Christmas came and went, MacNeill finished his Broadway run and flew back to the UK.
"I was sure it had gone," he reflects, "and then I got another phone call asking if I could do a huge chemistry read, which turned out to be with the majority of our leading cast."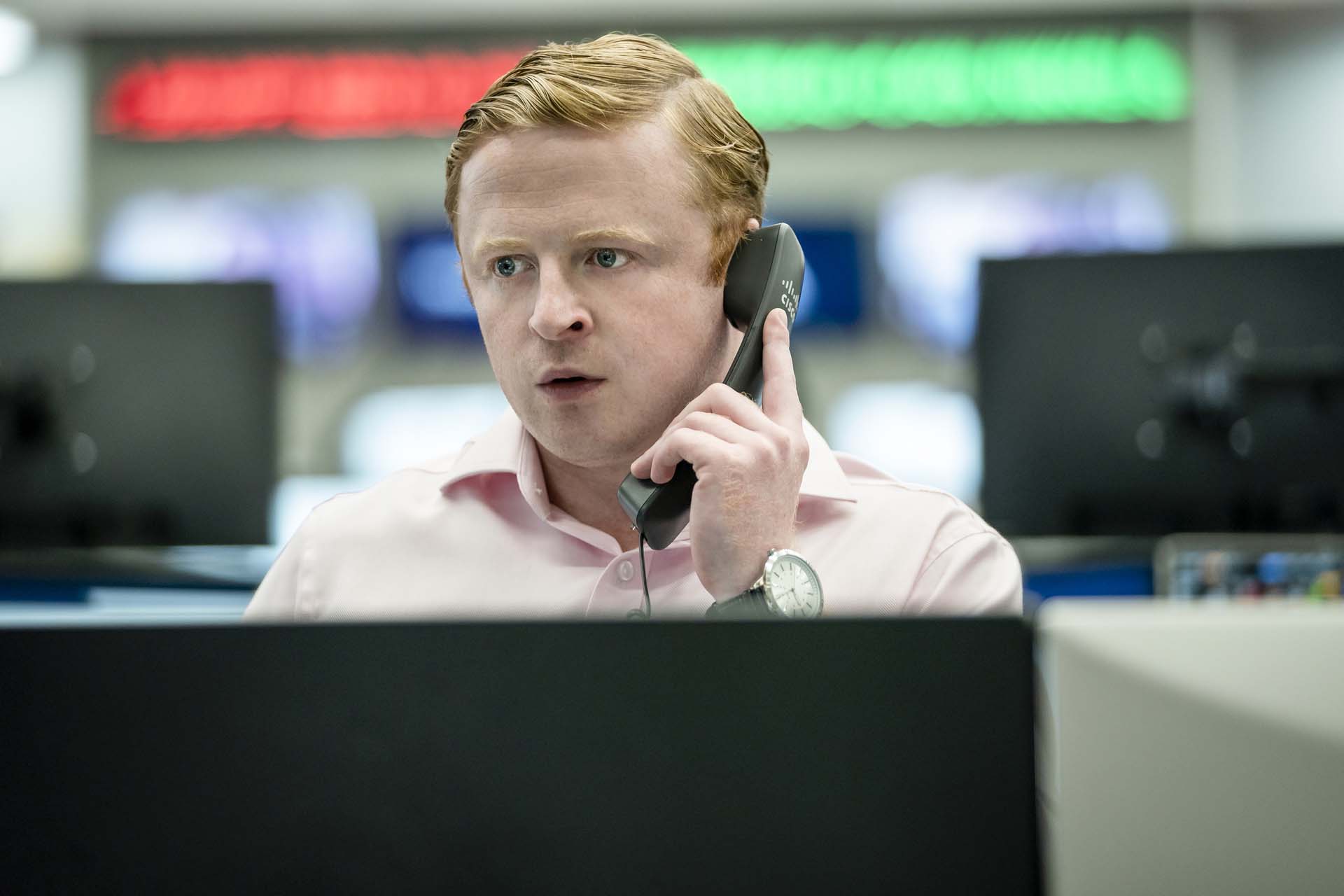 Advertisement
Compulsively watchable, Industry centres around young graduates trying to forge their own identities and advance their careers in the high-pressure world of banking. Written by Mickey Down and Konrad Kay, it reveals the inner workings of the financial industry, as well as the attendant debauchery. Its first episode, directed by Lena Dunham of Girls fame, introduces MacNeill's Kenny as an angry, intimidating Irishman with a hefty inferiority complex.
As the show progresses, Kenny's relationship with a young female employee named Yasmin (Marisa Abela) becomes increasingly twisted.
"I tried to read as much as I could about those lads," says MacNeill. "And by 'those lads,' I mean lads like Kenny, I don't mean bankers. I don't want to tar everybody with that brush. And I was also very aware that Mickey and Konrad wanted him to feel real.
"I suppose that's what makes that storyline work. If he had been just a villain, it wouldn't have registered. I wanted it to be more subtle than 'I hate him,' do you know what I mean?
"The other thing about being able to deliver that performance was my relationship with Marisa Abela, and we got on so well. We trusted each other. Without her, I wouldn't have been able to do what I did. I know this sounds really predictable for an actor to say, but I approached it with a sense of hurt and damage. Everybody is trying to cover that, no matter where your character's at."
MacNeill drew on the character's sense of resentment.
"I'm 5'4, which means Kenny is as well," he said. "He's white and pasty, not that funny, he's a bit out of tune with society, and he's working-class. He doesn't fit in with these hyper-educated, good-looking, tall men who are getting beautiful women and partying all the time. To be surrounded by that, and know you're not the top dude... that must embitter you and make you angry.
Advertisement
"All of that, mixed up, created this little nasty dude who probably has some kindness in him somewhere, but doesn't know how to use it. He's struggling with masculinity."
There's a nervousness and discomfort to Kenny that comes through beautifully in MacNeill's performance.
"It's very messed up," MacNeill notes. "Not that that makes it okay or right, because by the age Kenny is, you should have your own brain, and know a little bit about the world. I don't think that it's a great excuse for him, but certainly those factors influence him. And also, I imagine there's an element of class. I used this a lot.
"He says something to Yasmin at the dinner table, along the lines of: 'Isn't it great that a private school education pays off'? That was him going, 'Look at the clothes you have, the money you have, and how I already know you're going to do better than me in here, just by your social placement in the world.' Without acknowledging that she's pretty fucking smart, savvy, she's got all the skills to be there. He's just seeing the blanket stereotype, I suppose."
And what about the film industry? Has he noticed a change, working on a show like this, since the #MeToo movement?
"Not enough, but it's certainly getting there," MacNeill reflects. On a ground level, on this show, I can see a change. First of all, we were working with amazing actresses on this. Especially the younger actresses, who were so willing to speak up for themselves. That was really inspiring, and I think Lena inspired that a lot as well.
"I loved working with her. She instills such huge confidence, and brings an incredible energy onto a set. She is so open, and will listen to everyone. She has a brilliant way of shouting silly shit out at random times, and it'll make you bust out laughing, but it also creates an energy where you feel like you're shooting something exciting. She's incredibly kind, really generous, and very, very smart. You very quickly forget that she's Lena Dunham. She's very approachable."
Advertisement
He pauses for a moment.
"I've not experienced harassment, and so I can only speak about this from my lens. But I am more comfortable, and willing to speak up if I see something happening, nowadays. I wouldn't necessarily have been before. You're scared of losing your job, you sometimes go 'that's not my business', which is a classic white man thing to do. But there was autonomy there with the whole cast and crew that I've never seen before. There was space created for that on Industry."
• Industry is on Tuesdays at 9.15pm on BBC Two.