He's appeared in some of Ireland's most iconic films and sucked copious diesel as Superintendent Ted Hastings in Line Of Duty. Now celebrated character actor Adrian Dunbar is starring in Blood, a familial tale of murder and betrayal that's just landed on Virgin Media.
My, how things have changed out in Ballymount. When the Telly Station Formerly Known As TV3 launched in September 1998, it had less frills than Ryanair and a programme-making budget that barely kept the Xposé crew in hair-straighteners.
Now as they rebrand as Virgin One through Three with an additional sports channel that's relieved RTÉ of many of its crown jewels, there's enough cash to splash on Blood, a smart psychological crime thriller from the pen of Red Rock and Riviera's Sophie Petzal, which has brought Enniskillen actor Adrian Dunbar back to Ireland.
Debuting on Virgin Media One, the 60-year-old's co-star is Carolina Main, a relative newcomer who Dunbar reckons is destined for the top.
"She's exceptional – very intelligent and funny – and will go on to do some savage stuff," he enthuses. "The whole cast was brilliant to work with: we had a right old blast. Since My Left Foot, which sort of ushered in the modern era, Ireland has punched way, way above its weight where film is concerned. There's been so much quality indigenous stuff. Now you've the same thing happening here with television. I've done big budget BBC and ITV shows, and Blood is right up there in terms of production values. We have two great female producers, Lisa Mulcahy and Hannah Quinn, and a Director of Photography, Kate McCullough, who's received an Emmy nomination for her mission to Mars documentary, The Farthest. They're incredible talents. What's struck me about Virgin Media in general is its ambition. They've already signed a deal with Channel 5 for Blood to be shown in the UK, and Acorn have the rights for North America, so this is no parochial backwater drama."
While well drilled in not giving out spoilers – "With Line Of Duty it's a hanging offence!" he jokes – Dunbar is happy to set us up for the opening episode.
Advertisement
"It's about love, loyalty and family – and a secret that ends up threatening all of those things," he explains. "Cat, my character's daughter who's played by Carolina Main, becomes very suspicious of the circumstances in which her mother dies. She suspects her father and sets out on her path of investigation. She suspects her father and sets out on her path of investigation. You'll find yourself saying she's right one minute and wrong the next, then questioning whether the father is bad or good, and asking whether Cat might be going a little crazy or becoming paranoid."
Like the big Nordic Noir shows it seeks to emulate, Blood is very much of its place with the universal themes put through an Irish filter.
"Yeah, it doesn't over-explain itself or worry that they mightn't get something in London or Los Angeles. The cultural differences are a big part of what makes series appealing to people in other countries." The thermals Adrian brought with him for the Meath and Kildare shoots remained in their wrappers as, for once, the Irish weather decided to be consistently balmy.
"It's probably not as dark and gloomy as they wanted it to be in parts because the sun was always shining," he laughs. "There are lots of stories about Game Of Thrones actors getting hypothermia filming in Northern Ireland, but we had the opposite problem."
Although his CV includes such landmark films and TV series as Cracker, Inspector Morse, The Crying Game, Silent Witness, The Secret Scripture, Ashes To Ashes and the aforementioned My Left Foot, it's only since bagging the role of Superintendent Ted Hastings in the much garlanded BBC cop show, Line Of Duty, that Adrian's become a bona fide household name.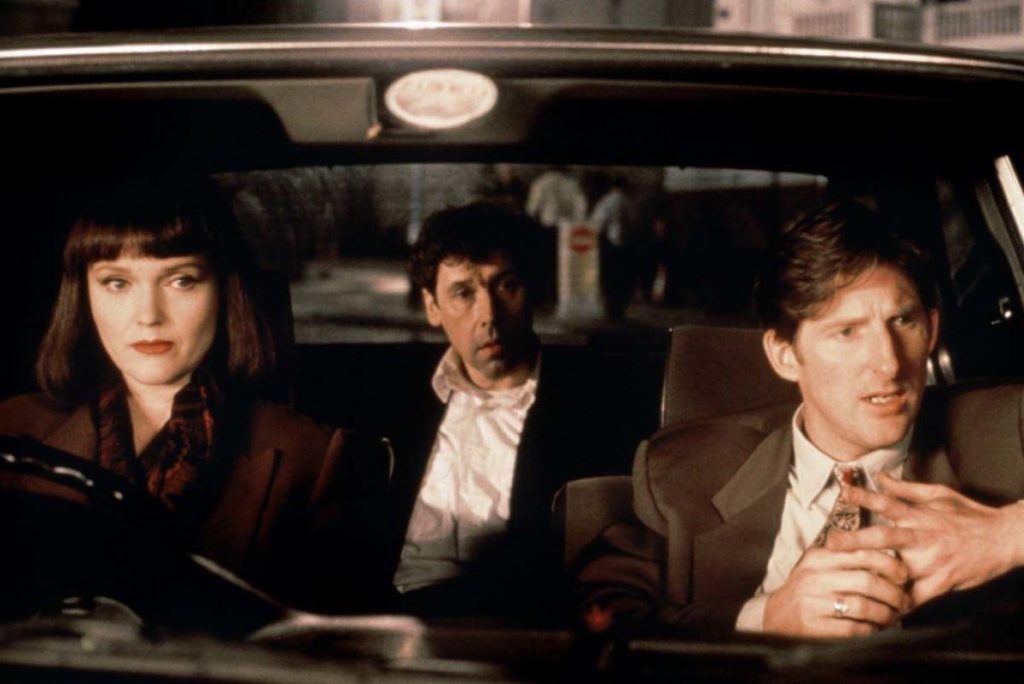 "We did the first series in Birmingham and then moved to Belfast, which is great because I've a house in north county Leitrim near Sligo that I can shoot up from," he reveals. "The city's really taken Ted, who's a very positive character, to its heart. There's a girl in George's Market selling t-shirts with his 'Now you're sucking diesel' saying on them. It's the first time I've done a recurring series that's really caught the public's imagination. For this to be happening 35-years after I graduated from the Guildhall School of Drama is really quite something. I imagine you're old enough to have watched Dad's Army…"
Advertisement
Sadly, I remember being allowed to stay up past my usual 7pm bedtime to see the first black and white episode.
"Well, Arthur Lowe was in and out of things until he struck gold well into his fifties as Captain Mainwaring. Line Of Duty is my Arthur Lowe moment – a stroke of good fortune which has opened even more doors for me at this relatively late stage of my career."
At what point did he realise that Ted Hastings and Detective Sergeants Steve Arnott and Kate Fleming were going to become etched onto the public consciousness?
"You could tell straight away that the structure was good and the writing top notch, but it wasn't until the first few episodes of Season 2 that it started to really build an audience. A couple of money men in an office could've killed it off after the first series, but BBC2 and Northern Ireland Screen were passionate enough about Line Of Duty to bring it back and have been rewarded with a load of BAFTA nominations."
You'll be able to get your next Ted fix in 2019 when him and his AC-12 internal affairs colleagues return in Line Of Duty Season 5, which is shooting as we speak.
Last year saw Dunbar affect a very passable Norwegian accent for The Snowman, the big screen adaptation of the Jo Nesbo bestseller, which included a car crash turn from Val Kilmer who for reasons never fully explained could barely get his lines out. Otherwise, the Harry Hole detective yarn made effective use of a cast that also included Michael Fassbender, Rebecca Ferguson, Chloe Sevigny and, swoon, Charlotte Gainsbourg.
"Val was very ill at the time, so it was a bit difficult but overall being in a new place with those people was good fun," Adrian reflects diplomatically. "I got to hang out with Michael Fassbender who's a really nice guy. We swapped war stories one night over a big meal of lobsters, which was memorable. I also got on well with the director, Tomas Alfredson, who'd previously done the Tinker Tailor Soldier Spy film with Gary Oldman. It was an interesting group to be part of."
Advertisement
In the unlikely event that Jacob Rees-Mogg and his buffoonish Brexit buddies decide to educate themselves about Northern Ireland through the medium of cinema , does he have any recommendations?
"Jim Sheridan's In The Name Of The Father is a fabulous film, not least because of Pete Postlethwaite's performance, which should have won him a Best Supporting Actor Oscar. The one James Nesbitt was in, Bloody Sunday, also tells its story with great power and integrity. I don't know if those guys are into their punk, but the film about Terri Hooley, Good Vibrations, captures that moment in time really well. I can't for the life of me remember the name of my character, but David Holmes, who's a pal said, 'We need someone for a scene, can you give us a dig out?' In a vain attempt to boost my rock 'n' roll credentials, I went along and was handed the worst wig in Christendom for my very brief scene."
The London Independent memorably wrote that the hairpiece in question "seems to have landed on his head from a great height."
"Yeah, that'd be about right," Adrian winces before addressing the cheerier subject of his career highlights.
"Appearing alongside Robbie Coltrane in the first episode of Cracker was a proud moment because it was so radical and went on to become hugely successful," he concludes. "Co-writing and appearing in Hear My Song was great. It was also a privilege to be in My Left Foot and The General. I've had really good experiences with Jim Sheridan, Neil Jordan and John Boorman and learned huge amounts about filmmaking from Roger Pratt, John Menzies and the other lighting and photography people who know how it all bolts together."
Blood airs Monday nights at 9pm on Virgin Media One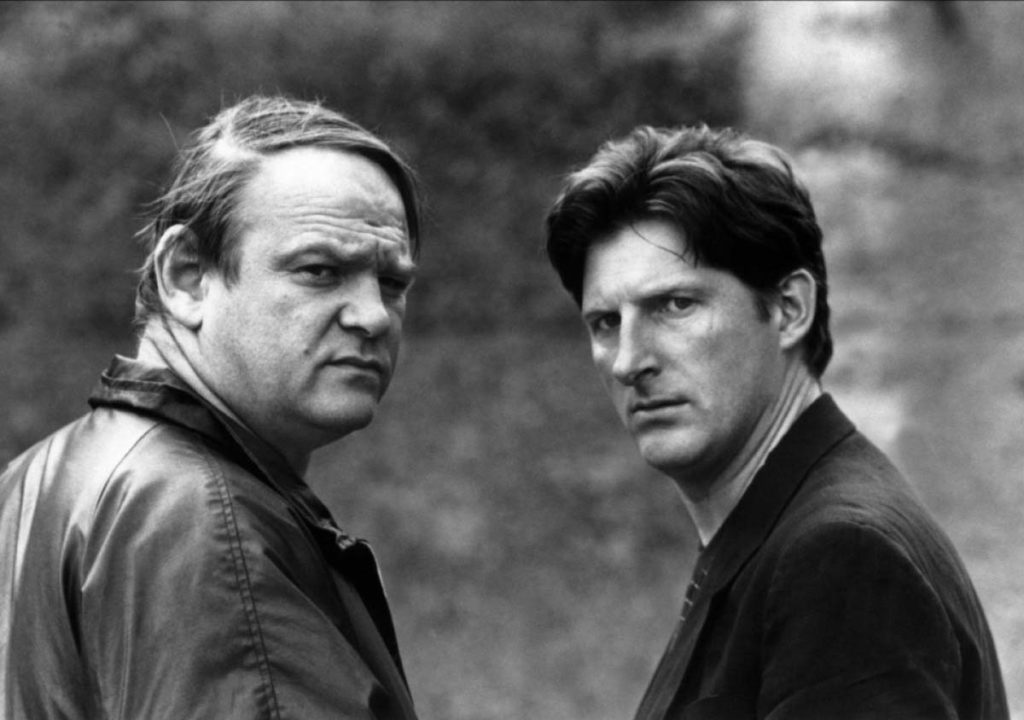 Advertisement