Victoria Secret: "I was really nervous going to my first Pride - I had never been that visibly queer on the street, but it was freeing"
Despite being struck down by flu after a New Orleans swamp boat ride, Dublin's Victoria Secret divulges all things Pride ahead of Mother's yearly Block Party this weekend.
One of Dublin's most anticipated annual Pride celebrations, the Mother Pride Block Party, returns on Friday, June 23 and Saturday, June 24 for a musical extravaganza. Set across multiple stages on the historic grounds of the National Museum of Ireland at Collins Barracks, 2023 will see Self-Esteem, Raja, Purple Disco Machine, Naomi Smalls, Bimini, Krystal Klear and more perform glittering sets.
Starting as a spontaneous street party outside the club over a decade ago, it grew to become the official parade afterparty and ticketed event of Pride. Ahead of the fun-filled event, Hot Press chats to veteran Dublin drag sensation Victoria Secret, discussing Mother's roots in the capital city, the need for Pride in Ireland, meeting Una Healy's Tipperary mammy and performing a pop bonanza show with Davina Devine at Vicar Street.
"There's something for everyone at the Pride Block Party - that's what I love about it," Victoria beams, her positivity unwavering, sickness be damned. "It's an event that caters for all. Mother were hoping to put on a huge drag show on the Friday, so I've asked some of my favourite Irish drag artists to come along and do a mammoth hour-long set to give fans something special."
Advertisement
"Last year we did the Sunday, and full disclosure, I'm delighted it's on Friday this year!" the queen laughs. "Although we had a blast at the 2022 event, we partied really hard on the Saturday. The crowd was electric at the Block Party that even if we were so hungover, they boosted us up."
"I'm really excited to see Bianca back in Dublin," Victoria Secret adds, referencing the Louisiana queen, comedian, actor, and costume designer who won the sixth season of RuPaul's Drag Race. "She's known for her razor sharp wit, but she's also the most fun, generous person to hang out with backstage. There's definitely some Irish with her, because that queen can put away a decent amount of white wine and still stand up! There'll definitely be some shenanigans off stage."
Fresh off the success of her Petty Little Things podcast, Victoria and Devina Davine hosted The Queen Of Captivity pageant during lockdowns, where performers could compete from home.
"The pandemic was such a weird time, and I feel like we're just coming back to some semblance of normality or reality," she explains. "Drag was one of those art forms that, during the pandemic, everyone really embraced as artists. There was so much creativity. Davina and I did digital drag shows every week with big audiences tuning in and connecting through Twitter. When we got back to in-person shows, a lot of us were freaked out. Being totally truthful, it was daunting and also exhausting. We weren't used to the pace. Once everyone got over that, drag was thriving.
"That being said, drag as an art form has always been appreciated in Ireland," Victoria stresses. "So many people talk about Drag Race pushing the craft, but it's been present here for a long time - even from Shirley Temple Bar on RTE calling out bingo numbers 20 years ago. Most of our grannies were watching! We've embraced drag probably more than other countries. To see it back in venues is amazing. There are queues to see drag shows nightly in The George."
Advertisement
Aside from drag shows, incredible queer nights have been popping up around Dublin over the last 12 months. We've seen Claire Beck DJ at KING at the end of May, TENDER hosting a block party of their own for Pride, Fluid Club in Pawn Shop bar and HONEYPOT Club take over.
"I've absolutely noticed it," Victoria nods, happily. "I went to IADT and did a business degree with arts management. I've always created events on the side, and we've seen waves over the 20 years of people doing amazing nights. That's how Mother started, we did PRHOMO in the small basement of Pantibar every week. We're in the next new wave at the moment. People often say that they'd love to see a full time venue pop up in the city but there's a lot of beauty in having these irregular nights. The organisers are challenging themselves to keep it fresh every time."
Does she remember her first experience of Dublin Pride?
"I've only ever gone to one year of Pride out of drag, and that was my first year," she recalls. "I didn't know what Pride was, but I had gotten involved in an LGBTQ society in college. That was the best thing I ever did, it shaped my whole life. It gave me friends and confidence. I was really nervous going to the event, because Pride felt like more than a 'coming out' moment. It was signalling to everyone on the streets that I'm queer. That really freaked me out, but it was so freeing. There's something about marching the streets with people who are the same as me.
"We'd end up in Wood Quay outside Dublin City Council. There were at most four or five thousand people, and the highlight was Panti Bliss giving a speech, but it was much more low scale. People were sitting on the grass just having cans with their friends, it was just an empowering feeling. To come away after hearing the speeches about Marriage Equality, laying seeds for what was to come, was really special. Your first Pride can be quite daunting, because may not be 'out' to everyone in your entire circle - only people you feel the safest around."
Advertisement
Speaking of security, as of 2022, 76% of LGBTQ+ students in Ireland do not feel safe at school. Many participants report experiences of bullying and physical, verbal, and sexual harassment because of their sexual orientation or gender identity. It lines up with the recently viral, horrifying video of a 14-year-old child in Navan who was viciously assaulted by their classmates.
"That video that circulated, for any queer person, is very traumatic," Victoria tells me, downcast. "Our schooling experiences were not the nicest. I'm almost 40 - I can think things are getting better until I see videos like that. This kid is going through exactly the same shit that so many have done before. It was really awful to see. It shook everyone and made me question - as much as I don't want that person to have to relive their trauma - whether Ireland would have overlooked it if there wasn't visual evidence. I hope that person is okay. I'm sure that experience will have lasting physical and emotional effects, so I hope they're surrounded by loving people.
"In relation to safety in Ireland, there's no doubt about it - we're all more concerned with how we get in and out of the city centre," she continues. "What routes we're going, who we're going to walk with. Queer people are definitely a target but we're not alone. We're witnessing people born in other countries but living being targeted, and women as a whole. Our Government and gardai need a plan to give us back our confidence, because there's a feeling of unrest post-pandemic."
"I know people joke about the rainbow stickers coming out for the month of Pride, and corporates hopping on bandwagons, but Pride month does make me feel like we have our place in this city. The whole of Dublin can see that, not just us as queer people," she concludes.
Davina Devine and Victoria are also returning with their annual supersized 'Pride POP-Up Party' on Saturday, June 24th, with special guest Una Healy.
Advertisement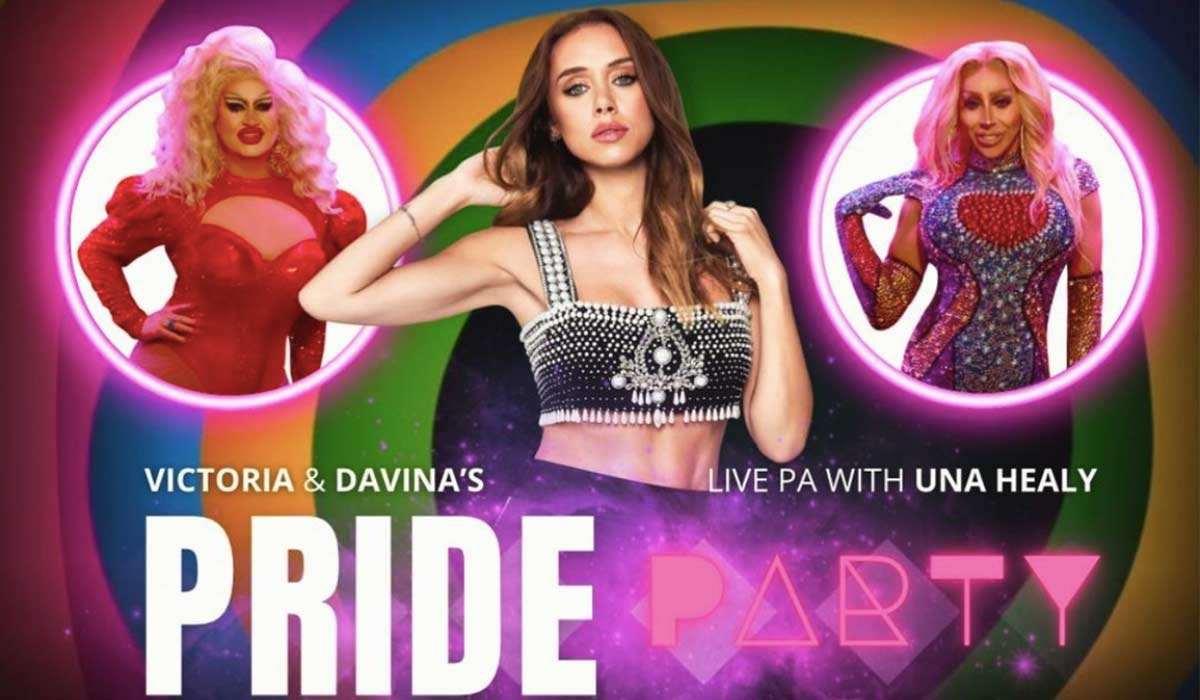 "We started that Pride party in a small room in the Mercantile and had so much fun. We're big pop music fans, and wanted to create a space where people could come together and enjoy that. It kept growing, " she grins. "It's just two drag queens running this, there's nobody else paying the bills! It's the best fun every single year. The security staff at Vicar Street are just the sweetest - which is really important for queer events. I've met Una Healy before.
"I used to do a TV show called Wagon's Den on RTE2 [with Katherine Lynch], and I was the resident DJ. Fun fact, I never played a song," Victoria laughs. "It was all auto queued through the sound system, so I was just standing in front of the decks! Una was a guest on the show before, and her mother is the ultimate Tipperary Mammy. I was seven foot tall, and it was possibly her first time meeting a drag queen but she was just so sweet. I've always been a fan of The Saturdays. This is the first time Una has performed any of the band's music since they split nine years ago. She's also releasing a new single, she's got dancers and visuals so it's going to be a big juicy show. I can't wait to relive all of those amazing pop songs on Pride Saturday."
Mother Block Party takes place at Collins' Barracks on June 23-24.
The new issue of Hot Press is out now.
Advertisement