"Pride is a reminder to celebrate your wins and take stock of where more needs to be done."
Pride Month has officially kicked off, with Kylie Minogue's 'Padam Padam' storming the charts thanks to queer TikTok and Charlie XCX confirming in the studio with Robyn (the electro-pop girlies never stop giving).
Dublin's event calendar is overflowing with incredible DJ sets, drag performances and queer-friendly, wholesome activities to choose from. Why not dress up like 2011 Born This Way-era Lady Gaga and hit up Church's party at The Well, head down to Pawn Shop basement for Fluid Club or see Self-Esteem thrill Mother's Block Party crowd with her spine-tingling, emotional power pop set on Pride Saturday?
The dancefloor is something of a sacrosanct, holy space for queer people. It's inspired art and music for decades, even becoming the inspiration for Beyonce's groundbreaking Renaissance album last year. The Irish capital has seen some thrilling queer nights pop up over the last 12 months alone, creating culture in some of the most unexpected places - and despite the country seemingly doing everything to quash art spaces and nightlife. New licensing laws may help things in the next year, but queer organisers are proving yet again that they only need the community's dedication and some DJ decks to gather a crowd and grant the gift of escapism. Hot Press have compiled some of our favourite Pride events together in one place to help you plan your weekend...
Thursday, June 22nd
Jennifer's Body screening in aid of Trans Harm Reduction
Advertisement
Slaughterhouse Film Club and HONEYPOT are arranging a showing of cult classic Jennifer's Body at Dublin's The Complex on Pride weekend. Following the screening, beloved DJ Roo Honeychild will be performing a live set in the space, while HONEYPOT co-founder Rhyzine will be spinning some tunes to start the evening off right. Tickets are €14 with all all profits going directly to Trans Harm Reduction, a volunteer-run, grassroots harm reduction organisation helping trans people in Ireland and Scotland.
"For over a decade, the 2009 film has slowly been adopted by the queer community and is widely considered an underrated contemporary horror classic," HONEYPOT commented. "It's also extremely camp and hilar. (If you haven't seen the full movie, you've probably seen the kissing scene). It's also the perfect way to kick off a whopper Pride weekend and to get the spirits high for our HONEYPOT Pride extravaganza the following Saturday." Get your tickets here.
 

View this post on Instagram

 
QueerMania Presents… PRIDEMANIA 2 @ The Sound House, 28 Eden Quay
This event will be a night filled with drag, live music, burlesque and community as QueerMania organisers and followers come together to celebrate the LGBTQ+ community. Featuring a lineup of talented performers and a welcoming atmosphere, PRIDEMANIA 2 is the perfect way to kick off your Pride celebrations. Tickets here. The show will include host Jack O'Connor alongside Dylan Jordan, Queerovision winner iVaa C. Lumia, Fierce Injection, Jaded, Jack Madden and Kora Elle. Doors open at 7:30pm with show start at 8:30pm for the 18+ and fully standing event.
Friday, June 23rd
Advertisement
Mother Pride Block Party, Collins Barracks
Returning to Collins Barracks for their biggest and most exciting show to date, this year's Friday headliners are Mercury Prize-nominated pop phenomena Self Esteem, followed by the Grammy-winning Purple Disco Machine on Saturday evening. They will be joined by the alumni of the US and UK's RuPaul's Drag Race, Bimini, Bianca Del Rio, Raja and Naomi Smalls, and Irish DJ, Krystal Klear. Among the other homegrown talent set to appear across the two days are Erica Cody and Brooke (Scullion) and Queen of Ireland herself, Panti Bliss.
The Block Party's line up includes the likes of Sing Along Social, Drag Aerobics, Kelly-Anne Byrne, Tara Kumar, Claire Beck, Conor Behan, GLAMO, Stephen Dowling, Billy Bunzari, LOU BRU, MiniKimonoand, Bull Horris, B2B and RHYZINE. Drag performances from Victoria Secret, Davina Devine, Regina George, Paul Ryder, Pixie Woo, Donna Fella, Naomi Diamond, Shaqira Knightly, Anziety, Annie Queeries, Dr Count Evil, Richard Joke, Vicky Voltz, Lavender, Viola Gayvis and Chanel are due to take place over the two days.
Mother was established in 2010 at the height of the recession. Since then, it has consistently raised vital funds for Ireland's national LGBTQ+ press, GCN. Speaking to Mother's Cormac Cashman and Lisa Connell for the Pride special, their dedication to queer love, freedom and LGBTQ+ causes is palpable.
"The Pride Block Party has been a labour of love for the past 13 years," Cashman and Connell tell Hot Press. "It's a really large scale event now hosting 8000 people a day. We have the community to thank for it's success. They have been supporting us and coming to our parties since 2010 and what is a Pride party without our glorious LGBTQ+ community. It's an honour to create a space for people to meet and celebrate at a really important time in our calendars.
Advertisement
"It's focus is about queer joy and celebration of Pride," the pair continue. "We believe in the transformative power of the dancefloor and understand how important it is to be with your people, let loose with your people and to do so in an safe and supported space. We programming world class performers and artists because we love a good gig. Pride is a really important time of the year for the community and so, alongside our weekly club night, we decide that we should have a specific Pride Party. It's grown exponentially from there.
"With the rise of the far right across Europe, rising homophobia and worrying levels of transphobia in Ireland and globally, Pride is a really important anniversary of action and a call to arms for todays activists to continue working and fighting for rights and equality in many spheres," the Mother organisers add. "Pride also provides powerful visibility and representation of our lives and the joy and colour that encompasses. It's a reminder to celebrate your wins and take stock of where more needs to be done.
"We hope that the LGBTQ+ community has a bright and hate free future. That understanding and respect of difference is fostered so that LGBTQ+ folk aren't vulnerable to homophobia and transphobia at a basic level. We also hope for safety and security so that people can be supported to live their lives authentically."
EGG Cabaret: Bello Bar, Portobello
Pea Dinneen, Aoife O'Connor, Paul Prior are coming together for a DIY Pride cabaret night, hosted by Cabaregg. Make sure to dress up, because it's a pageant that kicks off at 8pm. Stick around for a drink and dance after because their resident DJ Omelette-You-Finish (lol) will be spinning "gay anthems, camp bops and bangers bangers bangers into the wee hours".
Advertisement
"Egg is PROUD to announce that we're PROUD to be presenting our very first out-loud, screaming, shouting, hooting and hollering PRIDE SPECTACULAR!" organisers wrote on Eventbirte. "We're here, we're queer and we're making ourselves clear: this is the all-singing, all-dancing, all-inclusive genderfuck PRIDE eggstravaganza for eggeryone who is proud to be whatever it is their gay heart desires. Come celebrate PRIDE with your gloriously queer EGG favourites; trans chanteuse Ms Pea Dinneen and non-binary icon Aoife O'Connor, along with the beautifully gay musical maestro Paul Piano Prior on the keys as they all make the gayest show in Dublin just the little bit gayer for one night only with a raucous, rowdy queer af Pride cabaret show featuring the most dazzling entertainers Dublin town has to offer!" Tickets here.
 

View this post on Instagram

 
Haus of Gaga @ The Well, 130 St Stephen's Green
Lady Gaga was Church crew's first ever themed night, and the gang are paying their respects to the queen of camp by blaring hits from Fame Monster right up to Chromatica. Spot prizes for whoever arrives with the best outfit, with Gaga visuals decking out the Well's space. Get your tickets fast - it's the party's third Haus of Gaga night and it's guaranteed to sell out every time. Tickets are only €9.55 currently. Church dubs itself "Dublin's biggest pounding pop party", having put on epic tributes to the genre's most influential, iconic divas. Beyonce and Britney have previously been honoured, but Gaga is Church's ultimate heroine.
Fluid Club Dublin @ Pawn Shop, Dame Street
Made for Bisexual, Pansexual, the Fluid and Flexible + Friends, Ireland's new dedicated queer club night celebrates fluid sexuality, and all that the 'B' in LGBT represents. Their first ever Bi/Pan Pride party will take place on June 23rd in Pawn Shop basement on Dame Street, featuring Katma, Nat Mac and Fluid Club's resident DJ Sleepless Beauty. Come dressed in white or neon colours, as Fluid Club are going full UV for the celebrations - complete with glow-sticks and painters on hand to give you that extra glimmer in the dark. Unisex toilets will be on hand, plus Pineapple Slice-inspired cocktails. The event can only be accessed via stairs, just FYI. "Sounders/Allies" are also welcome. Limited tickets available here.
Advertisement
"Not so long ago, Pride was a march, and not a parade. I was in my teens when I went to my first," Anna Kerslake, Fluid Club organiser, tells Hot Press. "As a bisexual, you're often seen as not queer enough. Sexuality is often seen as a phase, a ploy for attention, or a stop off on the way to coming out as gay. 'Gold Star' is a term that's thrown around as a way to differentiate between those who have and haven't slept with the opposite sex. There are amazing allies out there but we're still fighting misconceptions about our sexuality, and perpetuated prejudice even within the larger community. The Bi/Pan community tends to be a more hidden one. If you're fluid, when you date a cisgendered guy, girl or non-binary person, you don't suddenly change sexuality.
Fluid Club was conceived many years ago, according to Kerslake.
"In countless journals, I penned the idea of a club space for bisexual people. There were no spaces for Bisexuals. Over Covid, there were some online hangouts thanks to Bi+ Ireland but there were no IRL meet-ups. It's been amazing to see more social acceptance of the community overall in Ireland, but it seemed folks under the B in the LGBT umbrella were being left behind, so I decided to create some spaces for the community, and one of those was Fluid."
"We want our clubbers to have a fun and safe experience when they party with us, so we have a set of House Rules that we ask our patrons to adhere to while in our club. We've adopted the night time monitor concept, as we want our party-goers to feel safe to speak with us if anything becomes an issue on the night," Anna posits. "Our club monitors are lit up in neon to help our patrons find us. We encourage a safe sesh. We make sure there is free and available access to drinking water. We remind our patrons to mind themselves and each-other and to speak to us if they need assistance. We're working with Pawn Shop to provide unisex toilets over Pride weekend. And we collaborate with Safe Gigs Ireland, as we continue working to make our club as safe a space for all who attend.
Fluid Club is a dedicated space for bisexual and pansexual people to be able to socialise comfortably, openly and without prejudice, but friends and allies are also welcome.
Advertisement
"There are overall LGBT clubs and there are sex & fetish clubs, but the focus is less on womxn, the Trans community and fluid sexuality," Kerslake adds. "There is Skirt Club, but again it is another play party, with a focus on cis women. It's been great to see more female+/queer+ club nights popping up in Dublin. Considering Bisexual/Pansexual people make up the majority under the LGBT banner, it felt important to create a dedicated space that recognises and actively celebrates this sexuality, which can then reflect what queerness means to this community."
Why did Fluid Club choose Pawn Shop as the most effective host venue?
"Initially we had some setbacks in finding a supportive venue for Fluid Club. It was disheartening, trying to start something new in the city from the ground up with a lack of encouragement. We found our first home in Pawn Shop. Since the word go, they have been supporters of Fluid. They made us feel welcome, and were enthusiastic and supportive at every stage. Working with a venue that supports your vision makes all the difference.
"The basement is very much part of the Fluid aesthetic," Anna continues. "Influenced by Berlin warehouse energy, our focus is on creating a queer underground party vibe, building our own connection with the history of the underground scene and queer culture, and creating our own future. Our music policy allows for creative freedom while also reflecting the identity of Fluid Club. The music is hard but bouncy, and always playful. We want the energy to be just right for friend vibes or flirtatious connections."
"Our party is like being at a house party more than a big club event. We get to know our attendees; we want people to feel welcome. Community is at core of Fluid Club. We encourage you to leave your ego at the door, the phone in the bag, feel the music, dance and connect with each other. There are no strangers here; only friends you haven't met yet."
Advertisement
Anna Kerslake has big plans for the future of Fluid Club.
"It's a passion project and a social start up. It's a place to be queer in whatever that means to you. We have more plans for Fluid Club's further development. We want you to immerse yourself in the experience. We value community, playfulness, authenticity and creativity. It's the warmth of our community that makes Fluid special."
 

View this post on Instagram

 
Dyke Night @ Wigwam, 54 Middle Abbey Street
LGBTQIA+ Women, non-binary folk and their allies can party on June 23rd in aid of Dublin Lesbian Line. The show starts at 9pm sharp, so make sure to get there after doors open from 8pm. The event will be hosted by Ireland's own lesbian legends: The Wild Geeze. "If you're into dark humour, burlesque, music, and talks of dismantling the patriarchy, The Wild Geeze are for you," the description reads. Other epic performers on the night include fierce and curvy diva Patsy Pleasure, Ping Pong Disco Dancer and physical theatre expert Deirdre Griffin, pole dancer and burlesque performer Leela Baron, pint-sized queer performer Mx Teaze and DJ Kate Brennan-Harding spinning tunes til late. General tickets €15 and lower-cost €10 tickets (students and unemployed) are on sale now. Contact [email protected] if you cannot afford a ticket and they'll sort you out.
P.S. - The venue is physically accessible which includes a step free entrance. The show takes place on the main floor which has an accessible bathroom. A very limited number of tables and seats will be available in front of the stage for people who need them. Tickets here.
Advertisement
 

View this post on Instagram

 
Club Comfort: Pride Warm Up @ Yamamori Tengu, 37 Strand Street Great
Catch Tengu's own Roo Honeychild and rising superstar naoisefalafel (Naoise Faogáin) behind the decks in the iconic basement to get everyone's blood pumping for the big weekend. The pair have a new show on ddr., 'Falafel & Friends', which started on May 26th but will perform another broadcast on June 23rd at midday. Roo Honeychild and naoisefalafel are a regular organiser of parties with both ddr. and the Small Trans Library. They make unbelievably fun DJ partners - this one's circled in our calendars.
"Based in Dublin, naoisefalafel is a newcomer to DJing, having started learning the ropes in December 2022 with a first gig following shortly afterwards in January of this year. Inspired by the plethora of talented queer artists in the DIY scene at home, their self-released mixes to date have cycled through a diverse but always high energy range of bass, grime, garage and trance selections," the event description reads. "Every month is a gay month in our books but you know that social time of celebration is right around the corner! Get your dancing shoes on!" Tickets here.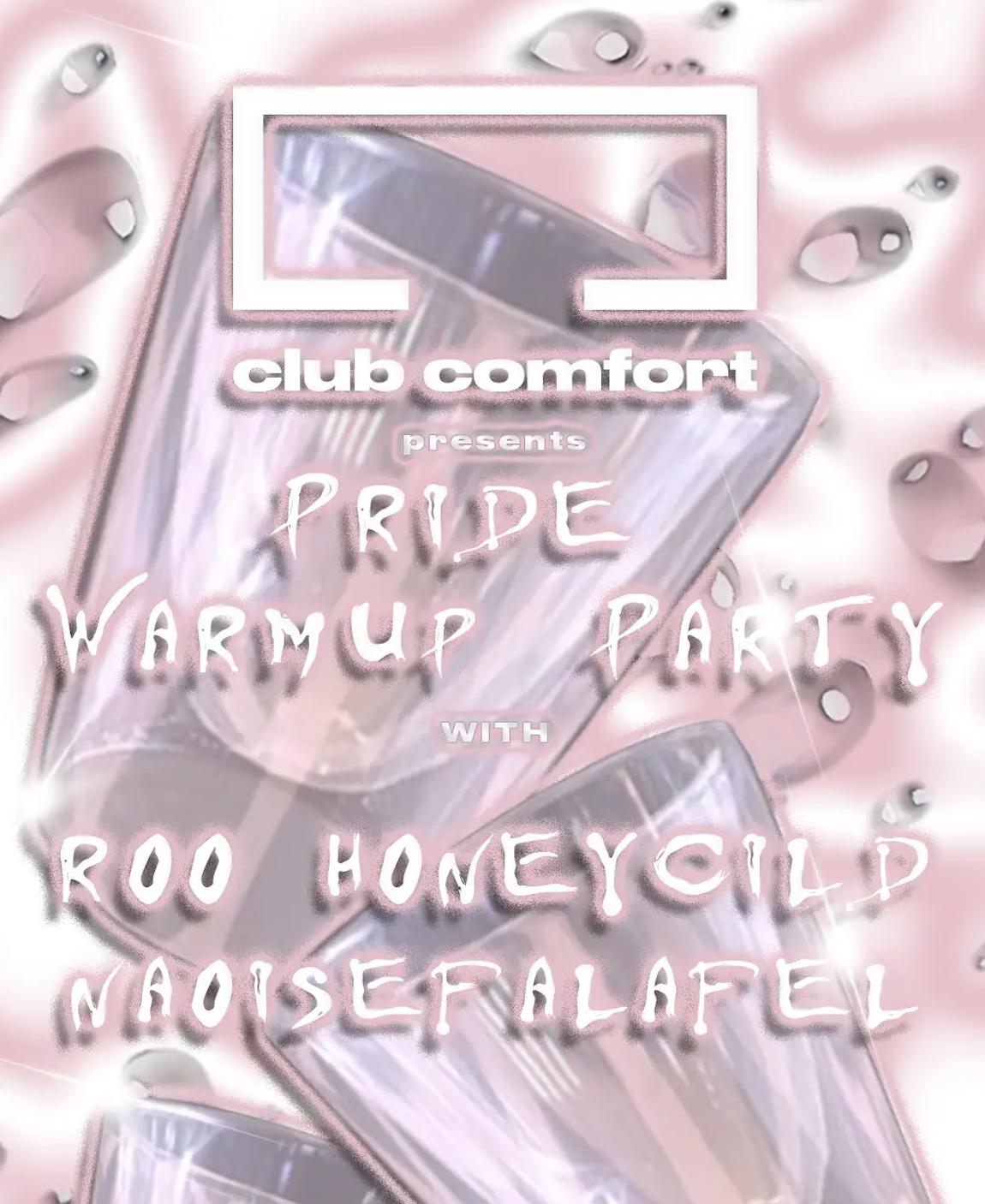 Saturday, June 24th
Advertisement
Mother: Pride Afterparty @ Here & Now, Arran Quay
Mother DJ Rocky T. Delgado flies solo on the main floor of Here & Now (home of Index Club) for a stellar four-hour Pride set, with Billy Bunzari & Minikimono playing upstairs in room two. Boasting one Dublin's best sound systems, Here & Now is spread across two floors, with two dance floors and four bars across the two levels. Tickets €15 + booking fee are available now, but they're super limited so grab yours quick. Dublin's largest underground club dedicated to electronic music, Index is a brand who have strived in the electronic music scene as one of the heavyweight promoters in the industry. In recent times, Here & Now have seen acts such as Boris Brejcha, Maceo Plex, Skream, Kerri Chandler & many more under our roof over the last few months.
Victoria & Davina's Pride Party, Vicar Street
This time enlisting The Saturdays' Una Healy; Victoria Secret and Davina Devine's Pride festivities are back – taking over Vicar Street with their annual Pride Party this month. Victoria Secret took to Instagram in an announcement saying, "OUR DUBLIN PRIDE PARTY IS BACK. Taking over Vicar Street with Davina once again… Plus Una Healy joins us for a live PA making Pride Saturday the Ultimate Saturdays." The Dublin-based Drag Queens first held their Pride Party in Vicar Street in 2019 and included performances by The Cock Destroyers, B*Witched and several of Dublin's hottest Drag Queens. No event took place in 2020 or 2021 due to Covid, but the queens held virtual drag shows instead. Tickets here.
HONEYPOT @ Wigwam, 54 Middle Abbey Street
If you haven't experienced a HONEYPOT queer night, you're in for a treat of huge proportions. Some of their Pride party DJs include up-and-comers and established names: Reflekta, bel, Pauline, RubyRed, Gadget & the Cloud, Rhyzine, Queen Beatz, FAFF and more. HONEYPOT was born out of a desire to create a space in Dublin nightlife that puts female, non-binary and queer people at the forefront.
"Unfortunately, sometimes going clubbing as a queer or female-presenting person can be a negative experience, and all-male lineups are still a prominent issue in the Irish music scene. We had talked about starting a night like this for years, but 2022 was when we finally took the leap," HONEYPOT organiser Kerry Mahony tells Hot Press.
Advertisement
"There are a number of things that make HONEYPOT special. In the last year, we've managed to grow a really strong and dedicated community, who are at the heart of everything we do. As well as that, we are proud of our support for both emerging and established female, trans and non-binary DJs. Everyone always comments on the utterly unique and electric energy on the dancefloor at HONEYPOT, which we definitely think is true!"
 

View this post on Instagram

 
"We've had so amazing memories!" Kerry adds, recalling one-year of HONEYPOT parties. "A highlight would definitely be our launch party, because it blew our expectations out of the water. It felt like we were taking a risk starting a night like this and we weren't sure what the reception would be, but we ended up selling out a week before the event. Seeing a room of 250 people dancing together and singing along to 'Heaven Is A Place On Earth' was a super special moment. Tears were shed.
"We've definitely been inspired by nights both inside and outside of Ireland," she continues. "At home, Skin & Blister and Club Comfort were both big inspirations for us and real gamechangers in the scene. Overseas, Big Dyke Energy in London is incredible. We're excited to bring over FAFF for our Pride party who are residents there."
 

View this post on Instagram

 
Advertisement
Of course, one major aspect of Pride is inclusivity and respect. There can't be freedom to dance and express one's true identity if you don't feel comfortable in the space.
"HONEYPOT operates on an ethos of inclusivity, not exclusivity, meaning everyone is welcome to party with us," Kerry emphasises. "While we're primarily a night for gay and queer women, we open our doors to everyone, including the wider LGBTQ+ community, those who are questioning, allies and everyone in between. In saying this, we have a zero-tolerance policy for homophobia, transphobia, sexism, racism, or harassment. We work closely with the venue staff in every venue we work with to ensure they are aware of our ethos and policies. We ask for everyone who buys a ticket to HONEYPOT to respect our values, and so far, that has worked well.
"More venues and diversity in the spaces available to run nights would help our nightlife scene massively," she asserts, when asked about the future of hitting the tiles. "Dublin has a very limited amount of venues available which makes it very difficult to run nights. More accessible spaces are a must, too. More funding for nightlife would also help the queer nightlife scene to flourish - it's very expensive to run a night and this can make it inaccessible for many. Finally, more diversity in lineups is needed, even in the queer nightlife scene. We're proud to book so many incredible female, queer and non-binary DJs for HONEYPOT, and we'd love to see them platformed at other nights too."
The connotations and meaning behind Pride can often become convoluted (hello, pinkwashing), but the heart of the matter remains the same.
"The origins of Pride have always been in protest, and this should never be forgotten," Mahony stresses. "As well as Pride serving as a marker of how far we've come, it's also an opportunity to come together and celebrate as a community. We're really excited to host our first ever Pride party. It's a beautiful time of year."
A portion of all proceeds from HONEYPOT 007: Lovers & Friends will be going towards The Small Trans Library.
"Society is simultaneously progressing a lot whilst also becoming more divided. Homosexuality was only decriminalised in Ireland 30 years ago and creating a night like HONEYPOT would have been an entirely different story even 10 years ago. Discrimination absolutely still exists, particularly for the trans community, which is why it feels so important for us to raise funds for incredible organisations like The Small Trans Library and Trans Harm Reduction."
Advertisement
 

View this post on Instagram

 
TENDER Pride Block Party @ The Complex, Smithfield
Running from 2pm until midnight, TENDER regulars and some new faces will hit the decks for 10 hours of hard hitting house trance. You can usually find TENDER DJs at the Racket Space in the basement of the new(er) Bernard Shaw in Glasnevin. The club night (created by Mercorn, Bull Horris and Gary) was born out of the unique and lasting connections that can flourish on a dance floor. It has a zero tolerance policy of racism, sexism, homophobia, bi-phobia, transphobia, ableism or prejudice based on age, ethnicity, nationality, class, gender, gender-presentation, language ability or religion. Tickets available here.
"We believe in the healing and nurturing power that is found when we gather together as a community to be unashamedly ourselves to dance and connect," TENDER organisers wrote in the event description. "Our rights and identities are under constant attack by the media, governments and the right wing as we fight for our rights we also need to hold space to celebrate queer joy."
 

View this post on Instagram

 
Advertisement
Tengu PRIDE presents:Bull Horris & Tadhg K @ Yamamori Tengu
Two driving forces of the dance music community, Bull Horris of Tender/Strawberries & Dublin Modular Founder, Tadhg K, are hitting the Tengu basement for Dublin Pride celebrations! Meath-born Dublin-based Horris is a regular on the queer club scene in the capital and beyond over the last 12 months. From becoming a resident at the beloved
Strawberries party to co-founding his own night, Tender, his influence is beyond measure. While his selection being driven by the sounds of early 90s trance and house, but expect hints of goa, progressive, euro and pop mixed throughout his sets too. Queer DJ Tadhg K is a live electronic and vinyl artist based in Dublin, who experiments with sounds from the acoustic and electronic realms. Tadhg's sounds flow between spatial ambient to percussive warehouse, embracing a playful and immersive relationship with the crowd.
50% of the profits on the night will go towards the Small Trans Library Dublin. Tickets here.
JamesJamesJames at the Racket Space
Celebrate Pride with the self proclaimed "music industry's most spoilt brat" from 10pm at the basement of the new Bernard Shaw, Glasnevin. jamesjamesjames "makes techno for the goths under the bridge, only flies first class business, is the modern day thunderdome enthusiast and Ministry of Sound alumni", as the Racket Space describe. His love of pop and '90s techno are frequently put together create turbo bass dance floor hits. "He produces music for anyone who gets called slurs". It's bound to get sweaty in that basement, so let loose and throw away your inhibitions for the occasion. Tickets here.
CHURCH of Girl Power with Danielle Walsh @ The Well, St Stephen's Green
Pride Saturday is seeing CHURCH host "kween of gays": Danielle Walsh. The Belfast internet personality was scouted by a bar manager for her incredible ability to down cocktails in seconds, but she's hitting the decks at The Well for a special guest slot with James Kavanagh. The pair will be blaring bangerz from your favourite female pop icons: Britney, Kylie, Miley, Madonna, Ariana, The Spice Girls, The Saturdays, Girls Aloud, Anita, Gaga, Nicki, Rihanna, Cyndi Lauper, Whitney and many more. Walsh and Kavanagh will be joined by all the regular CHURCH DJs and drag performances from Anziety and Viola Gayvis. Early bird tickets are only a tenner.
Advertisement
RATHAUS + NSFW PRESENT: INFERNO @ The Grand Social, 35 Liffey Street Lower
NSFW are collaborating with Rathaus to create an all-day collaboration Pride Party at the city centre venue, inspired by fetish night culture. The Garden Party kicks off at 3pm with a massive array of DJs and performers, followed by their night event upstairs for Club Rathaus. DJ Spray - flying in from Berlin - is in huge demand at the moment as he self-releases projects on his own label. Craigie Knowles is also on the bill. NSFW support on the night comes from L.ivory, Tyvion Valentine and Dark Mavis. The Dark Room will be in operation with safe sex supplies from MPOWER. There's a no camera policy as always, and kink is encouraged. Embrace the hedonism on Pride Saturday!
 

View this post on Instagram

 
Sunday, June 25th
Haus of W.I.G's THEPRIDEPARTY at The Sugar Club, Leeson Street
Taking place from 6:00pm-11:30pm for just €25; get a hard-hitting dose of drag at Haus of W.I.G.'s Pride Party. The event will feature a formidable line-up of special guests, and the talented usual trio of Naomi Diamond, Donna Fella and Shaquira Knightly. Chanel, Anziety, The Wild Geeze, Lavender, Dr Count Evil, Annie Queeries, Bonnie Boux, Vicky Volltz, Terri Fierce and more are also on the bill, so expect lights, dancing, live music, comedy, games and lip-sync for your nerves! Tickets via Eventbrite here.
Advertisement
Ariana's Drag Race, Farrier & Draper
Host Ariana Grindr Autumn Moon and Head Judge Jack Swift take the stage at 7pm on Pride Sunday  to introduce Ariana's Drag Race. Fabulous drag queens are competing to win a very special prize on the exciting night. Plenty of glitter and stiletto heels are on the menu for the final day of Pride weekend, and the queens will be bringing ALL the energy. The atmosphere will presumably be buzzing with charisma, uniqueness, nerve, and talent. The competitors have come from far and wide to battle it out for the crown, and as the beats start to drop, these queens are ready to slay.
"This is not just a race, this is a celebration of diversity, creativity, and individuality," the event description reads. "Get ready to gag, because these queens are about to take you on a ride that you will never forget." Tickets here.
Vinyl Session with Siobhán and friends @ Street 66
"Ease your post-parade ennui with great tunes and delicious cocktails from the Siobhán and the Street 66 team," the organisers write, enticing in the customers. Given that Dublin City Council have just replaced Street 66's beloved front outdoor area with bike racks for no apparent reason on Parliament Street, they deserve your business. The venue always guarantees a fun, queer-friendly night out and it's right beside DiFontaines pizza. There's a split between the cosy pub environment and a packed out dancefloor spinnin' pop hits from every decade until late into the night.
Every Night Of The Week
The George, George's Street
Advertisement
Dublin's most revered nightclub (for all sexual orientations, arguably) and LGBTQ institution is hosting events throughout Pride week, including Bingo with Shirley Temple Bar on Sunday, June 25th, dance-only night on Pride Friday, Witchy Wednesday Pride Pole Special, Davina Devine on Pride Thursday, Dolly and her Grippettes on Pride Tuesday and more.
Listen to our specially curated Pride 2023 playlist below, featuring Irish artists, certified queer icons, pop goddesses and more!