Not content with being one of Ireland's leading music artists, Imelda May has now released her debut poetry collection, the wonderfully compelling and sex-positive 'A Lick And A Promise'.
Having scored a No.1 album with 11 Past The Hour and released spoken-word EP Slip Of The Tongue this year, you'd be forgiven for thinking Imelda May might want to put her feet up. After all, many artists lamented the creative blocks which plagued them during lockdown. Not May, though. She has just released her debut poetry collection, A Lick And A Promise, which includes no less than 100 poems. Productivity-wise, the Dubliner is putting us all to shame.
I hook up with Imelda at the Hyatt Central hotel in the heart of The Liberties, where she grew up. The singer and author radiates optimism. Dressed in a black fringed jacket, May also sports a striking snake ring coiled around her finger. Interestingly, it matches A Lick And A Promise's cover illustration. I ask if she knows the graphic artist, but of course she does.
"Do I know who designed it? It's my baby!" laughs May. "Dee Mulroony is a friend of mine, and I'm a massive fan of her work. She did the front and the back, plus the introduction and the outro drawings. Tim Varlow, another friend, did the graphic design work, but all the other illustrations inside are my own."
It's hardly surprising that May accumulates artistic friends like trinkets – there's a warmth and familiarity about her presence, and a hint at depths of compassion.
"I've actually become friends with someone I'm a huge fan of recently, Nikita Gill," notes Imelda. "We met at some event, and it turned out she lives just up the road from me. I'm in the countryside, and she's just moved nearby. We're taking over the world – I'm driving her in and out of London. I'm only her taxi! I think artists are just drawn to each other sometimes. It's probably the same for you and writers."
Advertisement
Featuring six themes – Breast, Below, Blood, Eyes, Tongue and Temple – A Lick And A Promise explores heartbreak, sex, nature and womanhood in May's absorbing, personal style. The title comes from a phrase her mother, Madge Clabby, coined for a hurried wash, which reminded May of the way she consumes her beloved poems when time is scarce.
"My favourite poets are Rupi Kaur, Rita Ann Higgins and Leonard Cohen, but Seamus Heaney brings me back to the earth," she says. "James Joyce takes me on the most fast-paced, exciting journeys that you have to focus on. Yeats is just so beautiful, and I've loved John Cooper Clarke from a very young age. Pat Ingoldsby's The Frenchwoman And The Sky is one of the best books I've ever read. I'm a massive fan."
Rich in colloquial language, Imelda's latest work can't be separated from Dublin itself. Indeed, Ireland informs every syllable of her wordplay.
"When you think about it, English isn't our first language," says May. "It is now, which I hope will change, but it's not the way our minds work. You don't just wipe out Irish – we still think as Gaeilge. You can destroy a language in one generation, which is what happened, but you can't remove that way of thinking.
"You ask anybody in English-speaking countries who their favourite writers are, almost always Irish writers are at the top. A lot of that is to do with how we think and phrase. Our language isn't linear, Gaeilge moves like a vine up a wall and there isn't just one way of saying things, which is beautiful. That's why I'm determined to learn Irish. My aim is to be able to read the poets and the storytellers, and listen to the music that has gone before that I've missed out on. I want to understand what other people are saying to me."
This isn't May's first brush with poetry. Having delivered a captivating performance at Latitude in 2019, she wrote poems in a glass case and later read her work aloud to an audience. The singer also penned 'You Don't Get To Be Racist And Irish', which was used by Rethink Ireland.
Advertisement
"I've missed every deadline because I was insanely busy, and management were losing their minds," Imelda grins, self-aware as always. "Choosing to put the poetry book out now wasn't part of any plan. Nothing I ever do is like that. Management lets me be an artist, but I don't push myself because you can't create when it's not there. Even with a publishing company. I've always had all the creative control, because that's the way it should be. I say 'yes' to everything and then I call them up crying about how tired I am. I just have a childlike excitement about anything artistic in my life, and I run with it. I'm afraid if I don't catch it, it'll be gone."
May has consistently cited the artistic influence of her parents and her grandmother, who joined Cumann na mBan at the age of 16. A Lick And A Promise, meanwhile, includes two poems from Imelda's nine-year-old daughter Violet.
"Violet's always writing," she beams. "I didn't have to encourage her to create poetry, because she's already an artist. There were a couple of her works that I adored, so I just wanted to include them. My dad had also written a few in the past; I love that my skill came from him. Art has moved through me, and it's going to Violet now. It's amazing how it moves, travels and influences."
The singer's feminist outlook is very much tied to her upbringing. In 'Liberty Belle', she writes: "You'll like her 'til she knocks your block off/ If you step on her once cobbled toes… Her sons fought and died/ Gave their lives/ As her daughters heavily bled/ In backstreets from dim lit desperate deeds." Does she believe Irish women are becoming more outspoken about the ways in which Church and State exert control?
"First of all, I'm a Liberties woman – we're sitting here looking at it," says Imelda, pointing out the window at the inner city skyline. "The women here are renowned for being strong. We've always been thinking and feeling these emotions of frustration and anger with fire, like during the Repeal referendum. It wasn't easy to express those things in the past, but it's always been there.
"Women just didn't resign themselves to their babies being taken away from them in Magdalene Laundries, or passively accept the life they had. It's wonderful now that people are being vocal and active, physically getting out onto the streets and marching. That's the way it should be."
Artists often home in on spirituality as a way of shrugging off the shackles of religion. Similarly, May explores pre-Christian Ireland, and the idea of divine femininity being revolutionary.
Advertisement
"Women have been suffocated from many angles for so long," she considers. "We shook off an entire empire, but then Christianity was there. It's kept the oxygen out, but the flame is still present. If you take it away, it'll roar into a blaze. That's finally happening here with the Catholic Church and State. There's power in keeping people fearful – it stops them using their own minds to think for themselves.
"I'm not knocking religious people, I'm talking about the way in which religion can affect those most marginalised in a negative way. In pre-Christian Ireland, we had way more balance and harmony within structured society. Women had a voice; it was quite matriarchal."
A Lick And A Promise also doesn't shy away from sex – from the description of receiving pleasure in 'Rendez You', to the mischievous veneration of vibrators in 'Grievous Battery Harm'.
"Why should we apologise for our sexuality? It's part of all of us," says Imelda. "Without it, we wouldn't exist. It's necessary, but it's natural. If you do believe in God or a higher power, and you believe we're here for a reason, I can't see what the problem is. We've still been made the way we're made, with all those beautiful nerve endings to make us desire and feel happy. Anyone trying to convince us that sex is shameful is somebody trying to take control of what should be a beautiful thing.
"A lot of people associate open sexuality with pornography, and it's not the same thing. Certainly I think pornography has a huge amount of anger in it, and that's what confuses people – they assume sexuality has inherent aggression. It's all this pent-up emotion and pent-up natural instinct that then comes out in the wrong way. Oppressing sexuality is like building up a pressure cooker.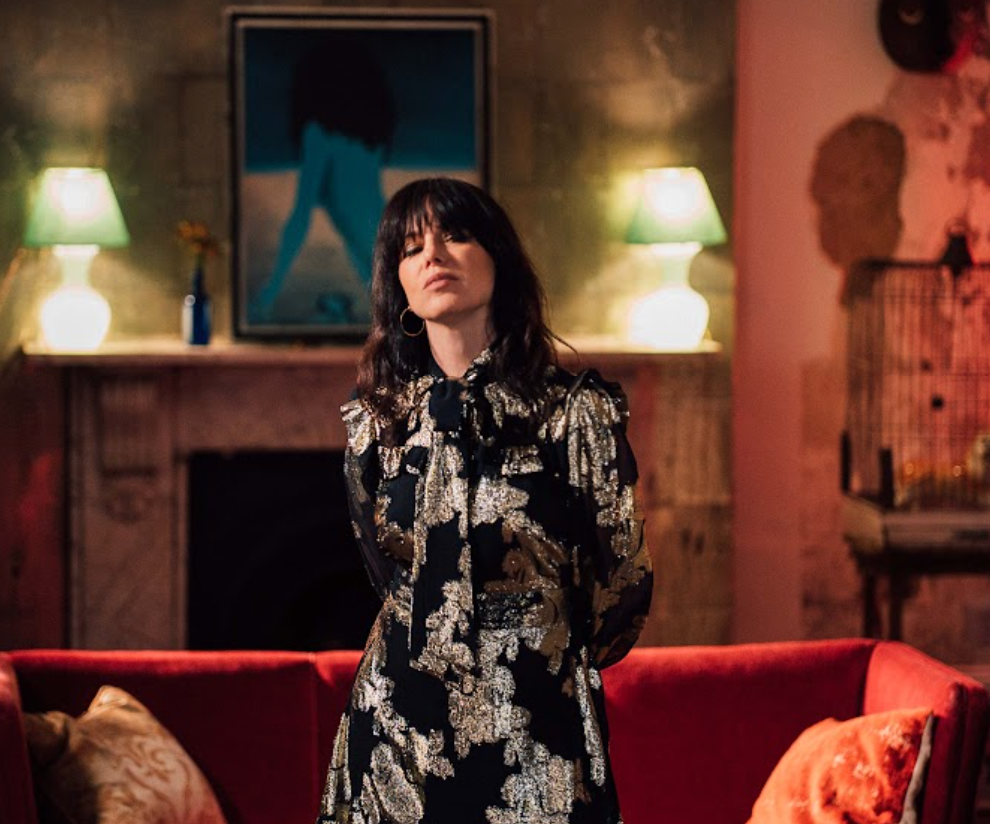 "If you let it flow and accept it as a beautiful thing, then it stays a beautiful thing. Porn is part of an unregulated industry, and it's important to pay for ethical porn where everybody is treated well, over-age, paid, and respected if you're consuming it. It's not the reality for most people when they're exploring the sensual side in their own homes."
Advertisement
Was Imelda concerned about being so candid?
"Ultimately I decided that I'm just putting it out there. I'm not going to censor myself for anybody, but obviously I took a second to think. When it comes to the relationship between myself and my audience, it's about making them feel less alone. Victoria Mary Clarke actually said to me once: 'Your gift is to be able to put into words what somebody else is feeling and can't articulate for whatever reason'. We connect, and that's what life is all about. I'm sure somebody will pick a dodgy headline – so be it. It's a calling. Giving yourself to art truthfully isn't always easy."
Then of course there's the social media dimension.
"I try to keep off social media," says Imelda, "because when you're an activist or speak out in any way about issues that make your heart hurt, you're going to get it wrong sometimes. That's okay, because you learn along the way. You're opening yourself up to mostly getting it right, but people who sit at home criticising and picking it all apart can't call themselves activists. That's the opposite of positive change or progress.
"I used to hide behind a version of myself, and when I stopped doing that, there was a sense of personal liberation. It's also like taking off a suit of armour in the way that it makes you an easy target. You're more vulnerable. There's the possibility for things to hurt more, and creatives are sensitive empaths. We feel things. I feel everything all the time, which helps me write, but it also has a downside. My wonderful counsellor helps me deal with that. I don't put up a wall anymore."
• A Lick And A Promise is out now, published by Faber Music.