A new set of four stamps has been unveiled by An Post. Celebrating the career of U2 – the band frequently dubbed the greatest rock band in the world – they combine distinctive shapes with iconic imagery. No wonder they are in high demand!
There had been word on the grapevine. Fans getting excited. A sense of expectation mounting.
A stamp was on the way. Or maybe it would be more than one. Then it was confirmed: there'd be four brand new designs, which is a kind of magic number in U2-ology. One for each member of the band? Seasoned U2-watchers said no: the band is greater than the sum of its individual parts…
Speculation was inevitable. Who would be handling the graphics? Would the band have any input? What would they look like? What aspects of U2's extraordinary legacy would be celebrated, given that the stamps would be issued around the 40th anniversary of the release of the band's debut album Boy?…
Then again, the word filtered out that a new Deluxe 20th anniversary reissue of 2000's All That You Can't Leave Behind was also on the way. Nothing for it but to hold our collective breath!
Well, the wait is finally over! An Post has officially unveiled a collection of four very special stamps, and as it turns out that – rather than going back to the early days – they celebrate different moments from that time in U2's enormously distinguished music career that their design and iconography had attained a new and highly impressive style and sophistication.
Advertisement

Entitled 'U2 – A Celebration 1976-2020', rather than focussing on the more distant past, the four-stamp set represents distinct eras in U2's musical journey, taking us across 30 years, and through four of the band's most memorable albums.
There's the global smash hit No.1 record The Joshua Tree (1987); its magnificent foil Achtung Baby (1991), the lead single from which, 'The Fly', was characterised by Bono as the sound of four men chopping down The Joshua Tree.
There's heading for a 20 year gap between All That You Can't Leave Behind (2000), and Songs of Experience (2017) – which also get the An Post stamp of approval.
It is, by any standards, a very fine small collection that will likely be seen as an essential collector's item by U2 fans all over the world.
Needless to say, capturing the career of one of the world's greatest rock bands on the tiny canvas of a stamp represented a daunting challenge. As ever with U2, there was input from the band – who always take a personal interest in projects of this kind. An Post worked with U2's Creative Director Gavin Friday, as well as the band's main graphic designer Shaughn McGrath, to develop four concepts that were inspired by some of the band's most iconic musical moments.
In this case, it wasn't just about fashioning the right image. Each stamp has a different shape and range of print finishes, all the better to capture the evolution of the band over four decades.
Advertisement
"The stamps feel like a culmination of my work for U2," designer extraordinaire Shaughn McGrath said. "Each album has an icon that has come to represent its ideas and concepts. In addition, each stamp has its own individual shape – and together these act as a collective silhouette and a unique visual signature."
The stamps are both very distinctive – and distinctly U2. So is the humour with which bassist Adam Clayton invests the occasion.
"In a year with so many restrictions," he said, "it's fun to think that we can travel from our homes in Ireland to anywhere in the world, courtesy of An Post."
Overall, the collection is a wonderful, prestige addition to the Irish national stamp collection – and one of which An Post are understandably proud.
"For fellow lifelong U2 fans and admirers of Irish design," Garrett Bridgeman, MD of An Post Mails & Parcels said, "it's a great pleasure to announce these very special stamps, celebrating the remarkable global impact of U2 since their formation in 1976. This stamp issue also acknowledges the band members' massive impact on global culture and society, from their work on climate change to social justice – and more recently, here in Ireland with their response to the nation's fight against COVID-19."
U2 Stamps: The Details
A booklet of four stamps (€5.40) contains two 'N' stamps covering standard post within the island of Ireland and two 'W' for posting around the world.
Advertisement
There is also a range of specially created and highly-prized stamp collectibles including:
• a First Day Cover envelope with an early photo (by ace Hot Press photographer of the era, Colm Henry) of the young Bono, The Edge, Larry Mullen and Adam Clayton, performing at Dublin's legendary Dandelion Market.
• a Souvenir Sheet featuring a special edition U2 360° Tour 'panorama' stamp set, within a wider image (by Ralph Larmann) of the iconic stage in London's Wembley Stadium.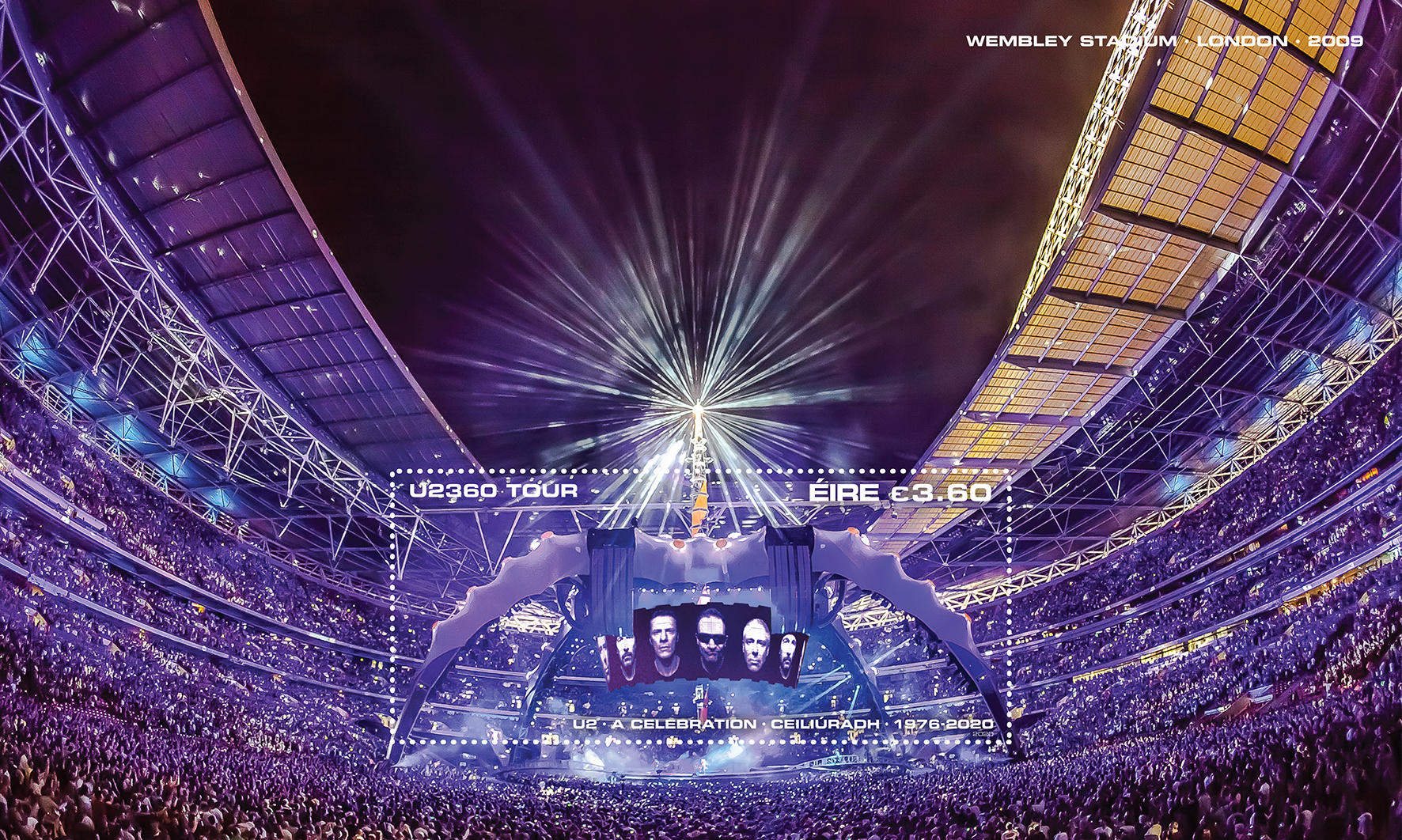 The special U2 stamp booklets are available from post offices nationwide in Ireland, and online at anpost.com/U2. Specially designed First Day Cover envelopes and other stamp collectibles are available now in selected post offices nationwide and at anpost.com/U2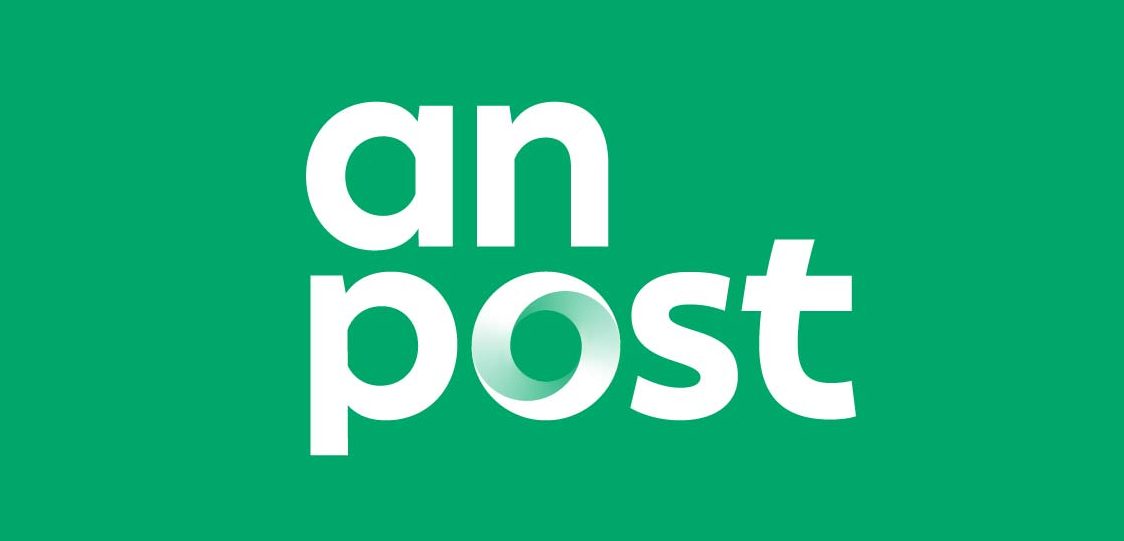 • Hot Press has a special competition with some of these brilliant stamp collectibles as a prize, for people who pre-order our upcoming U2 cover issue of Hot Press. For more information, go here...
Advertisement