Back with his latest Soulsavers collaboration, the haunting covers album Imposter, Dave Gahan talks formative influences, Elvis, the Pet Shop Boys, and Depeche Mode's induction into the Rock And Roll Hall Of Fame. Interview: Paul Nolan Photography: Spencer Ostrander & Joe Magowan
November finds Depeche Mode frontman Dave Gahan releasing his third collaboration with English electronic duo Soulsavers, Imposter, a covers album of tracks from a diverse group of artists, including Bob Dylan, PJ Harvey, Rowland S. Howard and Neil Young. It's a highly compelling effort, with the seductive darkness familiar from Depeche Mode, topped by Gahan's characteristically powerful vocals.
I've been listening to the album in the hours before interviewing the singer, and it's certainly provided a haunting soundtrack to my afternoon.
"Great, awesome," enthuses the friendly Gahan, Zooming from his home in New York. "I hope so. It's the soundtrack to my life, so somehow, that's kind of what happened. It wasn't planned like that, but that's what it feels like now. I took control over the sequencing. At the start, we recorded six songs at the Shangri-La studio, and we did them all live, vocals included. Once we started playing them out, I very quickly realised, 'Wow, the sequence is going to be really important here, I think these songs are telling a story.'
"There's certain stuff I like in there – there's this kind of sarcastic wisdom. It's in the voices of all these different singers and songwriters, whether it's Mark Lanegan or Bob Dylan. It's like there is a story to be told, and I heard that clearly once we started. I mean, we spent months choosing these songs before we actually went to record. Rich Machin and I from Soulsavers, we started listing songs that over the years had made some impression on us, individually and collectively – and this is where we landed."
Throughout Depeche Mode's journey from early '80s synth-pop pin-ups, to their latter day incarnation as dark electronic overlords, Gahan – whose personal struggles with addiction throughout the '90s are well-documented – has developed into one of rock's most distinctive frontmen, the tortured crooning matched by his strutting, Byronic stage presence. Certainly, his persona always seemed well-suited to interpreting and reimagining other people's material. Did he always imagine he'd end up doing a covers album at some point?
Advertisement
"I did actually, years ago," he notes. "Not quite like this, but growing up as a teenager, there were a few records in that territory – like Pin-Ups from Bowie. And Bryan Ferry used to do these covers, though at the time, I don't think I was that conscious of the fact that they were covers. And Pin-Ups I just thought of as a Bowie album. I was a teenager and too young to think any more deeply about it. 
"It wasn't that I thought, 'Oh, I'm gonna do that one day.' With this record, I didn't want to just do an album where it was a set of songs, with a bunch of musicians who were great, but who I didn't really know, and everything would just be slick, cool etc. I had done these two records with Rich from Soulsavers, and this group of musicians who I've been working with, some of whom I've known for over 10 years."
Clearly, it's a group of musicians with whom Gahan feels a strong connection. 
"For example, Martyn LeNoble who plays bass, I've known him since I lived in Los Angeles," he continues. "So we have a strong connection already. Wendi Rose, Tjae Cole and Janet Ramus, this will be the third record where we've sung together. James Walbourne was the new addition to this particular line-up, but I think there's now a connection between us all. We've played enough music together, in the studio and on stage, where you start having that chemistry.
"We recorded the album over a period just shy of four weeks, and then we mixed it in London, but we also did a lot of pre-production. Rich and I were finding the songs, then picking and choosing what we wanted to start with, and finding keys and tempos and stuff like that. I spent a few months working with the songs in my studio, singing every day. I needed to get to the point where I was no longer hearing the original version, but actually felt like I was in my version."
That was a key creative task on Imposter.
"It was really the challenge, cos otherwise it just ends up sounding like a bunch of cover songs," says Gahan. "And of course, that is what it is! But I wanted to sound like a record you could put on and listen to, and you wouldn't be hit over the head with the 'covers album' thing. The first few tracks are 'The Dark End Of The Street', 'Strange Religion' – a Lanegan number – and then a Nina Simone song. Music lovers will know two of those, maybe one.
Advertisement
"When Martin from Depeche heard the album, which he liked, he went 'I never knew you were familiar with 'The Dark End Of The Street'. It's one of my favourite songs.' I said, 'It's been one of my favourites for years!' That was a weird connection. But he also said, 'A lot of the songs here I've never heard, I'm going to have to do some homework.' That I think is the key here as well – you've got Dylan alongside PJ Harvey and Cat Power.
"Along with the songs, which of course are fantastic, in these artists' voices, there's a sense of longevity, wisdom and soulfulness. I know that somehow, over the years, I've found that voice in myself, and it wasn't something that came to me when I was younger. I had to work at it, and I had to feel free enough to let it go and find my voice. I think I'm getting there, I feel comfortable in that now."
Were there certain songs that were always going to be on Imposter?
"'Strange Religion' was always going to be on there," nods Dave. "It's one of my favourite songs, certainly from Lanegan. Bubblegum is an album I go back to a lot, for various different reasons. I know from Mark himself that record was incredibly difficult to make, and made in many different studios, but I find it very cohesive. That particular song, it just moves me. 
"The same with 'Metal Heart', there's some lyrical stuff in there – "Damned if you don't and damned if you do" – that really resonates. Or Bob Dylan's line "It's not dark yet but it's getting there". There are certain things here that really speak to me where I am now in my life, which they maybe wouldn't have years ago. PJ Harvey's 'Desperate Kingdom Of Love'; that's life, isn't it? I definitely heard these songs side by side. 'The Dark End Of The Street' was one that I felt strongly about too, and I wanted the album to end with 'Always On My Mind'. I knew I'd earned the right to sing it, somehow!"
Though popularised by Elvis, 'Always On My Mind' was also a major hit for the Pet Shop Boys, who covered the song as part of a tribute to the King in 1987, and subsequently saw their version top the UK charts that Xmas. Funnily enough, the PSB deep cut 'This Must Be The Place I Waited Years To Leave' – which features Johnny Marr on guitar and opened their 1990 album Behaviour – had an acknowledged Depeche Mode influence, although it was originally conceived as a possible theme for a Bond movie.
As a massive PSB fan, I wonder what Gahan makes of their version of 'Always On My Mind'?
"I wouldn't say I'm a huge fan of the Pet Shop Boys, although I like some of the things they've done," he replies. "I don't own an album, but I remember that song. Chris Black wrote the sleeve notes for the album, and it mentions versions of these songs done by different artists. Of course, I remember the Willie Nelson version of that song, and also the Elvis version. Really, that's what I was drawing from. But I think the Pet Shop Boys showed what a great song it is, and how it can be portrayed in many different ways.
Advertisement
"Their version was more up-tempo, happy and upbeat. I find Elvis' version particularly full of redemption, and the wanting for forgiveness. I can hear that yearning in his voice, but there's almost a bit of sarcasm as well. There's an irony to it, which I like – the tongue is still firmly planted firmly in the cheek somehow."
Is Dave a particularly big Elvis fan?
"I mean, I would say that Elvis was probably one of the greatest imposters ever, right?" he chuckles. "That's why the Charles Chaplin song 'Smile' is on there. When I was growing up as a kid, Charlie Chaplin was the ultimate imposter too. He just had this way of making you laugh or cry, he was like the perfect clown. We all have that thing in us. And he didn't speak – we didn't know anything about him really.
"Then when you see he was involved in the writing of 'Smile', it was like, 'Wow! He knew exactly who he was.' That is the irony in the title Imposter too. I've talked about this over the years too, where I felt a bit like an imposter in someone else's world. That being Martin Gore's songs for instance, with Depeche. But I somehow found my way there, and somewhere in the late '80s/early '90s, I no longer felt like that.
 
"I felt like, 'I know my place now. I know I bring something to this that Martin feels he can't, otherwise he would do it himself, maybe.' I don't struggle with that anymore, but the irony is with this record, I felt completely like I belonged. It felt very natural, so the irony in calling it Imposter, was that this was one of the first times I could maybe say wholeheartedly, I didn't actually feel like that (laughs). And maybe the imposter is the other guy, I don't know!"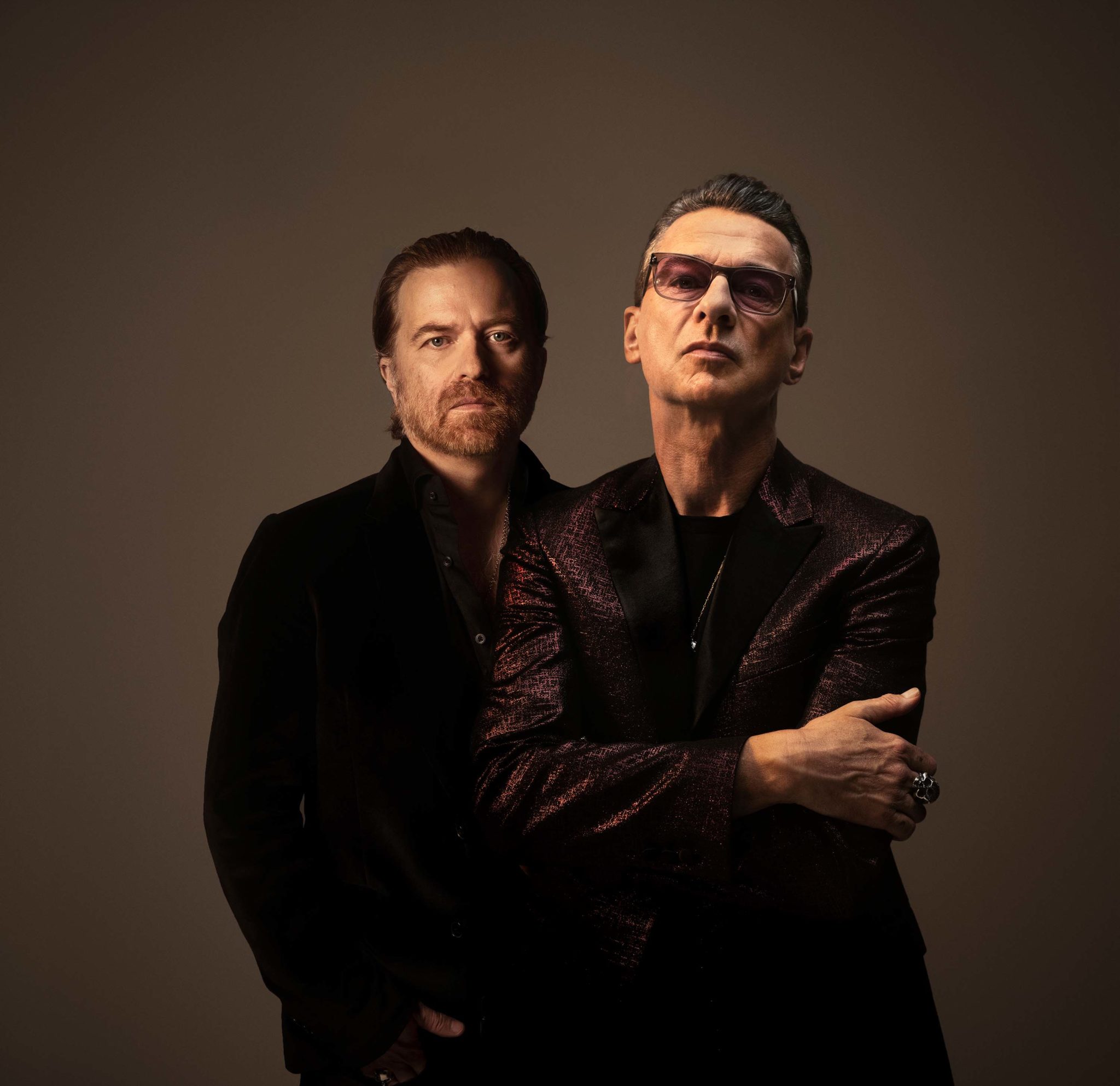 At this stage of his life, Gahan can perhaps call on a sizeable reserve of wisdom.
"I don't know anymore, I'm getting too long in the tooth," he continues. "I'll be 60 next year, and that 40 years of performing in a band, and being part of something that's far greater than myself… I no longer feel, how do I get to have a 'normal life'. It's all part of me, and I'm sort of lucky to fucking have that, aren't I?"
Advertisement
Absolutely. With Depeche Mode having been regular visitors to this shores – I saw them play fine Dublin shows in 2006 and 2013 – I wonder if Dave has any particular Irish memories from over the years?
"We played Dublin a few years ago and it was amazing," he says. "I mean, I thought we were actually going to bring the place down to be honest. But it was one of my favourite shows actually, and I'm not just saying that – it was one of my favourite shows on that tour. Memorable, in that when you have that feeling on stage, which is not every night… Of course, every night it's amazing that you get to do that, but some nights are uniquely special.
"My experience, with a couple of Irish relatives that I have, I'm very comfortable going to Ireland and being there. It's good people – it's the same feeling when I'm in Italy. I know it's different, but somehow there's a warmth, a love, a sense of joy. You feel that when you perform in front of people. For Christ's sake, that's what music has done for me for years; you feel you're part of it and your identity. I hope that Imposter is that for people as well. 
"You listen to it and you can identify with the lyrical content, or the feeling that it brings you to. That's what we want, right?"
Finally, I mention Depeche Mode's induction into the Rock And Roll Hall Of Fame last year, which must have been a lovely moment.
"Again, it's one of those things," says Gahan. It's flattering, of course. I also think we're probably a little bit of a thorn in their side. We deserve to be there, we've done the work. But honestly, I take it with a bit of a pinch of salt. Of course, it's incredibly flattering and all that kind of stuff. To be grouped in with the Stones and Zeppelin and all these amazing artists...But yeah, I don't know. Depeche Mode – we're there all the time, we do our own thing, we are uniquely different. 
"It's weird, it always has been and that's a good thing; weird is good. I'm proud to be in what's sometimes described as the biggest alternative group in the world – I'm proud of that."
 
• Imposter was released on November 12. 
Advertisement
Read the Hot Press verdict on Imposter here.