By: Pavel Barter
Sega's Dreamcast console bit the dust in the early years of this century, but it remains one of the greatest chapters in the history of gaming, bringing the arcade into homes with titles such as Crazy Taxi, Virtua Tennis and Jet Set Radio.
One of its best games was Shenmue. You play Ryo, a tombstone-faced teenager searching for his father's killers. The English voice dubbing is so bad it's hilarious, but Shenmue was one of the first games to create a believable open world, filled with Japanese domesticity. There's a day-night clock, which means hanging around, buying toys from vending machines, feeding stray cats, and playing old Sega games in the town's arcade, while waiting for time-specific appointments. The level of detail is still remarkable, even if the ":quick time" action sequences, requiring you to bash buttons at the right time, are a bit dated.
Eighteen years after its release, there's no denying Shenmue's rugged charm.
7/10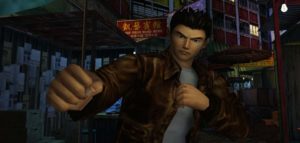 Advertisement