By: Shamim Malekmian
Hot Press has spoken to Syed Irfan Rizvi, an asylum seeker from Pakistan, who is housed with his family in the Temple Accommodation Centre in Moate. Sadly, the experiences of asylum seekers there almost exactly replicate what has been happening in the direct provision centre in Cahersiveen, Co. Kerry, with many residents becoming ill with coronavirus.
A Direct Provision Centre in Horseleap village, Moate, Co. Westmeath, is the latest refugee accommodation centre to be hit by an outbreak of coronavirus.
Over ten people living in Temple Accommodation Centre tested positive for the coronavirus, last week, Hot Press has learned. The asylum seekers who tested positive have been since transferred to an off-site facility.
The examination by Hot Press of what is happening at Direct Provision centres in Ireland during the global coronavirus pandemic, is based on interviews with residents living inside the State-run accommodation centres and sight of documents or footage taken by residents. Thus it is difficult to estimate the number of the asylum seekers who have contracted coronavirus.
What is inescapable, however, is that there are specific perils attached to the kind of communal living imposed on people in direct provision centres, in the presence of a potentially lethal contagion; and that coronavirus has indeed taken hold in a significant number, at least, of Direct Provision Centres.
While not as tragically lethal as what has been happening in nursing homes, the situation is grave enough to have prompted residents at Temple Accommodation Centre – like those in Cahersiveen, Co. Kerry – to plead with the State to move them to a bigger space, that is suitable for meaningful self-isolation.
Advertisement
OUR FEARS WERE RIGHT
Syed Irfan Rizvi, an asylum seeker from Pakistan, currently lives in Temple Accommodation Centre with his wife and two small children, an eleven-months-old girl and a three-year-old boy. Syed is fearful for the safety of his family, so he tries as best he can to keep his children in their room, at all times.
"I wrote to the Minister for Justice and the International Protection Office that my wife and son suffer from breathing medical issues, and they still didn't try to help at all," he said. "Like they didn't help others."
Syed told Hot Press that his clear understanding is that the emergence of coronavirus at their centre dates back to March, when three people became ill with the novel virus.
"They moved them to Dublin from here," Syed recalled. "We started to raise our concerns to the Department of Justice, the International Protection Office, and others, that we could not avoid infection in this building due to shared facilities. They did not have any plan to protect us, in the sense that it would avoid us getting infected."
The feeling among migrants in the direct provision centres is that they are akin to sitting ducks. It is a deeply uncomfortable feeling that naturally inspires dread. While Covid-19 affects older people much more grievously, even younger people can succumb to the virus – especially if there are pre-existing medical conditions which compromise the immune system or otherwise give the virus a better foothold.
Syed explained that more people began to display symptoms during April. "By April 28, at least ten people had confirmed to me that they had tested positive," he said.
Advertisement
Things at the centre may, in truth, be even more severe.
"The number must be bigger," he added, "but I could only speak to ten people. Altogether, I believe more than 20 people who lived in Temple have been infected so far since the pandemic started. They refuse to give us information on numbers, but those ten people had talked to me directly, and I know them personally."
Syed wrote again to the Minister for Justice and Equality, Charlie Flanagan TD, asking the Minister to aid in the migrant's removal to a safe facility. Once more, it was to no avail.
"I have contacted the Minister and others to update them and to tell them that our fears were right that we could not avoid infection in this building, where all of our facilities are shared, but I have not heard anything so far," he said.
"To protect us they must give families their own rooms and the singles their own accommodation, as many people are under isolation because they shared rooms with positive cases.
"We want this centre to be shut down."
HANDLE WITH CAUTION
Advertisement
Even securing sanitisers and other protective gear for the centre proved challenging and required letters being written to politicians and refugee rights advocacy groups.
"They did not do anything on their own to protect us," Syed told Hot Press. "They were first refused by the management by saying that the nurses and doctors don't even have protective equipment. We sent an email to relevant people and local TDs, and then they were provided three weeks ago."
Residents at Temple Accommodation Centre continue to share storage facilities. Syed was keen to show us a photo of a stuffed fridge, shared by nearly 60 people.
"Social-distancing has failed to protect us because we have shared fridges and storage facilities," he said. "People squeeze their foods and items into the fridges. How could we not get corona when we have to put our foods in a space like that?"
Syed noted that residents also share a "walk-in freezer", which they believe is also increasing the risk of contracting the virus.
These fears are not whimsical or paranoid. Coronavirus can live for up to three days on some surfaces, like plastic and steel, according to researchers.
In addition, a new study, published in The New England Journal of Medicine, suggests that colder temperatures make it easier for the coronavirus to survive for longer, in the air or on surfaces.
Advertisement
Thus, logically, items stowed in freezers must be handled with extra caution while the pandemic persists.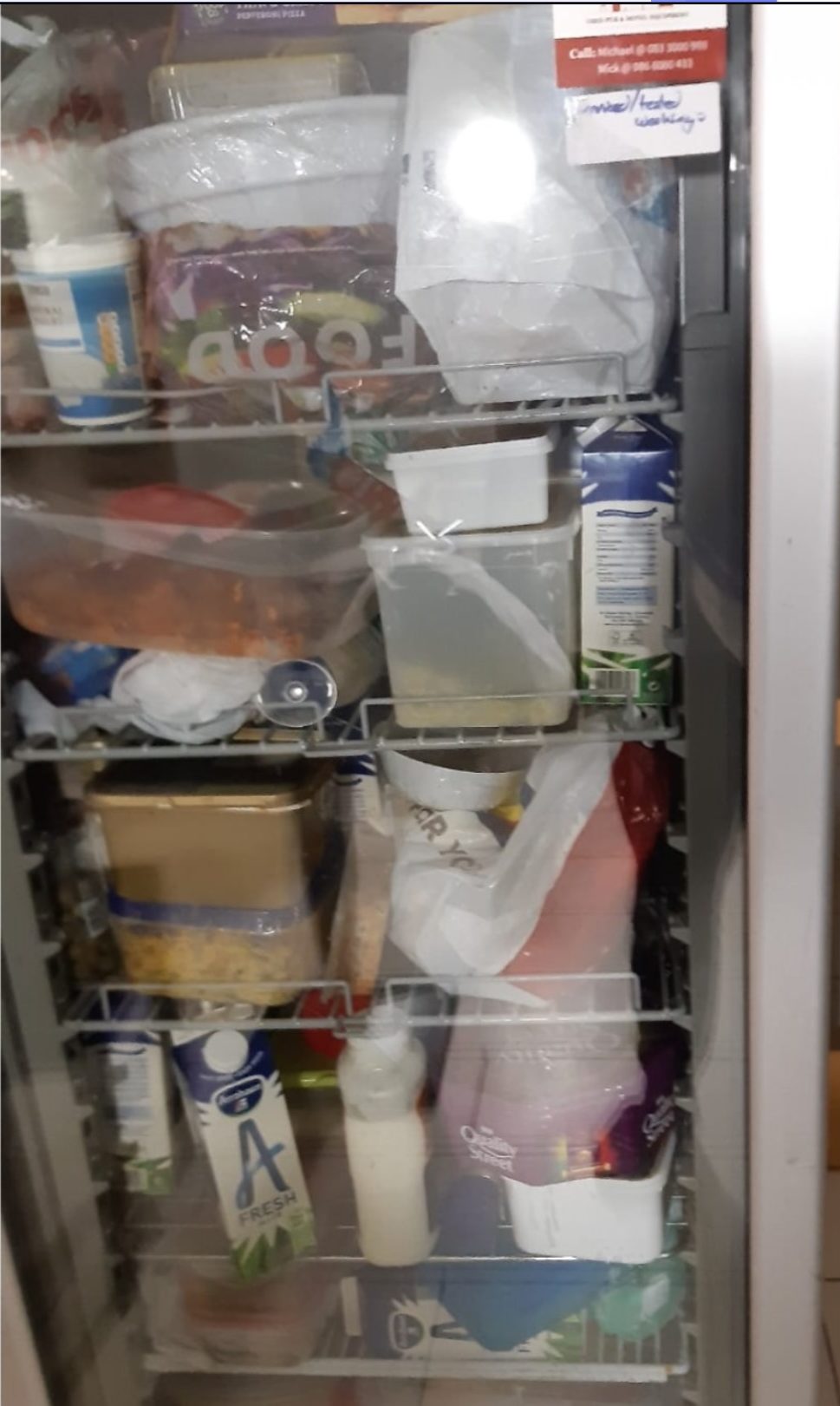 Syed is angry that a young girl at the centre contracted the virus because her mother, a single, migrant woman, had asked a few people, who later became ill, to mind her child.
"We had told the Department to protect them," he said, "The mother raised her concerns, but nobody helped her, so that her child could avoid the virus."
Latest data reveals that there are 1,672 children (813 girls and 859 boys) currently living in Direct Provision centres across the country. Of these children, about 85 per cent are aged 12 and younger, while over 600 children are between 0-4.
A special Oíreachtas Committee for Justice and Equality recently reported that children growing up in those centres miss the chance of having a normal childhood. And yet the dirct provision system remains in place.
REBELS OFTEN PAY
Advertisement
Temple Accommodation Centre is not the only place earmarked to host refugees and asylum seekers, that is turning into an epicentre for coronavirus.
New reports from inside Skellig Star Hotel, a Direct Provision Centre in Cahersiveen, Co Kerry, reveal that three more people have tested positive for coronavirus since last week, joining over 20 people who had previously fallen ill.
At the time of writing, two newly-ill residents had been removed from the centre, and one ill asylum seeker is waiting to be transferred to a self-isolation facility outside Co Kerry.
Hot Press understands that a pregnant woman at the centre is currently pleading with staff at Skellig Star Hotel to be moved elsewhere.
While an initial view was taken that pregnant women are not more at risk from the virus that other members of the community, the medical community is now in agreement that it is too soon, and research is too thin, to confidently predict the impact of coronavirus on pregnant women and their babies.
Pregnant women can be prone to respiratory ailments. Once infected, they can become seriously ill, with potentially long-lasting consequences for both mother and baby.
Similarly, fevers – a primary symptom of the coronavirus – in the early stages of pregnancy have been associated with congenital disabilities and some developmental conditions. While panic is never the right response to any genuine health issue, the precautionary principle says that the correct course of action would be to move potentially more vulnerable people – and pregnant women clearly fall into that category – away from imminent risk, if at all possible.
Advertisement
A letter, signed by residents at the Skellig Star Hotel, states that refugees feel inconsequential and faceless, when the State refuses to obey the recommendation of the country's Chief Medical Officer where it comes to the safety asylum seekers.
"Despite Ireland's Chief Medical Officer Dr Tony Holohan saying it is not possible to observe social distancing when sharing a bedroom with people who aren't part of your family, 120 of us were moved to the 56-roomed Cahersiveen hotel with shared rooms, common eating and living areas," the letter stated.
As extensively reported by Hot Press over recent days, residents at Skellig Star Hotel are also advised against leaving the centre, prompting them to feel as if "we are waiting to be infected."
A Spokesperson for the Department of Justice has told Hot Press that residents are under 'self-quarantine' and that the door to the centre remains open at all times.
"For clarity, please note that while residents have been asked by medical experts to self-quarantine, like everyone else, they are asked to adhere to the guidance, and the door to the centre remains open at all times," the spokesperson said.
Nevertheless, residents are afraid to walk outside as the prevailing belief among asylum seekers is that rebels often pay.
"There is a constant fear that residents will be reported to the International Protection Office. Every interviewer, always calls the centre to confirm if you have been a good resident. That's why nobody protests at other centres," Hot Press was told.
Advertisement
A myriad of, national and international bodies have condemned Ireland's system for accommodating refugees, calling for the abolishment of the Direct Provision System.
Earlier in April, a legal opinion, sought by the Irish Refugee Council, concluded that the State might have violated fundamental human rights that are enshrined in the UN's Human Rights Charter, the Irish Constitution and the European Convention on Human Rights in its treatment of refugees within the direct provision system.
Meanwhile, in Skellig Star Hotel and Temple Accommodation Centre alike, residents await an uncertain future. The time for action is now – before more lives are lost unnecessarily in Ireland.